Pigs in blankets can be found on many Christmas dinner plates. They also work well as party snacks and side dishes in the Christmas holiday season.
They are one of the easiest sides to make – they can be prepared ahead of time, or quickly assembled on the day.
What Sausages Should You Use For Pigs In Blankets?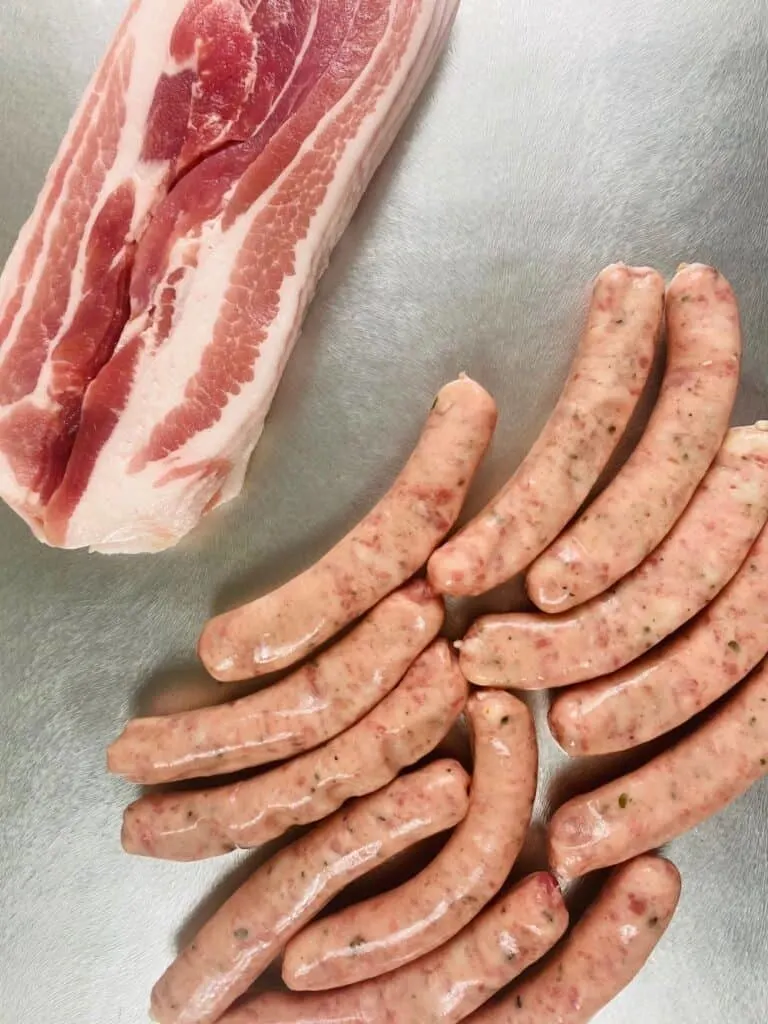 Depending on the size of the pigs in blankets you can use either cocktail sausages or chipolatas. I prefer to use chipolatas, they are long and thin and a rasher of streaky bacon rolls around it perfectly.
I also like to use some of the different flavoured chipolatas that you can get to add some varying tastes.
What Bacon Should You Use For Pigs In Blankets?
Rashers of smoked streaky bacon are best. They may need to be sliced in half if they are too big to roll around each sausage.
What You Need To Make 12 Pigs In Blankets: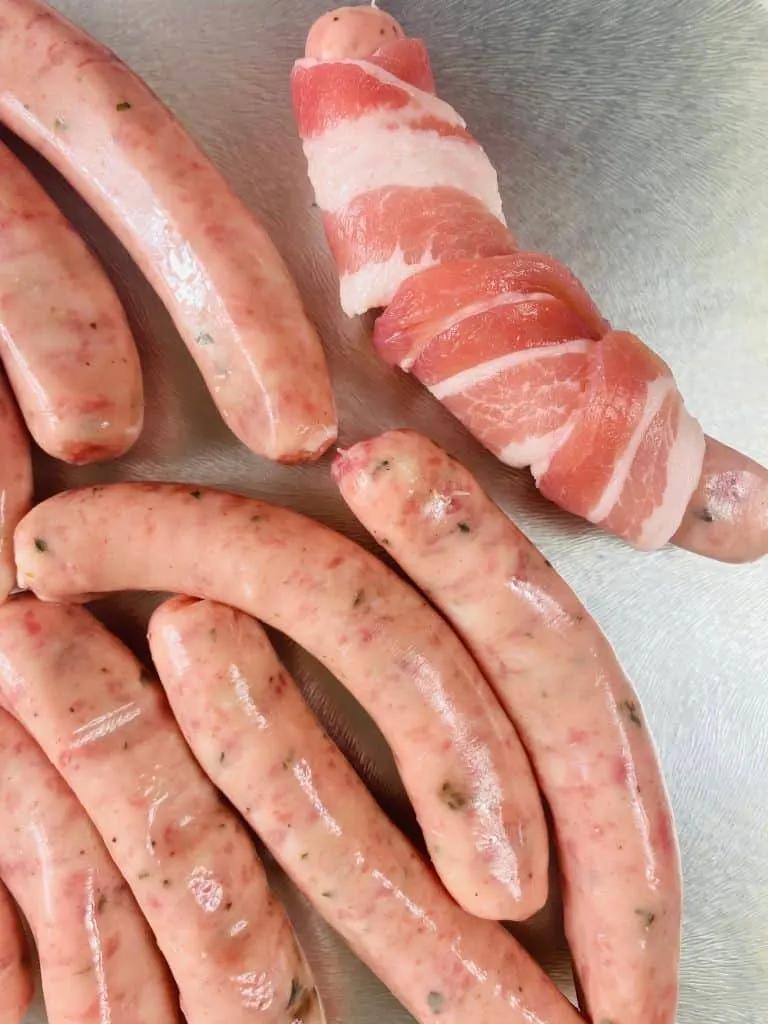 12 sausages
12 rashers of streaky bacon
Baking tray
Herbs, spices, honey, Worcestershire sauce to drizzle on top (all optional)
How To Make Pigs In Blankets From Scratch
Take each sausage and wrap a bacon rasher around it. Place it on the baking tray. Repeat until they are all done. If you are using cocktail sausages you might need to use a cocktail stick to hold the bacon in place.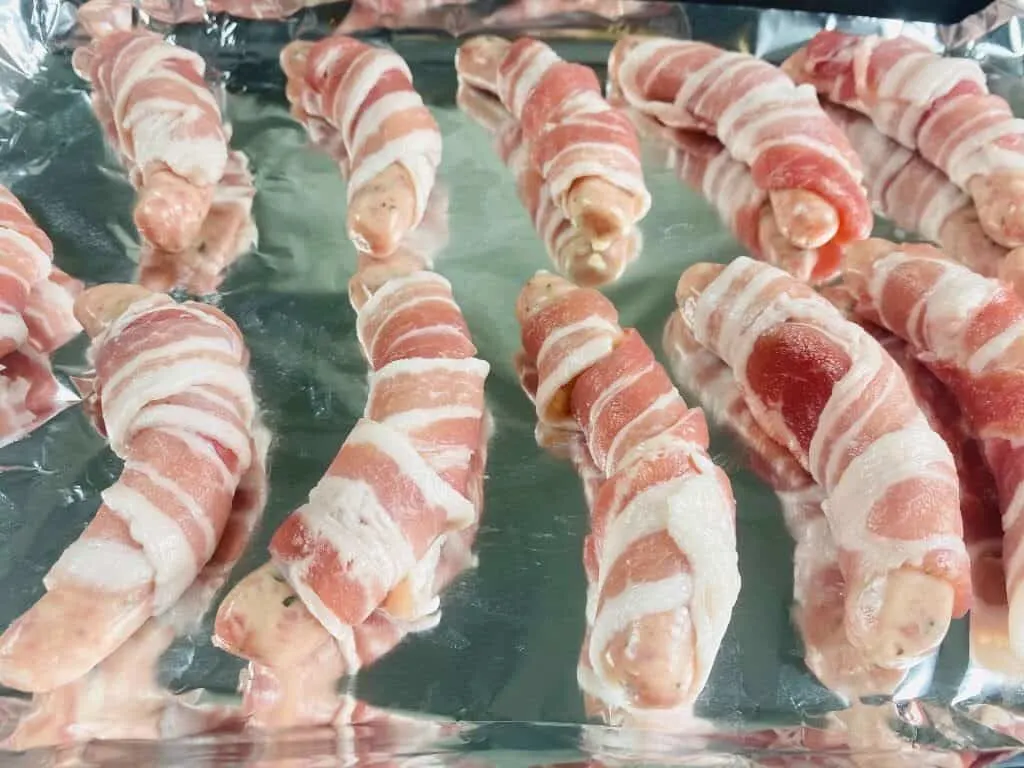 Place in a preheated oven (Gas Mark 6, 200°C, fan 180°C) and cook for 30 minutes, until the sausages are golden brown and the bacon is crispy.
Adding Extra Flavours
Optionally flavour the pigs in blankets.
Whilst they are cooking you can gently heat up a little honey (2tbsp), mustard (1tbsp) and some chopped fresh herbs (rosemary works well), or dried herbs. Drizzle this over the top of the pigs in blankets about 5 minutes before the end of the cooking time.
Serve the pigs in blankets at a party, or as part of your main Christmas dinner.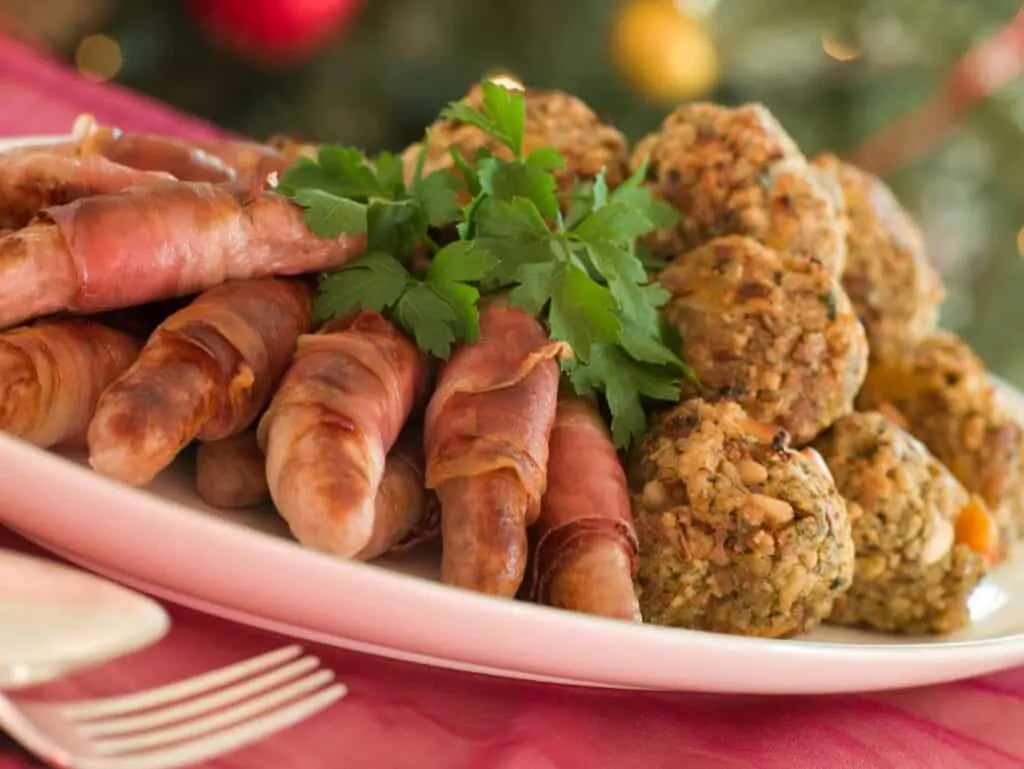 Other Christmas Recipe Ideas:
How to cook a turkey crown
Mince Pies