Making mincemeat from scratch is easier than you might think. And the best bit is you get to choose what ingredients to include!
Don't feel overwhelmed by the list of ingredients needed, it'll be worth it for the delicious homemade taste that mincemeat delivers.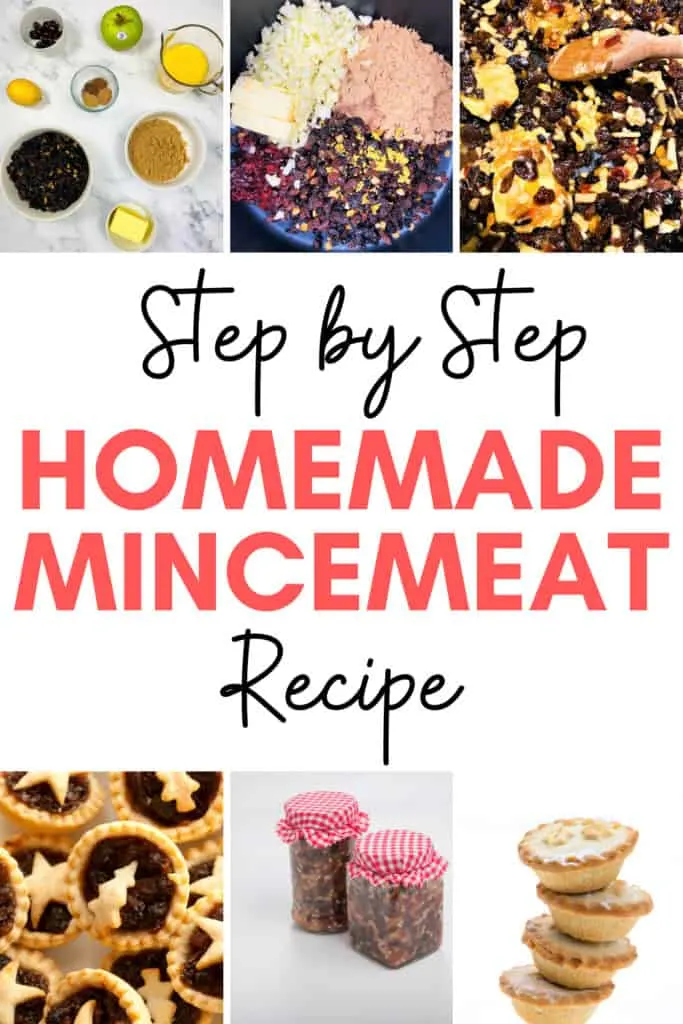 How Do You Make Mincemeat From Scratch?
There are a variety of ways to make a mincemeat recipe, I will try and cover the variations as much as I can.
Don't worry about following the measurements to the exact amount, you can add more or less of some, as well as make some substitutions according to your own tastes.
Mincemeat Recipe Ingredients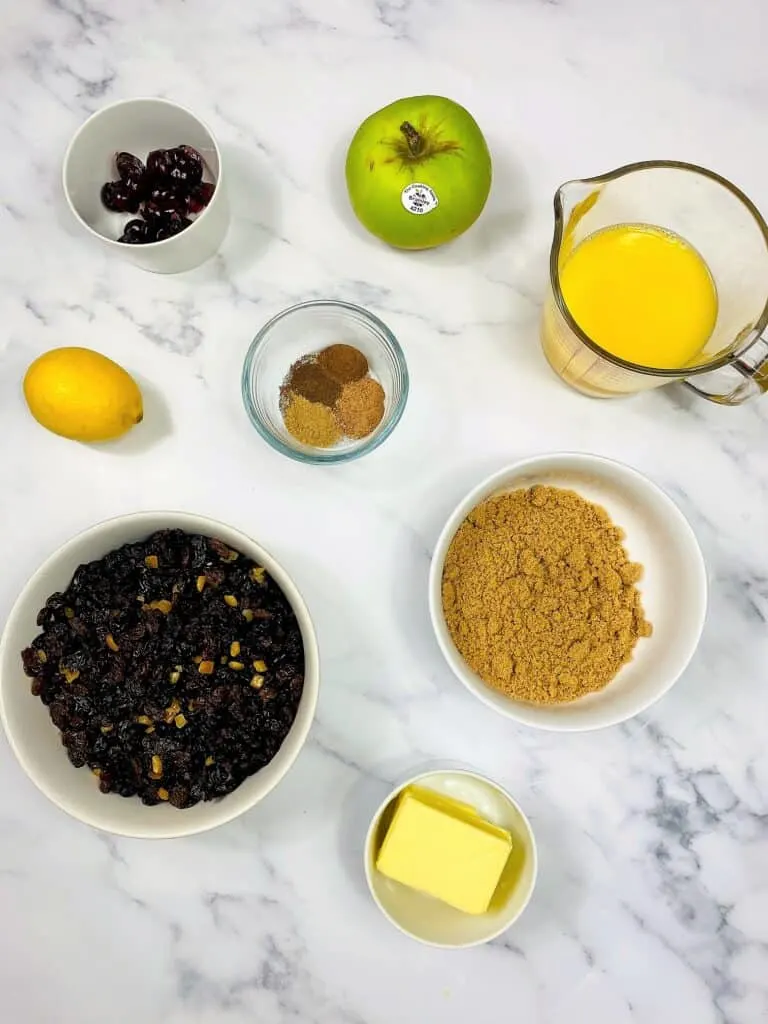 Cooking apple – I used 1 large Bramley, peeled and chopped up very small. You can also use Granny Smiths.
200g Soft brown sugar
1kg dried mixed fruits – or your combined choice from: sultanas, raisins, currants, dried mixed peel.
50g glace cherries, chopped – optional.
150g butter – or you can use vegetable suet, grated.
Juice and zest of 1 lemon or 1 orange
400ml orange juice or apple juice – or you can use brandy/rum, see further on for further information on this.
Spices – you can either use mixed spice (this is more economical if you don't already have the other spices) or a combination of some or all of the following: ground ginger, ground cinnamon, ground nutmeg, ground cloves, ground ginger.
Making Mincemeat
Some mincemeat recipes call for the ingredients to all be mixed together and then to be soaked in the liquid (juice or brandy) overnight, or for a few hours before stirring again and then transferring to sterile jars.
I prefer to gently cook all the ingredients together in a large saucepan, leaving to cool and then transferring to jars. You can do it either way.
This is the method I prefer;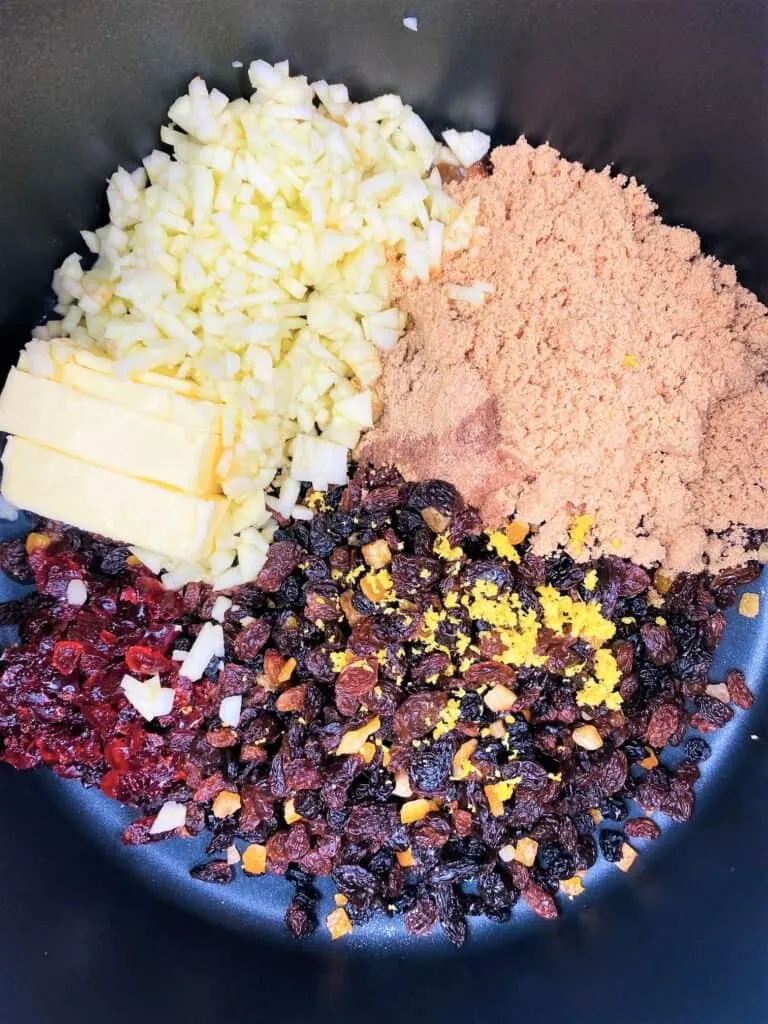 Add all the ingredients to a large saucepan, apart from the juice, and place it on the stove, on a very low heat.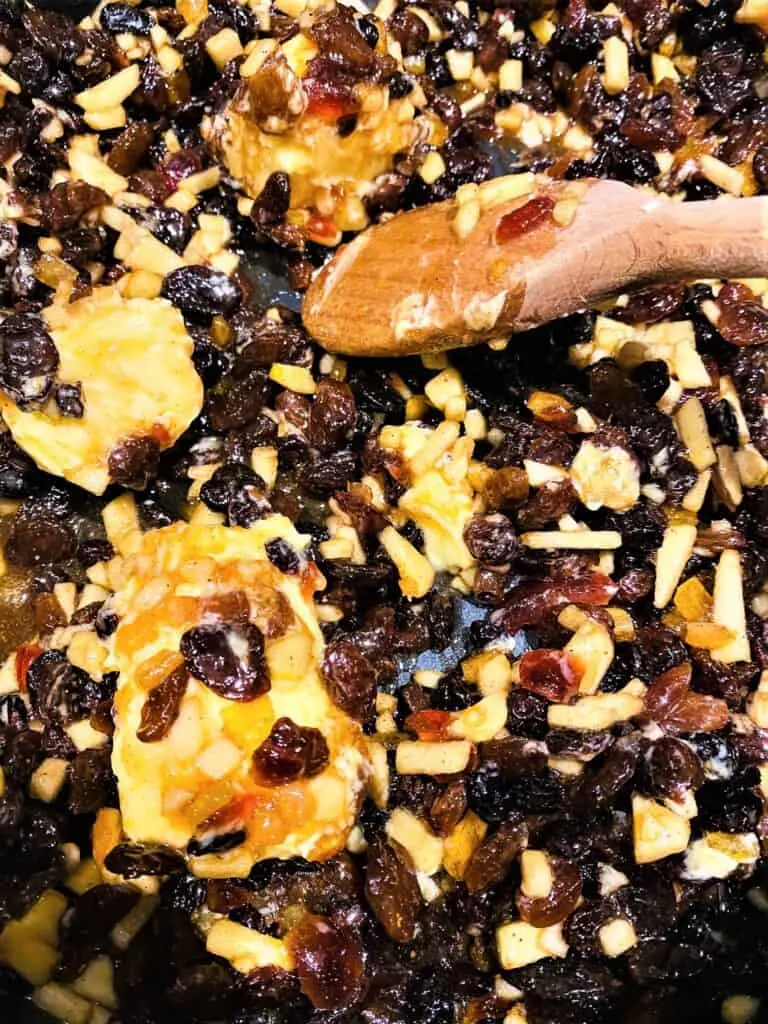 Continuously stir it until the butter has melted and everything is combined.
Pour the juice in (if you are using juice), and mix it together.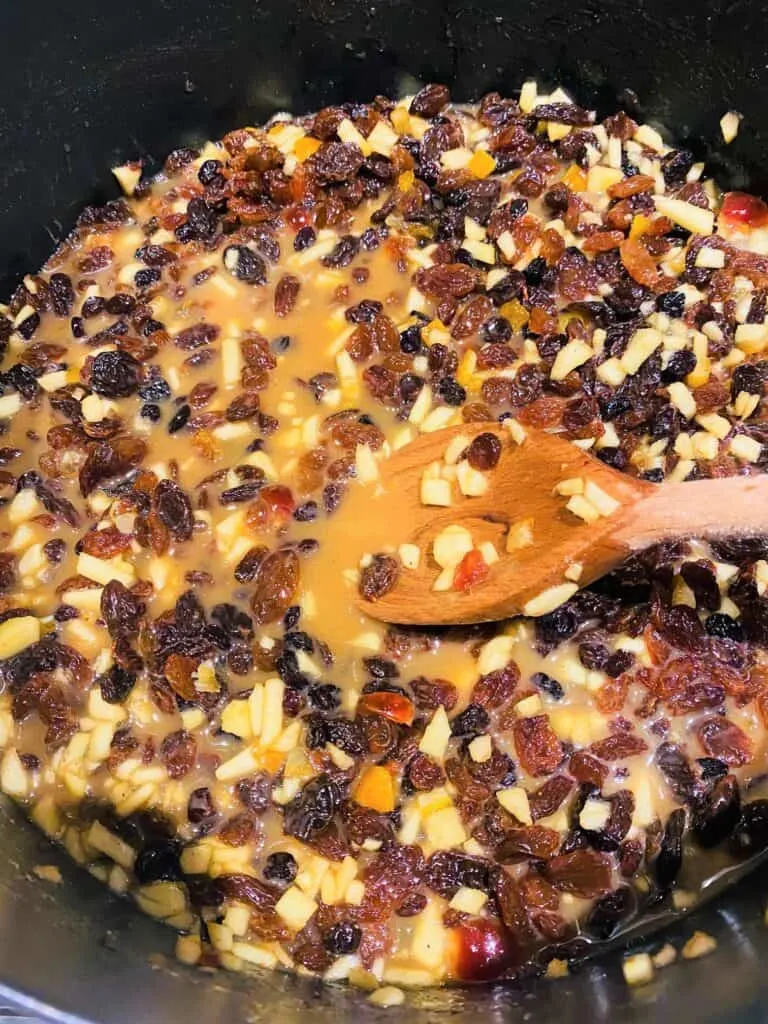 Leave it to simmer for about 15 to 20 minutes, stirring occasionally. Don't worry if it seems too runny, it will thicken up when it cools down.
Turn the heat off and leave the mixture to completely cool down.
If you are adding alcohol (brandy, rum or sherry) you can stir it in now.
Transfer the mincemeat to sterilised jars and seal.
How Long Does Homemade Mincemeat Last?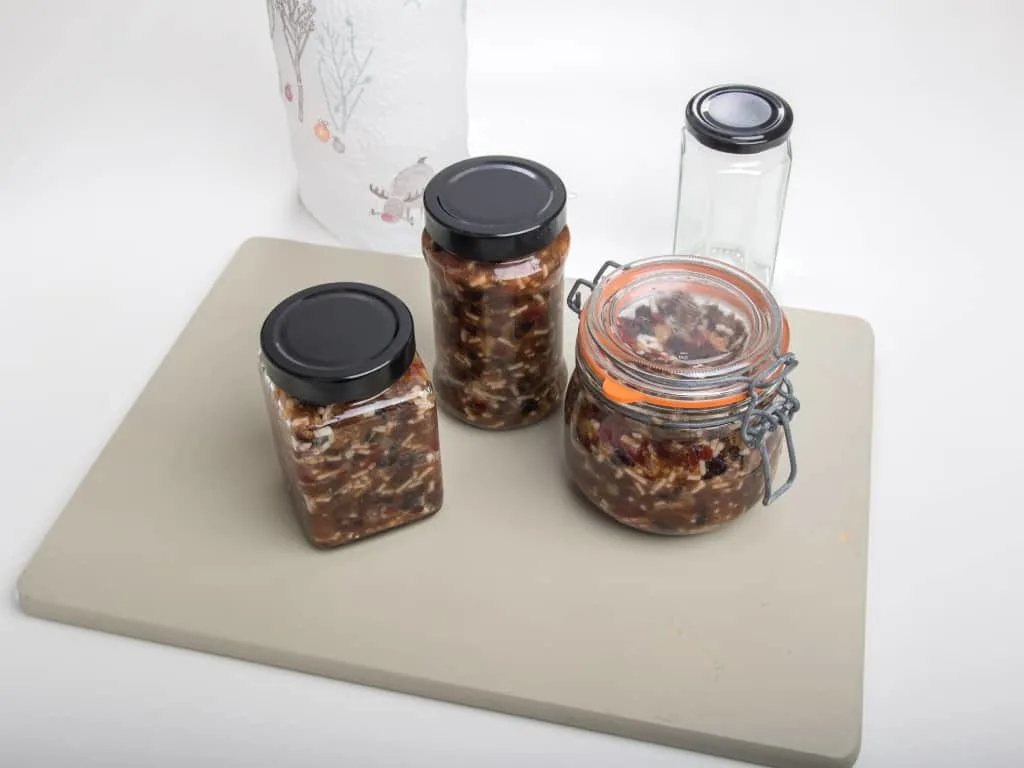 If you are using alcohol the mincemeat will last a lot longer than just juice, although the sugar will help, alcohol is the main preservative. If you still want the taste of the brandy/rum/sherry without the alcohol content you can boil it down in a saucepan before adding it.
Mincemeat made with alcohol can be stored in an airtight sterilised jar for up to 6 months, in a cool dark place.
Mincemeat made with juice should be stored in a fridge and will probably be good for around 2 weeks – but check it for signs of it going off before you eat it.
Sterilising Jars
Jars can be sterilised by one of the following methods;
Run through a complete dishwasher cycle.
Washed with hot soapy water, rinsed and then placed in a microwave for 1 minute on high.
Washed with hot soapy water, rinsed and place in an oven on a low temperature for 30 minutes.
Do You Have To Cook Mincemeat?
No you don't, although you invariably will when you make a recipe. I'm not going to lie, mincemeat tastes great both cooked and straight on a spoon from the jar.
What Can I Use Instead Of Suet In Mincemeat?
Butter can be used instead of suet.
How Much Mincemeat Does This Recipe Make?
These measurements will make roughly 4 x 450g jam jars worth of mincemeat.
If you don't want to make that much, just halve or quarter it.
Recipes Using Mincemeat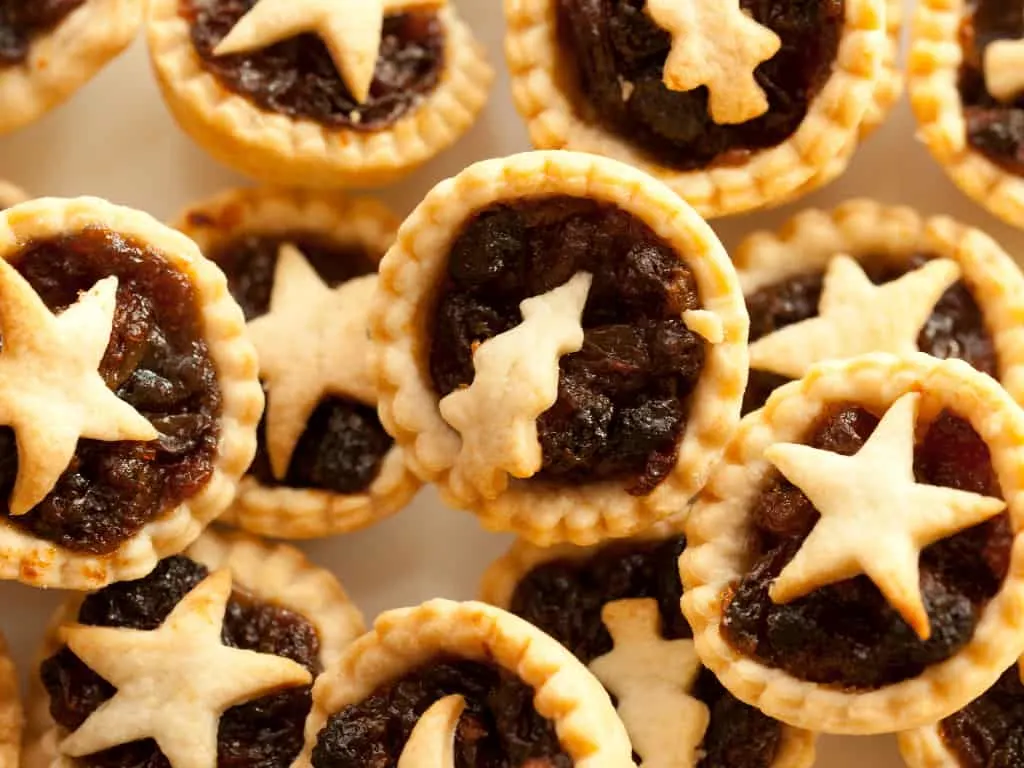 Mincemeat Cake
Mincemeat Crumble Slices
Baked Apple