Roasted red pepper hummus is the perfect dip to serve at parties, or to have as a snack. Dip in some warm pitta bread strips, or chop up some carrots, cucumber and sweet peppers to scoop up some of this tasty hummus dip.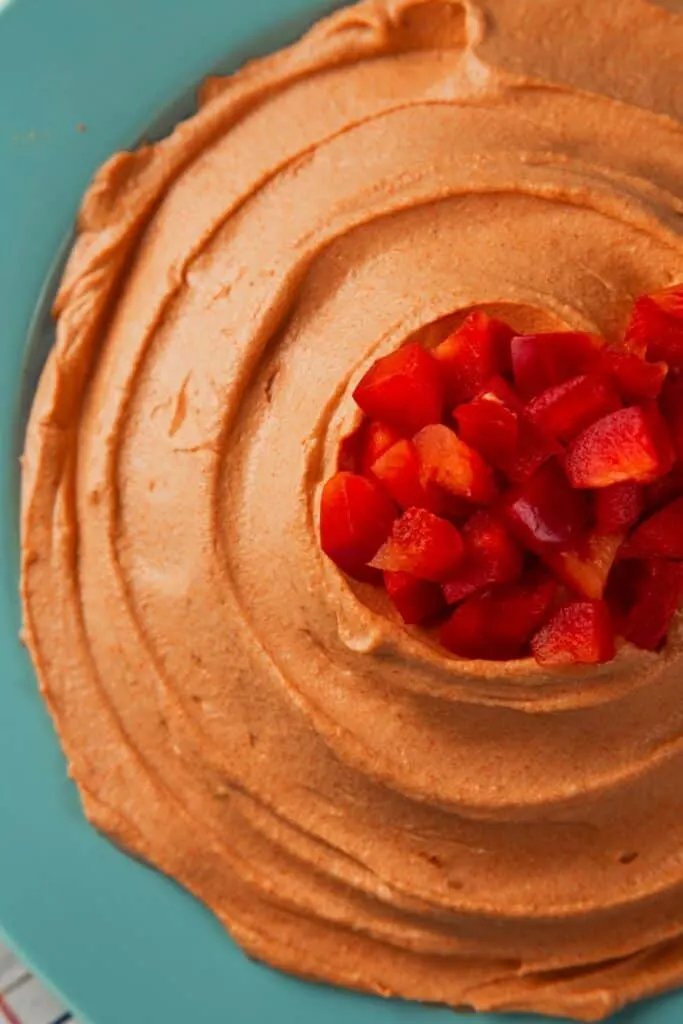 How To Make Roasted Red Pepper Hummus From Scratch
Just like classic homemade hummus, you can use tinned chickpeas to make this a quick and easy recipe.
If you have dried chickpeas you can use these too, but you will need to soak them overnight – check out my guide on soaking dried chickpeas.
Red Pepper Hummus Ingredients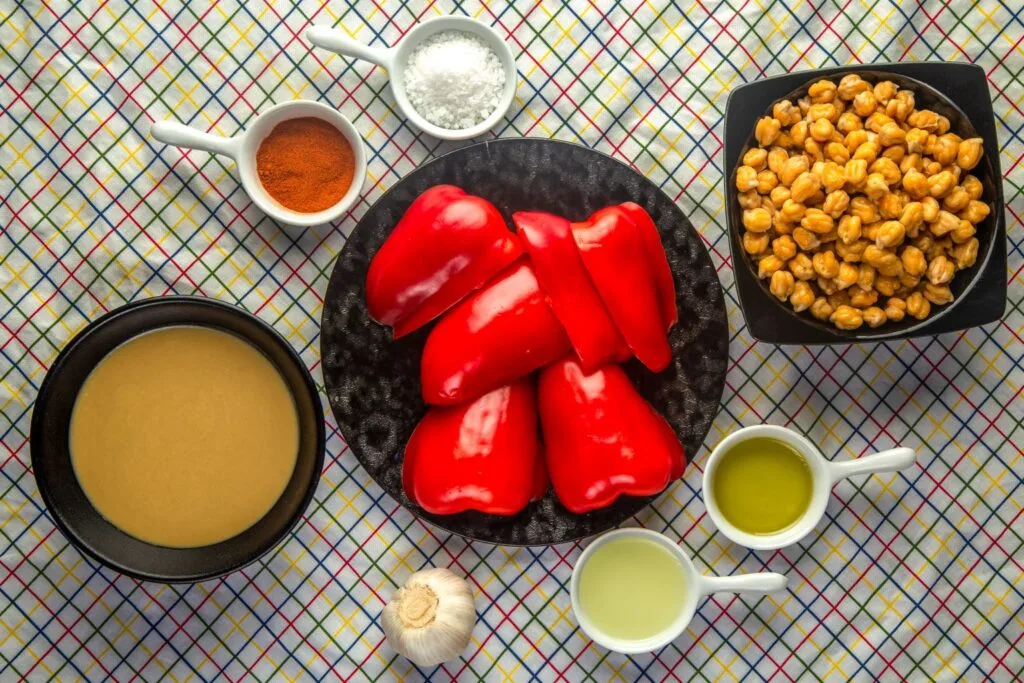 This is what you'll need (scroll down to the recipe card at the bottom for exact measurements)
chickpeas
sweet red peppers, roasted
juice of 2 lemons
2 garlic cloves
tahini paste
olive oil
salt and paprika to taste
Everything gets added to the food processor or blender and pulsed/blended until smooth. You can then add some salt and paprika according to your own taste.
How To Roast Peppers
Preheat the oven to 220C/200C fan/gas 7. Quarter and deseed the red peppers, place them on a baking tray and drizzle some olive oil over them. Cook for about 30 minutes, until they are soft and the skin begins to crinkle up. You can optionally sprinkle some salt over them before roasting.
Can I Use A Jar Of Roasted Red Peppers?
Yes, this is a great way to save some time! You might want to check on what else is in the jar as this might decide whether you put in extra salt for example.
Do The Red Peppers Need To Be Roasted?
You can just blend raw sweet red peppers – but the taste will be different. Roasting any vegetables or fruits will bring out a different flavour.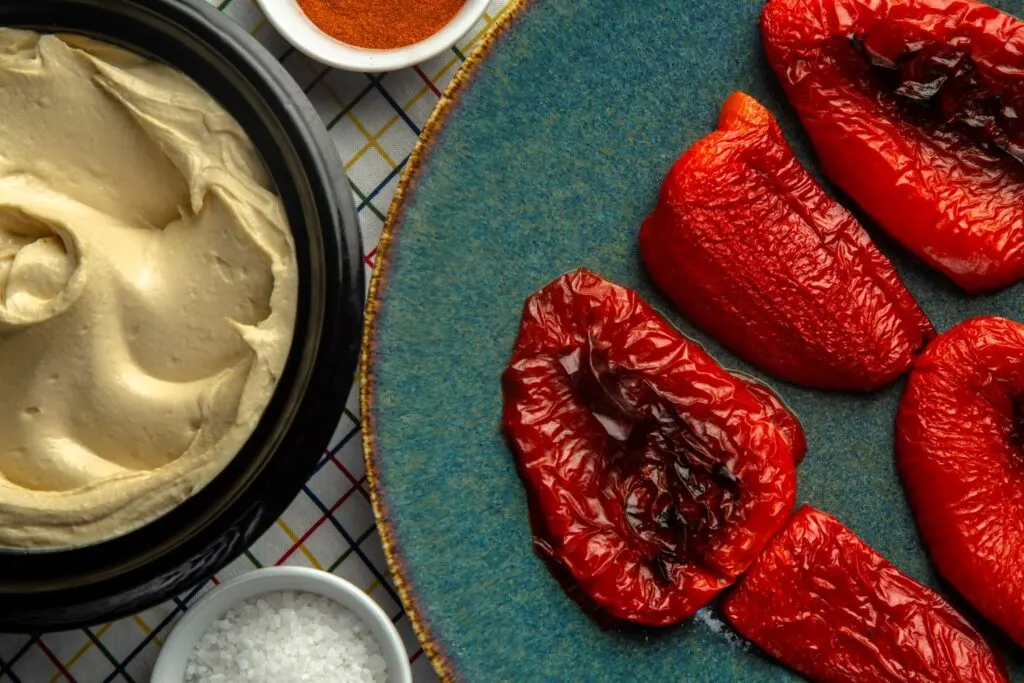 Can I Make Hummus Without Tahini?
Yes, if you don't have any tahini or you would rather not include it, simply leave it out. Tahini paste will give a more authentic hummus taste like you are used to, but this hummus recipe will still taste great without it.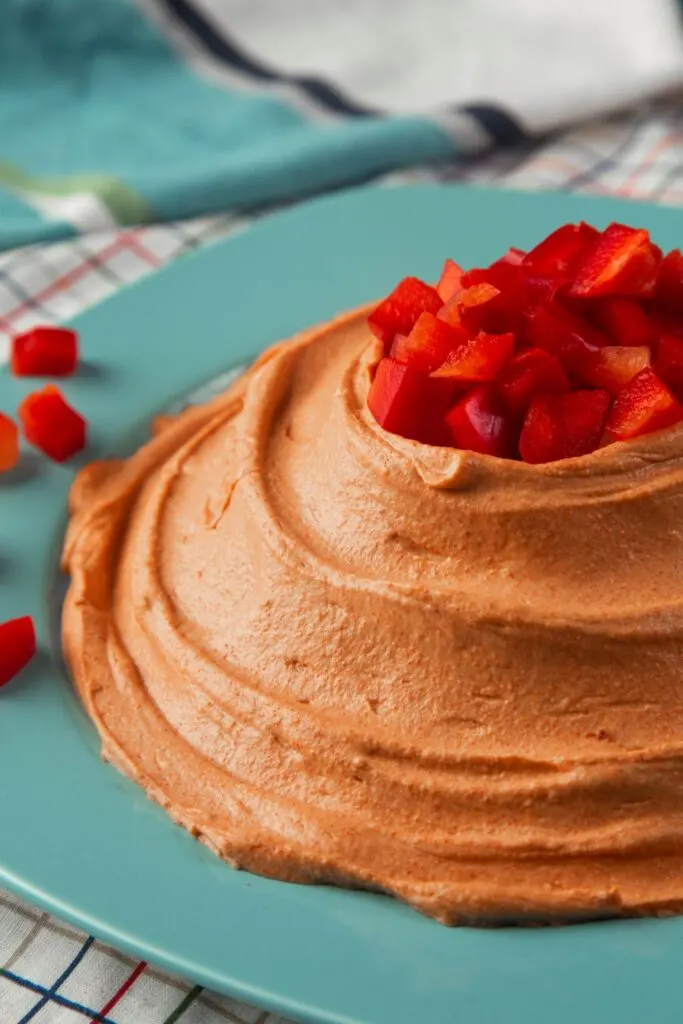 What Can I Serve With Roasted Red Pepper Hummus?
Serve with warmed pitta bread cut into slices, raw vegetable sticks such as carrot, cucumber, celery and even some raw red pepper slices. Red pepper hummus also tastes great as a spread on bread, toast or in a sandwich.
How Long Does Red Pepper Hummus Last?
If you put it in an airtight container it should last 2 – 3 days in the fridge. You can also freeze red pepper hummus for 3 to 4 months.