Slow cooker salmon is a great alternative method to cooking this delicious fish dish.
Whereas there are plenty of ways to cook salmon, the slow cooker produces a truly tender and tasty salmon meal that is really hands off.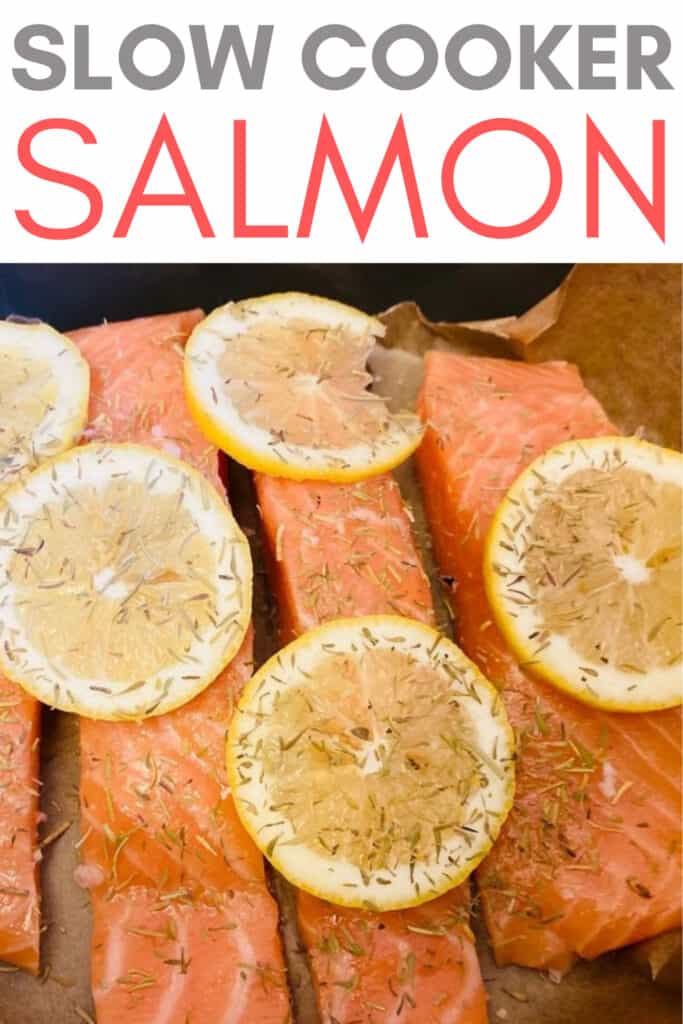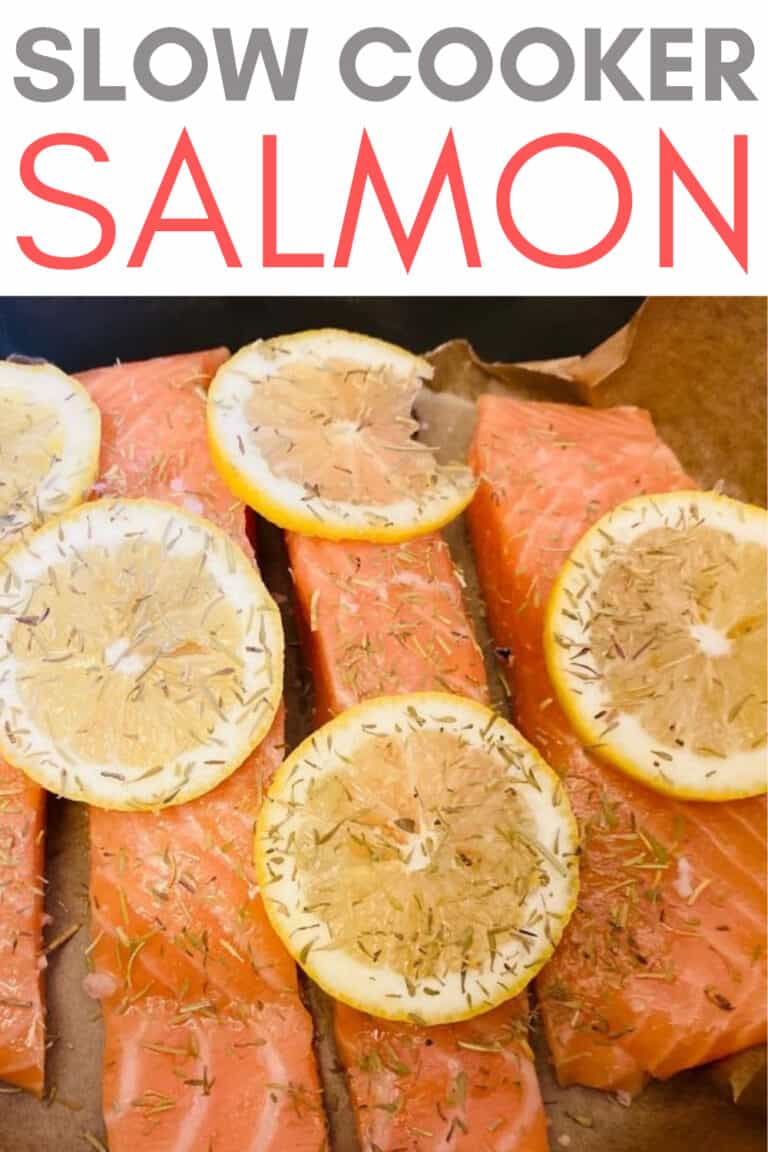 Slow cooker recipes involve very extended cooking times, with some left to cook for the whole day.
Cooking fish in a slow cooker is a bit different – they only need to be in a slow cooker for 1 to 2 hours before they are ready. This is long enough for the fish, in this case, salmon, to come out melt in your mouth soft.
And when they are seasoned with all your favourite herbs, the slow cook time enables the flavours to really take hold in the salmon – the result is the perfect salmon!
Making Slow Cooker Salmon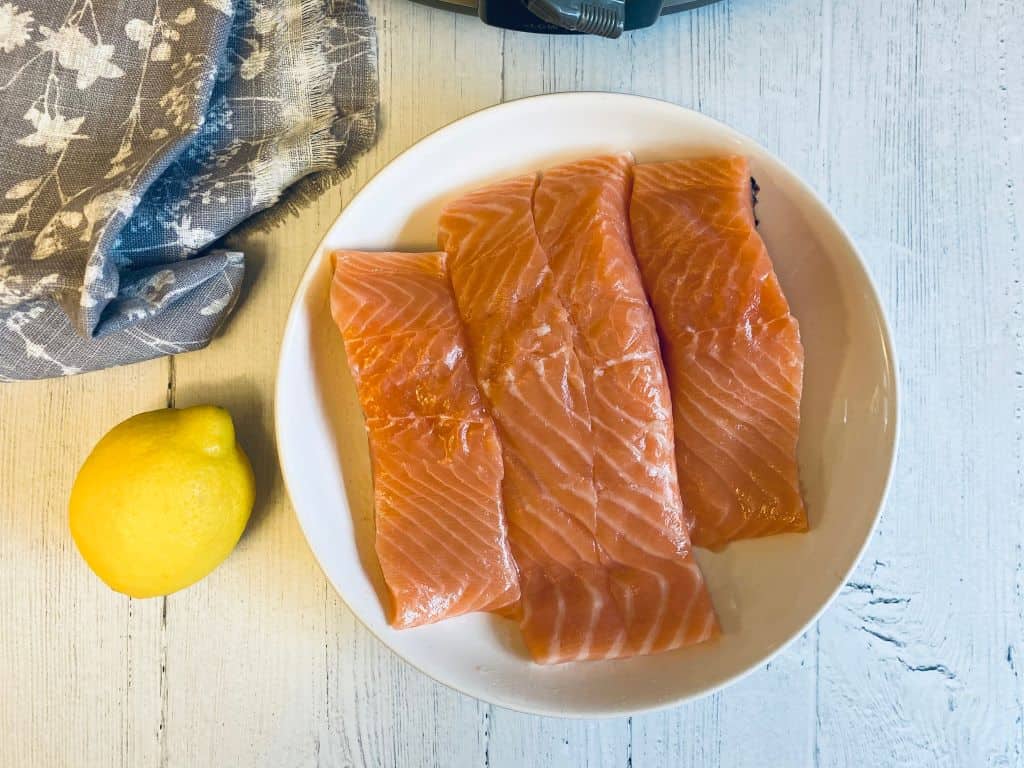 What you need:
fresh salmon – you can use salmon that has already been sliced, or, cook an uncut salmon – depending on the size of your slow cooker.
herbs/seasoning – I used a little salt and a generous helping of dried mixed herbs – you can use any herbs you prefer, or some spices.
sliced lemons – I placed some lemons across each piece of salmon. You could use other flavourings, such as sliced onions, celery etc.
liquid – I just added some plain water (about 250ml) but again, you can experiment with different flavours such as a fish stock, cider, wine or something else. The idea of adding some water/liquid is to allow the salmon to slowly poach in the slow cooker.
baking paper – this was to create a kind of sling – the baking paper makes it much easier to lift the fish out at the end in the event that it becomes flaky and falls apart during the slow cooking process.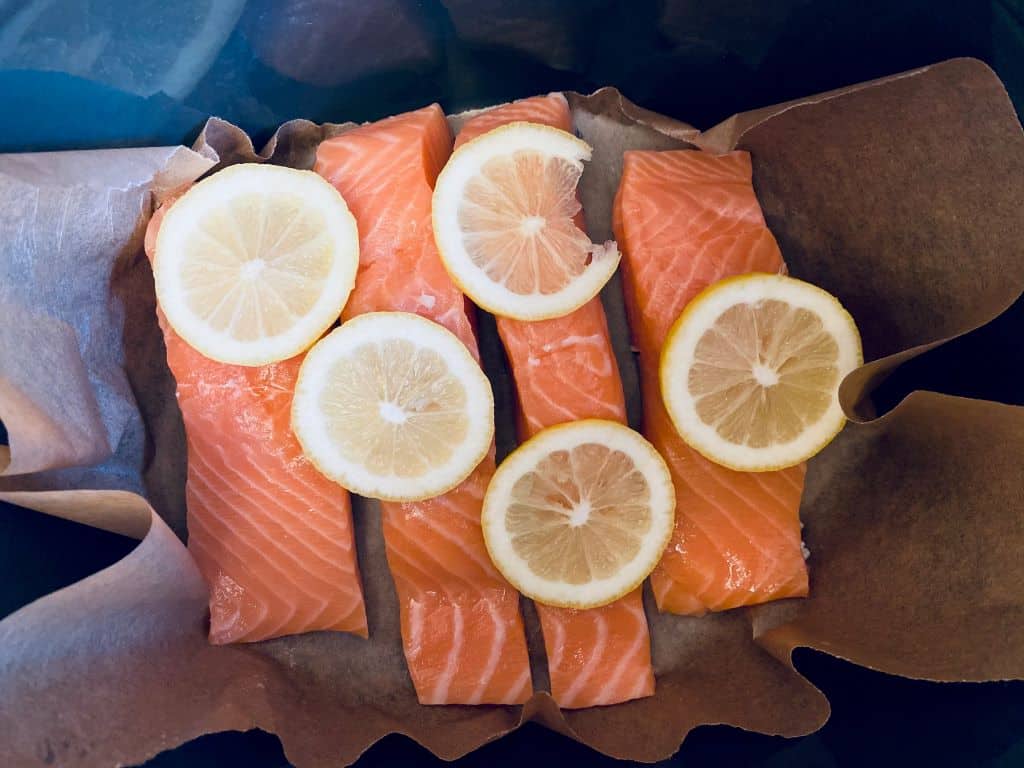 The baking paper acts as a useful sling for lifting the fish out at the end.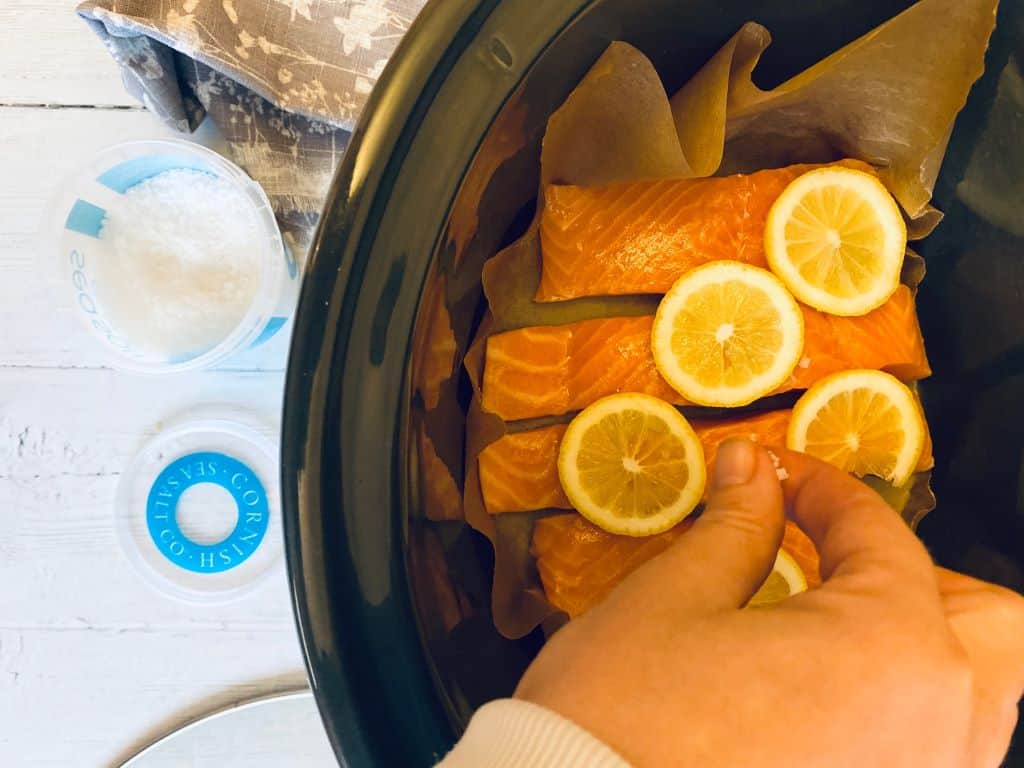 Add some seasoning of your choice – I like to add just a little salt and some mixed dried herbs – but you can add the flavours that you usually enjoy with your salmon!
If you want to cook more salmon than will fit in your slow cooker you can add another layer on top but the bottom layer will cook faster than the top.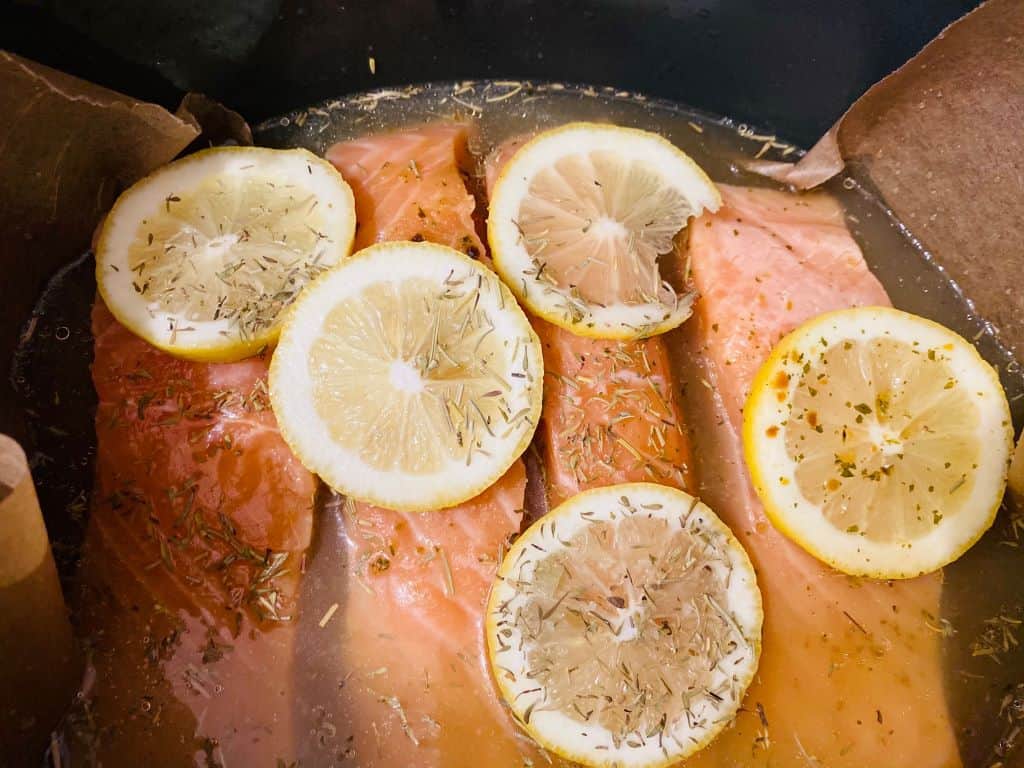 Adding some liquid, whether it is plain water, stock or another flavour, will help to gently poach the salmon.
Switch the slow cooker on low and cook for 2 hours – if you leave it for much longer than this is will start to flake apart as it cooks more, which is perfect if you want the salmon for soups, fish cakes or similar recipes that require flaked salmon.
When the salmon has finished cooking, lift it out by holding the baking paper at each side.
What To Serve With Salmon
Salmon works well with lots of side dishes including new potatoes, green salads, risotto, rice dishes – or, you could break it up and add it to a pasta salmon dish.
Slow Cooker Salmon
Total Time:
2 hours
5 minutes
Slow cooker salmon is a great way to make this delicious fish dish. The result is a very soft and tender salmon that tastes amazing.
Ingredients
4 salmon fillets
1 unwaxed lemon, sliced
seasoning (dried herbs, spices)
250ml water (or stock, cider, wine)
Instructions
Place some baking paper at the bottom of the slow cooker to act as a sling for the salmon - making it easier to lift the salmon out once cooked.
Lay the salmon fillets on top, side by side.
Add the sliced lemons across each salmon.
Add seasoning.
Add your choice of liquid (pour down the sides of the salmons to try and not wash the lemon slices and seasoning off the top).
Cook on low for 2 hours.
At the end of the cook time lift the salmon out using the baking paper sling to prevent it from falling apart.
Nutrition Information:
Yield:

4
Serving Size:

1
Amount Per Serving:
Calories:

474
Total Fat:

28g
Saturated Fat:

5g
Trans Fat:

0g
Unsaturated Fat:

20g
Cholesterol:

143mg
Sodium:

236mg
Carbohydrates:

2g
Fiber:

1g
Sugar:

1g
Protein:

50g