Are you looking for a low-carb substitute for rice?
Look no further than cauliflower rice!
This simple recipe is easy to make and perfect for those on a keto or gluten-free diet, or even if you just want an alternative to rice.
Cauliflower rice is a great way to add more vegetables to your meal and can be used in place of rice in almost any dish.
Let's get started.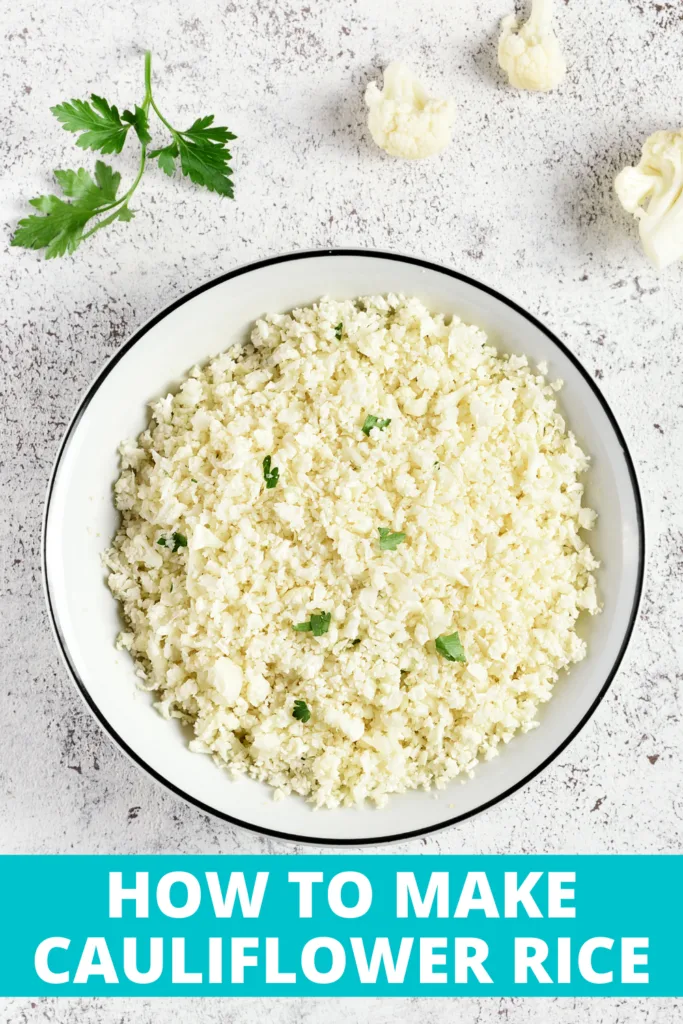 What Is Cauliflower Rice?
Though it may resemble grains of white rice, cauliflower rice is actually made from pulverized cauliflower.
It has become a popular food trend in recent years due to its low carbohydrate content, as well as its versatility.
Cauliflower rice can be used in place of rice in many recipes, including stir-fries, curries, and even risottos. It can also be served on its own as a side dish.
When cooked properly, cauliflower rice has a light and fluffy texture that is similar to that of traditional rice.
It is an excellent source of vitamins and minerals, and it is also high in fibre.
Whether you are looking to cut carbs or simply want to experiment with new foods, cauliflower rice is a delicious and healthy option to try.
How to Make Cauliflower Rice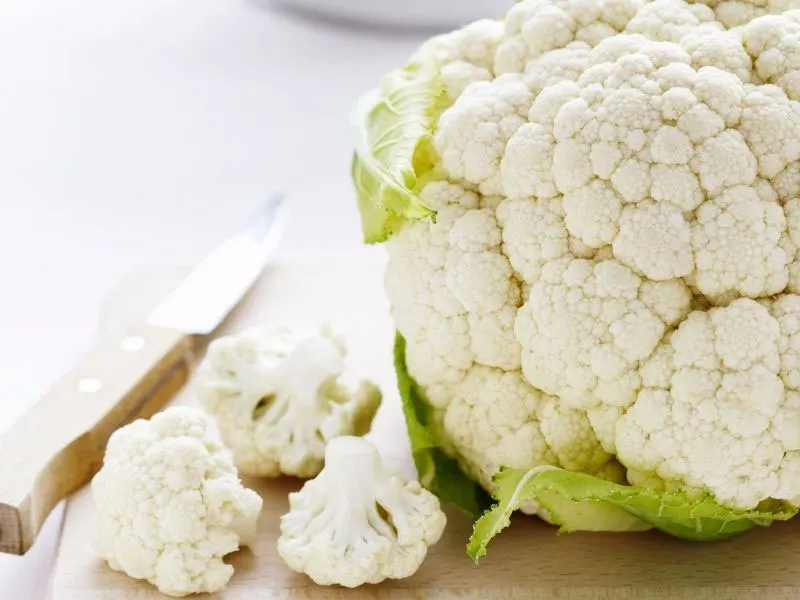 Now that you know what cauliflower rice is, let's get to the good part – how to make it!
The great thing about this recipe is that it only requires a few simple ingredients and can be made in just 5 to 10 minutes.
There are two different ways to make cauliflower rice depending on what equipment you have to hand;
Making Cauliflower Rice With A Kitchen Grater
If you don't have a food processor, don't worry – you can still make cauliflower rice!
The first step is to cut the cauliflower into small florets.
Then, using a kitchen grater, grate the florets until they resemble grains of rice.
It's easiest to use a box grater, and use the larger holes to grate.
Making Cauliflower Rice With A Food Processor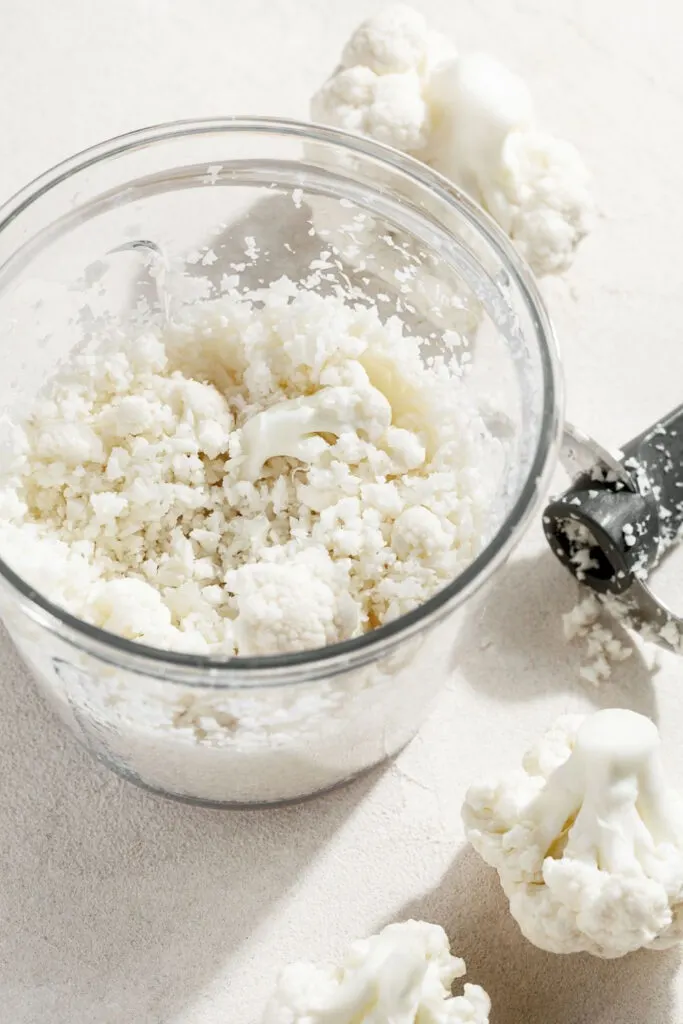 If you have a food processor, making cauliflower rice is even easier.
Simply add the florets to the food processor and pulse until they are broken down into small pieces.
Be careful not to overdo it – you want the cauliflower to resemble grains of rice, not mush.
Once your cauliflower is ready, it's time to cook it. Cauliflower rice can be eaten raw, but I prefer to gently cook mine to make cauliflower fried rice.
How To Season Cauliflower Rice
Cauliflower rice is a blank canvas, which means it can be flavoured to suit any dish.
For a simple side dish, I like to season mine with some salt, pepper, and garlic powder.
If you're using it as a replacement for rice in a recipe, you can flavour it however you like.
How To Cook Cauliflower Rice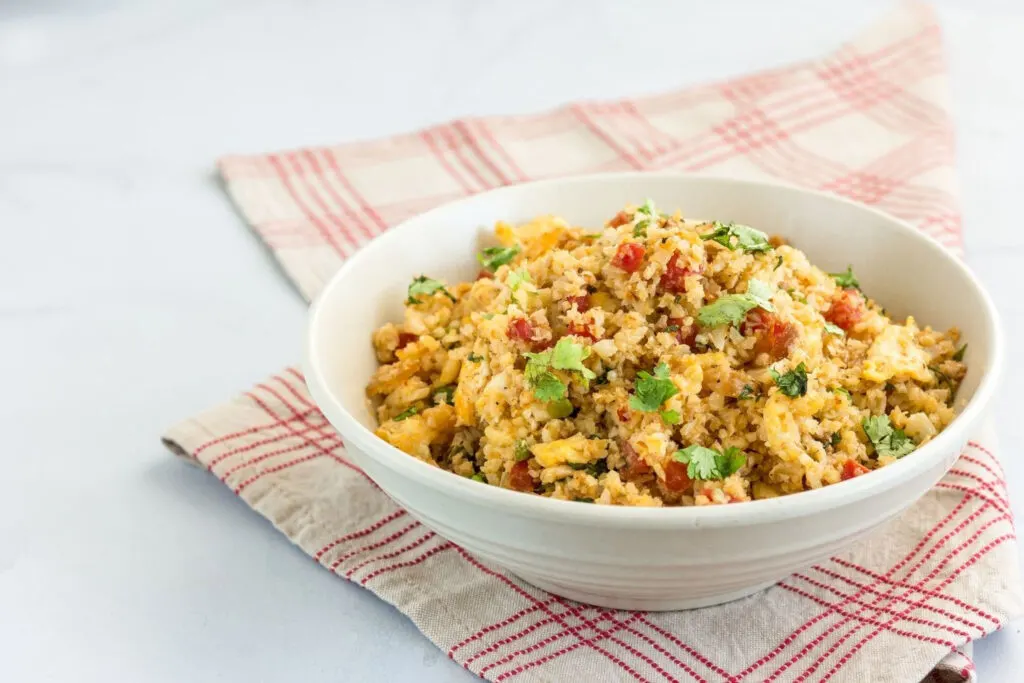 Cauliflower rice can be cooked in a number of different ways, but the quickest and easiest method is to simply fry it in a pan with a little oil.
Add the cauliflower rice to a large frying pan over medium heat and cook for about five minutes, stirring occasionally, until tender.
You can add in some extras such as peppers, peas and herbs to create a more substantial side dish or small snack.
How To Stop Cauliflower Rice From Going Mushy and Soggy
Cauliflower rice can sometimes turn out soggy. There are a few things you can do to prevent this from happening.
First, before cooking the cauliflower, pat it with some kitchen roll to draw out any moisture.
Second, don't overcook it. When it's finished, it should still be slightly firm to the touch.
These simple tips will help you achieve the perfect consistency for your cauliflower rice.
What Does Cauliflower Rice Taste Like?
It's important to note that cauliflower rice doesn't taste like normal rice, just like a cauliflower pizza base doesn't taste like a regular pizza dough base!
Cauliflower rice tastes slightly nutty with a subtle sweetness. I think it's worth seasoning cauliflower rice with your favourite herbs or spices.
Is Cauliflower Rice Good For You?
Cauliflower rice is a healthy alternative to traditional rice. It is low in calories and carbohydrates, and it is also a good source of vitamins, minerals, and fibre.
For evidence-backed research on the benefits of Cauliflower rice, read this source.
Why Does Cauliflower Rice Smell?
Cauliflower rice can sometimes have a strong smell, but this is usually due to the way it was cooked.
If you overcook cauliflower rice, it can release sulphur compounds that cause an unpleasant smell.
To avoid this, be sure to not overcook your cauliflower rice.
How To Store Cauliflower Rice
Cauliflower rice can be stored in the fridge for up to four days. It can also be frozen, but it's best to freeze it in small portions.
When you're ready to eat it, simply defrost the cauliflower rice in the fridge overnight or, it's easy enough to cook it from frozen.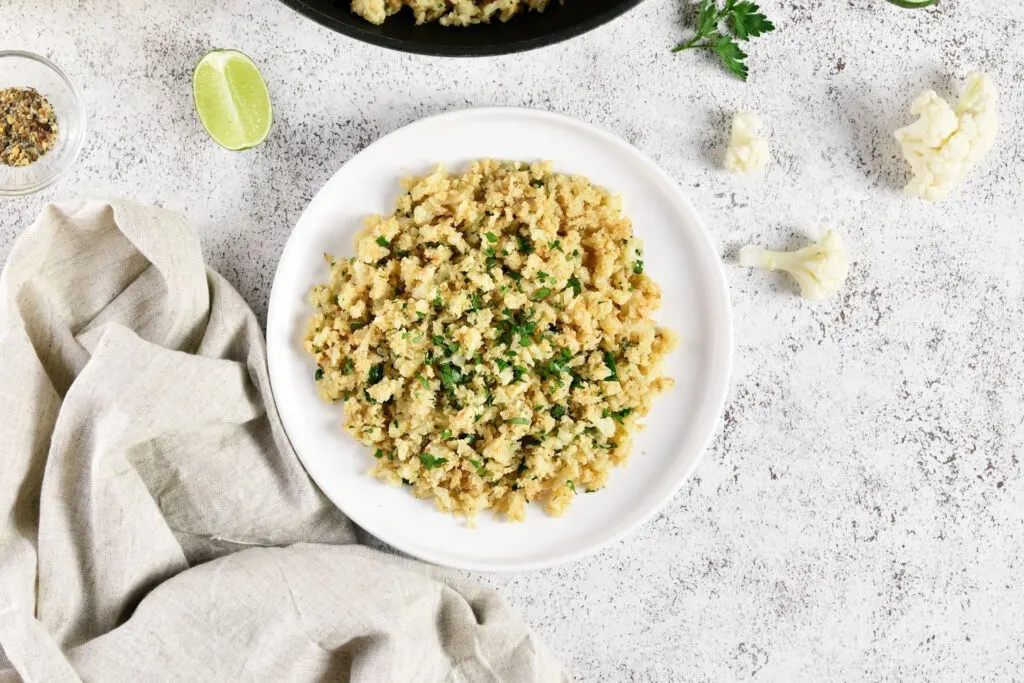 Now that you know everything there is to know about cauliflower rice, it's time to get cooking!
The great thing about this dish is that it's super versatile. You can add whatever ingredients you like or have on hand. Be creative and have fun with it. Once you've mastered the basic recipe, feel free to experiment with different flavours and spices.
I hope you enjoy this delicious and nutritious alternative to traditional white rice.
If you have any tips on how to make cauliflower rice, please share them in the comments below.