Is there anything more comforting than a hearty cottage pie? This recipe is easy to follow and the result is a delicious, filling dish that your whole family will love. Top it with some melted butter and serve with green peas for a perfect meal.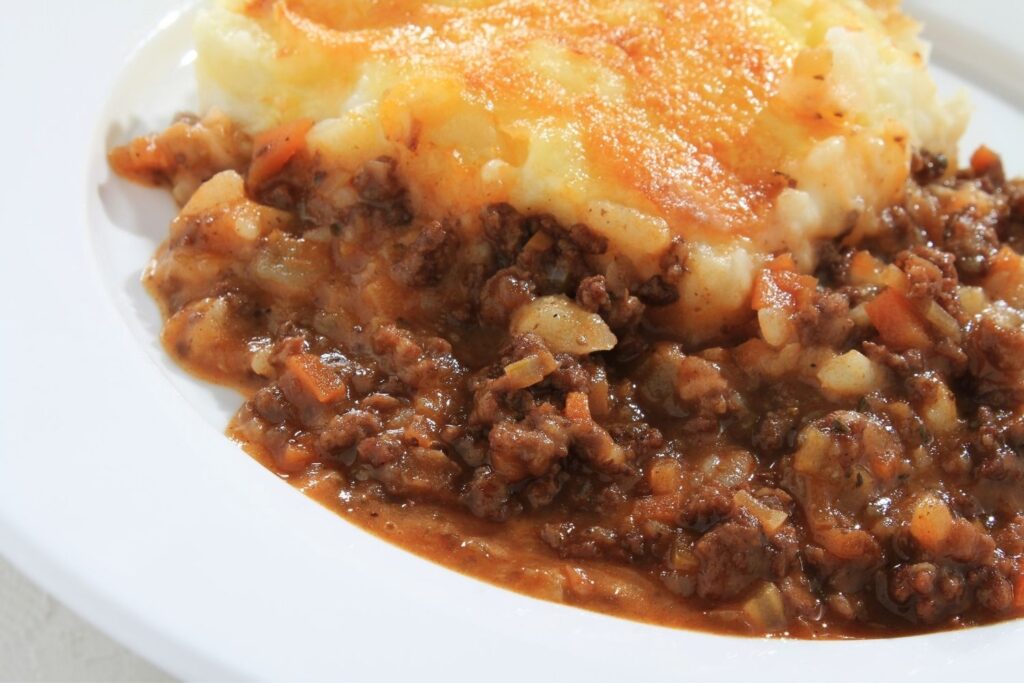 How To Make Cottage Pie
Cottage pie is made with beef mince in gravy on the bottom layer, topped with smooth mashed potato, and then roasted in the oven.
What You Need To Make Cottage Pie
This recipe serves 4 people, increase or decrease the ingredients depending on how many people you are cooking for, or, if you make extra, save some for another meal!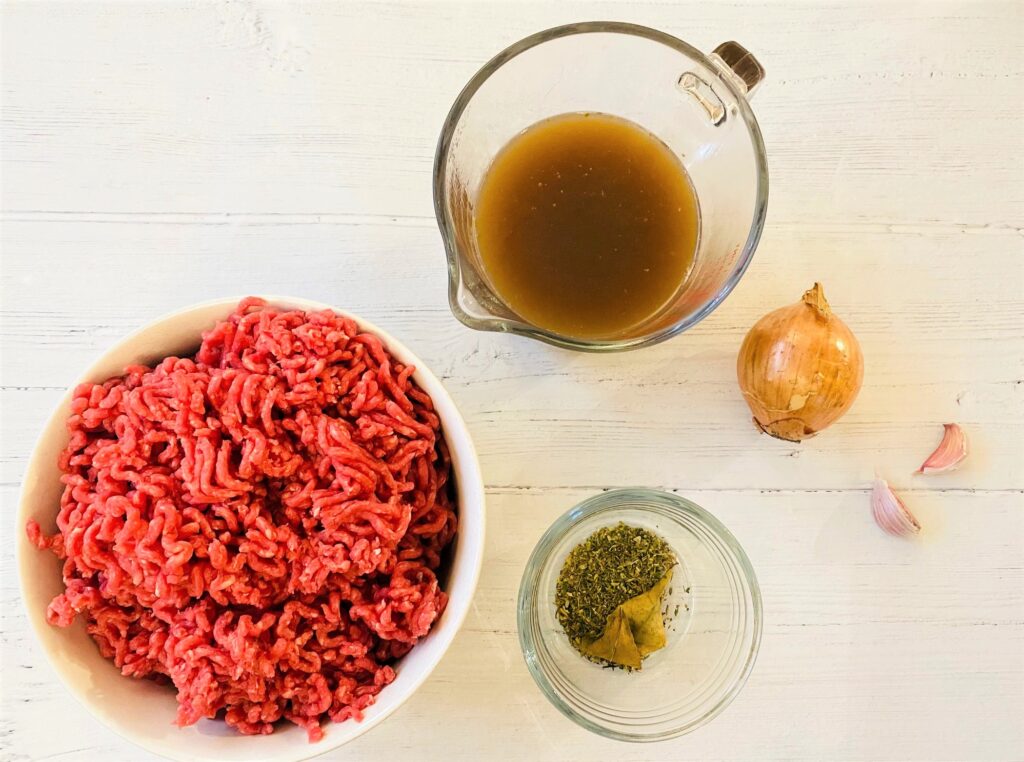 For the mince:
1 onion, chopped
400g – 500g lean beef mince
2 cloves garlic, crushed
1 tbsp tomato puree
300ml beef stock
1 tsp dried mixed herbs
1 bay leaf
1 tsp Worcestershire sauce
Salt and pepper to taste
Optionally include some chopped celery sticks, carrots and peas in the mince.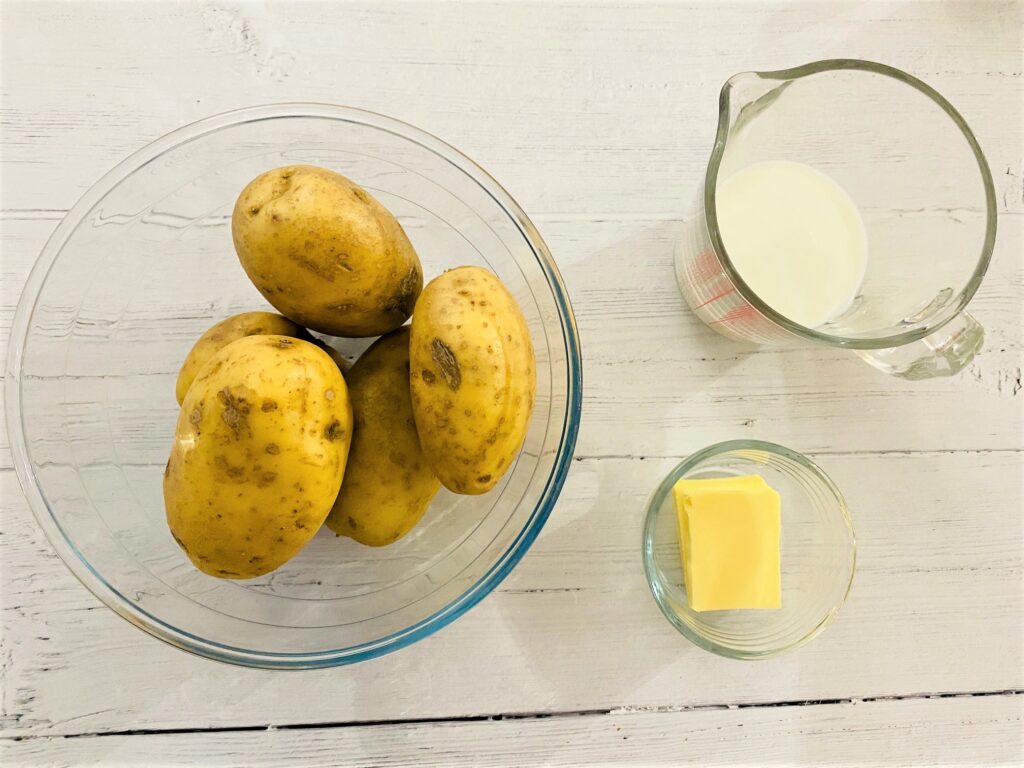 For the mashed potato:
1 kg Maris Piper or King Edward potatoes
150ml milk
50g butter
Salt and pepper to taste
Optional: 100g grated cheese (cheddar is a good choice)
There are three parts to making a cottage pie. I'll go through each step below;
Making Mince For Cottage Pie
Brown the chopped onion and beef mince in a pan before adding the crushed garlic, tomato puree, beef stock, herbs and a splash of Worcestershire sauce. If you are including any vegetables (celery, carrots or peas), add them in now too. Season with salt and pepper if required.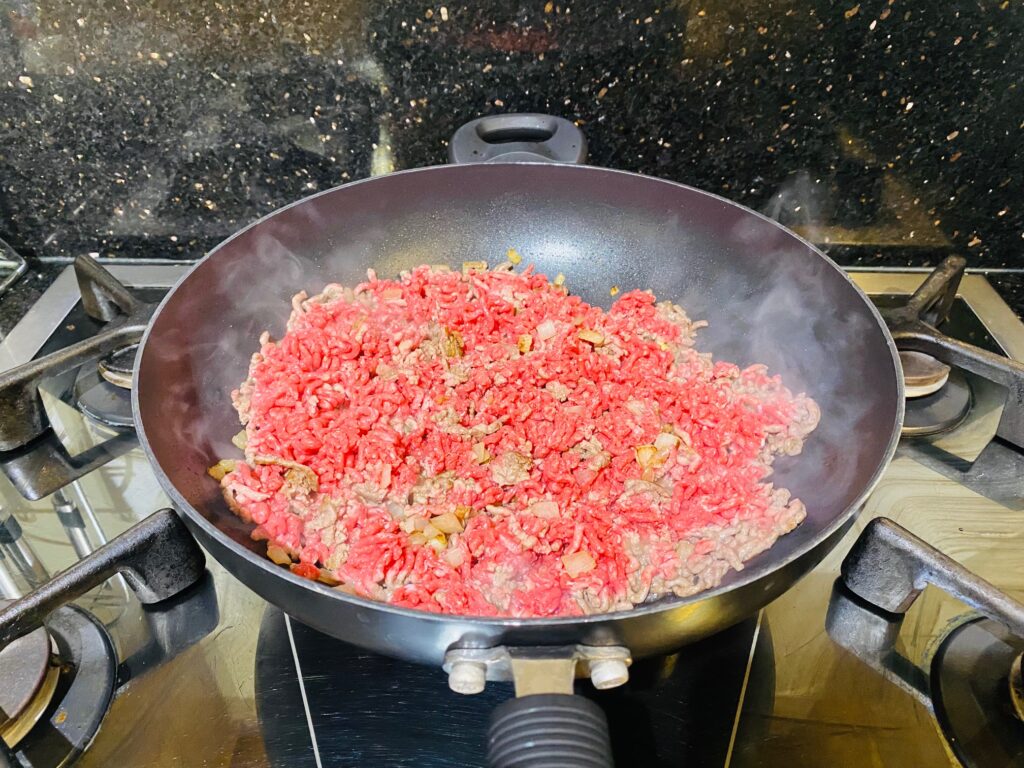 After you've added all the ingredients, leave it to simmer for about 30 minutes, stirring every so often. If it starts to dry out, add a little hot water and stir. If the sauce is too thin stir in a tablespoon of flour or some beef gravy granules.
Making Mashed Potato For Cottage Pie
While the mince is simmering away you can start making the mashed potato. Peel and chop up the potatoes – I like to use Maris Piper potatoes but King Edwards are also a good option.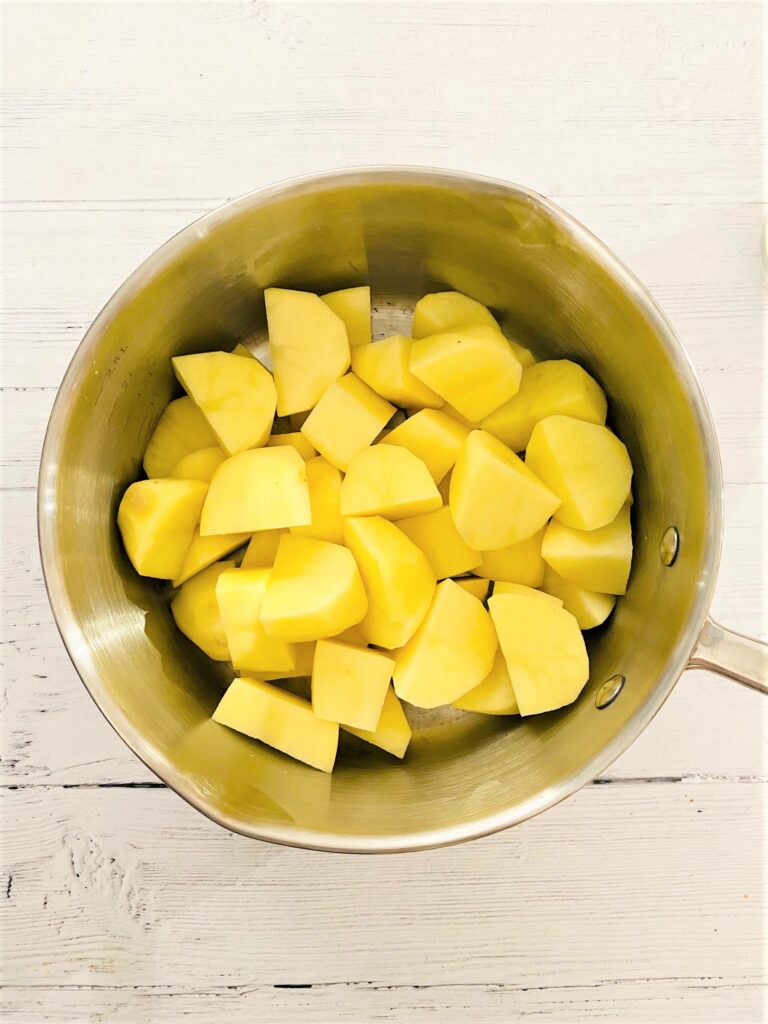 Add the potatoes to a saucepan of boiling water, add a little salt if you usually do when making mashed potatoes, and boil until the potatoes are soft and you can easily pierce them with a fork or knife.
Remove from the hob and drain the water away. Add the butter and start to add the milk – don't add all the milk at once, just add about half and then mash the potatoes. Add more milk until the mash is at the consistency you like.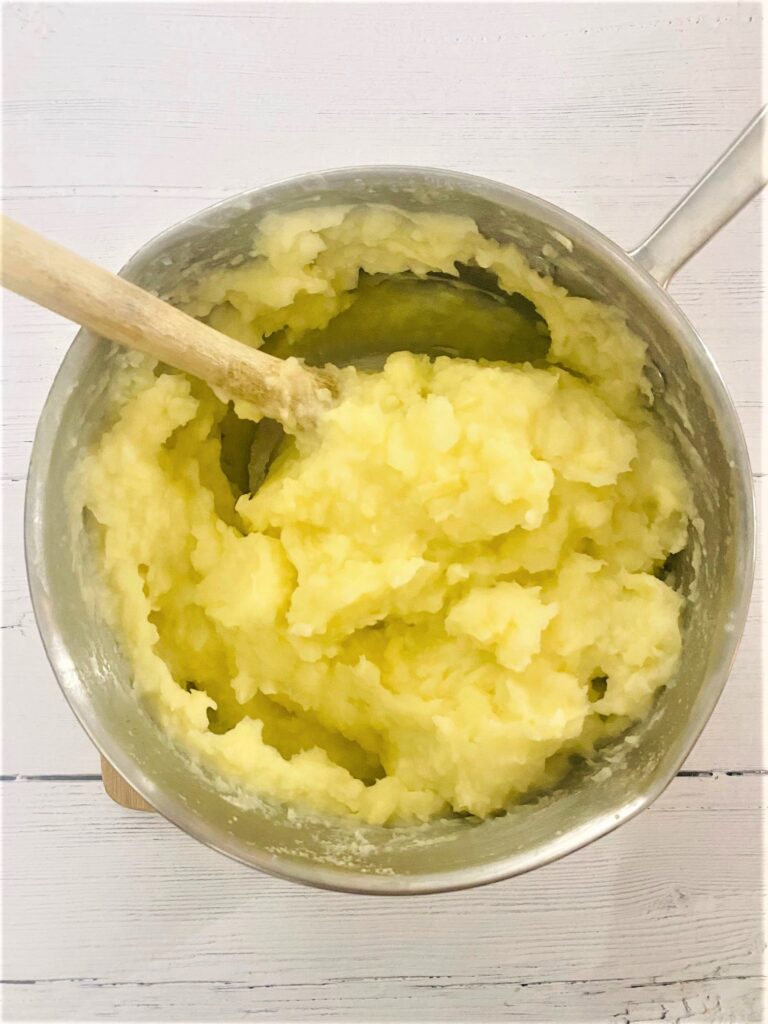 Optionally add in some grated cheese to make a cheesy mash. Cheddar cheese is a good option but other cheese varieties can be used too, as long as they melt easily. You can also add in some cream if you want a creamier mashed potato.
If you don't want to use mashed potato as the topping you can use a mashed potato alternative.
Cooking The Cottage Pie In The Oven
Preheat the oven to 220C/200C fan/gas mark 7.
Transfer the cooked mince mixture to an ovenproof dish and level it out.
Gently place the mashed potato over the top of the mince, taking care not to put too much pressure on the mash as you spread it out.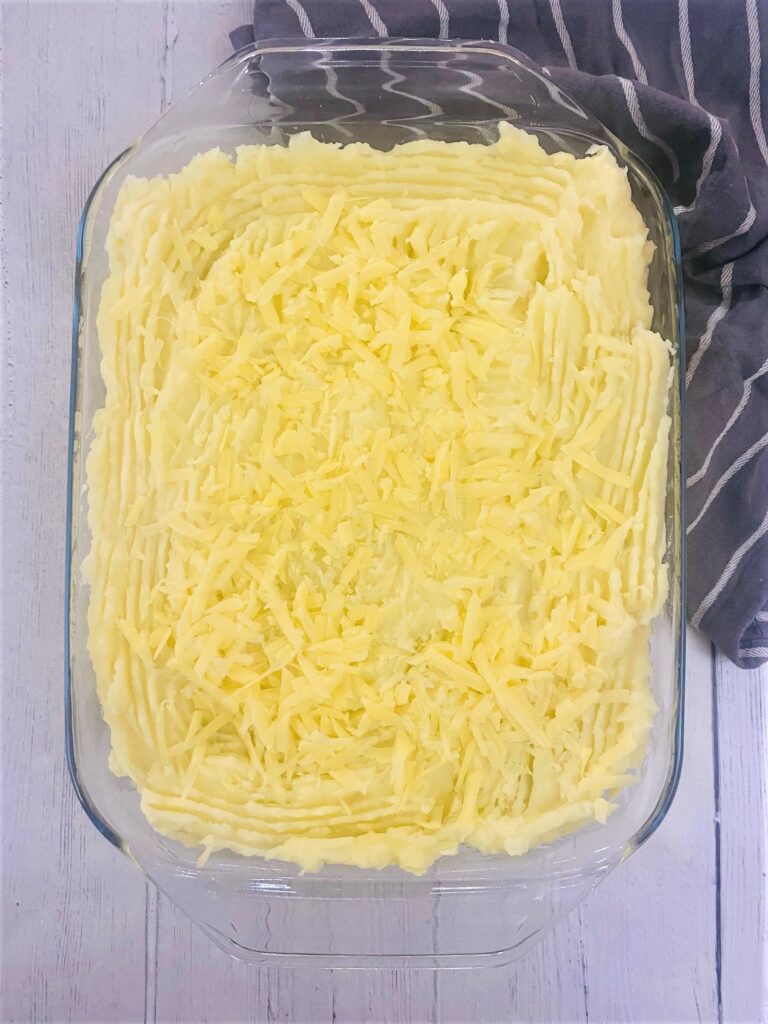 Optionally sprinkle some grated cheese over the top of the mash.
Place in the oven and cook for about 25 minutes, or until the cottage pie is golden brown on top.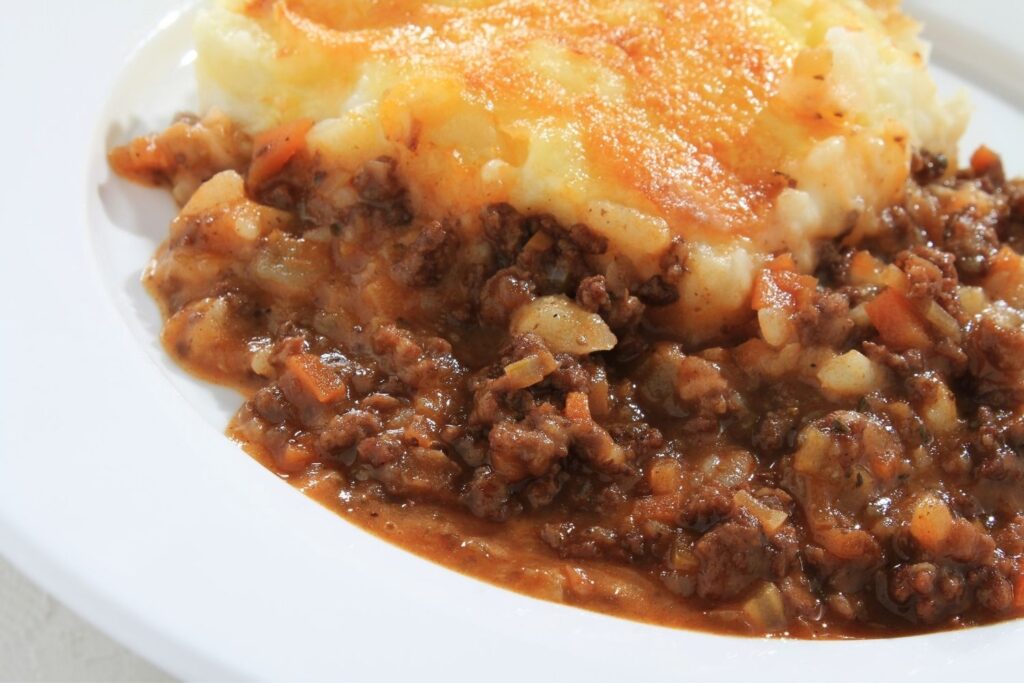 What To Serve With Cottage Pie
If you've included peas, carrots and celery within the cottage pie then you have a complete meal in itself – but if you haven't then any vegetables will work as a side – peas, broccoli, greens, carrots etc.
How Long Does Cottage Pie Last?
Cottage pie will last in the fridge for up to 3 days.
Can You Freeze Cottage Pie?
Yes, cottage pie can be frozen for up to 3 months.
How To Reheat Cottage Pie
Cottage pie can be reheated from chilled. Reheat chilled cottage pie for about 30 minutes in the oven or until piping hot all the way through. You might want to cover it with some foil to stop the top from crisping up too much.
You can also reheat cottage pie from frozen, but double the cook time – and again, make sure it is piping hot all the way through.
What's The Difference Between Cottage Pie and Shepherd's Pie?
Cottage pie is made from beef mince and shepherd's pie is made from lamb mince.
I hope you enjoy this cottage pie recipe – let me know in the comments if you make it!