Granola is one of those breakfast cereals that we regularly buy at the supermarket without really thinking about how easy it is to make at home.
After some looking at the back of packets and a bit of experimenting with different combinations, I've come up with an easy to make granola recipe that, when stored correctly, will last you for up to one month.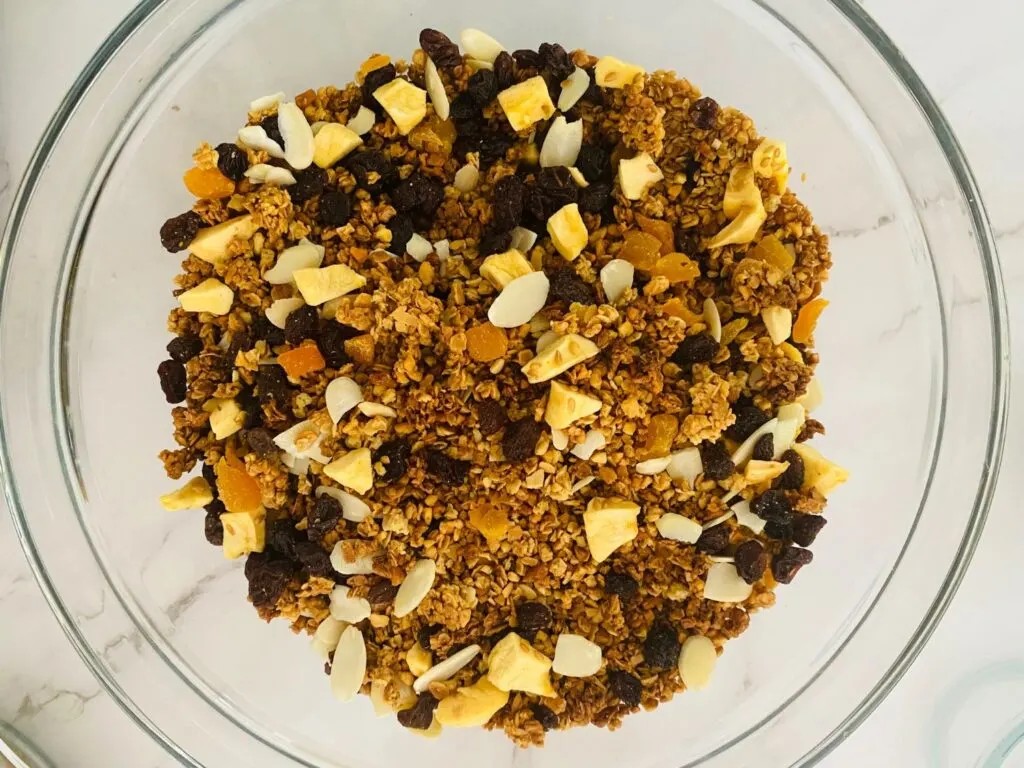 This recipe makes about 1kg of granola which is enough for about 10 servings. You can also double or triple the batch size depending on how many people live in your household.
What You Need To Make Granola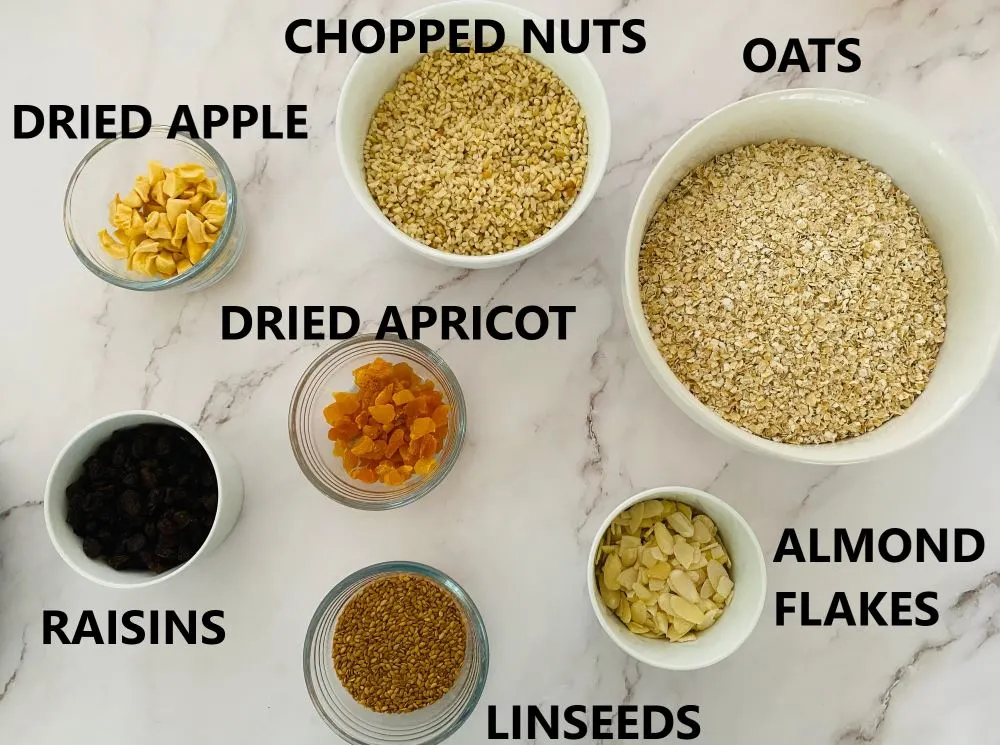 Oats
The base ingredients required for granola are oats. Some people make granola with a combination of rolled oats and wheat bran, but you can use oats on their own if that's all you have to hand.
A few supermarkets sell oats with wheat bran and sometimes oat bran mixed in.
The other dry ingredients you will need are;
Oil and Butter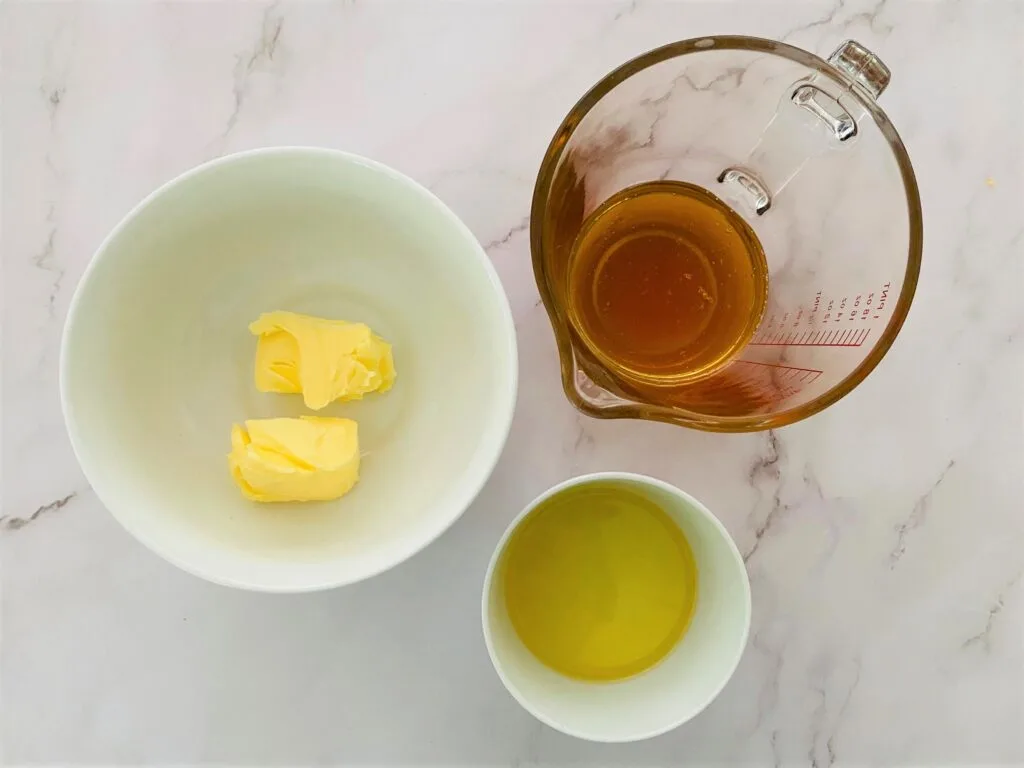 You can just use oil or a combination of melted butter and oil. The oil will help the oats to crisp up and turn a crunchy golden brown in the oven.
Good choices of oil to use are vegetable or coconut.
Butter will help the oats bind together, if you like clustered and crunchier granola add more butter so that the oats stick together before baking them.
Sugar
How much sugar and what type of sugar you use is up to your personal preferences. This is one of the many benefits of homemade granola; you control precisely what goes in it.
I like to use one, or a combination of;
honey
maple syrup
brown sugar
Nuts and Seeds
Either use a premixed blend of various nuts and seeds or pick your favourites. Popular choices include;
almonds
hazelnuts
sunflower seeds
linseed
chia
pumpkin
Of course, if you want a nut and seed free granola, you can leave them out altogether.
Dried Fruits
Some shop-bought granola includes freeze-dried fruits (such as freeze-dried strawberries and raspberries), but they aren't always easy to find, or they can be expensive for small amounts.
Dehydrated and dried fruits are perfect for granola; you can either buy them in packets at the supermarket or at a wholefood store (also check online, Amazon sell some, as do Buy Wholefoods Online).
You can also dehydrate your fruits if you have the time and inclination!
There are so many different dried fruits that you could add to granola, pick one or a combination of any of the following;
raisins
sultanas
dried cranberries
goji berries
dried cherries
dates
prunes
dried strawberries
dried pineapple
dried apple
dried mango
Optional Toppings
The following can also optionally be added, depending on what taste you are going after;
Coconut flakes or desiccated coconut – perfect to add to tropical granola.
Cinnamon – a lovely warming spice, perfect for a Christmas granola.
Chocolate – add some dark chocolate chips for a treat.
How To Make Granola – Step By Step
Mix the oats with the nuts and seeds (if you include nuts and seeds!)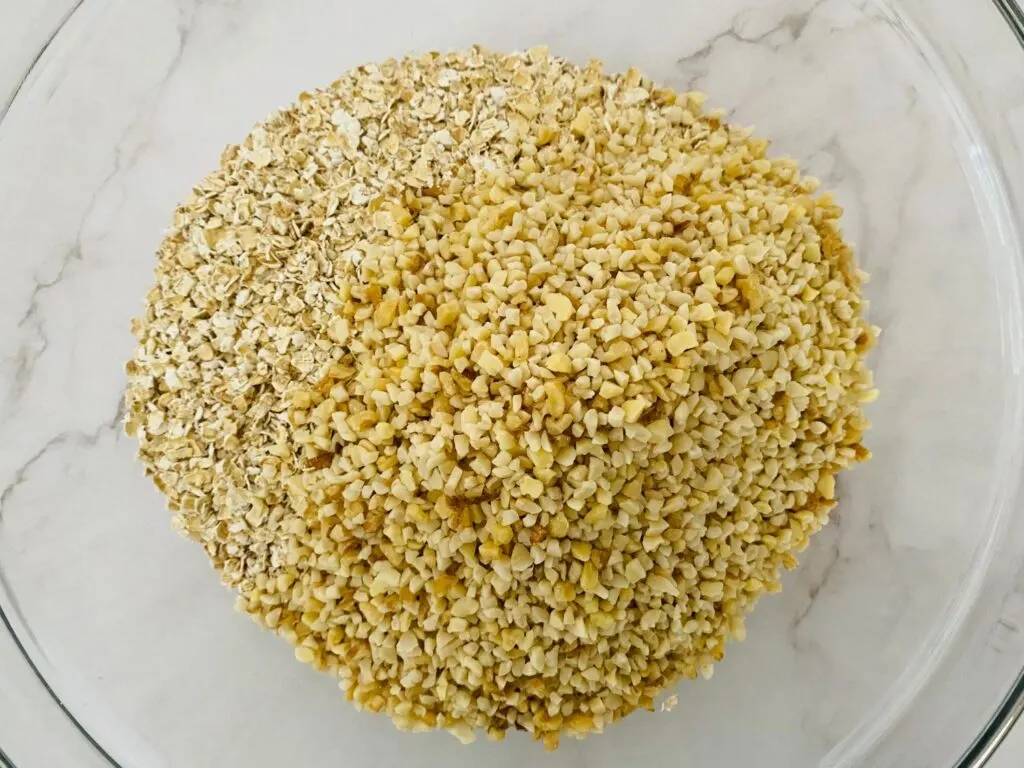 Combine your fat and sugar. If you are using butter, melt this in a pan and stir in your choice of sugar (honey, maple syrup or brown sugar, or a combination of more than one sugar).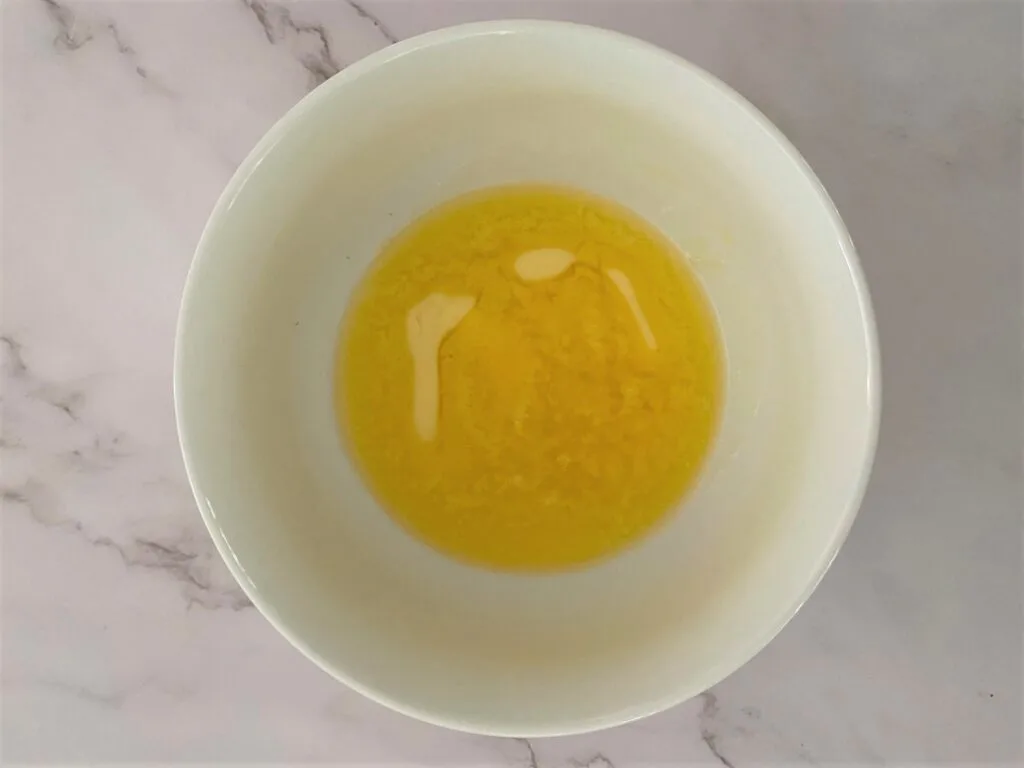 Pour the fat and sugar mixture over the oats, nuts, and seeds and toss until everything is mixed.
Spread out in a baking tin or sheet – you might need to use more than one.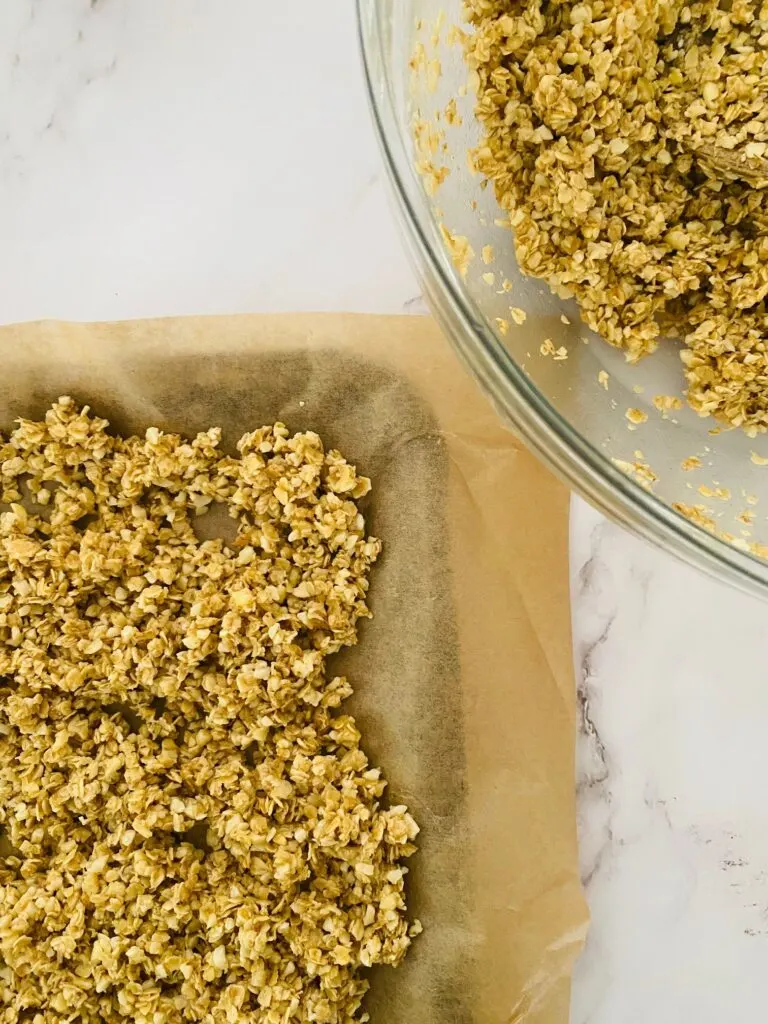 Cook for 30 to 40 minutes, stirring every 10 minutes until the oats are golden brown.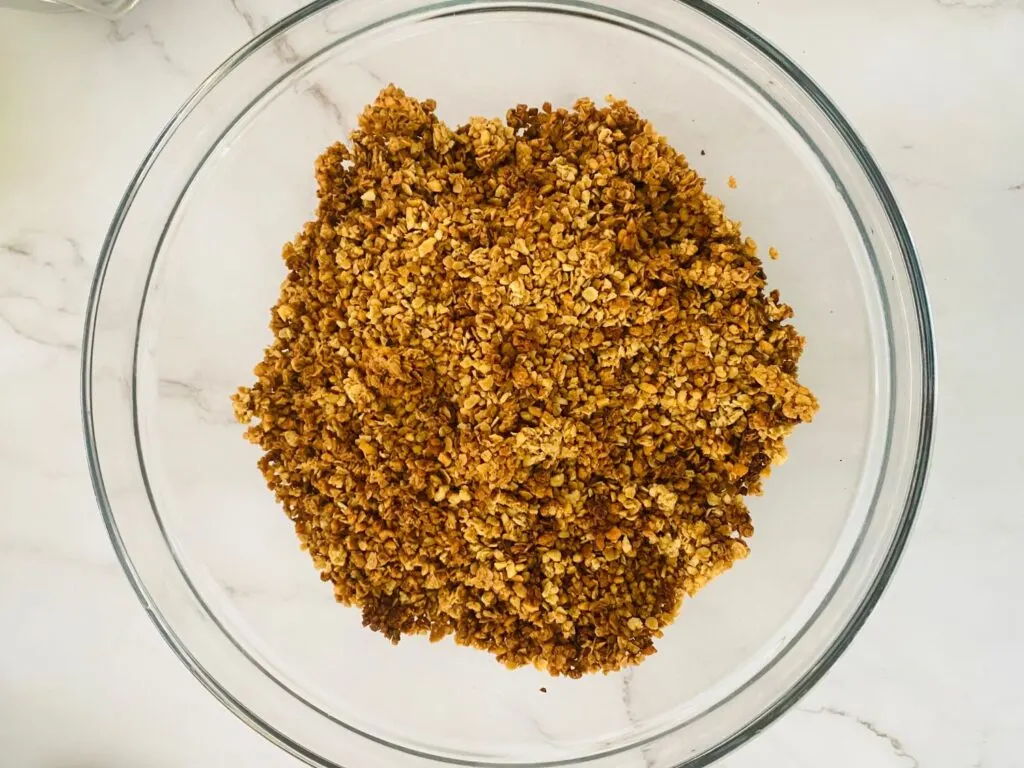 Leave to cool before adding in the dried fruit and any of the optional extras.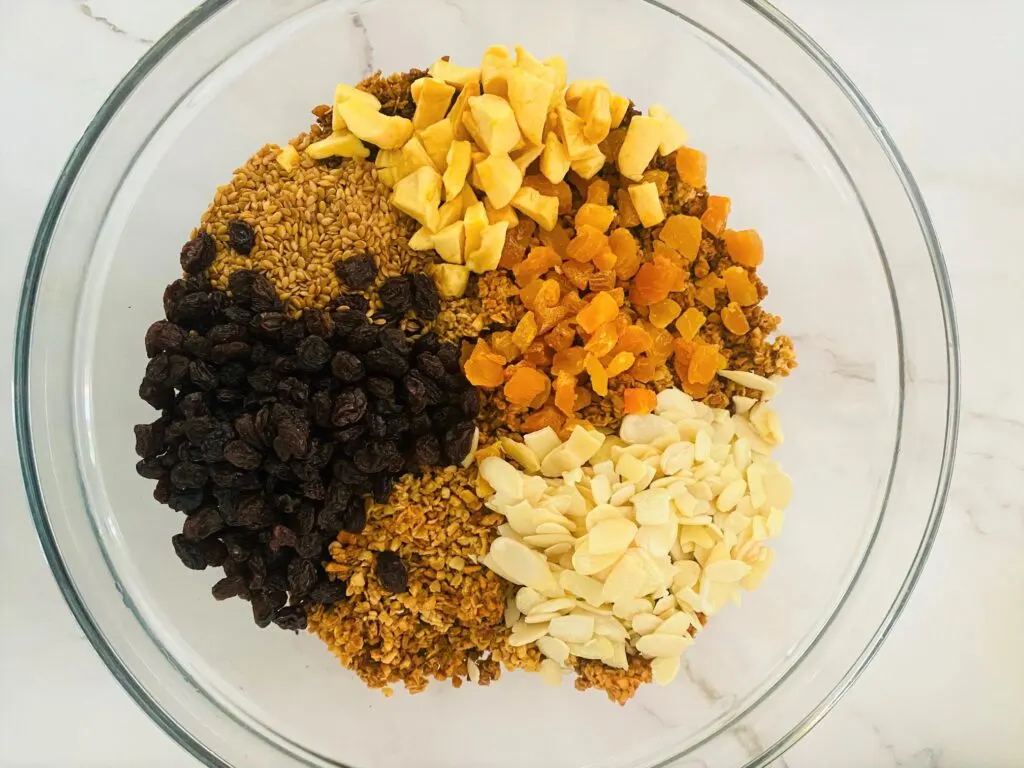 How To Serve Granola
There are plenty of different ways to serve granola;
Put the granola in a suitable bowl and pour your favourite milk over the top. Add some additional toppings if required (see granola toppings below).
Pop some in a sandwich bag or Tupperware bowl for an on the go snack.
Sprinkle it on top of a baked apple.
As an ice cream topping.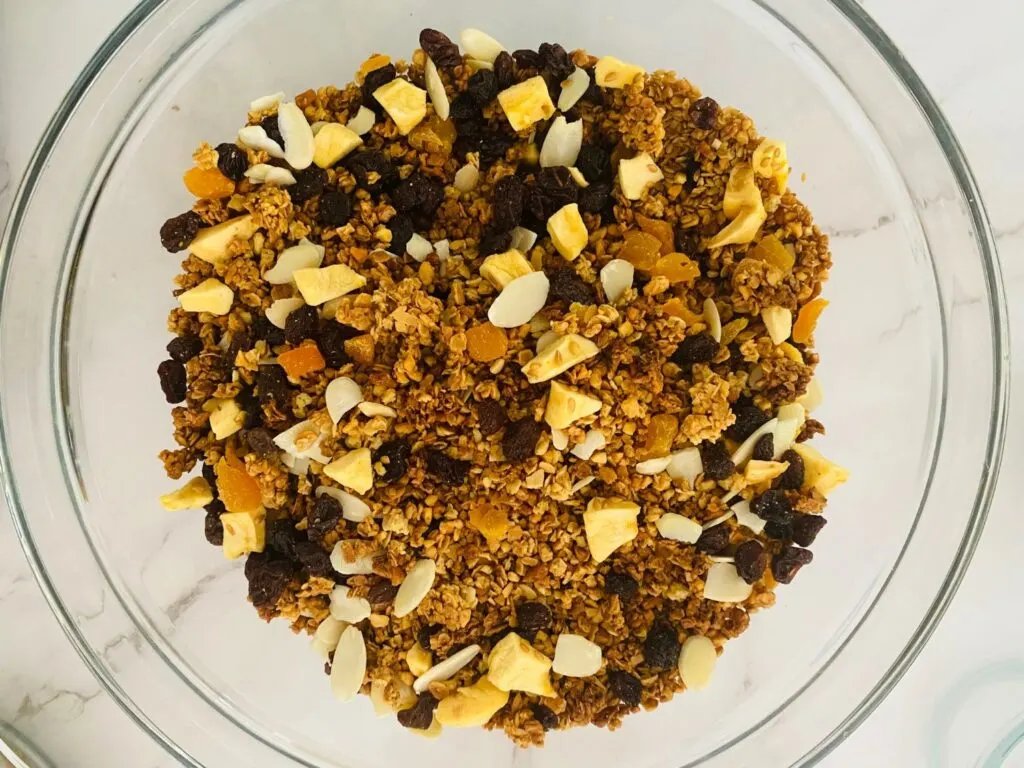 Granola Toppings
If you have granola as a breakfast meal, you can either enjoy it as it is or experiment with some of the following topping ideas;
How To Store Granola
Granola needs to be kept in an airtight container. Don't transfer the granola to the container until it has completely cooled down, or condensation will develop, and the granola will go soggy.
It can be kept out at room temperature, but to extend its life for as long as possible, try and store it in a dark place away from direct sunlight.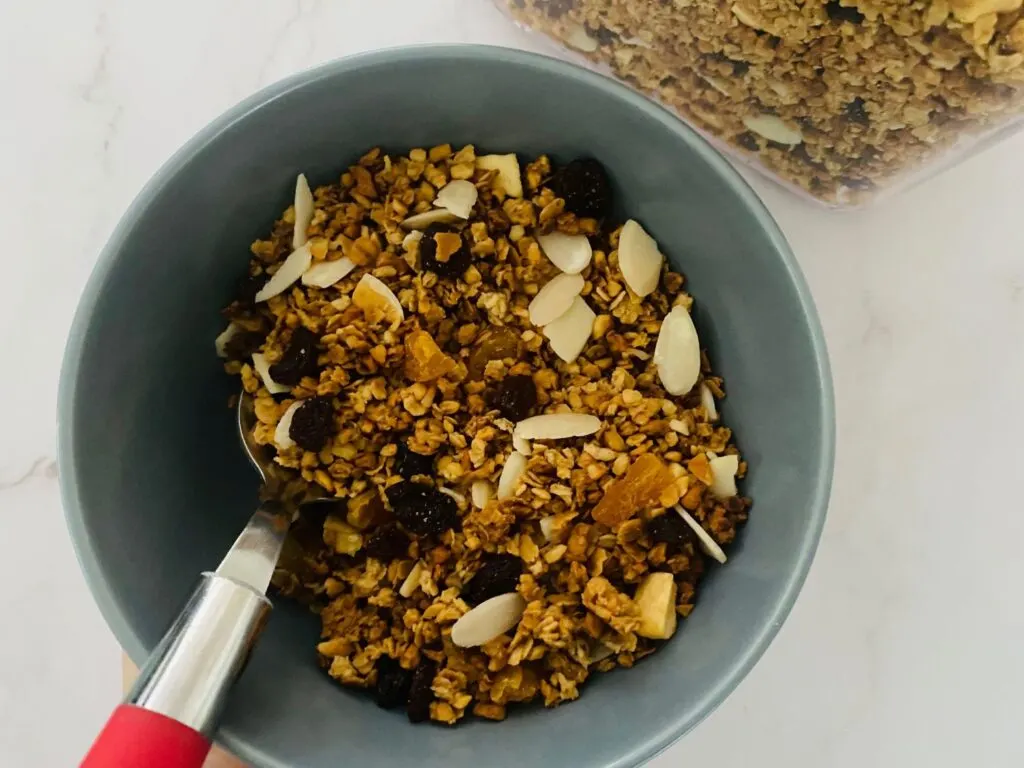 How Long Does Granola Last?
If stored correctly, homemade granola should last at least one month, possibly up to two months.