A pork mince stir fry is a delicious and easy dish to make at home. All you need are some simple ingredients, a wok or frying pan, and about 20 minutes of your time.
The best part is that you can customise the flavours to your own taste by using different sauces and seasonings.
So why not give it a try tonight?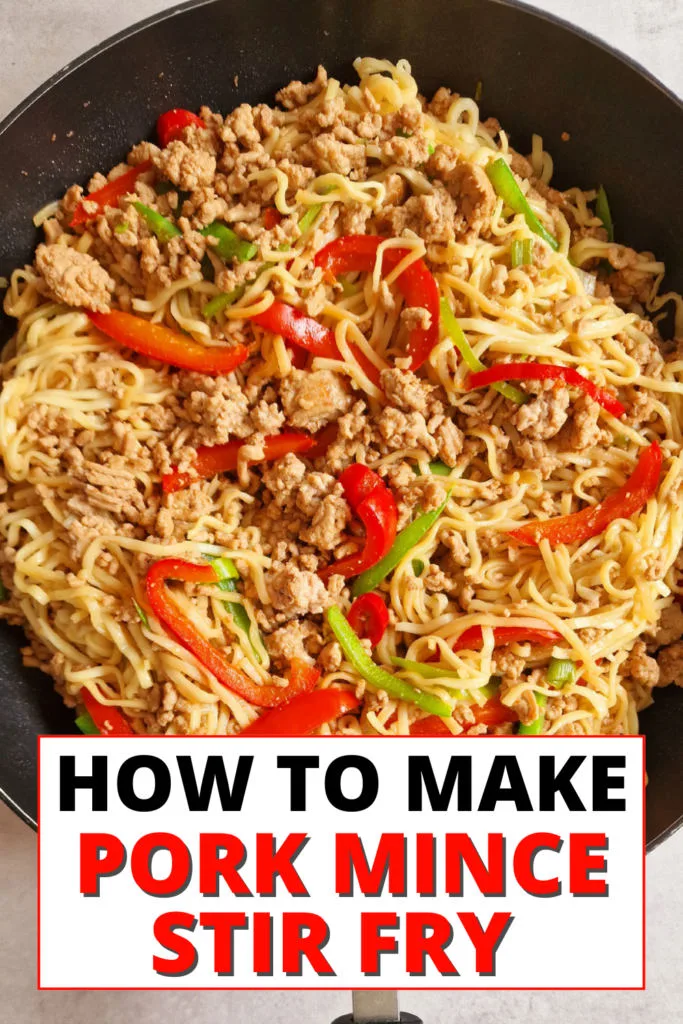 How To Make A Pork Mince Stir Fry
The ingredients below are enough to serve 4 people, feel free to adjust according to your needs. To print out the recipe head down to the recipe card at the bottom of this post.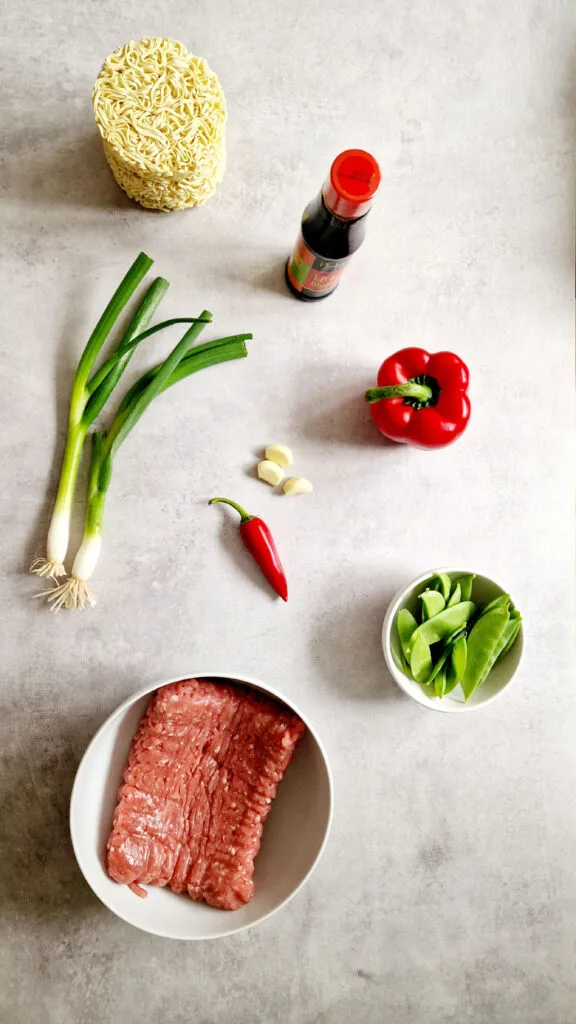 And as with many stir fry recipes, they can be adjusted with different ingredients swapped in and out, but more about that further on.
Ingredients For Pork Mince Stir Fry
1 tablespoon sesame oil or vegetable oil
150g – 200g of mangetout (see below for alternative options)
400g of pork mince
3 cloves garlic, crushed or thinly sliced
2 spring onions, sliced
1 red pepper, chopped
1 red chilli, sliced
4 tbsp Kicap Manis – see details below for alternatives
2 tbsp soy sauce
Noodles or Rice
Vegetable Options For A Stir Fry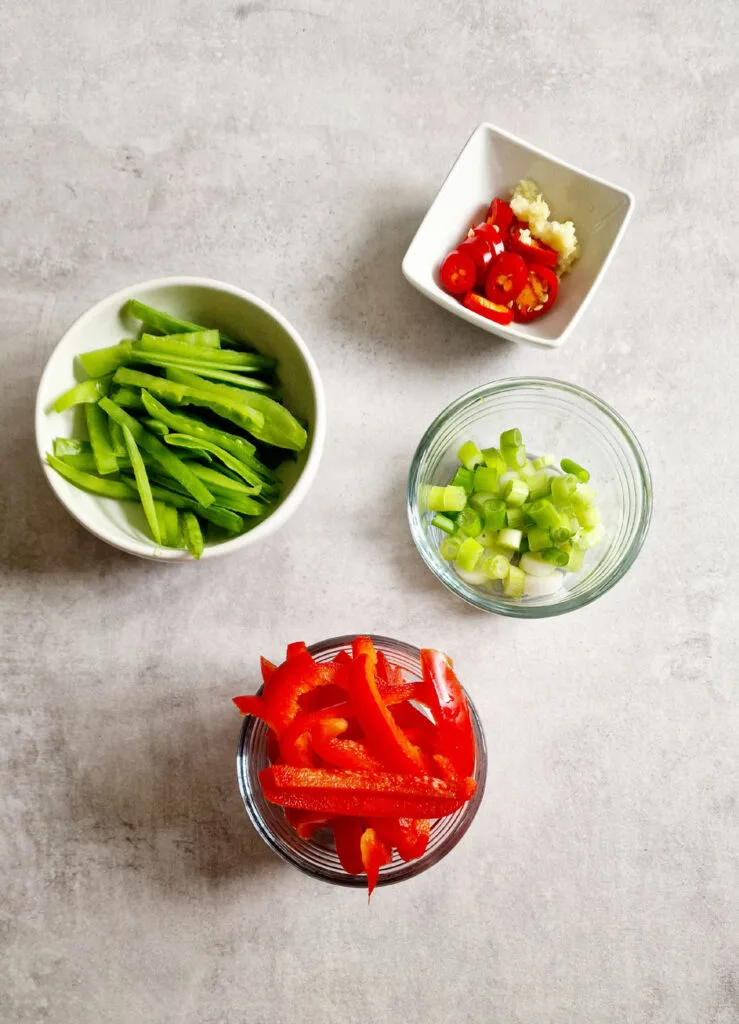 You can really use any vegetables you like in a stir fry. It's an opportunity to use up any vegetables you have available at home that need using up, or, any discounted ones you find at the supermarket.
For this recipe, we used red bell pepper, red chilli, spring onions and mangetout.
Some of our favourites include:
broccoli
baby sweetcorn
carrots
celery
green beans
peppers
chillies
spring onions
sugar snap peas
mangetout
courgettes
mushrooms
cabbage
pak choi
When making a stir fry, it's best to cook the vegetables separately from the meat (or other protein) and then mix them together at the end.
If you try cooking them all together the pan will likely be too crowded and the vegetables will potentially go soggy.
The Stir Fry Sauce
You can use one of the packet stir fry sauces that most supermarkets stock, or just add a few ingredients together to make your own.
A quick and easy one to use with a pork mince stir fry is mixing together 4 tbsp of soy sauce, 4 tbsp sweet chilli sauce and 1 clove of crushed garlic.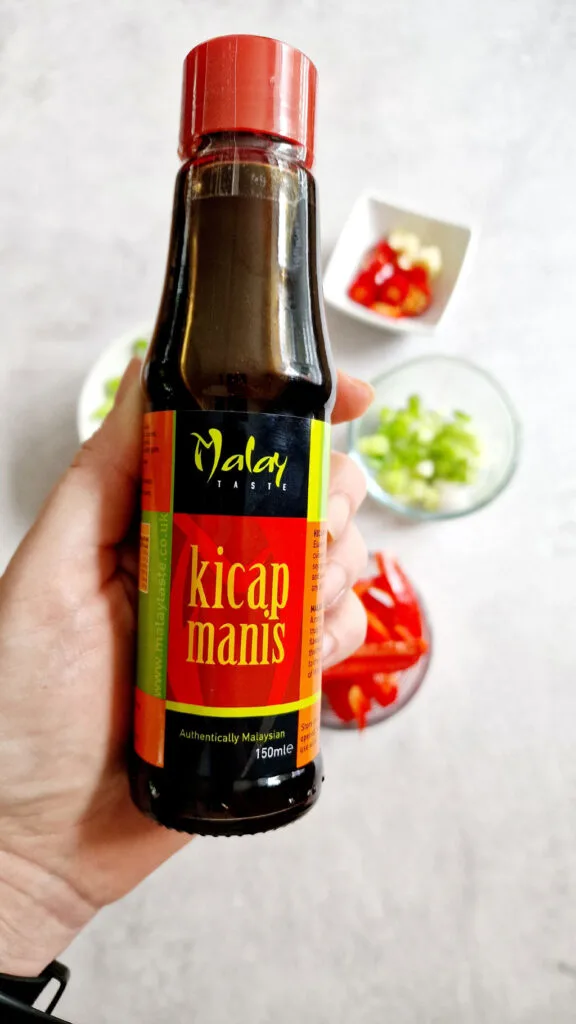 For this recipe, I used 4 tbsp of Kicap Manis (available in most supermarkets) mixed with 2 tbsp soy sauce.
What Is The Best Oil To Use For Making A Stir Fry?
The best oil for making a stir fry is one that has a high smoke point, such as vegetable oil, sesame oil, or peanut oil. This will ensure that the oil doesn't burn when cooking at high temperatures.
Making A Pork Mince Stir Fry – Step by Step
Before you start cooking the stir fry, it is important to prepare everything.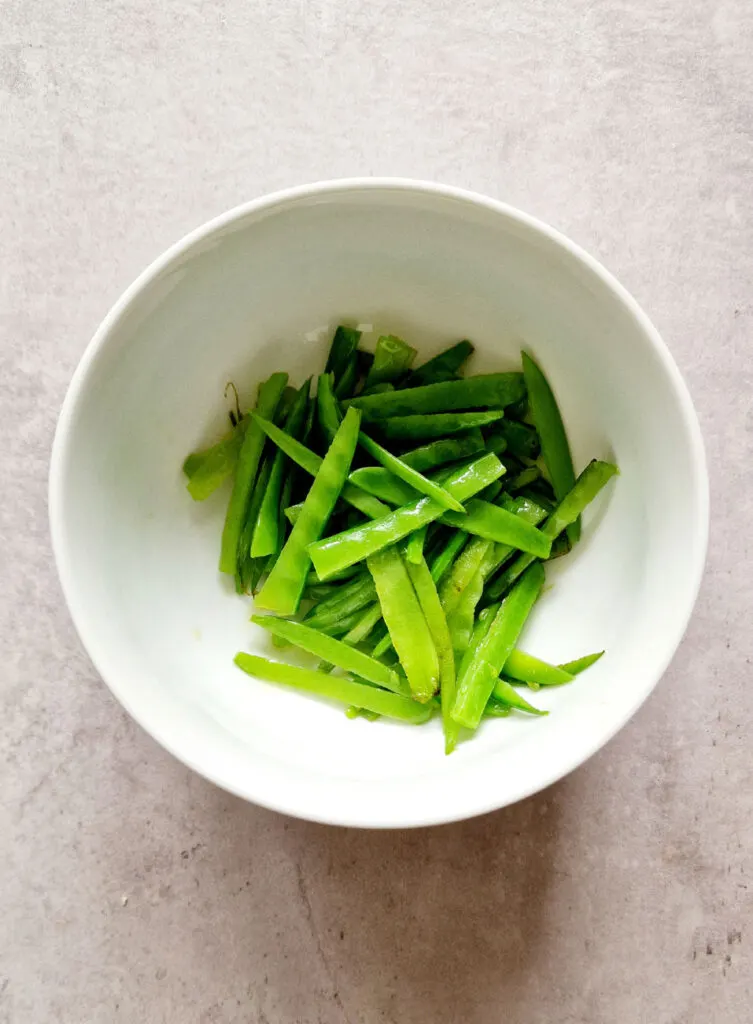 First, top and tail the mangetout and slice them into thin pieces. Then, slice the spring onions, red pepper, and chilli and crush the garlic.
If you are using different vegetables, prepare them accordingly (chopping up into thin slices works best).
Once all of the vegetables are prepared, you are ready to start cooking!
To make a pork mince stir fry, first heat your wok or large frying pan before adding the oil.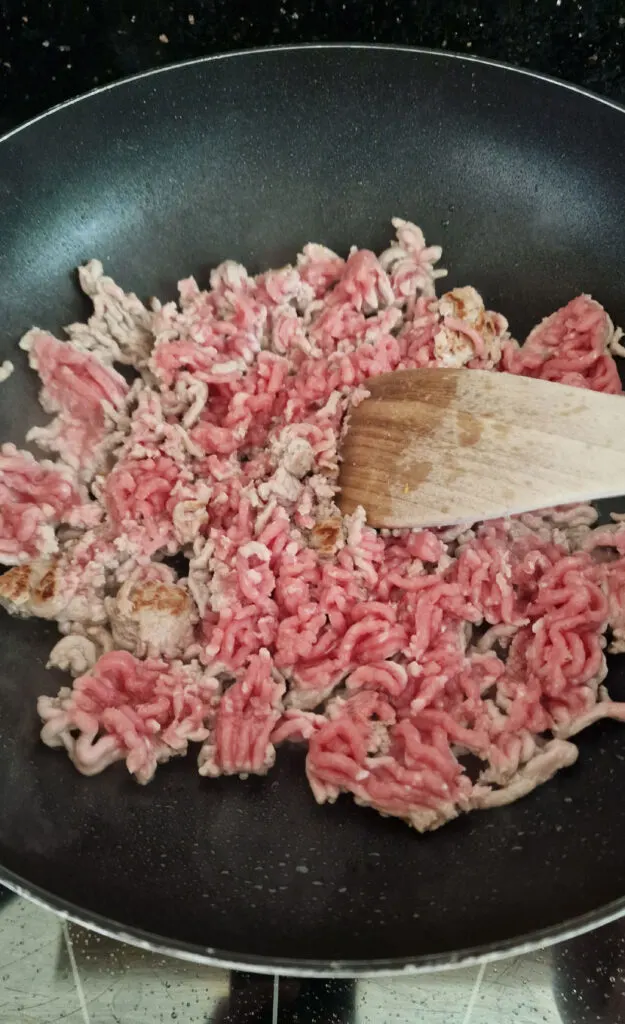 Add the pork mince, breaking it apart as it cooks. The pork should take about 5 minutes to brown. Once it is cooked through and there are no pink bits left.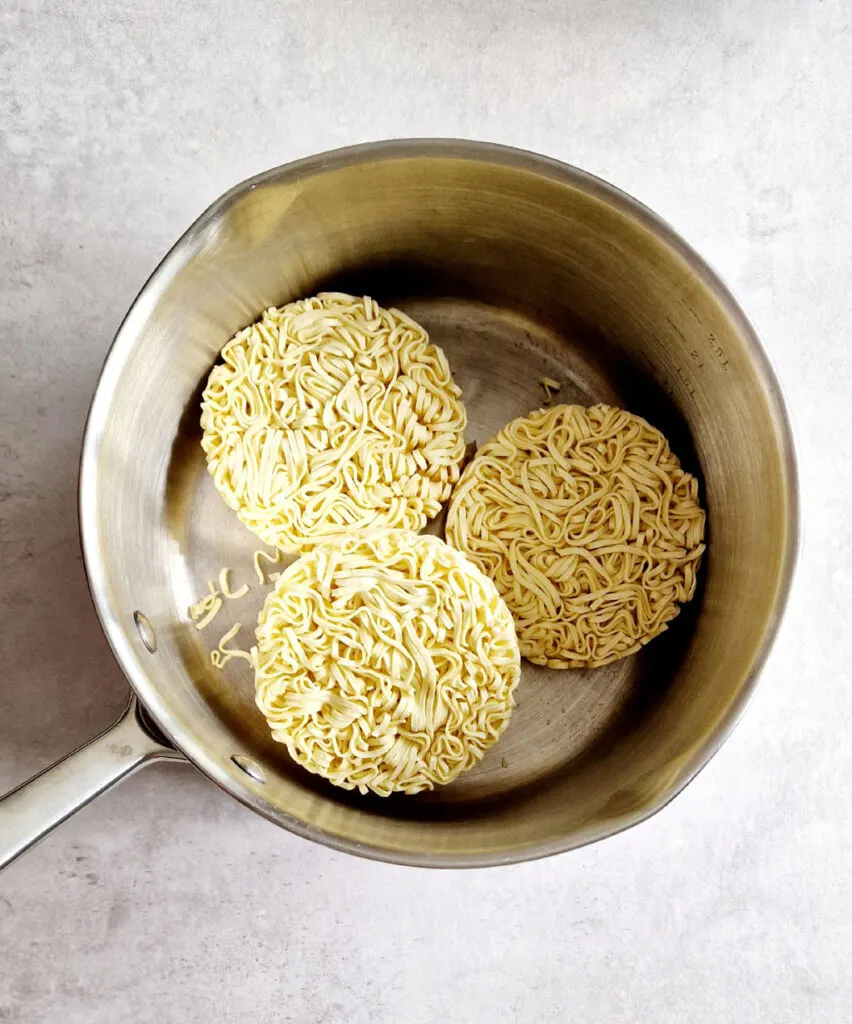 While the pork is browning, cook the noodles according to packet instructions. Once they are cooked (they should only take a few minutes) drain the hot water away and rinse with cold water to stop them from sticking together.
When the pork is cooked, remove it from the wok or pan, drain away any fat, and set it aside in a bowl.
Return the pan to the heat and add the pepper, chilli and mangetout. If the oil has dried out you might need to add a little more.
Cook for a few minutes, until they begin to soften, before adding the spring onion and crushed garlic.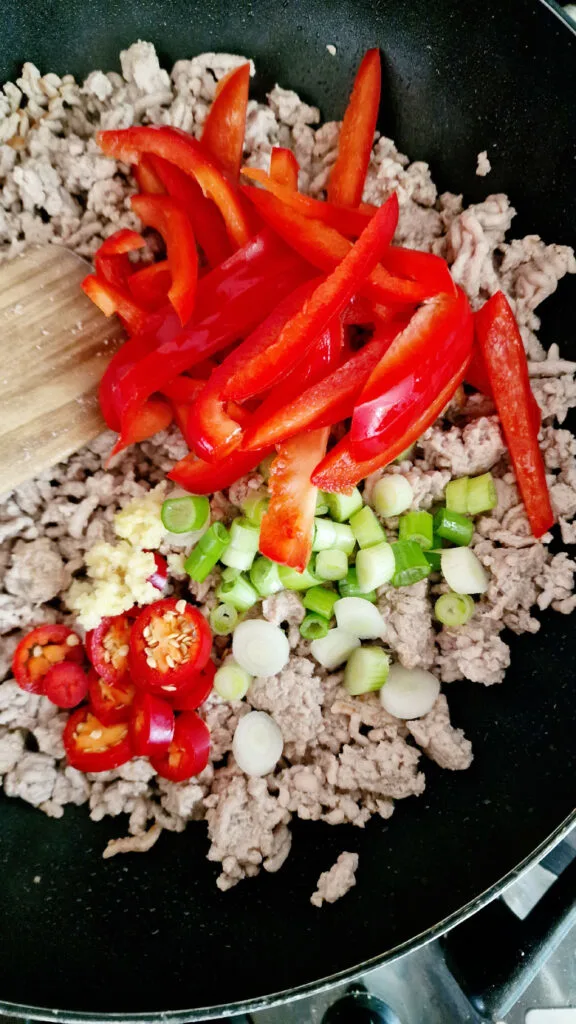 Return the pork to the pan together with the kicap manis and soy sauce and stir everything together. If it looks a little dry, add 1 or 2 tbsp of water and stir through.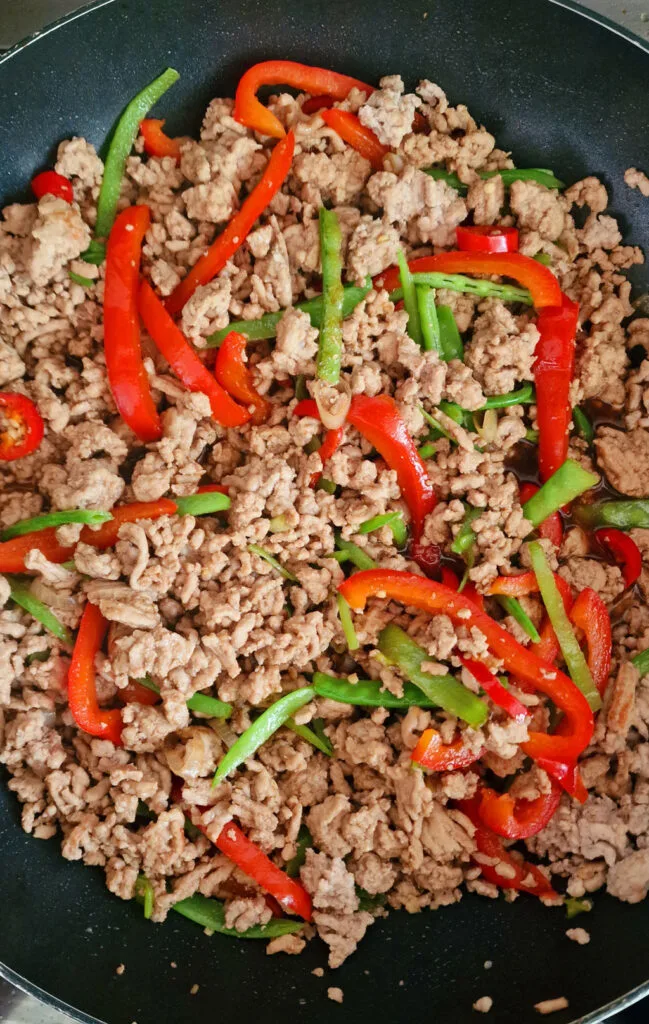 Bring to the boil and then leave to simmer for 2 minutes.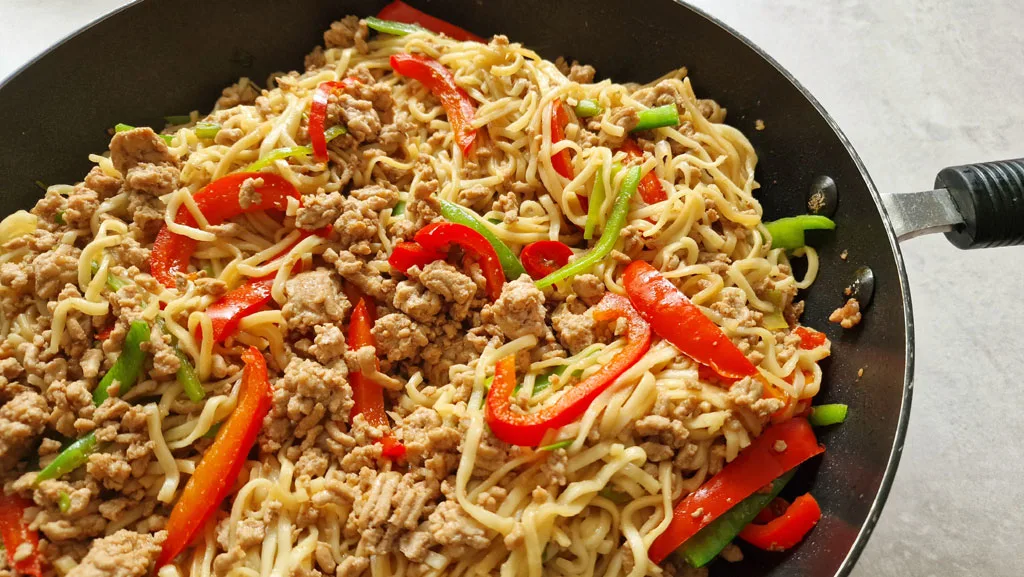 Turn the heat off and stir in the noodles.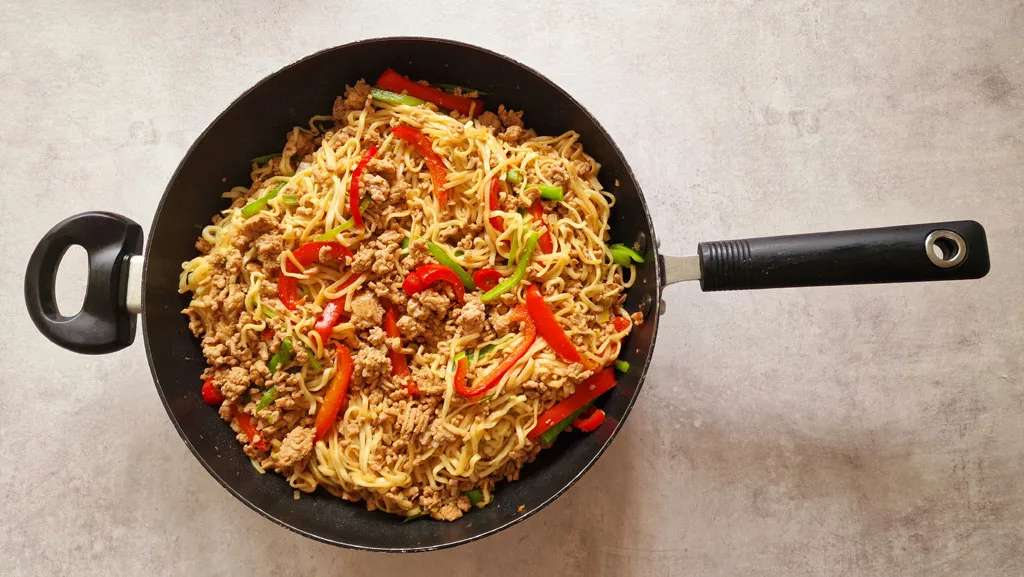 Serve up in bowls and enjoy!