This classic savoury tart has its roots in France but has evolved since then into a worldwide favourite. Freshly cooked, homemade quiche will always taste better than shop-bought (at least in my opinion!), and they are quite straightforward to make, too.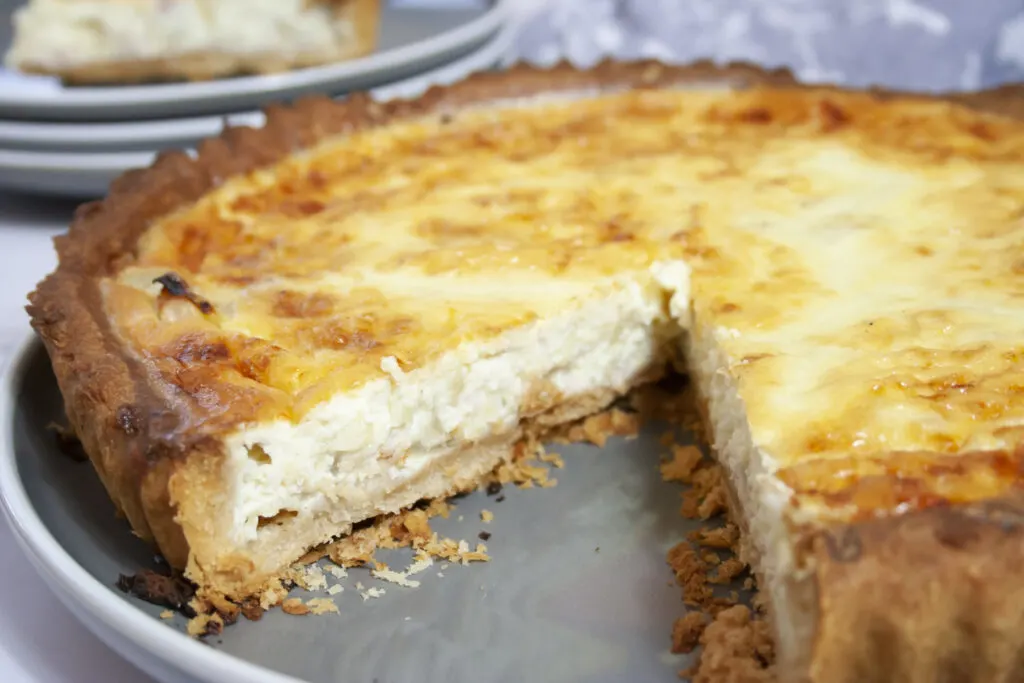 How to Make Quiche Lorraine
Pastry:
Learn here how to make super simple shortcrust pastry– it only takes 5-10 minutes to make and is even more delicious than the shop-bought version (and preservative free, too). Alternatively, use a block of ready-made shortcrust pastry, or even pre-rolled, although beware that this may be a bit thin for a quiche.
Roll out the pastry large enough to cover the flan tin (don't forget that it needs to be a bit larger to go up the sides), and relax it in, pushing it down with your fingers (without tearing the pastry, as this will make the filling leak out).
Prick the pastry base with a fork, and place a sheet of baking paper on top. Cover with baking beans. Blind bake at 200°C/180°C Fan/Gas Mark 4 for 15 minutes, when the pastry should be going just golden around the edges.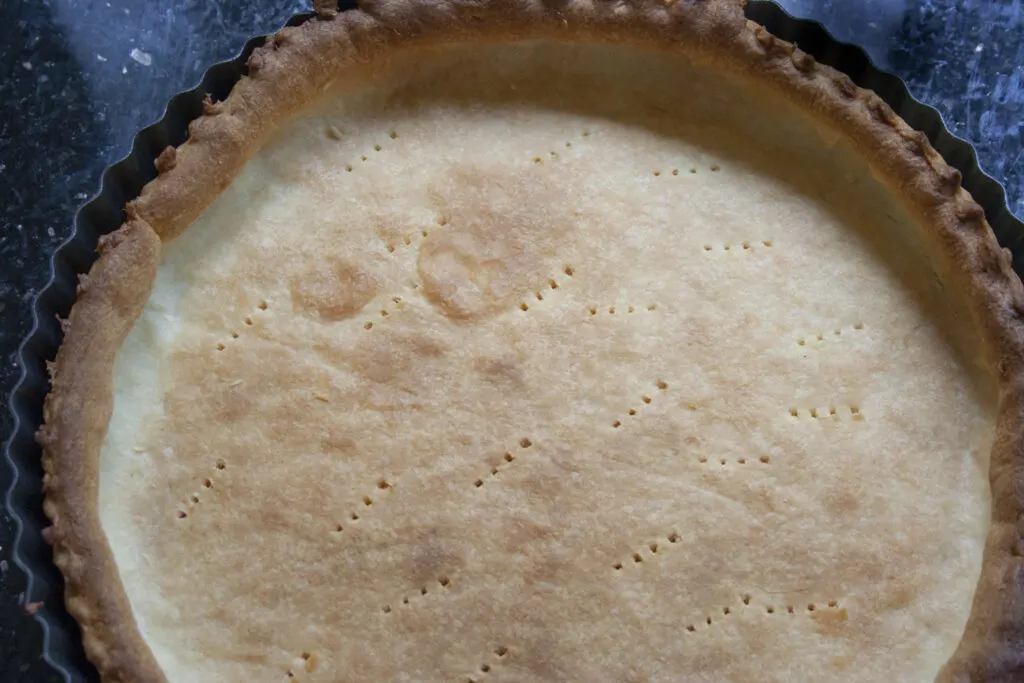 The filling:
Start by dicing the onion, and add to a frying pan. Cut up the bacon and add to the pan (or save some time by using some bacon lardons/pancetta). Dry fry over a low heat until the bacon is cooked.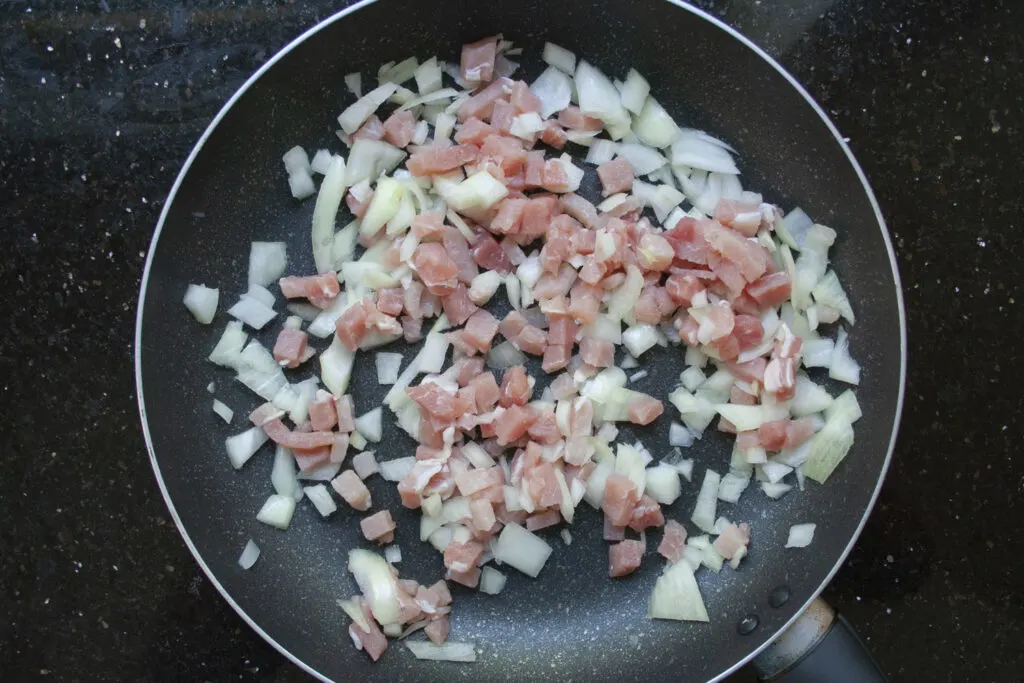 In a large bowl, whisk the eggs, milk, cream, salt and pepper until well mixed.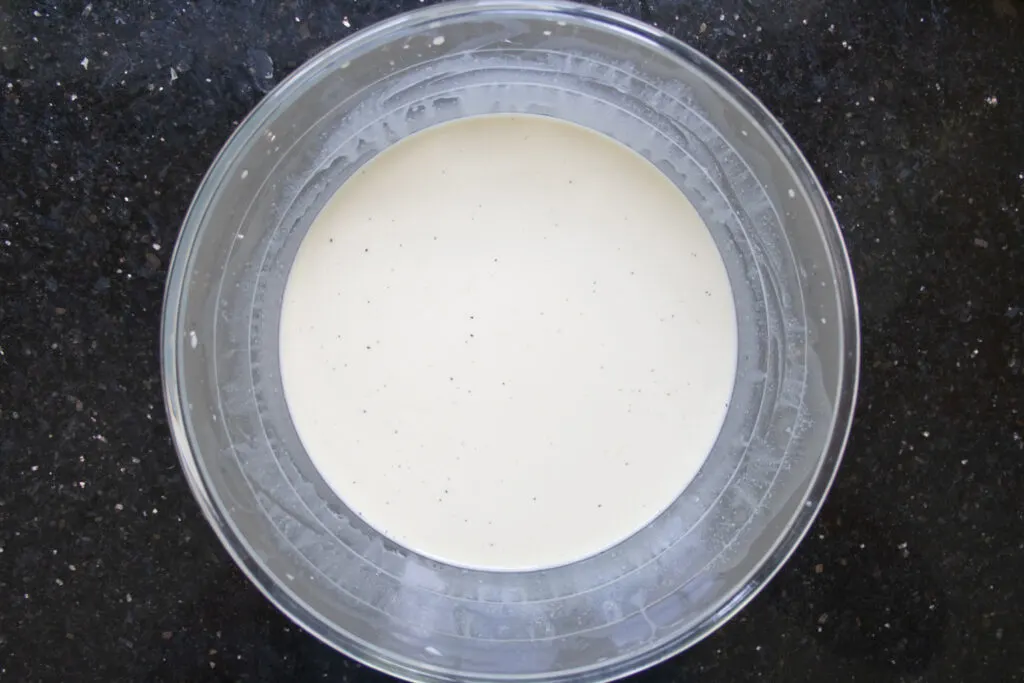 Grate the cheese onto a plate.
Put the onion and bacon into the pastry case. Add the cheese evenly on top.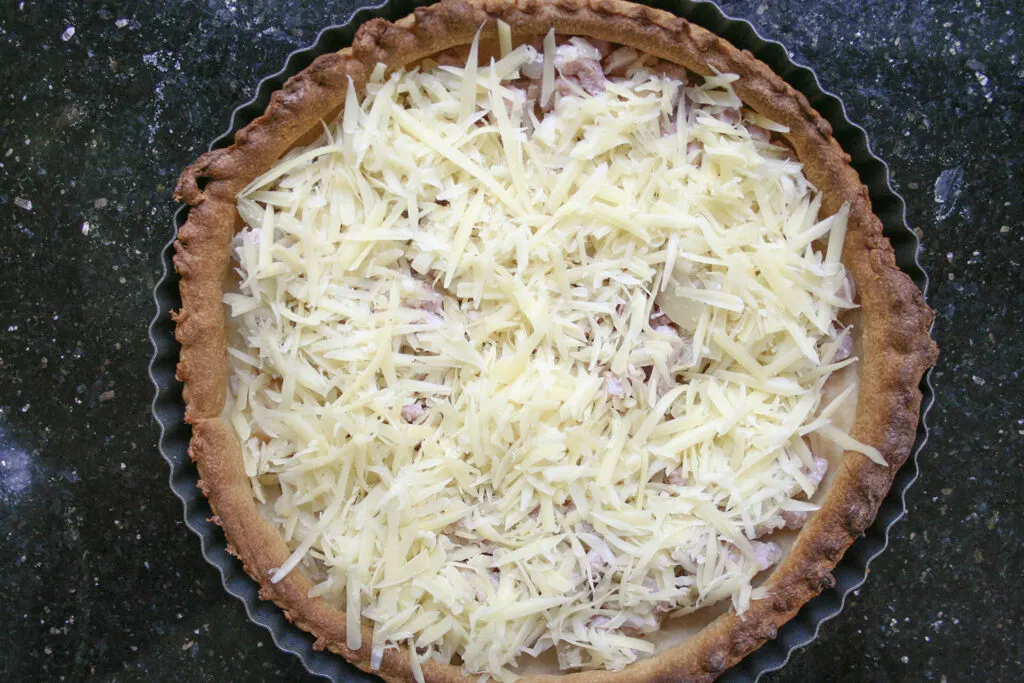 Pour over the egg mixture, and gently stir about if desired, but this isn't needed.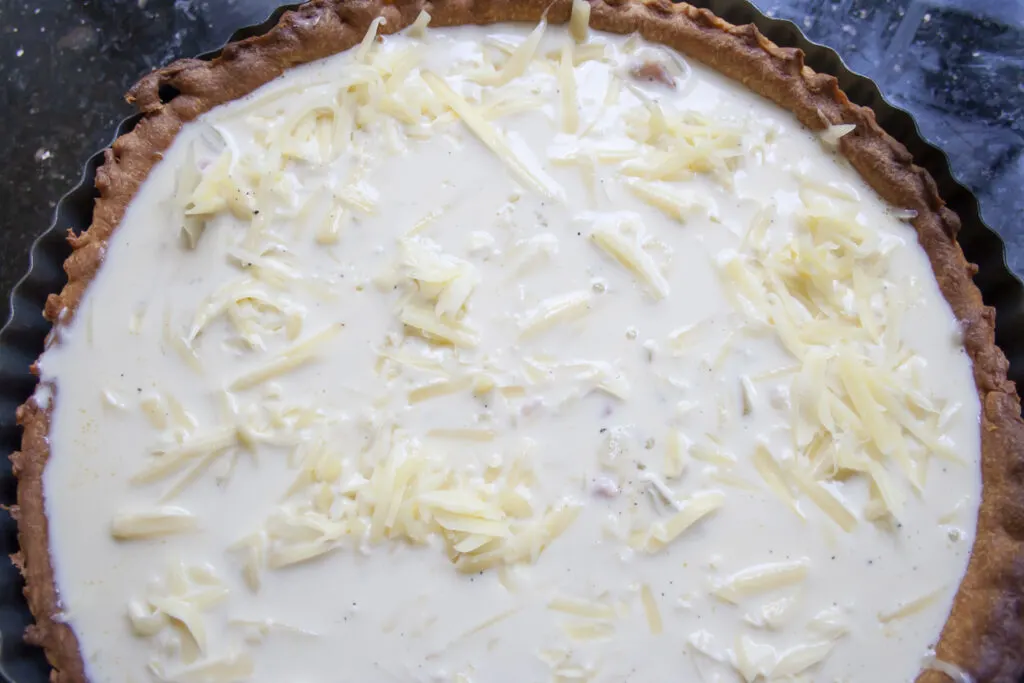 Cook for 30-40 minutes at 200°C/180°C Fan/Gas Mark 4, when the top should be golden brown, but not burned.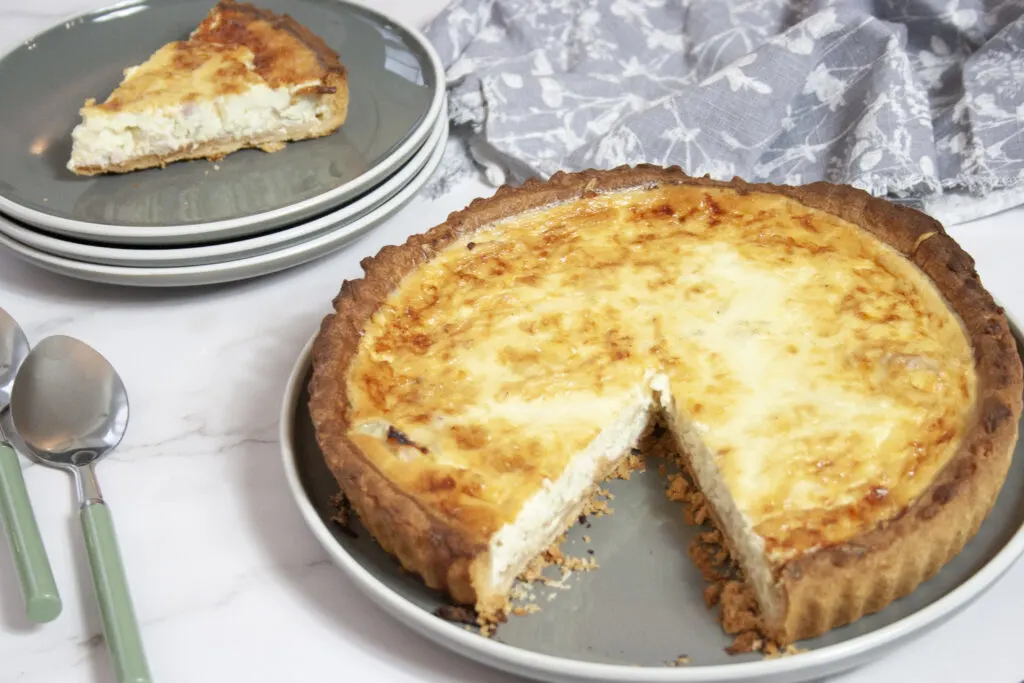 What is quiche?
Quiche is a savoury tart filled with a savoury egg custard filling, including bacon and onions for a rich, creamy bite. The pastry case is shortcrust pastry, creating a delicious, flaky case for the filling.
Can I use milk instead of heavy cream for quiche?
If you wish to save on a few calories, you can just use whole milk instead of milk and cream- you can even use semi-skimmed, but be aware that doing this will make the texture less creamy and less rich.
What is a quiche without pastry called?
A frittata is essentially a quiche without pastry. This Italian dish is basically an omelette with dairy, and meat and vegetable fillings (the filling for a quiche).
What can I use instead of milk in quiche?
You can use cream instead of milk, and this will make it richer (and creamier of course). Other recipes include alternatives such as almond, oat and soya, but I have not personally tested this. It is worth noting that using different ingredients may alter the consistency of the final quiche, so it may take slightly longer to cook or require a bit of adjustment with the amount you add for next time.
What is the difference between quiche and quiche Lorraine?
A quiche is the general name for a savoury tart with an egg and dairy filling, including meats and vegetables. However, quiche Lorraine specifically refers to a quiche with bacon, guyére or swiss cheese and cream. Today, it often includes onion too. The name comes from the region it was first made in. The word quiche comes from the German word kuchen, meaning cake, and Lorraine from the region in France (near the German border) from which it came.
What is the best cheese to use for a quiche?
The best type of cheese to use is Guyére, as it has a rich flavour, and cooks wonderfully. Alternatives you can use include Emmental, or Swiss cheese. You can also use cheddar if you so wish, but the flavour will be different to the traditional quiche Lorraine taste.