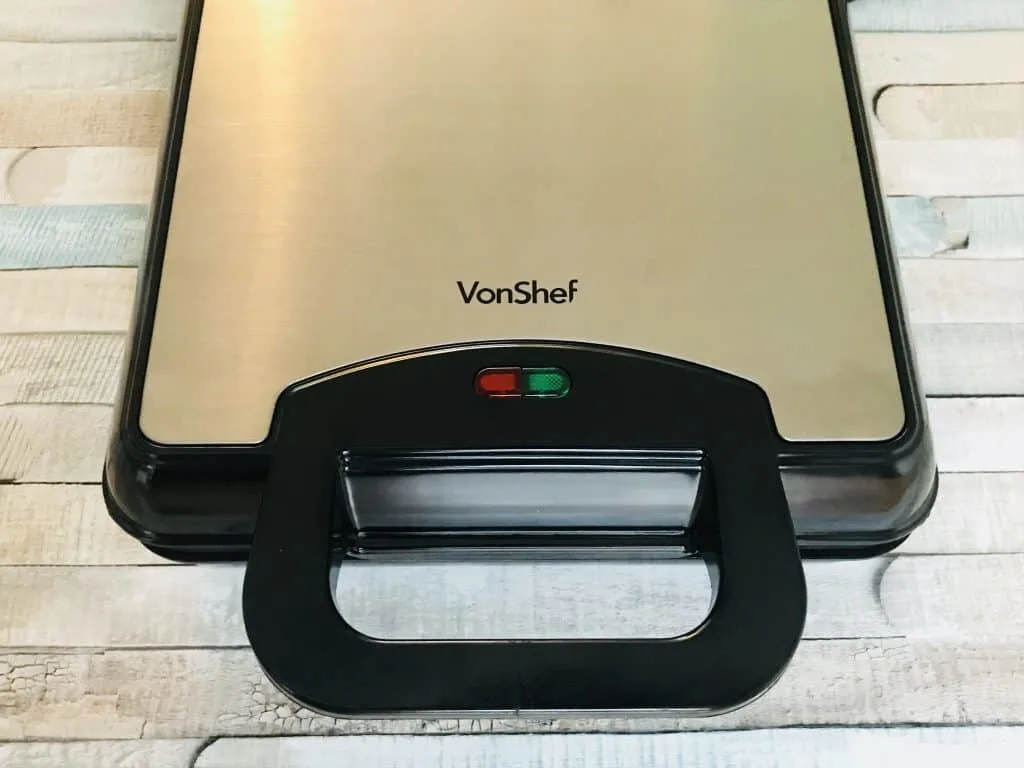 I've always been rather partial to a waffle, but I wasn't sure whether I could justify buying a waffle maker for the number of times I would actually use one.
That was until I realised I could make more than just a classic Belgian, or potato waffle, in a waffle maker. Now that opens up a whole new way of cooking and experimenting in the kitchen!
So far we have stuck to the above-mentioned waffles (and they tasted far too nice!) but I have been busy plotting and scheming to make a whole heap more.
I'll share my waffle maker recipes with you as I make them – I'd also love to hear of any you make 🙂
On to the VonShef Waffle Maker review. There are a few different brands to choose from and features to consider.
I decided on the VonShef for a variety of reasons;
Ability to cook 4 waffles at a time
Higher wattage than most (1100W)
Huge amount of high reviews from satisfied users
VonShef are a reputable well-known brand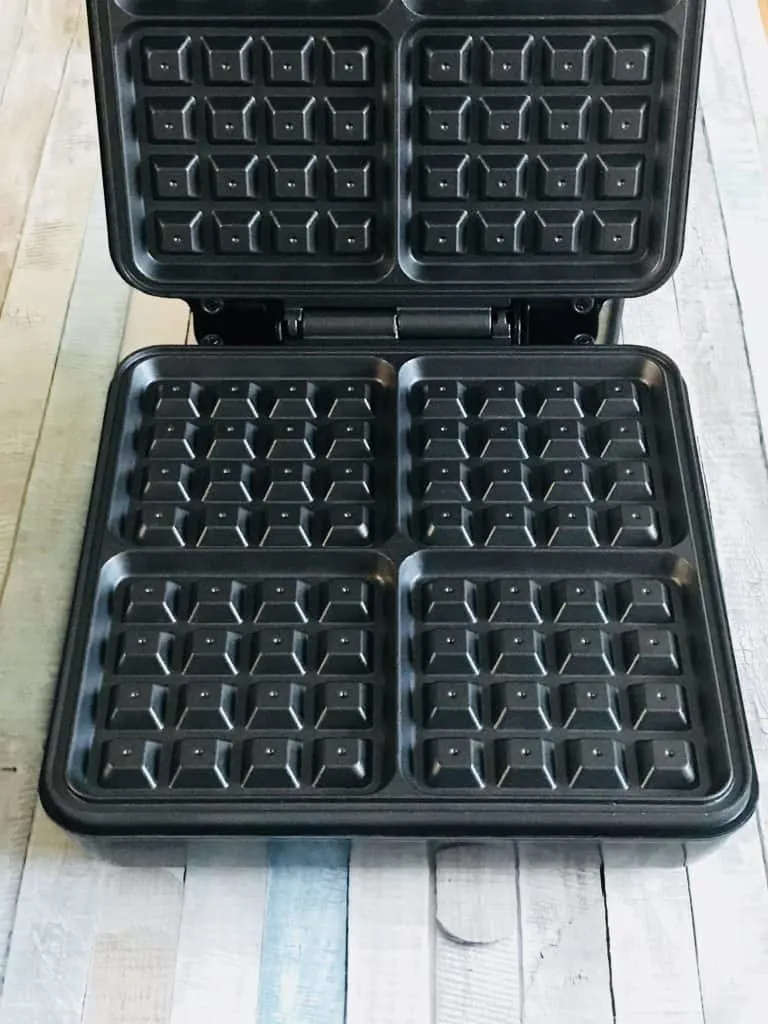 I also needed a waffle maker that would be super easy to clean – the thought of trying to scrape off stuck-on batter doesn't appeal.
I'm pleased to report that despite me forgetting to grease it when I put in some mashed potato (for potato waffles) it still didn't stick – but I will likely grease it lightly for future uses.
The speed of the cooking is decent. Nobody wants to be hanging around waiting for waffles to be made! Although they are really worth waiting for 🙂
The Belgian waffles we made took about 5 minutes to be ready and the potato waffles a bit longer at 8 minutes (but I did get kind of impatient and keep on opening it up which you're not meant to do, oops!)
How Easy Is It To Use A Waffle Maker?
The machine is super simple to use. You quite literally switch it on and the red light will come on, then the green light to show that the appliance is heating up, then when it switches off you are good to go.
The manual (thin leaflet!) that comes with it in the box explains that before the first use you need to wipe down the plates with a damp cloth and suggests heating it up and then switching it off and allowing it to completely cool before using it properly for the first time. I did do this – I didn't want to risk wasting any precious waffle mixture!
Using The Waffle Maker
Once the maker is ready to use, lightly grease the plates. As I mentioned previously, I completely forgot to do this for both the Belgian waffles and potato waffles, but thankfully nothing stuck to the plates. I will be greasing for future recipes though!
Next pour your mixture into the waffle maker. This is where I made a bit of a mistake and added way too much Belgian waffle mixture! When I closed the lid down it was quite literally a waterfall of batter pouring out the sides. I recommend only filling it up about 75% full to avoid this happening.
Place the lid back down using the handle, try not to press down too hard on it. It can get quite hot so you might want to use some oven gloves.
Now you need to practice some patience – which is super hard for the first few batches! If you keep lifting the lid up you will not only slow down the cooking process (meaning it will take longer and you'll have to be even more patient!) but you'll also risk the mixture sticking to the plates. Allow at least 5 minutes before looking in on them – longer for something like potato waffles, those took about 8 minutes to brown.
Once the waffles look ready, remove them from the plates using a spatula. Make sure you don't use a metal one or you'll risk scratching the plates.
Serve with a topping or side of your choice!
Allow the waffle maker to cool down completely before wiping over with a damp sponge or cloth – don't submerge in water.
Is There Anything I Don't Like?
I was really disappointed that there wasn't one single recipe included! I think VonShef could have at least supplied a basic waffle recipe so that the user could test it out and then experiment with other ingredients from there. Thankfully I love experimenting and creating new recipes, but I know for some users they like to have them there to follow.
Conclusion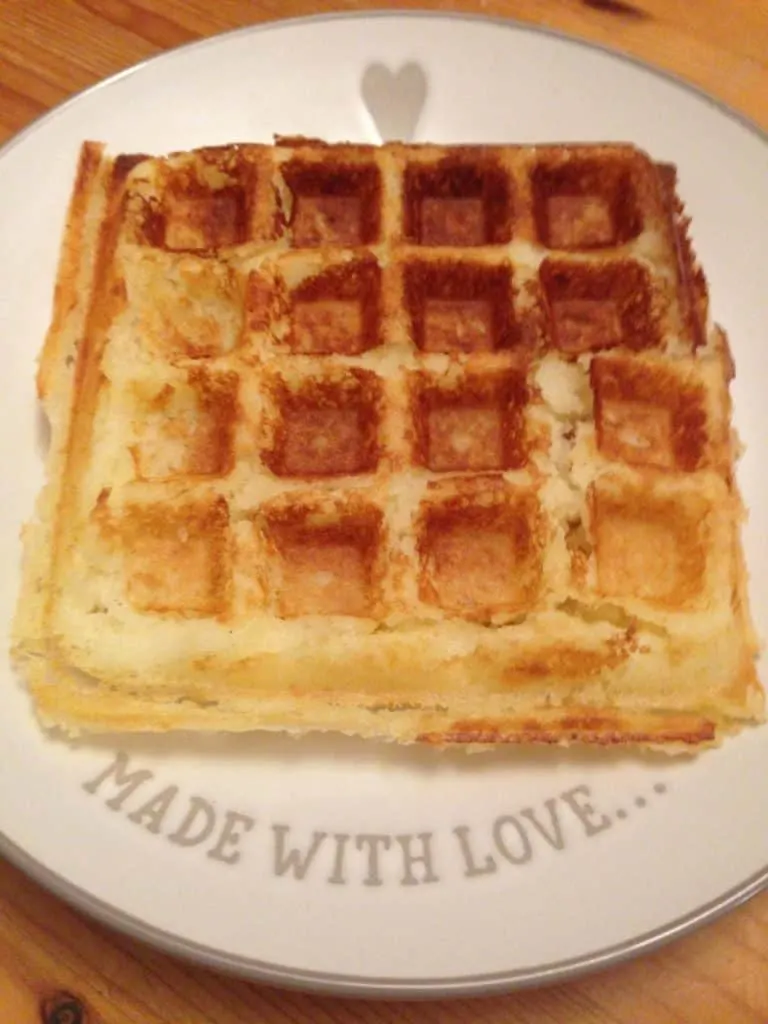 Aside from the lack of recipes, I really do recommend the VonShef Waffle Maker. It is a great budget buy, it has the potential to make a wide range of both sweet and savoury waffles and it works quickly. With a bit of testing I can see us making lots of different tasting waffles to liven up meals times – and they can be healthy too!
The clean up is quick (assuming you don't overfill it and let it run all down the sides!)
If you have any questions about using waffle makers please ask away in the comments!