The vibrant colour of beetroot hummus stands out on any party table and has the potential to impresses any dinner date!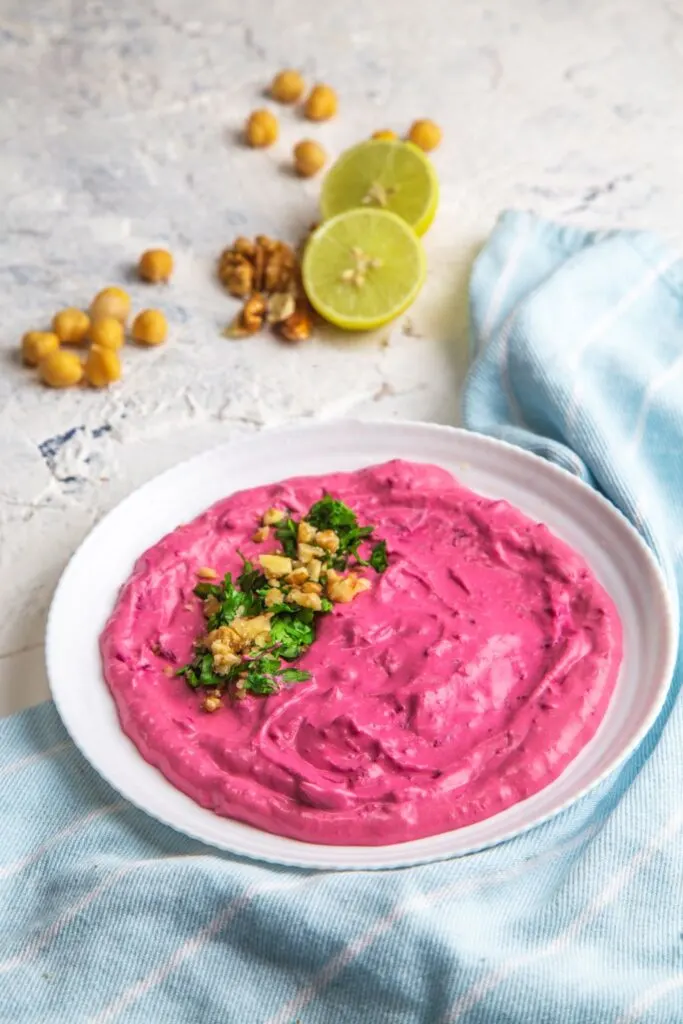 How To Make Beetroot Hummus
This striking hummus recipe makes for the perfect dip to brighten up any snack time. The beetroot adds a sweet earthy flavour to this hummus – and it's a versatile recipe that can be served as a thick dip, or a thinner dressing.
Just like regular hummus you can dip in raw sticks of carrots, celery, red peppers, cucumbers, breadsticks, crackers, or anything you like! It's also great for spreading in a sandwich, wrap, or just across some fresh bread.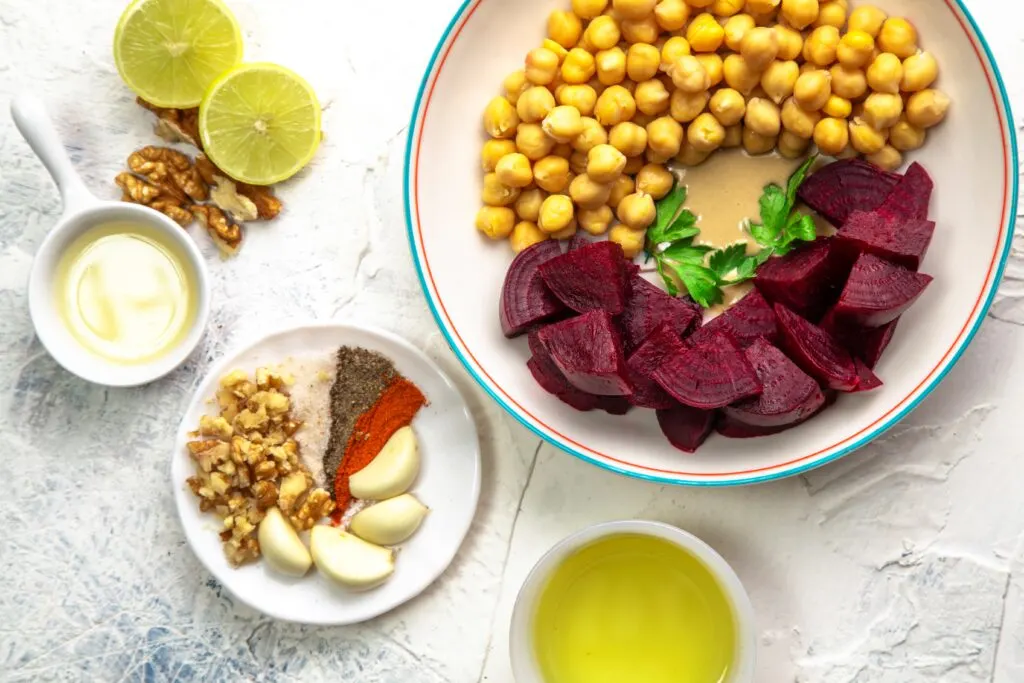 What You Need:
2 medium sized raw beetroot about 250gm
1 can chickpeas, washed and drained about 400gm
4 medium sized garlic cloves
1 ½ tbsp tahini (optional if you have it)
1 tsp sea salt
1 tsp paprika
1 tsp black pepper
2 lemon juice
3 tbsp olive oil
40g walnuts, chopped (optional)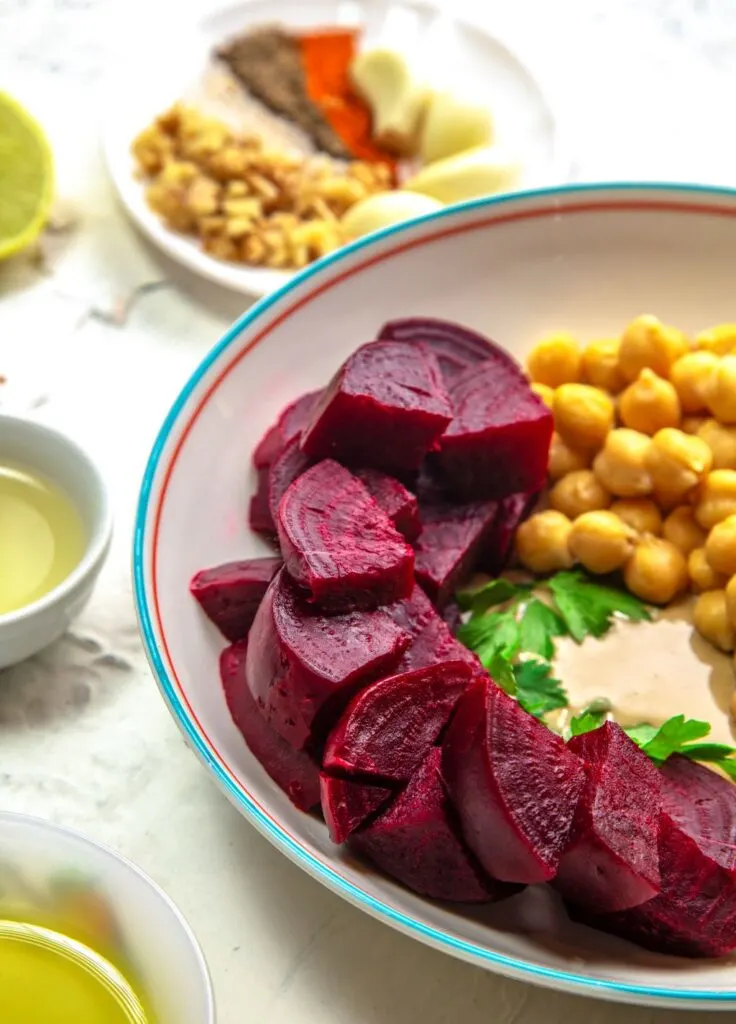 Boiling the beetroot while it is still whole will make it easier for peeling and chopping. Just trim the leaves down before boiling. Add the raw beetroot to a saucepan of boiling water and boil for about 30 minutes, until they are soft.
Drain the beetroot and leave it to cool before peeling the skin and chopping it up into small chunks. You might want to wear some gloves to protect your hands from staining!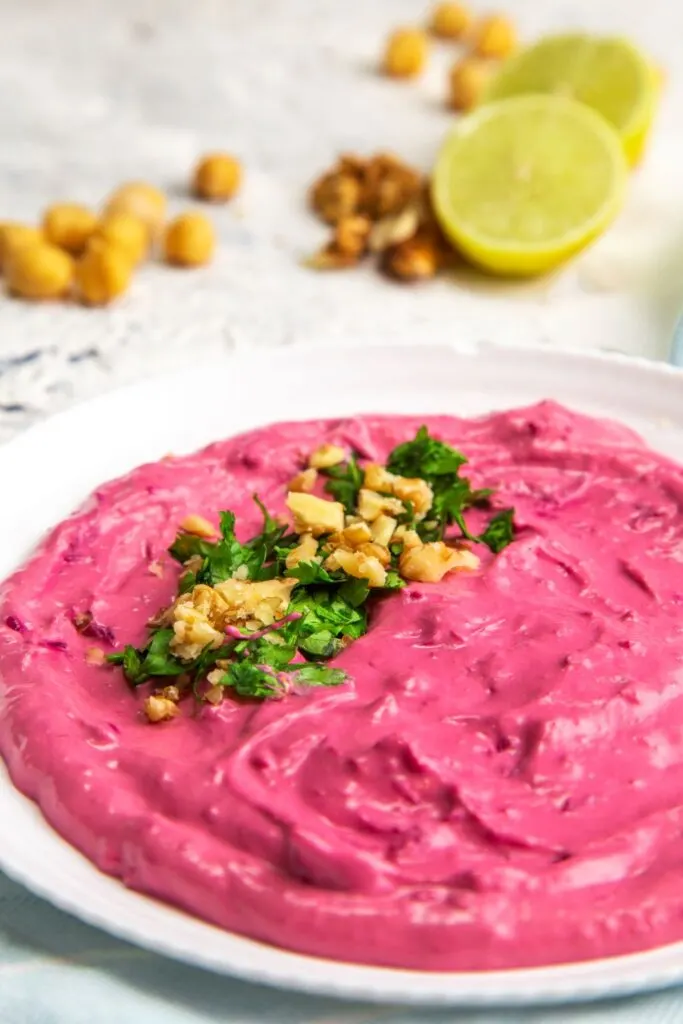 Add all the ingredients (leave some walnuts for decoration, if you are using them) to a food processor and blend until smooth. You might need to scrape the sides once or twice and pulse or blend again until it's all blended to your desired consistency.
Add more olive oil if required and optionally sprinkle over some paprika, parsley and chopped walnuts for decoration.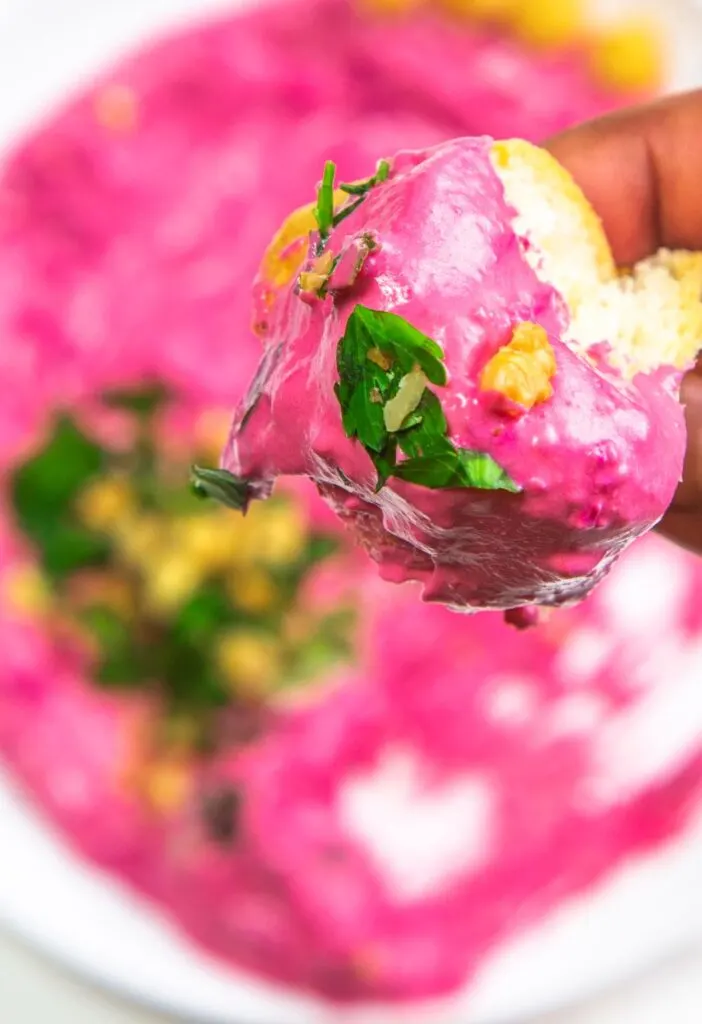 Top Tips For Making Beetroot Hummus
Instead of using pre cooked or canned chickpeas you can use dried chickpeas and cook them.

It's important to taste test your hummus. If you find it needs more

flavour it may simply need a little more black pepper, salt, lemon juice or tahini.

If you want to decrease the sweet taste of beetroot you can add sour cream or plain yoghurt.

Boiling beetroot before peeling makes it a lot easier, you can substitute this cooking method. Cut the beetroot into small slices and lay on a parchment covered baking sheet. Roast in the oven at 200 C for 40-45 minutes, until fork tender.

Add spices as desired, such as basil or cumin while blending to vary the flavours.
How To Store Beetroot Hummus
You can store beetroot hummus in an airtight container in the fridge for up to one week.