Calling all sprout lovers – if you are a fan of Brussels sprouts, then you really need to try out this easy to make brussel sprout soup.
As the only one in this house that likes sprouts, this was a soup I got to enjoy all by myself. I didn't complain!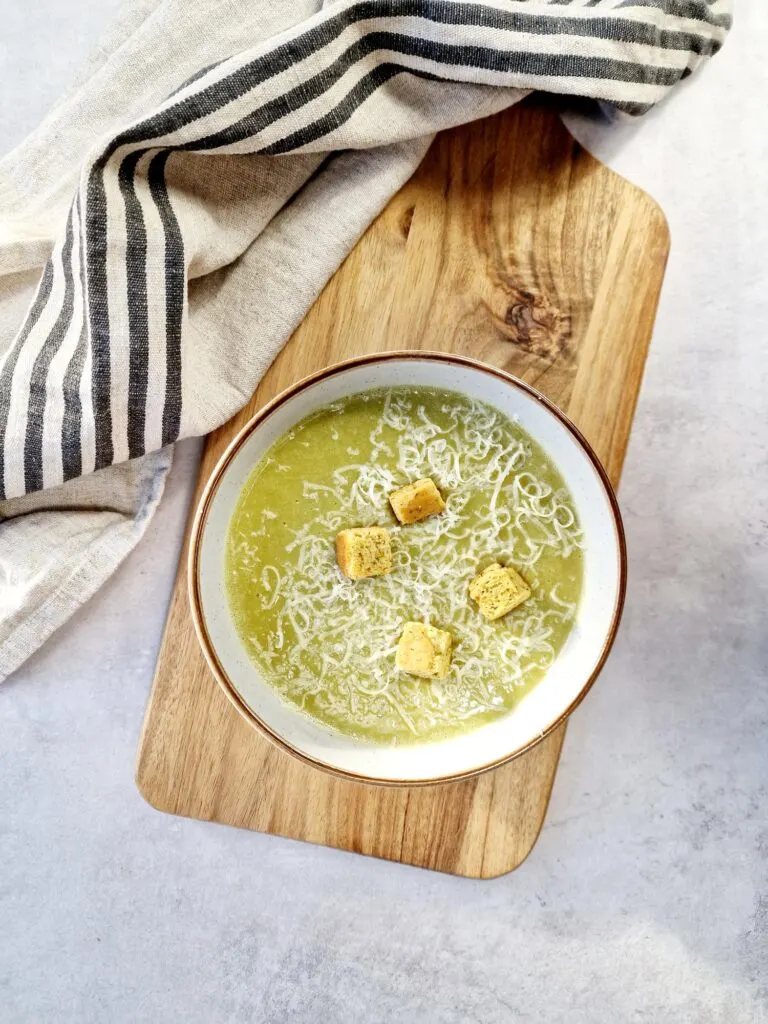 How To Make Brussels Sprout Soup
You can make Brussels sprout soup in a pan or a soup maker. If you are a regular reader of this blog, then you will know that I use a soup maker to make all of my soups – it's the most used kitchen appliance I own (although my air fryer is coming a close second).
Side Note: if you don't own a soup maker and want to make it in a pot, you can use the same ingredients and follow the same process -but you will need a hand blender to whizz it all smooth at the end.
My Favourite Soup Maker!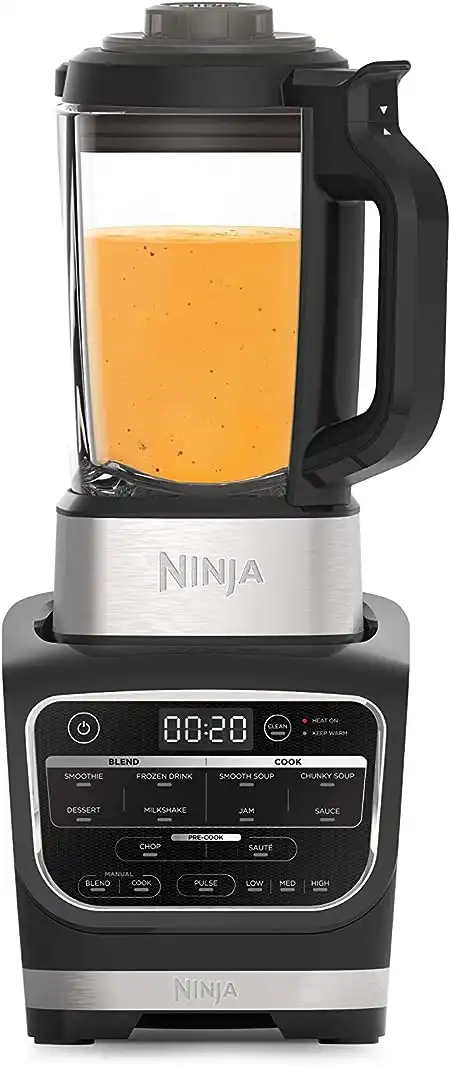 Ninja Blender and Soup Maker [HB150UK] 1000 W, 1.7 Litre Jug, Black
Makes chunky or smooth soup, smoothies, sauces, jams, frozen cocktails.
Hot capacity: 1.4L
Cold capacity: 1.7L
Chop and sauté
We earn a commission if you click this link and make a purchase at no additional cost to you.
12/03/2023 11:06 am GMT
I only added Brussels sprouts, onion, garlic and vegetable stock for this recipe. It's a really quick and simple soup and a great way to use up sprouts after Christmas.
First off, I prepared the sprouts. I sliced off the stems but left them whole. I used quite small sprouts – if you are using larger ones, then you might need to slice them in half to make sure they cook through enough to be blended.
I made this in the Ninja Soup Maker, but it can be adapted and made in any soup maker or saucepan. The Ninja has a 1.4L capacity, if you have a larger soup maker, then you can slightly increase the amounts, and likewise, if you have a smaller machine, reduce the number of sprouts.
Next, I added the quartered onion and garlic cloves to the soup maker. Depending on your soup maker, you can optionally saute the onions and garlic at this stage. If you are making the soup in a saucepan, then you can, of course, saute it now too.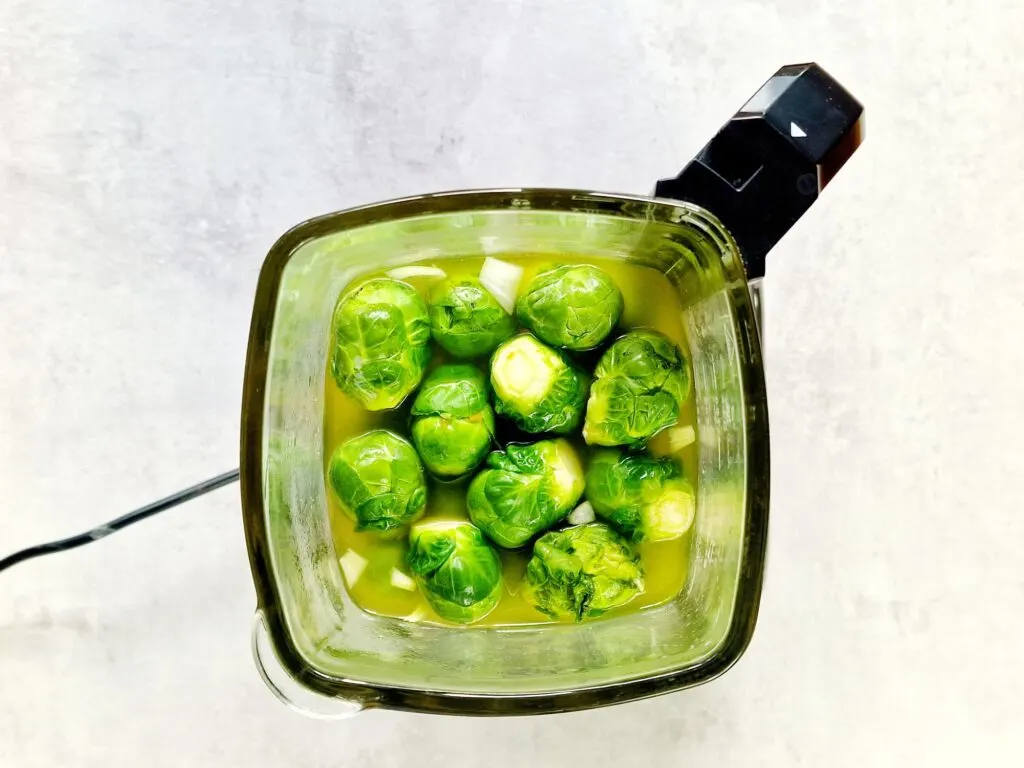 Next, add in all the sprouts and top up with enough stock to take you to the maximum 1400ml level on the Ninja soup maker or the MIN or MAX line in other soup makers.
You can add any additional seasoning at this stage if you want to.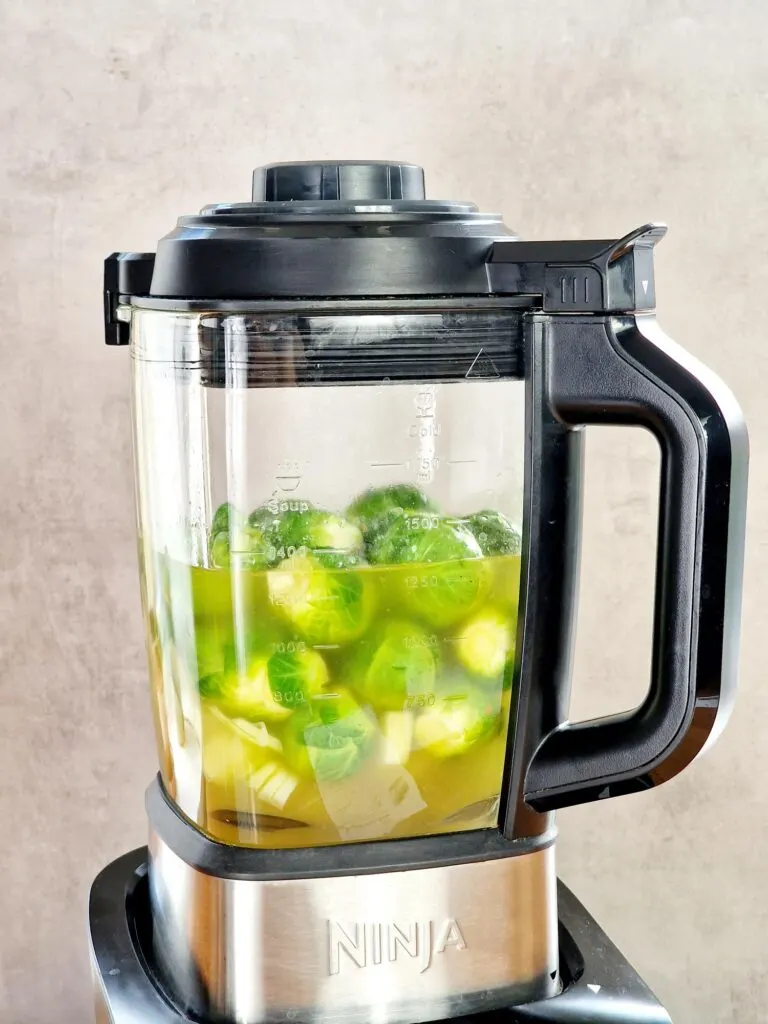 I set the soup maker off on the smooth cycle.
If you are making it in a saucepan, bring it to a boil and then simmer for around 10-15 minutes or until the sprouts are soft. Blend it with a hand blender to make it smooth.
Making Brussels Sprout and Cheddar Cheese Soup
Once I had poured some out into a bowl, I grated in some cheddar cheese and stirred it around until it had melted – this turned it into a deliciously cheesy and creamy soup. You can substitute the cheddar with any cheese you have.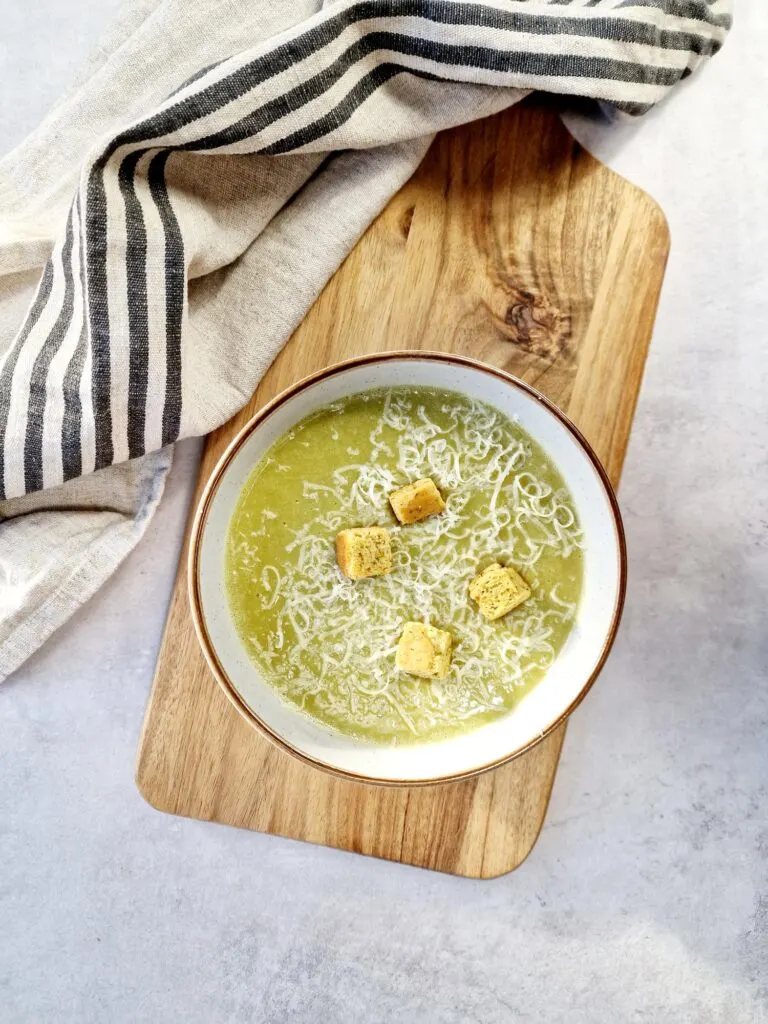 How Much Does It Taste Of Brussels Sprout?
I've been asked this a few times, and I totally understand the reason for the question! Brussels sprouts do definitely have an acquired taste, and sometimes the taste can be too much. I've also found that some sprouts are more 'sprouty' in taste than others!
One thing to consider is that Brussels sprouts if cooked for too long, can taste quite different – and not always in a good way!
This particular soup has Brussels sprouts as the main ingredient, producing quite an intense sprouty taste.
If you think it might be a little too much for your taste buds, I recommend that you reduce the number of sprouts and add a potato or some other vegetables to dilute the taste.
GRAB MY BOOK!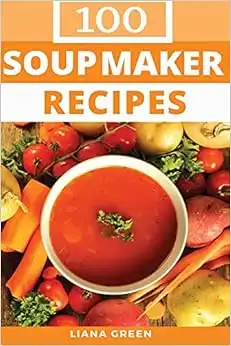 We earn a commission if you click this link and make a purchase at no additional cost to you.
Brussels Sprout Soup Variations
As discussed above, you can add some potatoes to reduce the intensity of the brussel sprout taste. Other variations and additions that are worth trying are;
Bacon – either at the beginning or cooked and crumbled at the end.
1 tsp of ground nutmeg.
Stir in some cream before serving.