Carrot and sweet potato soup is made from just a handful of ingredients. The sweet potato ensures this soup comes out velvety smooth – and the combination with carrots produces a tasty, filling and nutritious meal.
Related: Sweet Potato Recipes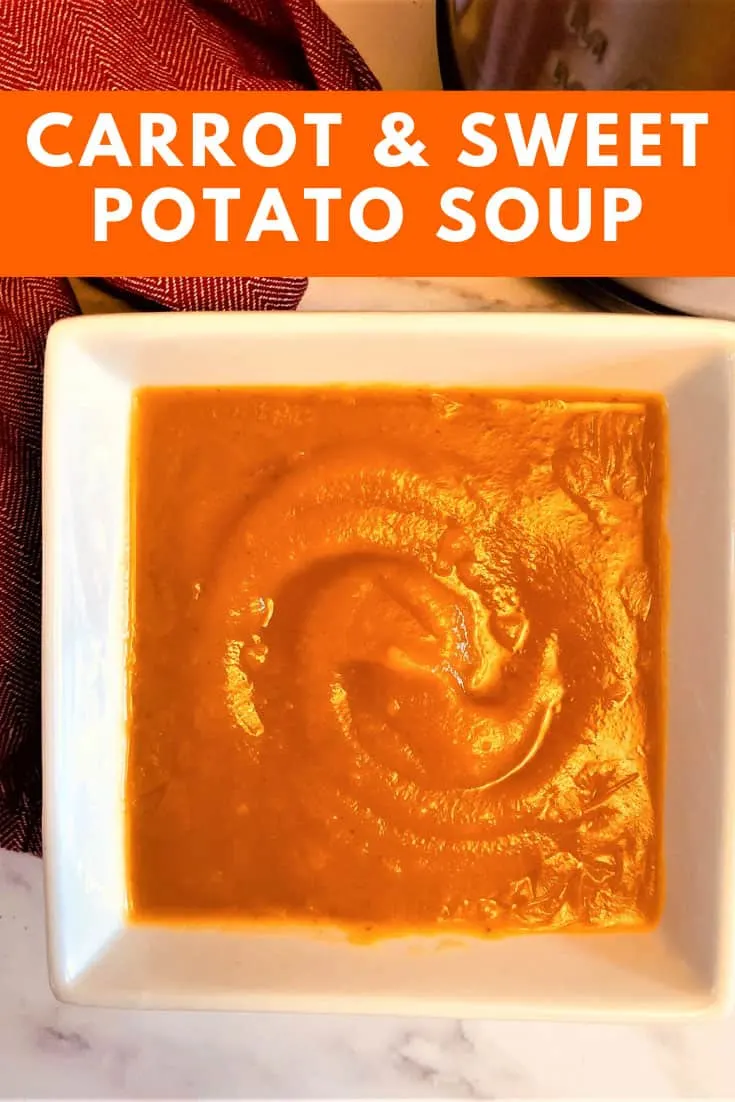 How To Make Carrot And Sweet Potato Soup
The basic ingredients for this soup are;
sweet potato
carrot
onion
garlic
vegetable stock
seasoning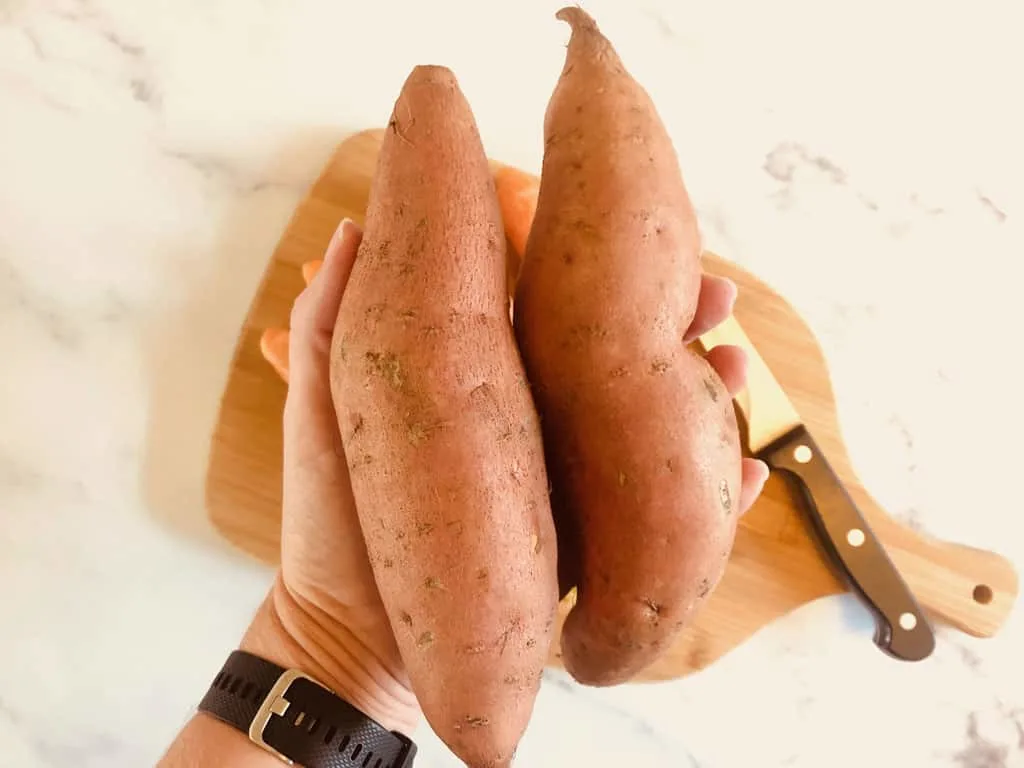 Variations
You could just leave the ingredients at that, and you'd get a tasty soup. However, if you want to vary it and add in some extra flavour you could try any of the following options;
Roast the vegetables. This is an additional step that you may or may not have time for. Just cut the sweet potatoes, carrot and onion up into small chunks, brush with a little oil and roast in the oven for around 30 minutes.
You Might Like: Roasted Sweet Potatoes
Spice it up. Add in 1tsp of cumin, curry or chilli powder. Sprinkle in some dried chilli flakes.
Add ginger. Grate in some fresh ginger root at the beginning.
Stir in some crème fraiche at the end.
Preparing The Soup
Should You Peel The Vegetables?
For some reason I always used to peel my sweet potatoes, but actually, there is no need.
Leaving the skin on not only adds more fibre and nutrition to your meal, it also makes the preparation so much quicker! And, less food waste.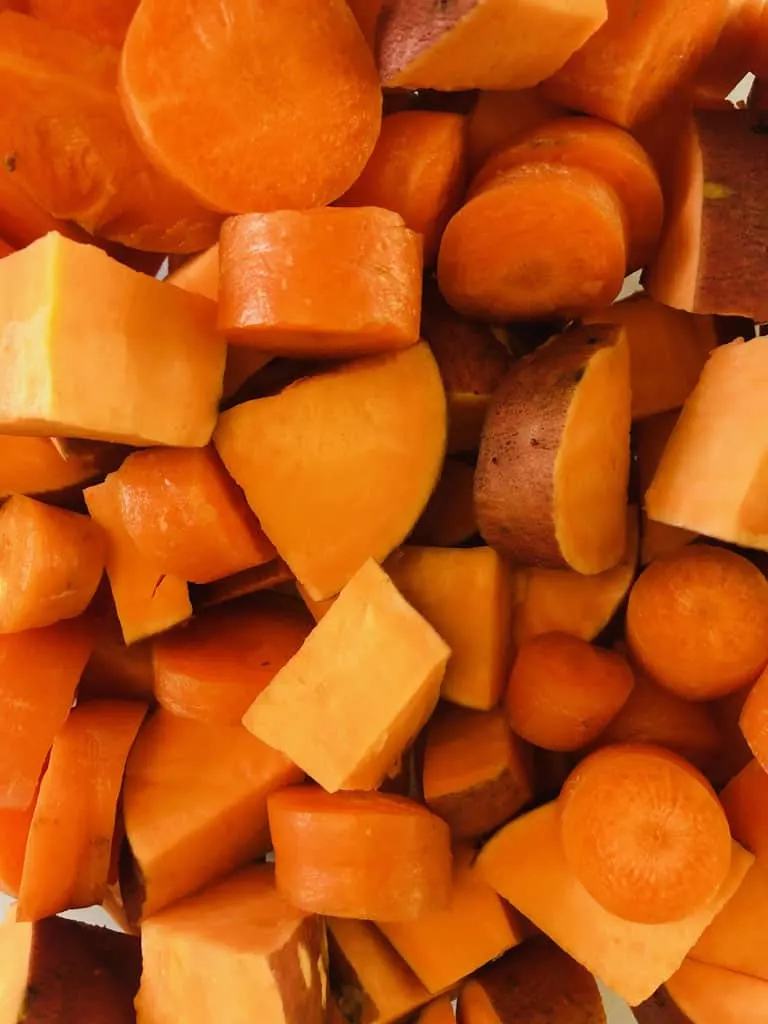 The same goes for carrots. I just give them all a really good wash and scrub.
If you are using a soup maker, or blending with a powerful blender, there's no need to worry about the soup being lumpy from the skin. It'll still come out smooth.
Chopping The Veg
As the main ingredients are sweet potatoes and carrots, you need to make sure you chop them up small enough so that they cook through.
As this is quite a thick soup with 800g to 900g of carrots and sweet potato, your soup maker or blender might struggle to blend through the root vegetables if they are not cooked enough.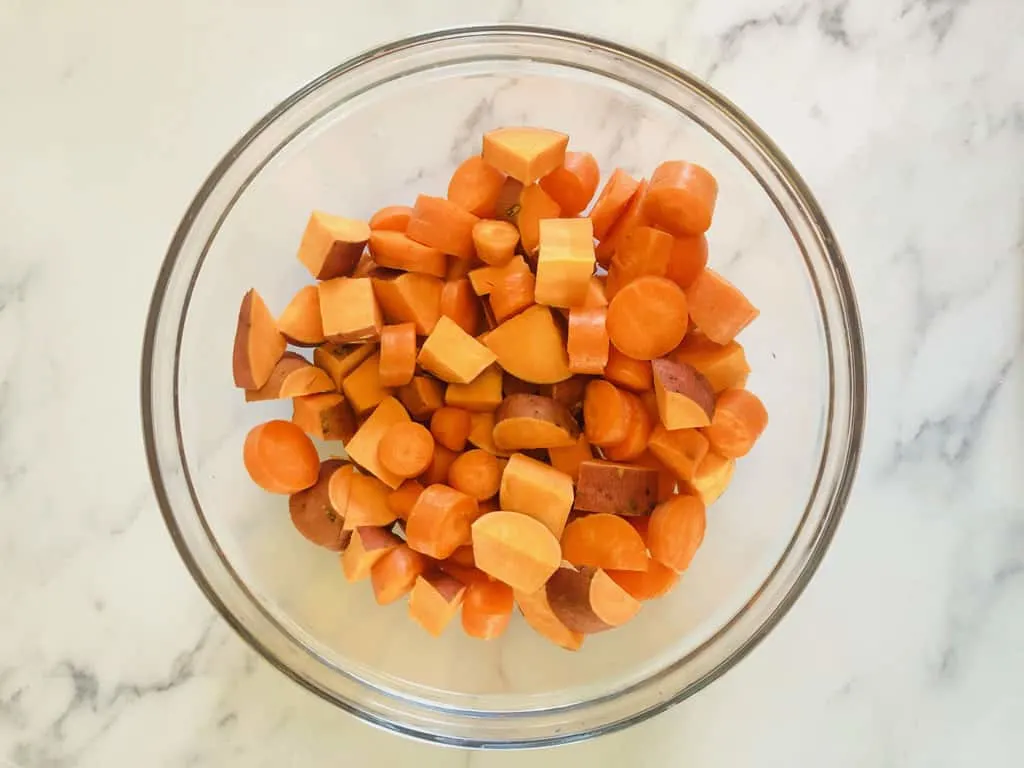 Note: If you prefer a thinner consistency, reduce the amount of sweet potatoes and carrots and increase the stock level.
Making The Soup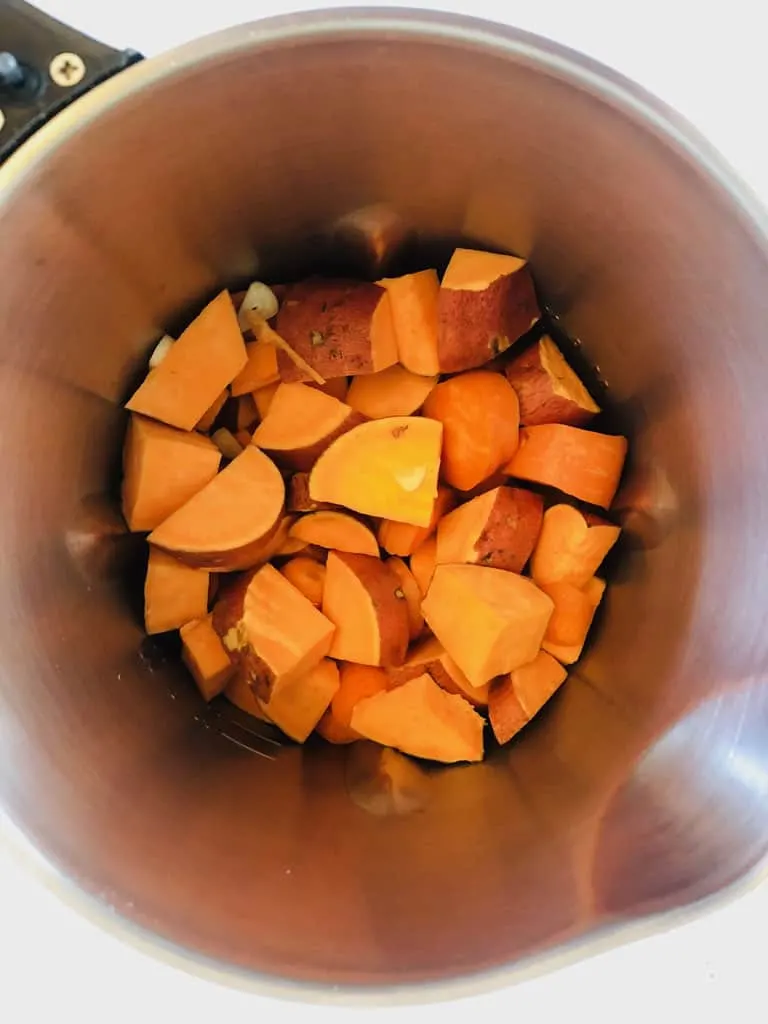 Once all the vegetables have been chopped up, simply add them all to your soup maker.
If you have a saute feature you can optionally cook the onions and garlic in a little oil for a few minutes prior to adding the sweet potato and carrot.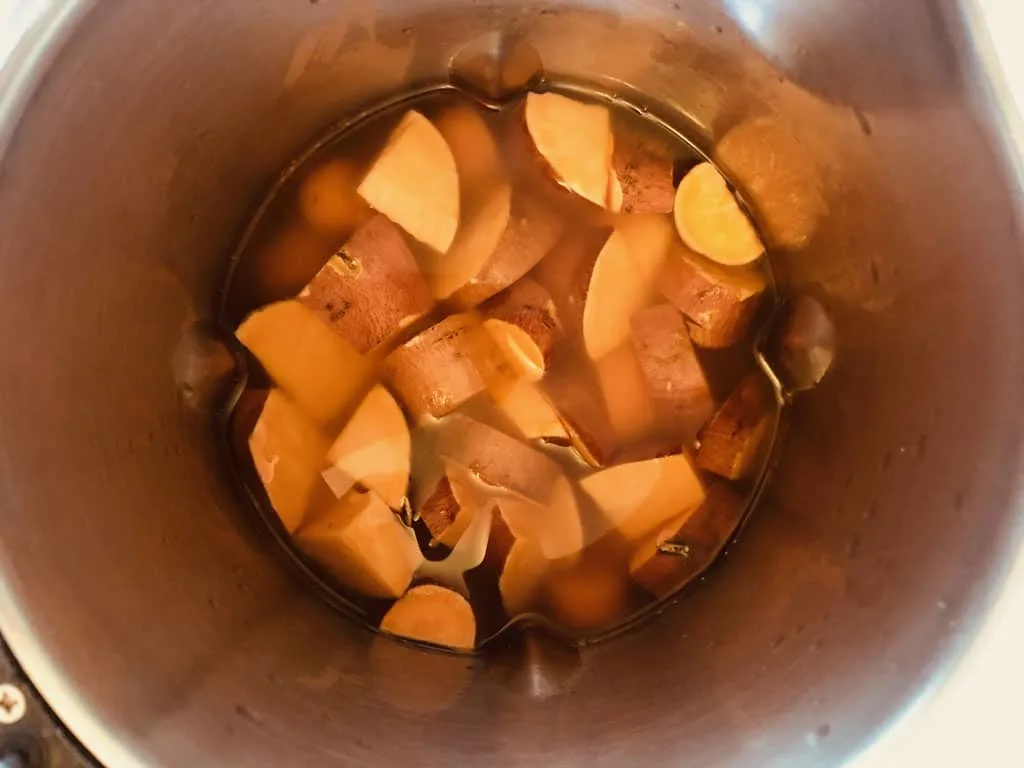 Add the stock so that it is between the MIN and MAX level on your soup maker. Put the lid on and set off on smooth.
This soup comes out really thick – perfect for dipping chunky bread in and scooping up 🙂 Remember, if you want it thinner, reduce the amount of vegetables and increase the stock levels.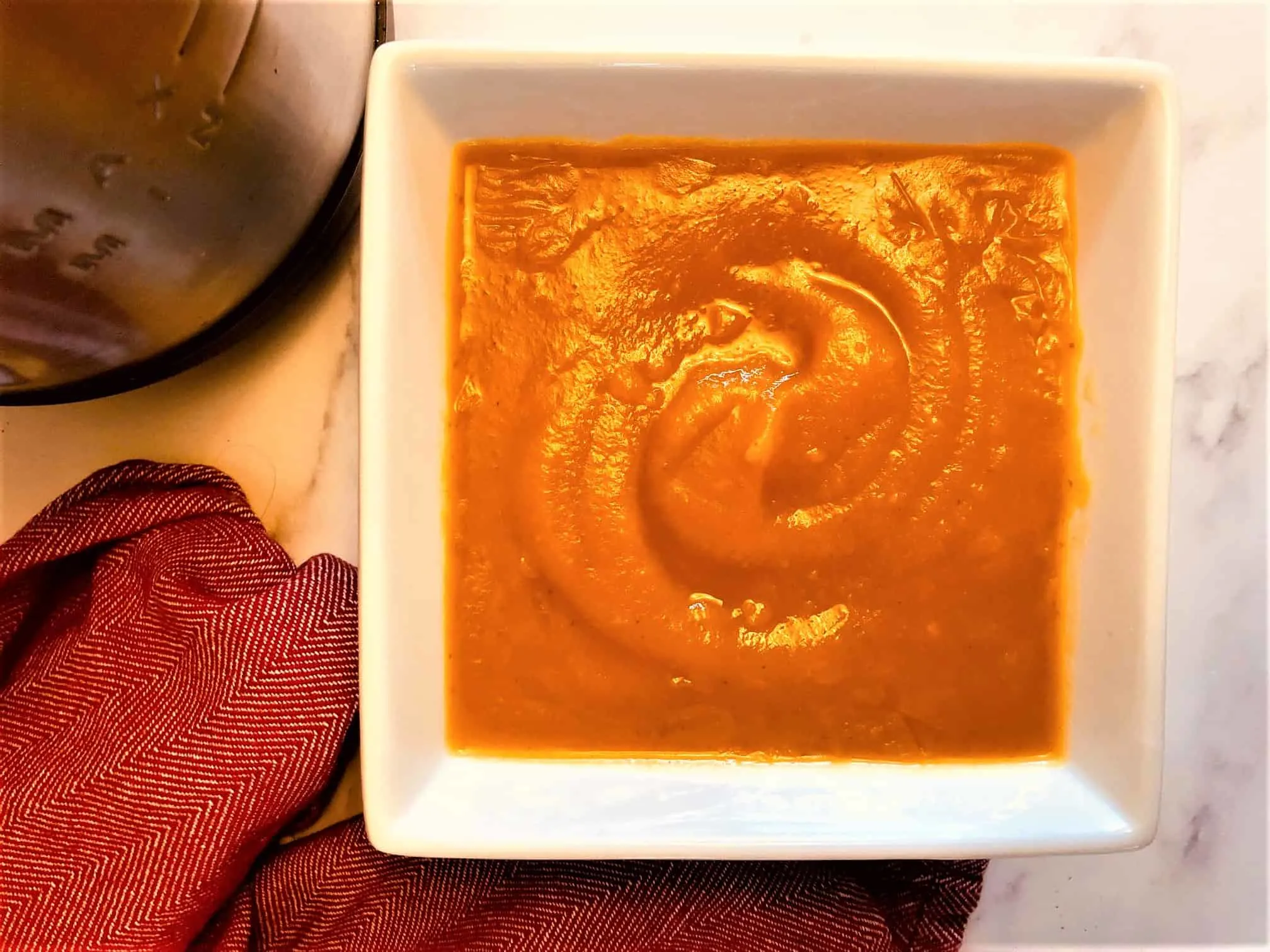 If you make this soup let me know in the comments, or join us over at our soup maker Facebook group
Other Recipes You Might Enjoy
Butternut Squash and Sweet Potato Soup
Jamaican Jerk Sweet Potato Soup
Black Bean and Sweet Potato Soup