Welcome to another simple and delicious Ninja Foodi recipe using the pressure cooker function.
This Ninja Foodi Chicken Pesto Pasta recipe is easy to make and saves on washing up, as everything is cooked together in a single pot.
This dish will become a family favourite with tender chicken, al dente pasta, and a rich, creamy pesto sauce!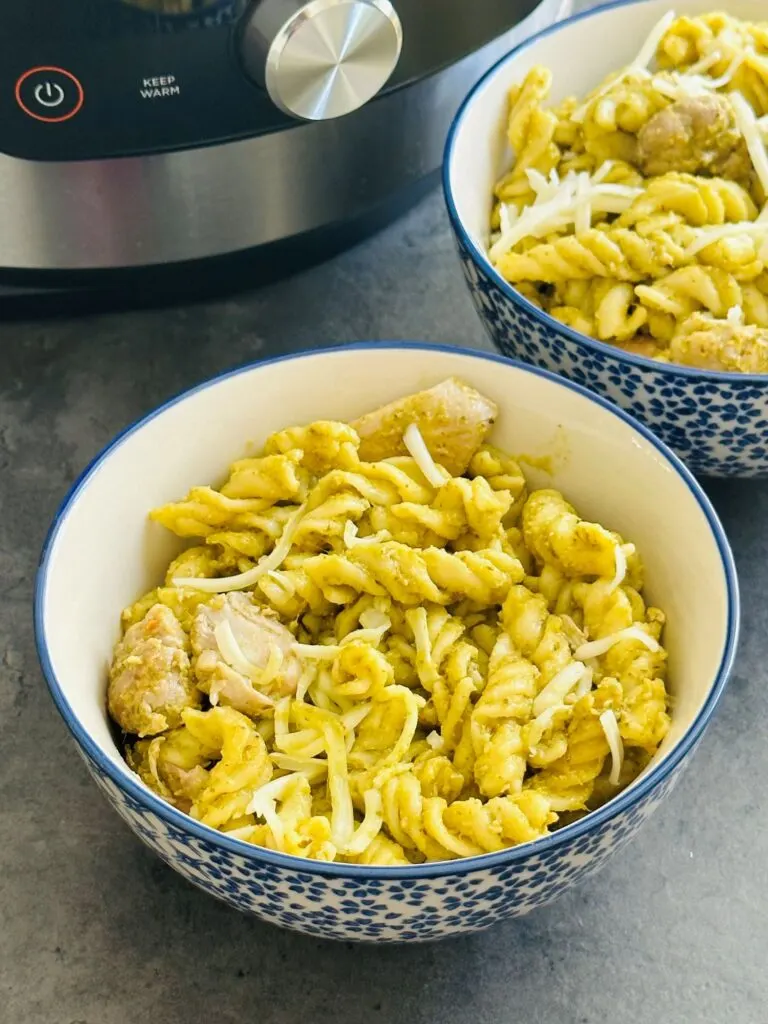 How To Make Chicken Pesto Pasta In A Ninja Foodi
The ingredients below were enough to make four servings. Even if you don't need four portions, it's a great dish to cook more of and save some for a cold pesto pasta salad the next day.
For more concise instructions and to print out, head down to the recipe card at the bottom.
What You Need: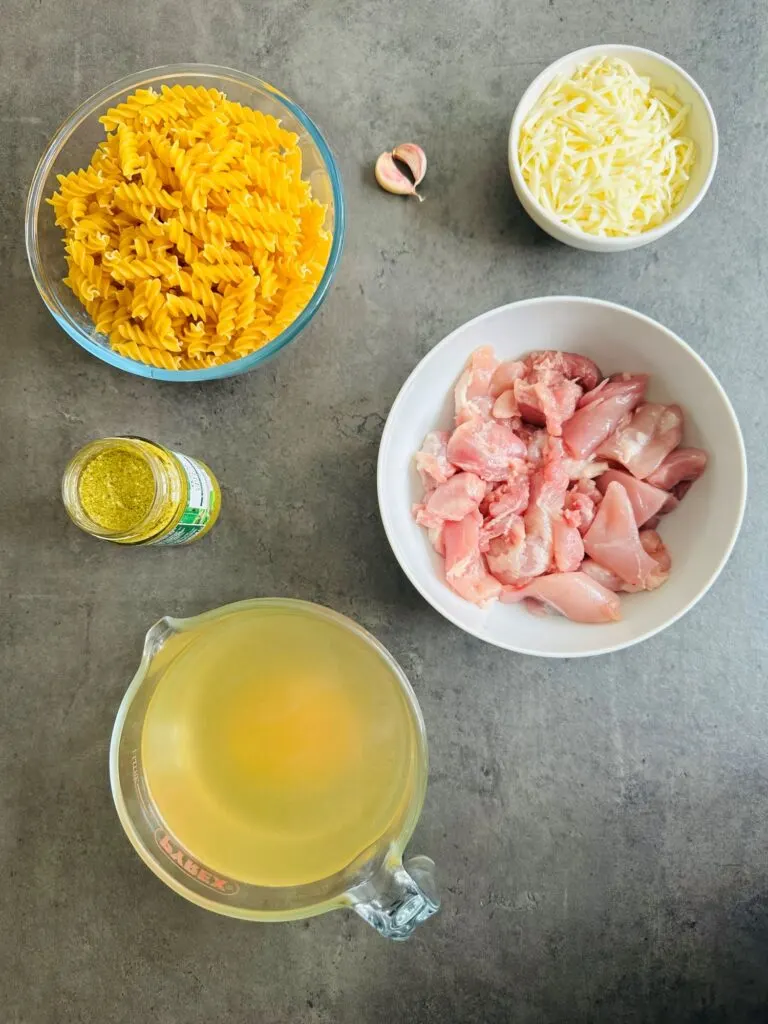 Olive oil: I used one tablespoon.
Boneless chicken thighs: Thigh meat is tender and juicy, perfect for this dish. You can also use chicken breast if you prefer. I used 450g, chopped.
Garlic: I used 2 cloves of garlic, crushed.
Dried mixed herbs: I used 1 teaspoon of various dried herbs – you can use your favourite dried herbs instead if you prefer.
Pasta: Fusilli is a great choice as it holds the sauce well, but feel free to use your favourite pasta. I used 400g.
Chicken stock: I used 1 litre of chicken stock from one stock pot.
Green pesto: Store-bought or homemade, the amount used can be adjusted according to personal preference.
Salt and pepper – optional for seasoning according to taste.
Cheese – stir in some of your favourite grated cheese at the end. Most cheese varieties work; try cheddar, parmesan, or mozzarella.
I used a Ninja Foodi 15 in 1 to make this recipe, but it can be made in any multi-cooker with a pressure cooker function
Making It:
First, heat some olive oil in your Ninja Foodi pot using the SEAR/SAUTE function. Add the diced chicken thighs and cook them until they're sealed.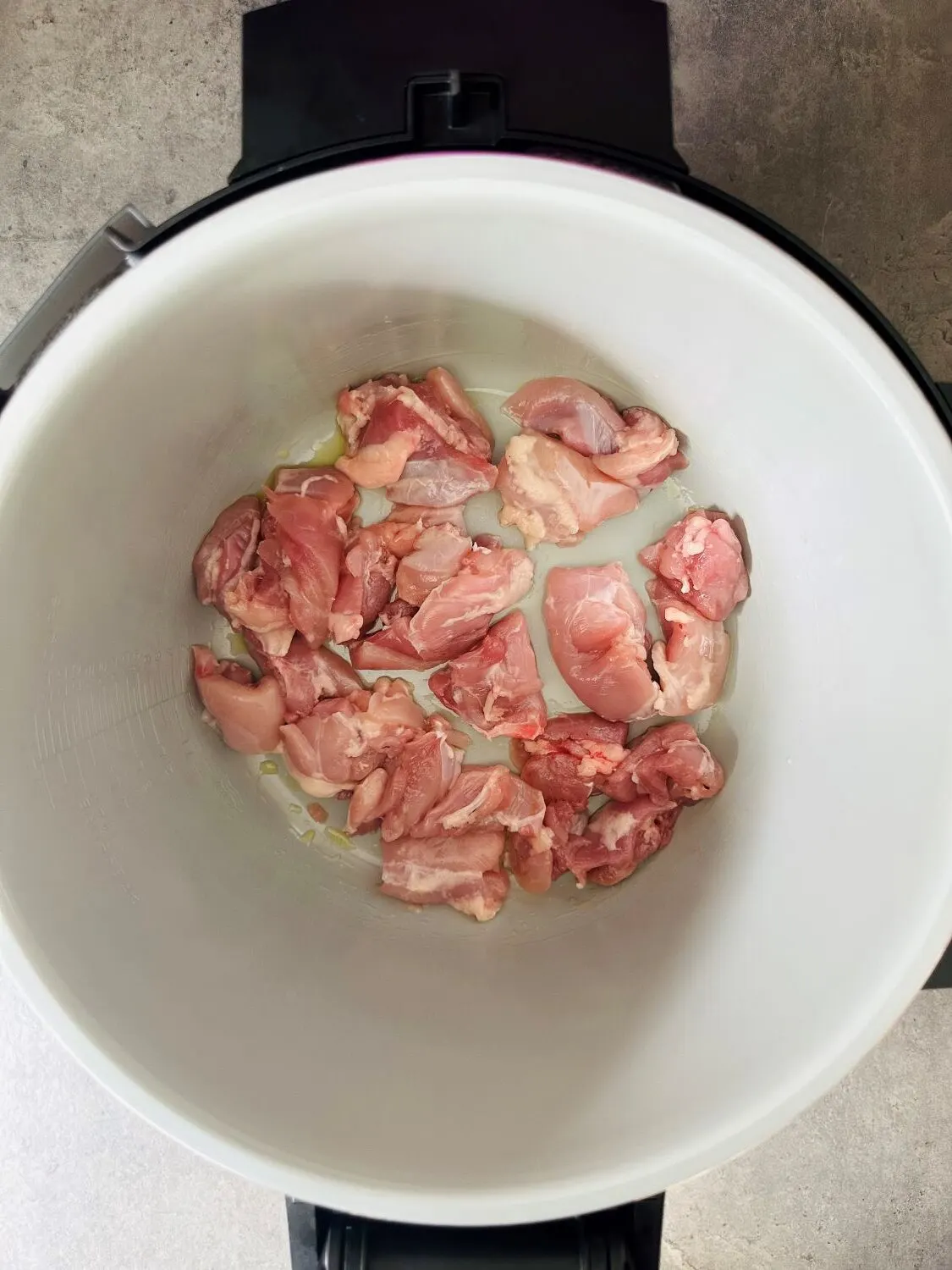 If any bits get stuck, just give the pot a quick deglaze with a little hot stock.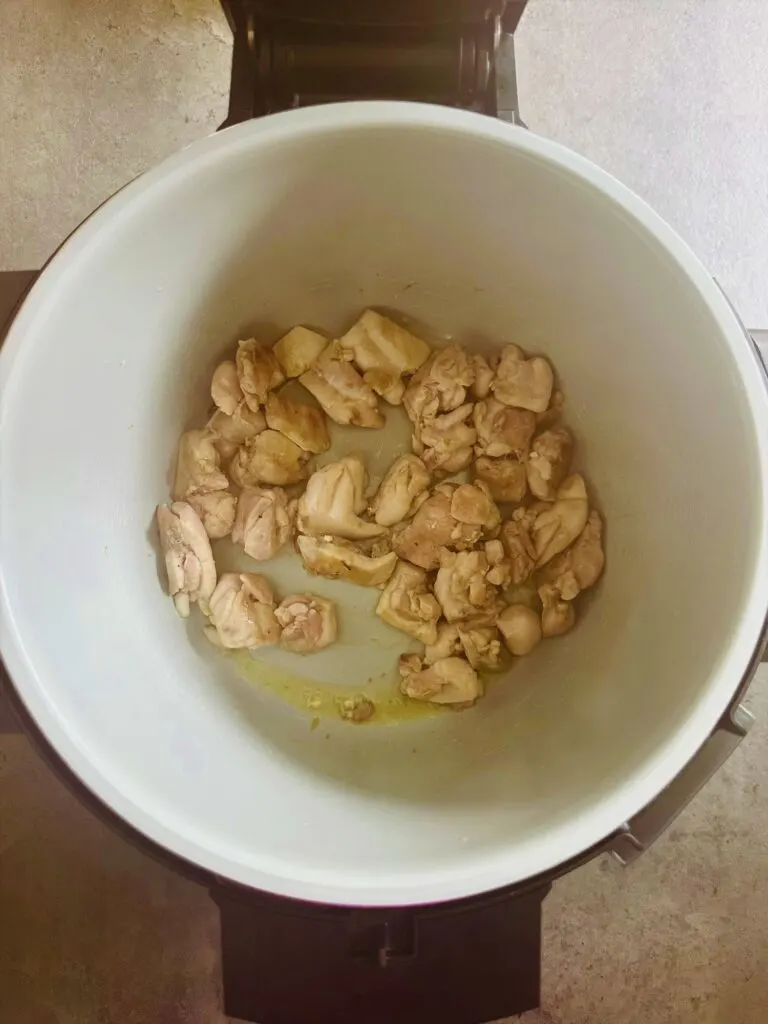 Stir in the crushed garlic cloves and dried mixed herbs, then switch off the SEAR/SAUTE function. Remember to remove any stuck on bits with a little hot stock!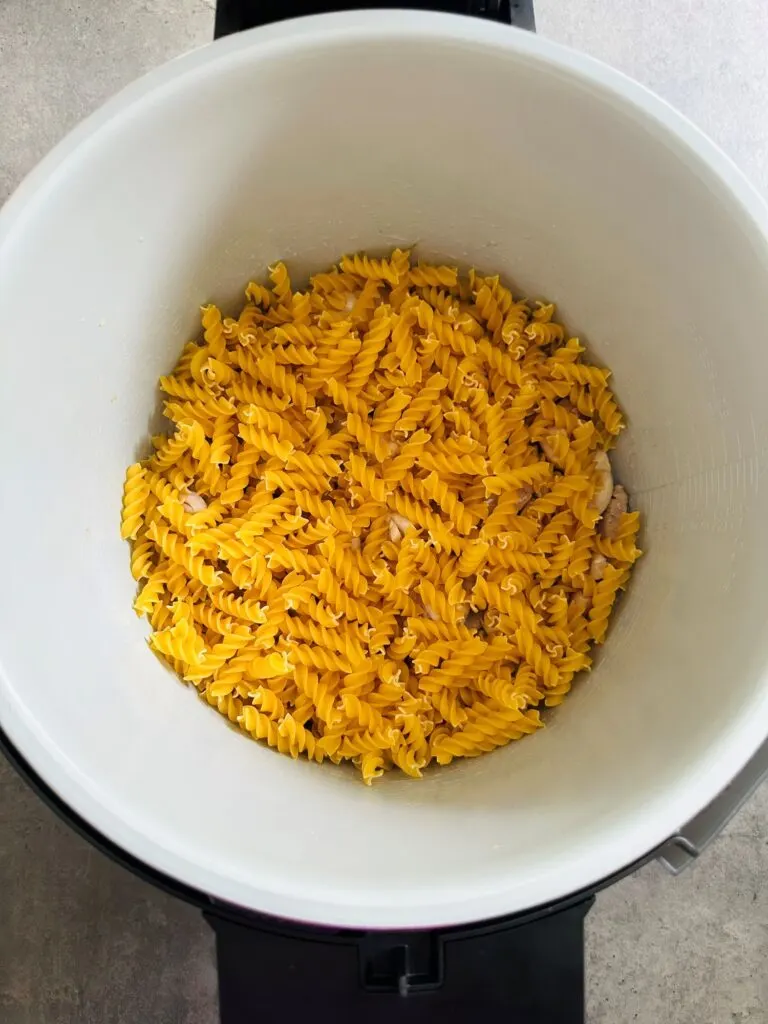 Next, add the pasta over the chicken in a layer, pouring the hot chicken stock over the top. Make sure most of the pasta is covered, but don't stress if a few bits poke out.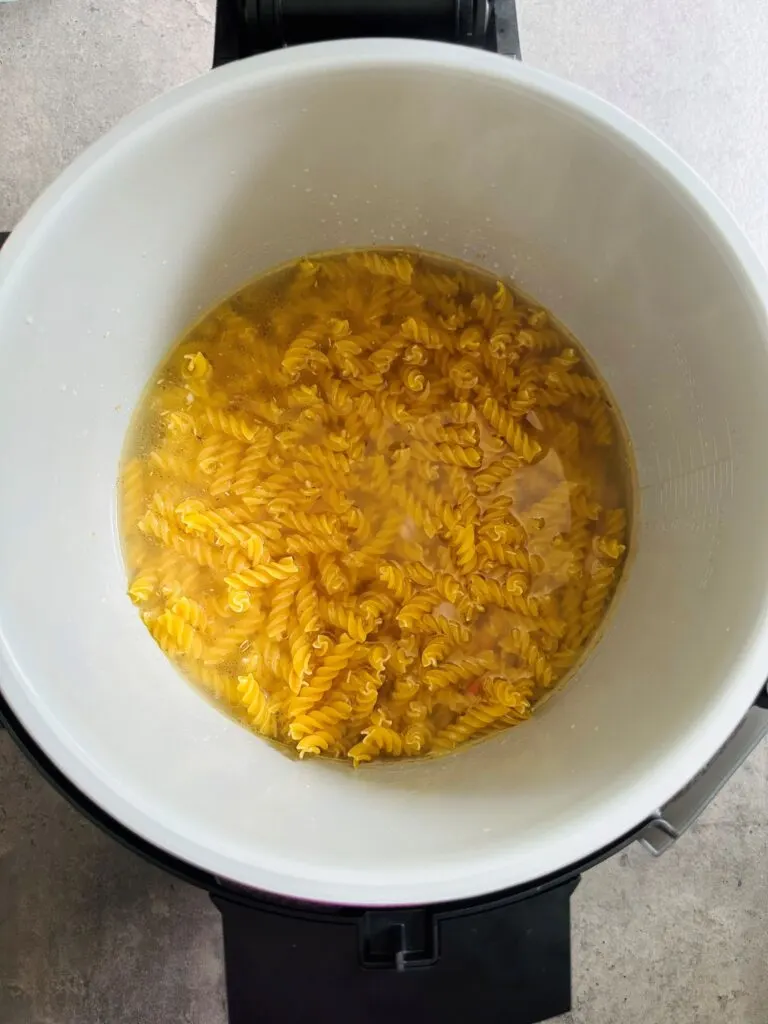 Now it is time for some pressure cooking action! Set it to high for 3 minutes. It will take about 10-15 minutes to reach pressure.
When the time's up, do a quick release. Carefully open the lid and give the pasta and chicken a good stir.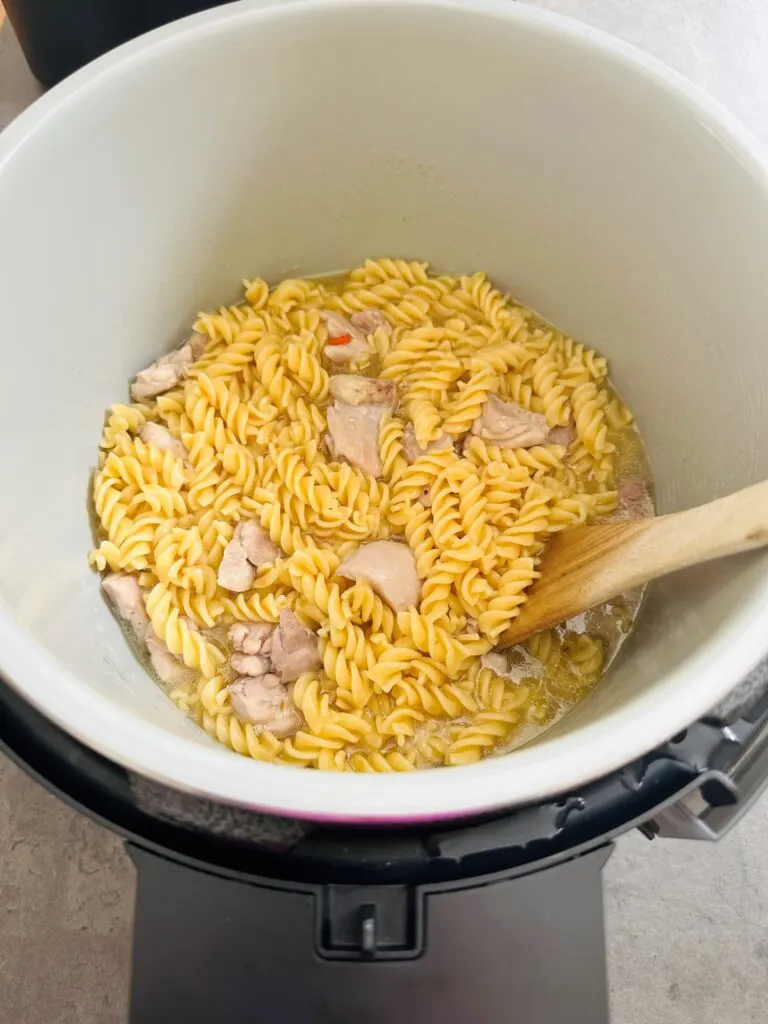 If there's any excess liquid, switch back to SEAR/SAUTE and let it bubble away, keeping an eye on the pot to avoid any sticking.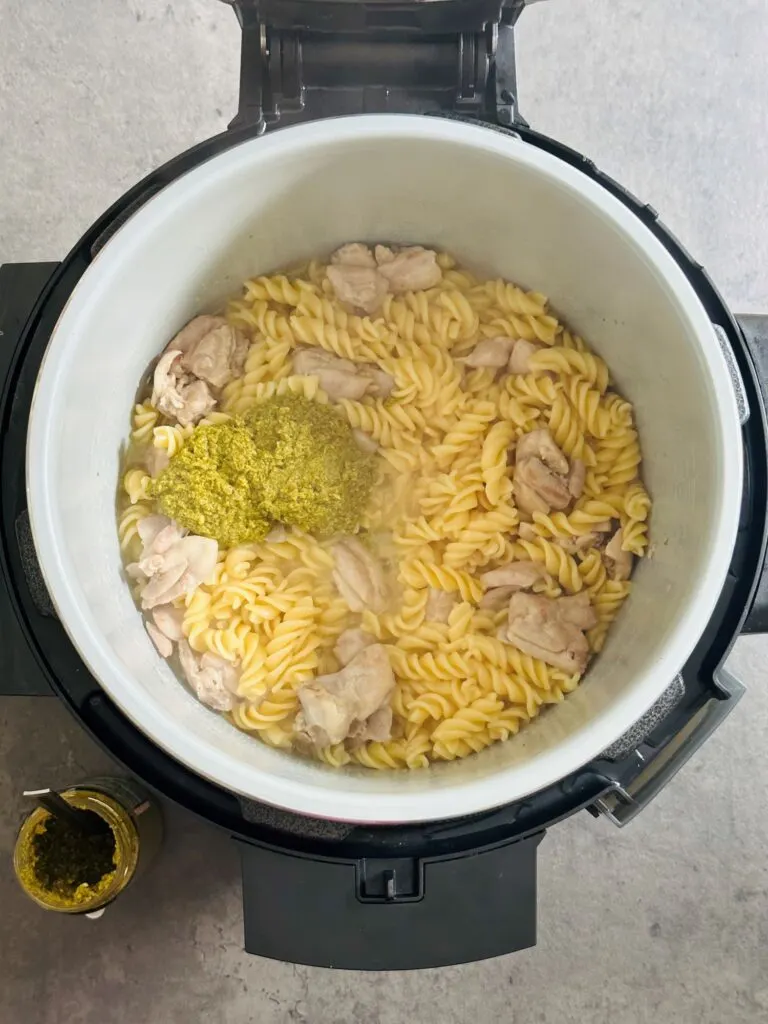 Lastly, turn off the cooker and start mixing in the green pesto sauce. Start with 4 tablespoons and add more if you fancy it.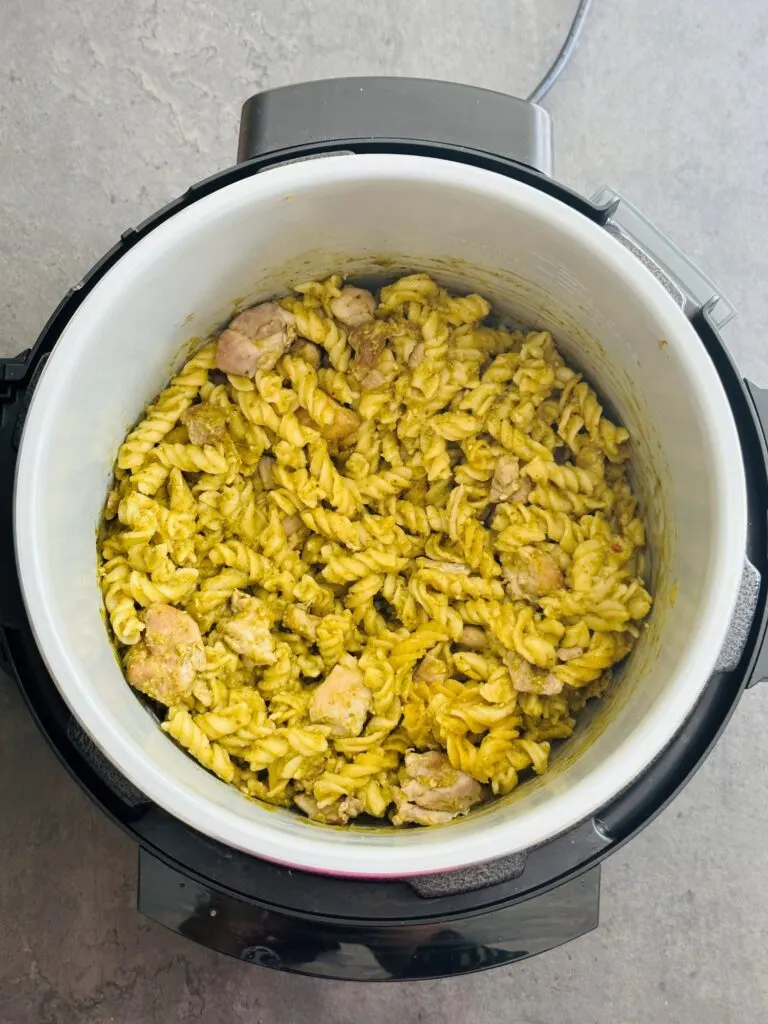 And hey, if you're feeling extra indulgent, stir in some grated mozzarella or parmesan cheese for that added touch of creaminess. Enjoy!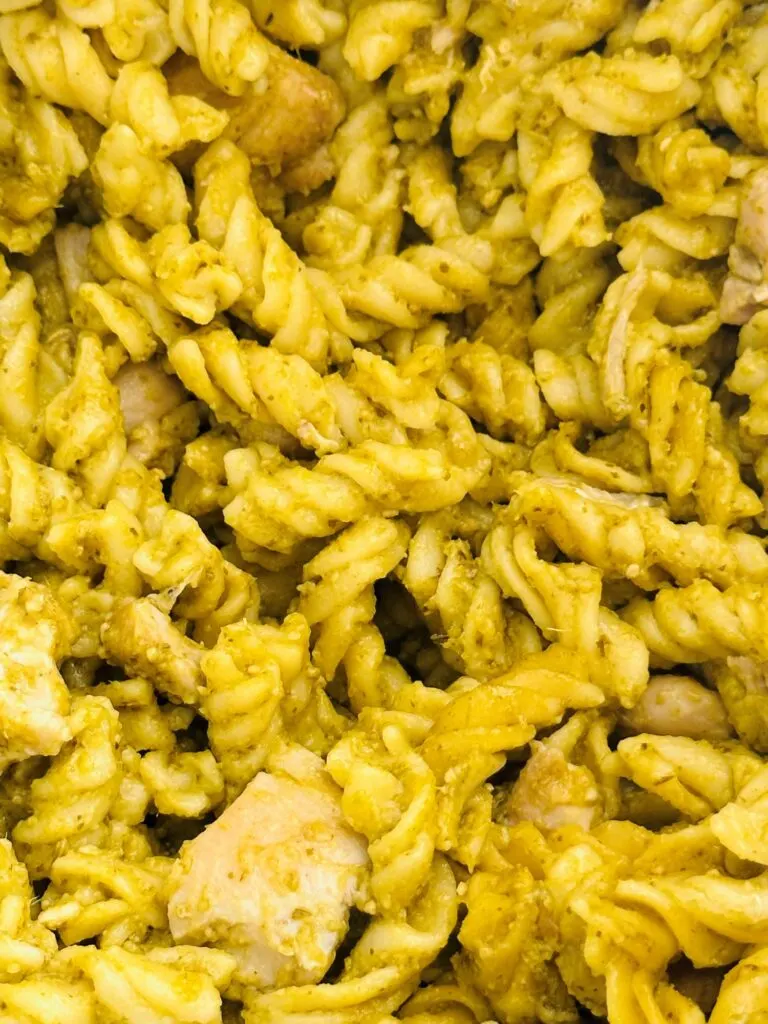 How To Store Chicken Pesto Pasta
Allow the pasta to cool to room temperature and transfer into an airtight container or resealable plastic bags.
Place the container or bags in the refrigerator.
Chicken Pesto Pasta can be stored in the fridge for 3-4 days.
When you're ready to enjoy it again, reheat it in the microwave or in a saucepan on low heat, adding a little water or stock if needed to loosen the sauce.
It can also be served cold.
Do You Want More Ninja Foodi Pressure Cooker Recipes?