Did you know you can cook a gammon joint in an air fryer?
Cooking a whole gammon joint is perfect for cooking up some ham to enjoy as part of a main meal or to save for sandwiches or soups!
Read on to discover how easy this air fryer gammon joint is to make.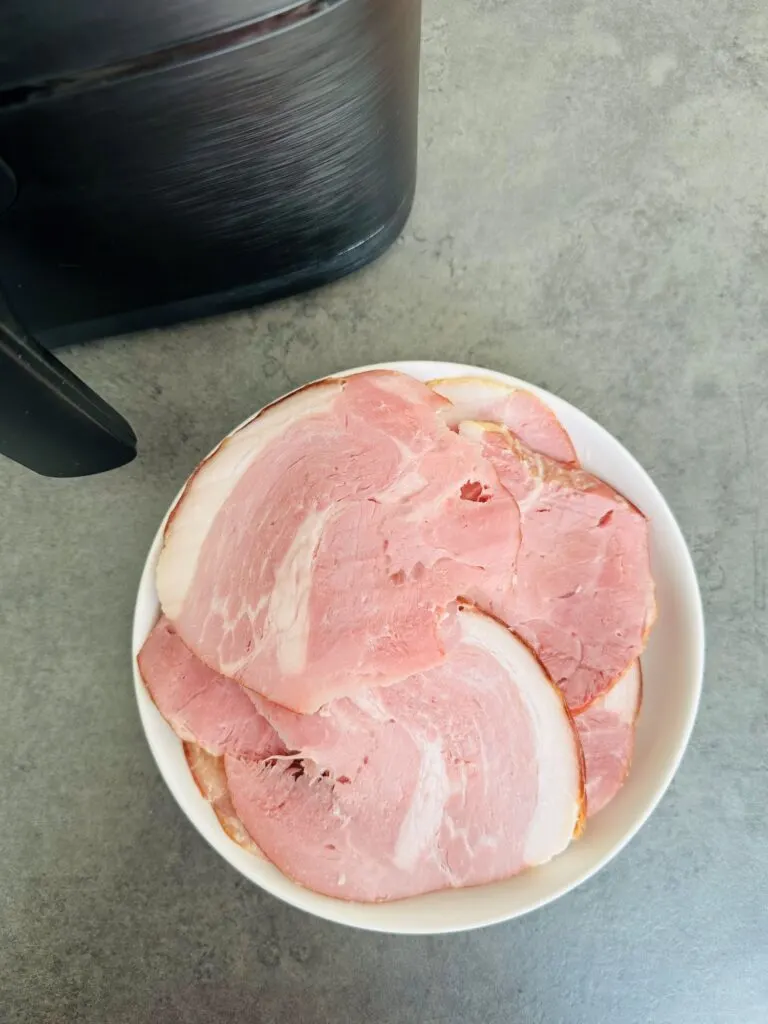 How To Cook A Gammon Joint In An Air Fryer
You should be able to cook a whole gammon joint in any air fryer; but check that the gammon will comfortably fit in your air fryer basket!
I used a 1kg weight gammon joint and cooked it in a 5.5L Cosori Air Fryer. I could have fitted a much larger gammon in there; read below to check different times for different weights.
What You Need For Air Fryer Gammon Joint
At a minimum, you need a gammon joint and an air fryer!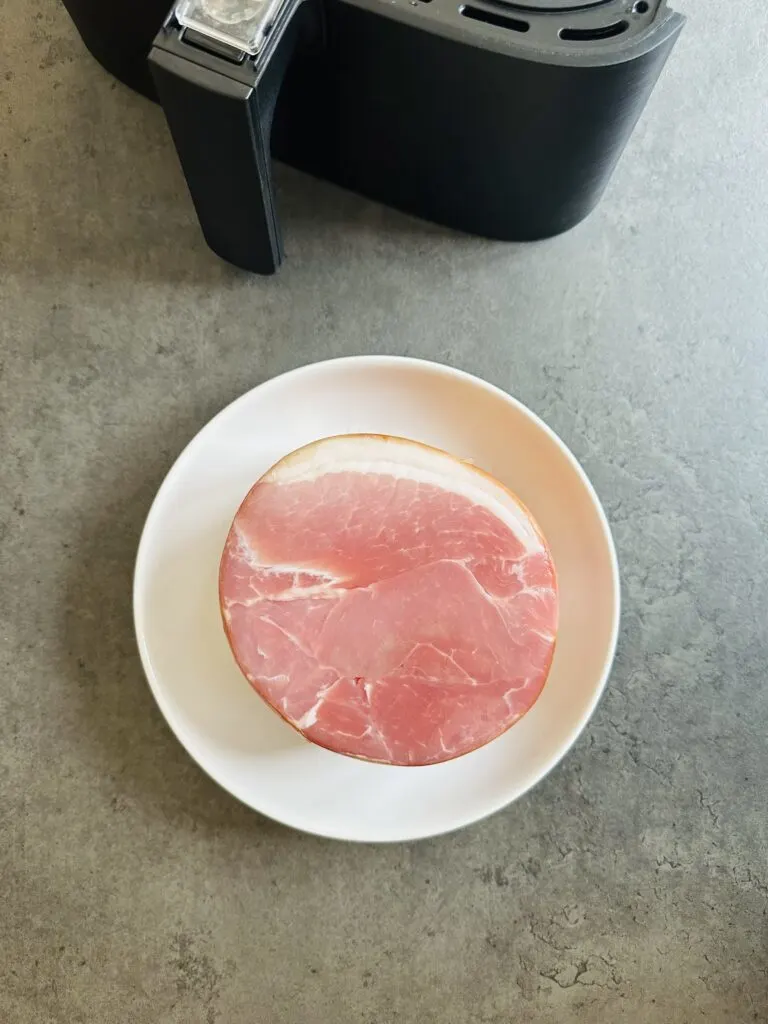 This is all I used for this recipe; I intend to use it for a soup maker ham and pea soup I plan to make, so I didn't bother adding a glaze like I usually would when serving a gammon joint as part of a roast dinner.
But below, I will explain how to add a glaze if that's what you would like to do.
Whole gammon joint – any size, but check it fits in your air fryer basket!
For a classic glaze:
2 tbsp of wholegrain mustard
2 tbsp of honey or maple syrup
1/4 tsp of black pepper
1/4 tsp of ground cinnamon (optional)
1/4 tsp of ground cloves (optional)
Making It
Leave the gammon joint out of the fridge for about 30 minutes before you plan to air fry it.
I loosely wrapped the gammon joint in some foil – yes, you can use foil in an air fryer 🙂
Place the gammon joint into the air fryer basket.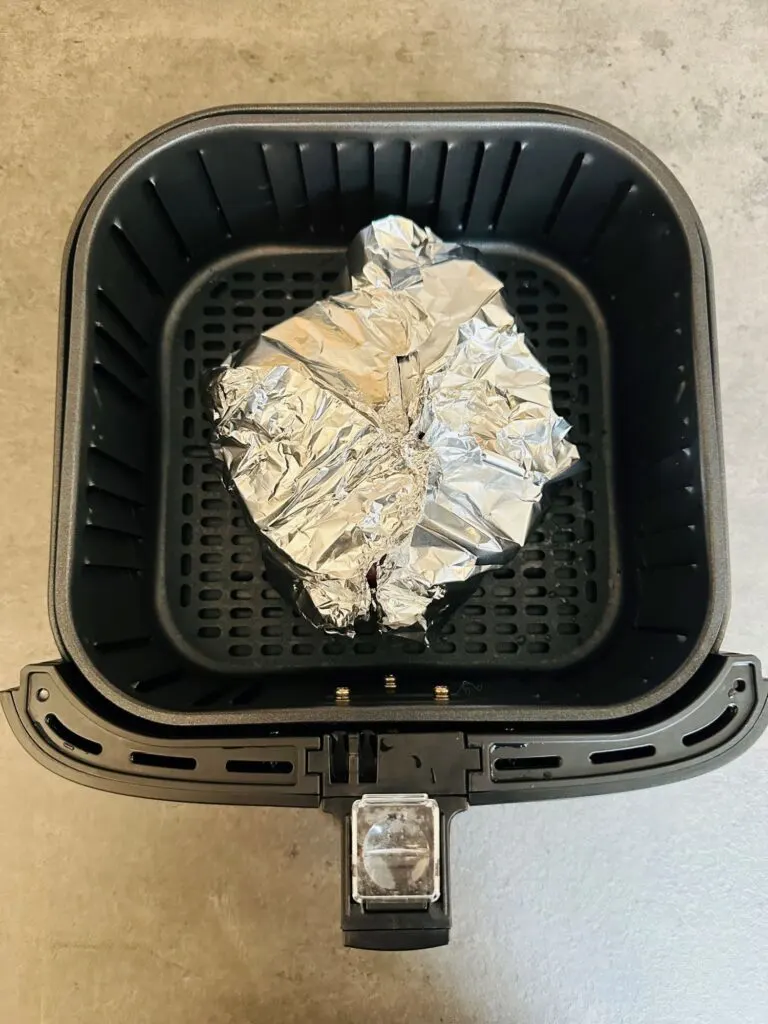 Set the air fryer to 170°C.
Use the cooking times below based on the weight of your gammon joint, aim for 25 minutes cooking time per 500g plus 20 minutes.
Air Fryer Gammon Joint Cooking Times
| Weight | Time | Total Time (Inc 20 Minutes) |
| --- | --- | --- |
| 500g | 25 minutes | 45 minutes |
| 1kg | 50 minutes | 1 hr 10 minutes |
| 1.5 kg | 1 hr 15 minutes | 1 hr 35 minutes |
| 2 kg | 1 hr 40 minutes | 2 hours |
Cook at 170°C
Check for doneness by using a meat thermometer to check the internal temperature of the gammon joint. The internal temperature for cooked gammon is 75°C.
If the gammon has not reached this temperature, continue cooking and check every 5 minutes until the desired temperature is reached.
I use this meat thermometer from Amazon: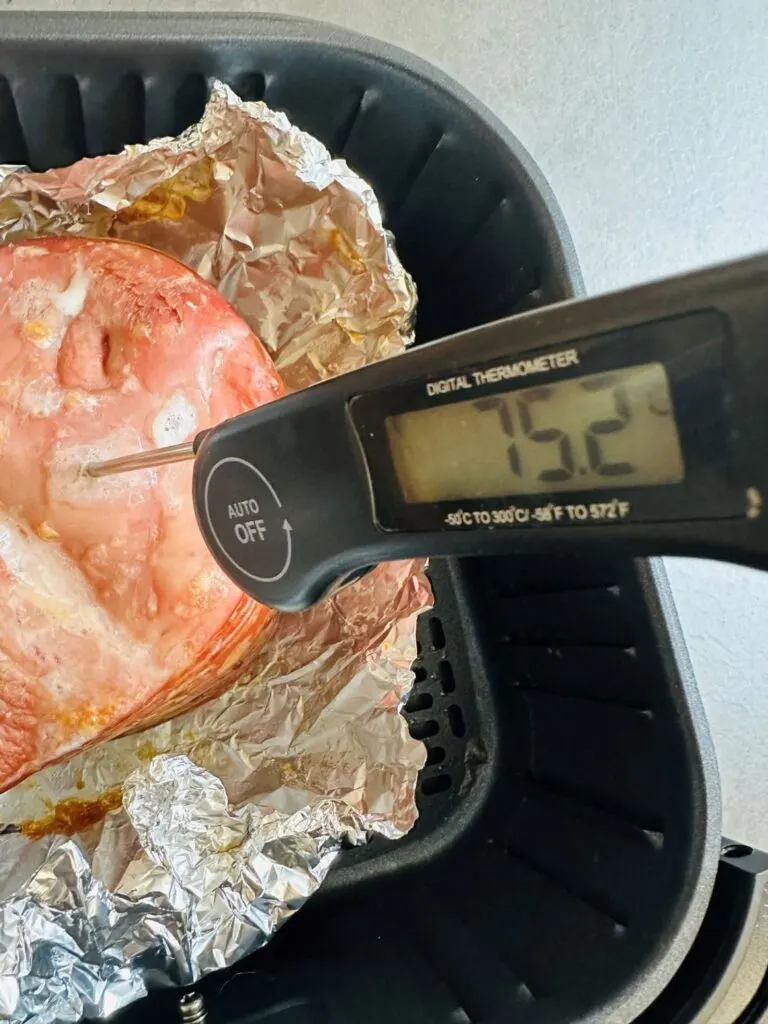 How To Tell If A Gammon Joint Is Cooked
If you don't have a meat thermometer, you can check if a gammon joint is cooked by inserting a sharp knife. If the knife slides in easily, it is ready. If it is tough and slightly springy, it likely isn't ready. The meat should also be dark pink and piping hot all the way through. If not, put it back in for another 5 to 10 minutes.
Glazing The Gammon
If you want to add a glaze, mix together your favourite ingredients for a gammon glaze. It could be the ingredients I have suggested (mustard, honey and seasonings) or just honey.
Ten minutes before the air fryer cooking time ends, open the air fryer and carefully remove the foil from the gammon. Brush the glaze over the meat and return to the air fryer.
Glazing the gammon will help to crisp up and darken the outside of the gammon. You'll see in mine that the skin and fat is very light, this is because I didn't crisp up the skin.
Once the gammon is cooked, leave it to rest for at least 10 minutes before slicing.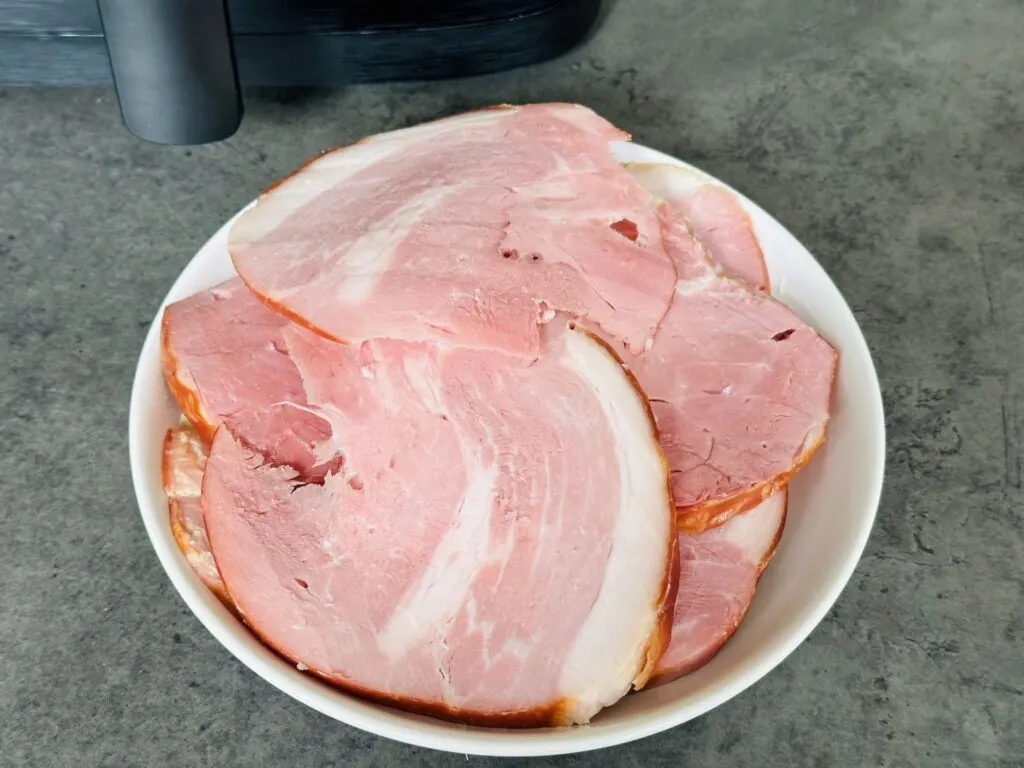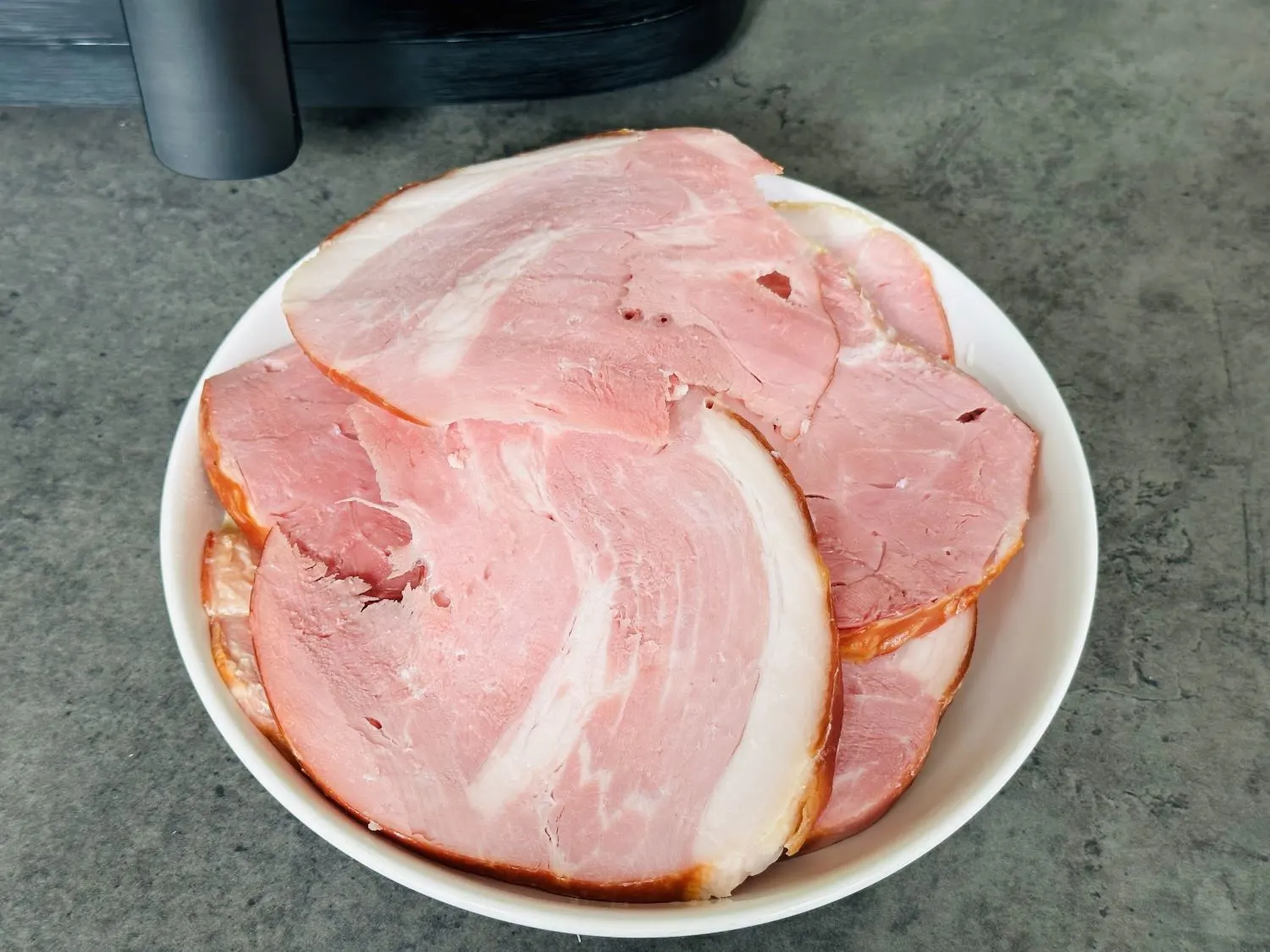 More Air Fryer Recipes
I hope you enjoy this air fryer gammon joint recipe. Let me know in the comments if you make it!