This raisin bread recipe is pretty much a staple in our household. The boys love coming home from school to the smell of it just baked. I have to time it right so that it is ready for when they just get home – or I'd likely eat it all up myself, it's that good.
I always make this in our bread machine because it is so quick and easy. It's quite literally put it all in and set it off.
If you are tempted by a bread maker, you might be interested in my;
Best Bread Maker Buying Guide >>
Tip: Add a pinch or 2 of ground cinnamon.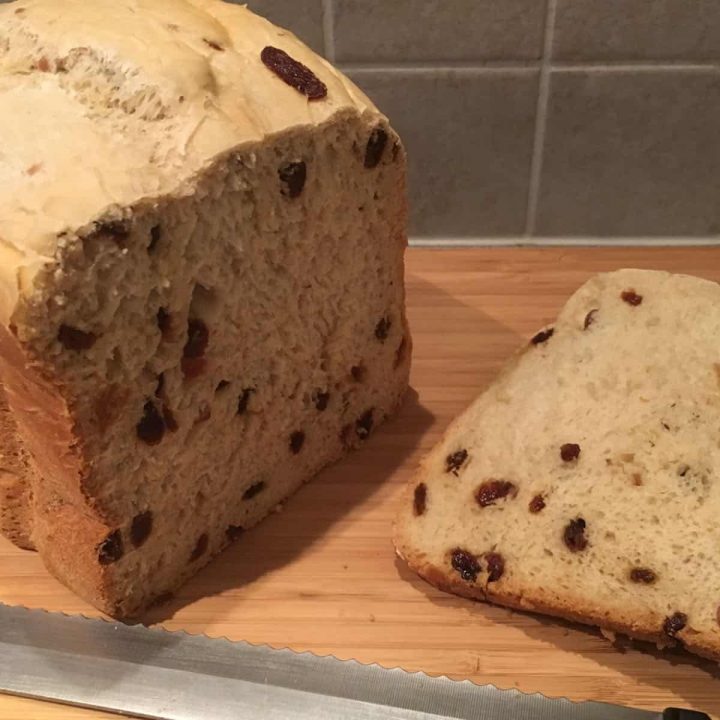 Raisin Bread
Ingredients
330 ml water
2.5 tbsp Margarine or Butter
2 tsp Salt
2.5 tbsp Sugar
520 g Bread Flour
1.5 tsp Dry Yeast
75 g Raisins
Instructions
Add all the ingredients to your bread machine in the order shown (unless your bread machine manual suggests otherwise). If you don't have a separate yeast and or raisin/nut dispenser you will need to add the yeast in the bread pan, just keep it away from the salt. You will need to manually add the raisins during the cycle of the program (refer to your instructions for when this is).
Other Bread Machine Recipes You Might Like:
Coconut Cake (in a bread maker)