When I first got my slow cooker I didn't expect to be able to make breads and desserts in it. But after experimenting with a few recipes I'm pleased to report that a slow cooker is even more versatile than I thought it was.
Related: Slow Cooker Bread
But why would you want to make something like banana bread in a slow cooker when you can make it in the oven, or even a bread maker?
There are many reasons. Maybe your oven is full up cooking a roast dinner, or perhaps you want to head out for a few hours and don't want to leave the oven on.
Whatever your reason, making banana bread in a slow cooker is straight forward and it tastes just as good as making it any other way.
The texture comes out slightly differently than when made in an oven, it is more dense and doesn't rise as much, but it still tastes AMAZING.
How To Make Banana Bread In A Slow Cooker
1. Gather together all the ingredients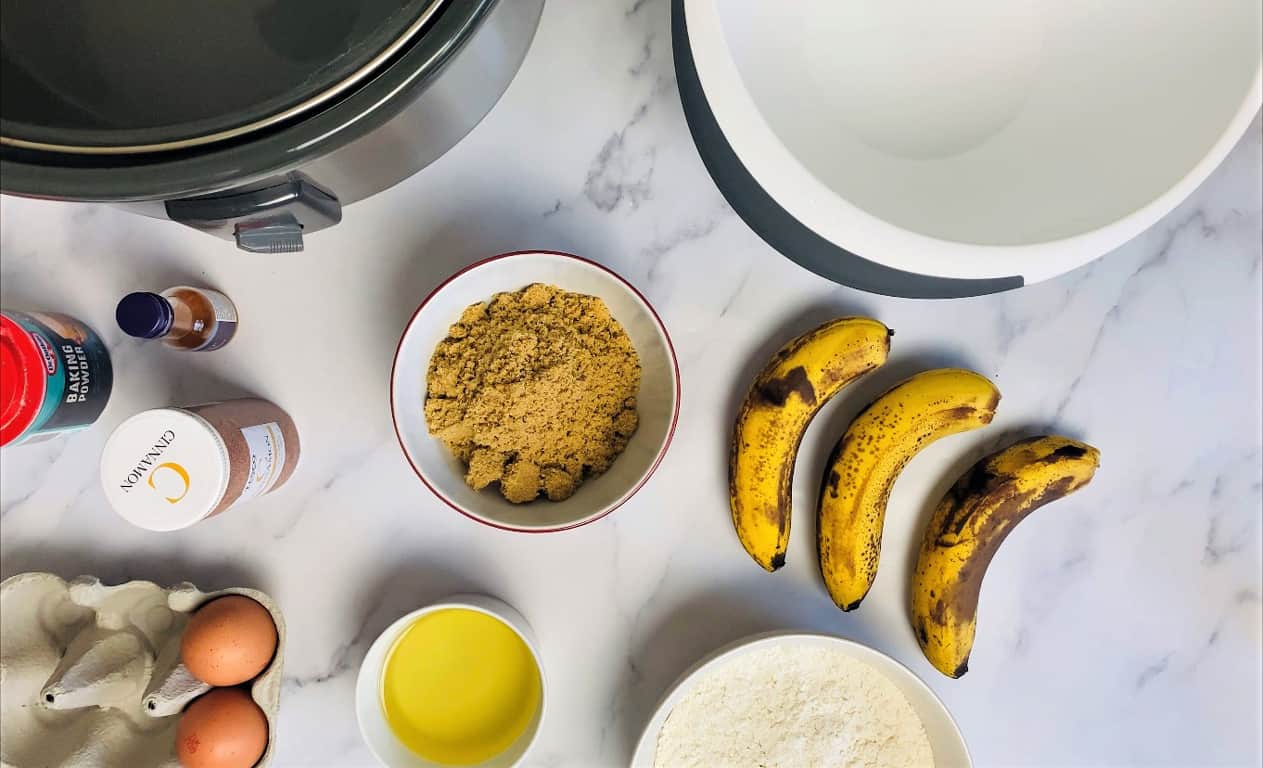 You can use 2 or 3 bananas, depending on how many you have available. The more bananas that you use, the sweeter the bread will be, as well as moist. The important thing is that the bananas are ripe. Ripe bananas will not only be easier to mash up into a puree, they'll also be much sweeter than unripened ones.
You might also like: How To Ripen Bananas
2. Mix the flour, baking powder and cinnamon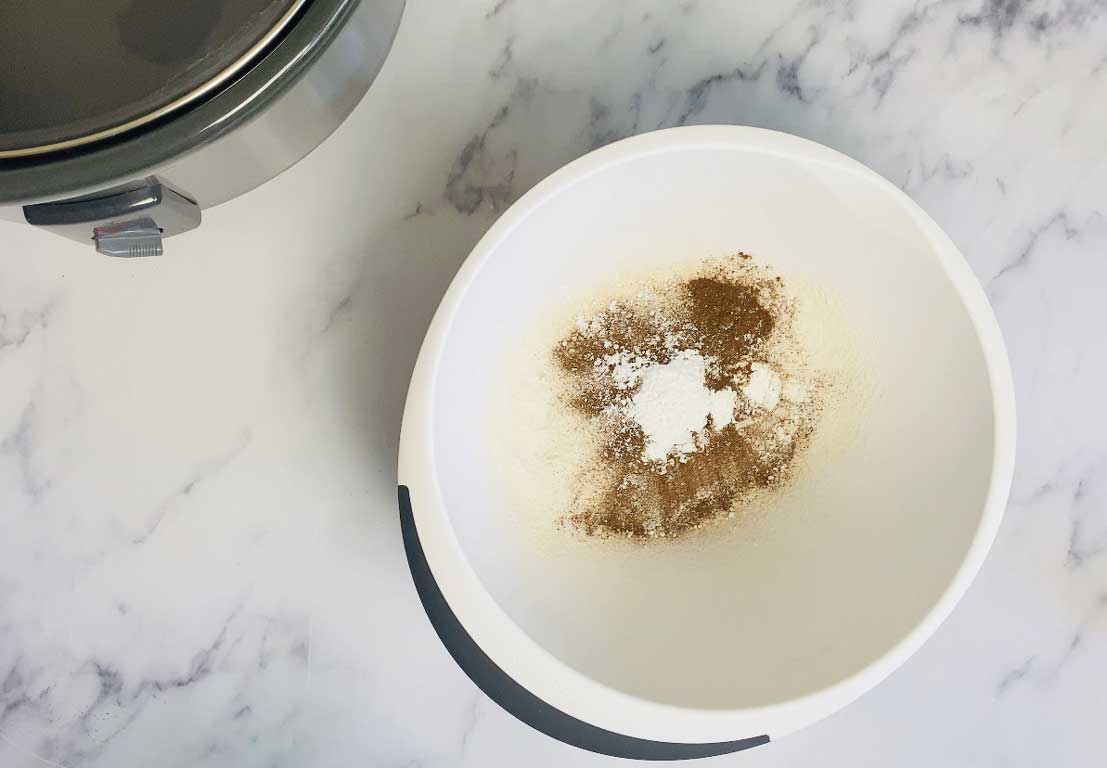 Sieve the flour into a bowl and add the baking powder and cinnamon. Cinnamon is entirely optional but it gives the banana bread a lovely warming taste. Mix these dry ingredients together.
3. Mash the bananas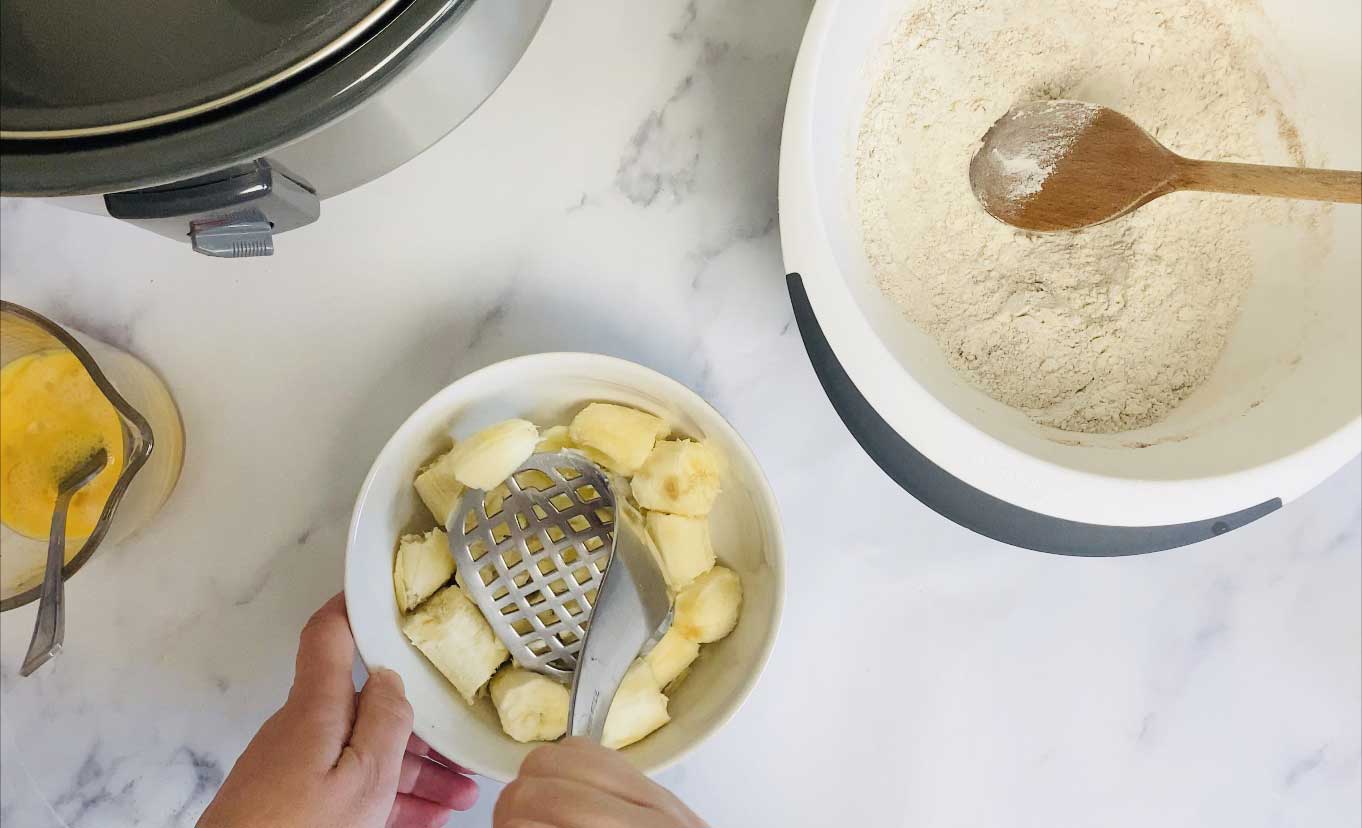 Peel the bananas and break them up in a bowl. You can use a potato masher or a fork to mash them up into a puree. The mixture doesn't need to be completely lump free, a few small lumps of banana is fine and will taste delicious in the finished banana bread, giving the cake even more texture.
4. Mix in the eggs, sugar, oil and vanilla essence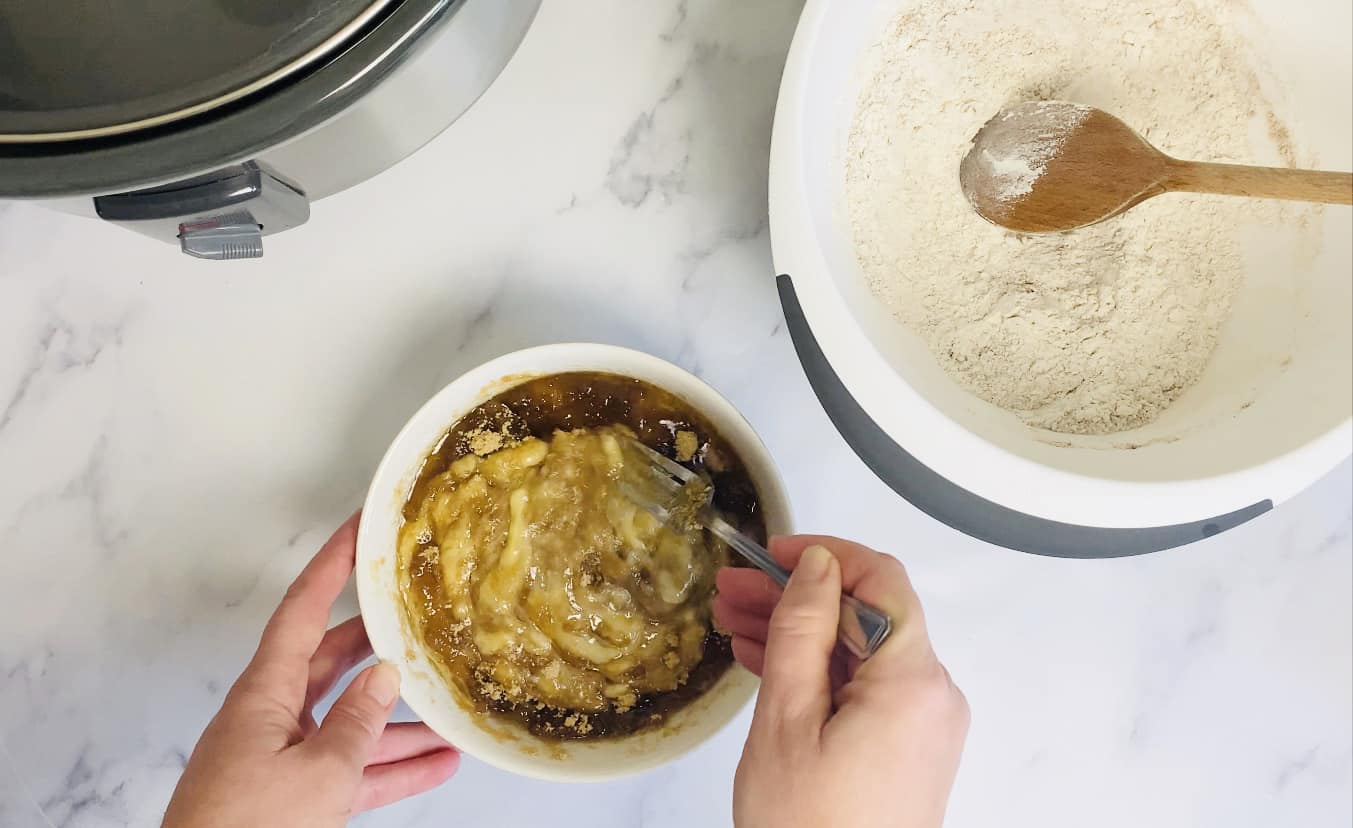 Once you have finished mashing the bananas, add in the beaten eggs, sugar, oil and vanilla essence. Gently stir it all round to mix it together.
5. Add to the dry flour mix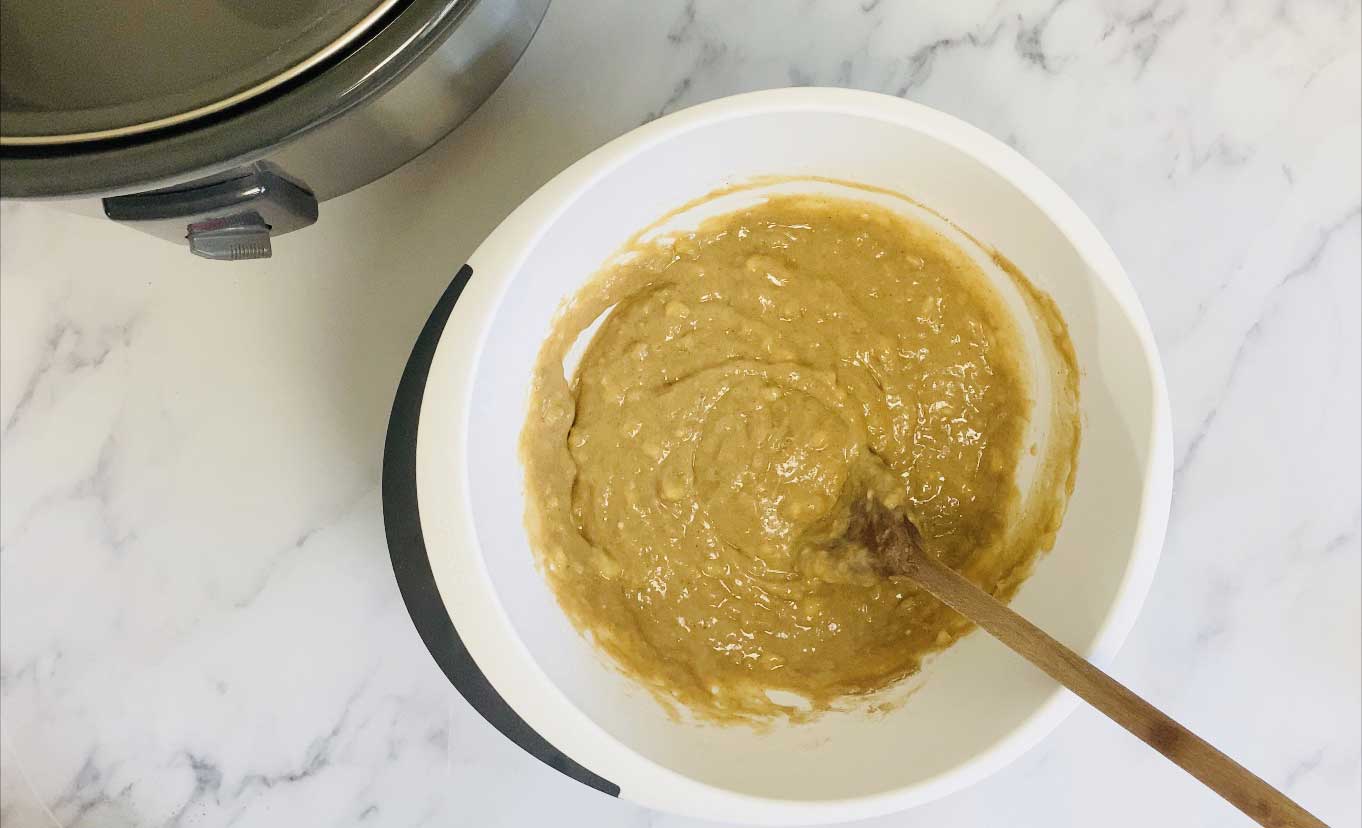 Make a well in the middle of the dry flour mix and pour in the wet egg mixture. Gently stir it together.
6. Transfer to a baking tin
Lightly grease a baking tin. You can use a round baking tin, or a loaf style tin, depending on what will fit in your slow cooker. Double check the tin will fit in your slow cooker before transferring the banana bread mixture (sounds kind of obvious but I forgot to do this only to discover the tin didn't fit!)
7. Place baking tin in slow cooker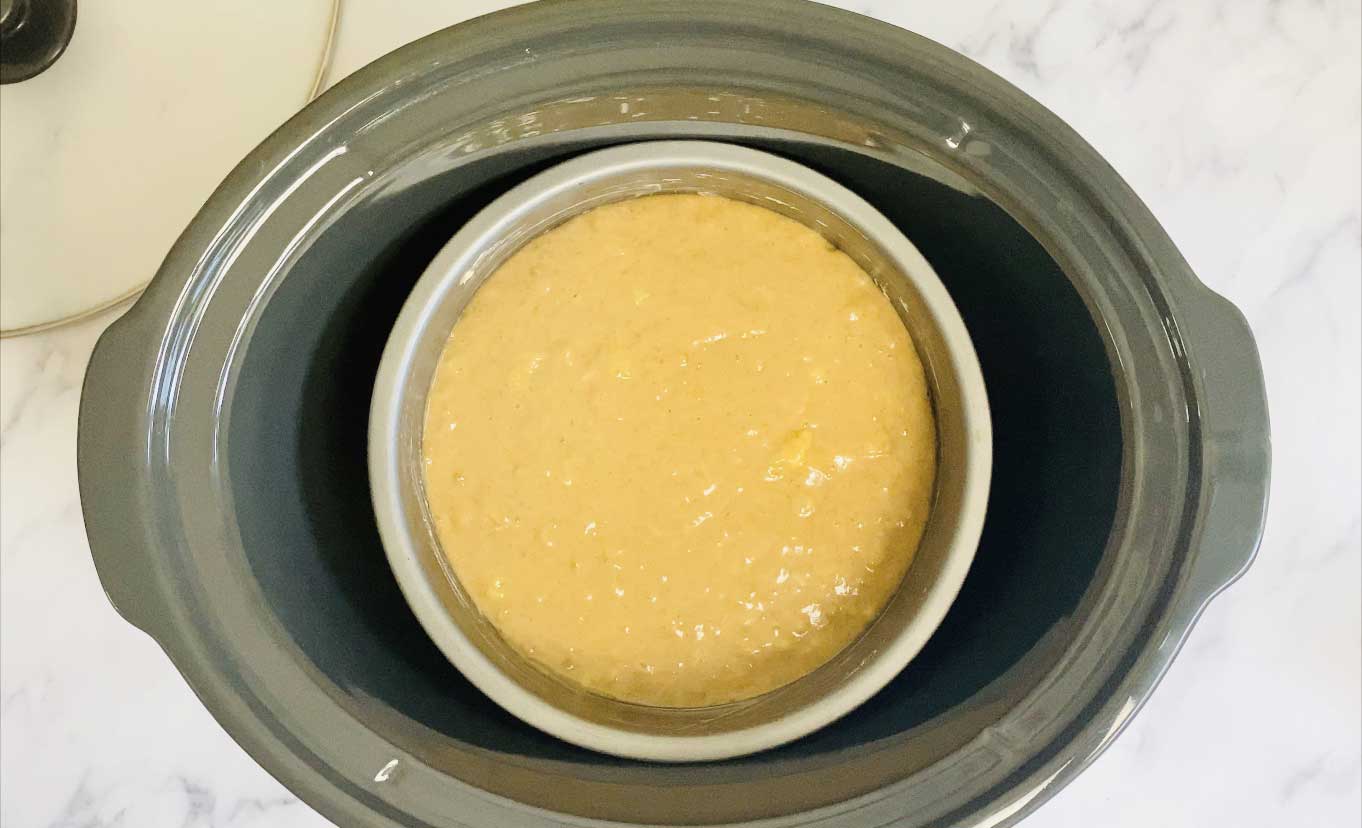 Put the baking tin in the slow cooker bowl, there is no need to add any water, or any liquid.
8. Add a tea towel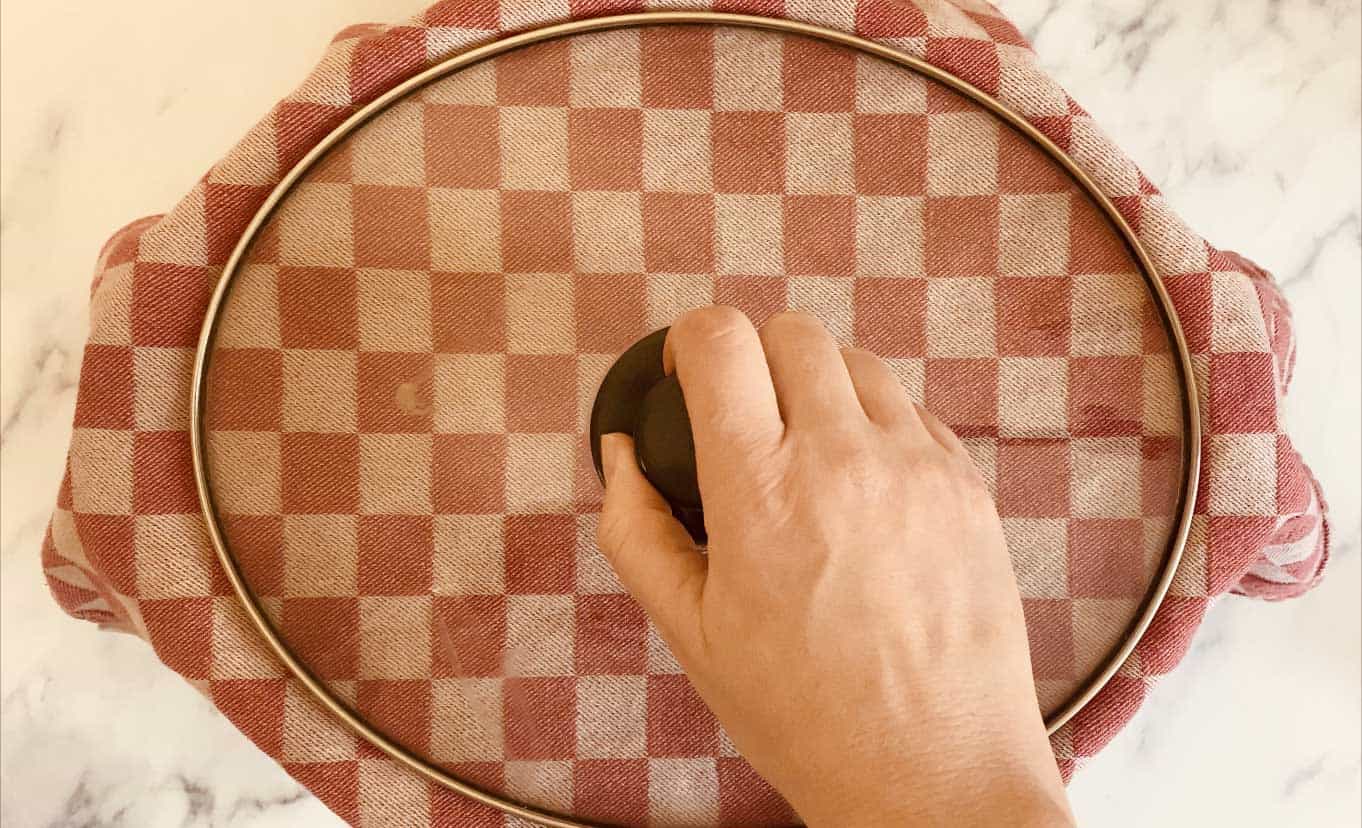 As any moisture created during the slow cooking process has nowhere to go it's a good idea to place a tea towel under the slow cooker lid. This will help to catch any moisture that evaporates and prevent it from dripping back on to the banana bread and making it soggy.
9. Cook on high for 2 to 3 hours
The downside of using a tea towel under the lid is you can no longer spy on the banana bread as it bakes. Try to resist the urge to peek before 2 hours, or the heat will escape from the slow cooker and delay the cooking time.
After 2 hours you can remove the lid and check if it is ready. Use a metal skewer to check if it is done – insert it to the middle and if it comes out clean it is ready. I generally find that it is ready after 2 hours, but it can be left on for 3 hours if needed.
10. Leave to stand, slice and serve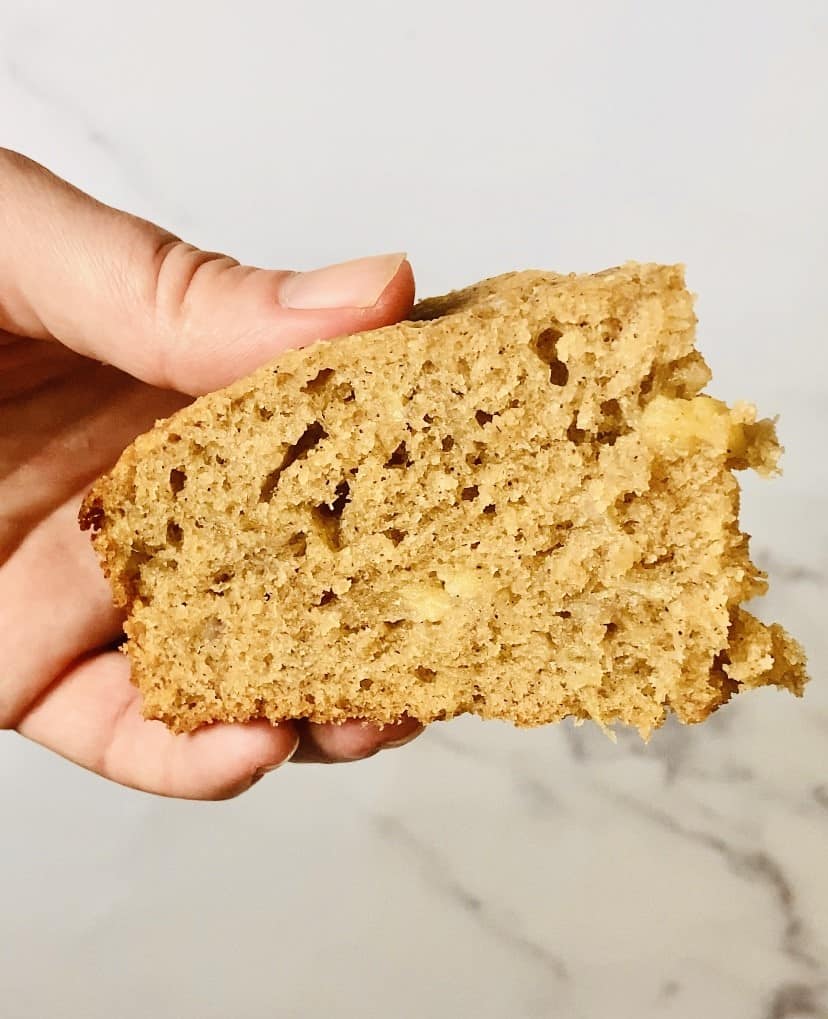 Leave the cooked banana bread to cool down a bit (about 10-20 minutes) before you remove it from the tin and slice it.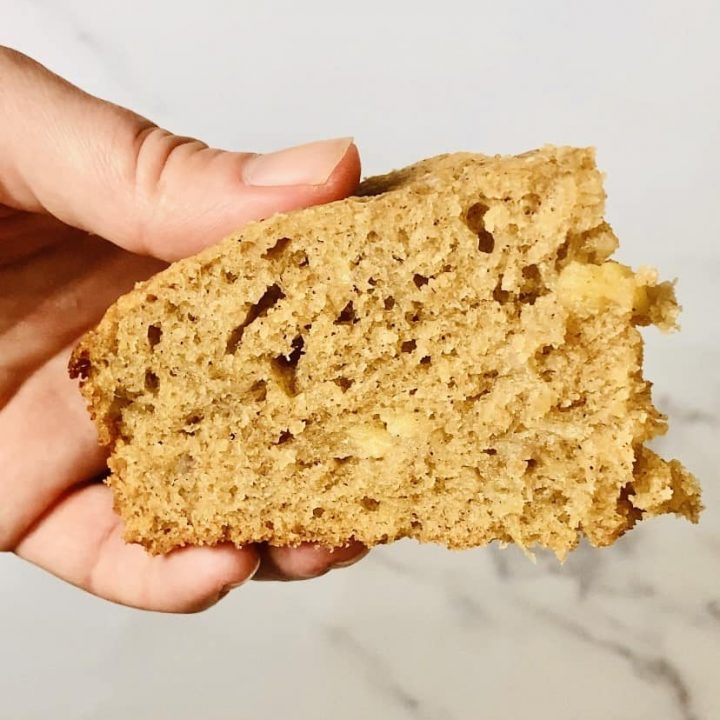 Slow Cooker Banana Bread
Yield: 8

Prep Time: 15 minutes

Cook Time: 3 hours

Total Time: 3 hours 15 minutes

Slow cooker banana bread is both tasty and easy to make. Prepare the mixture and then let the slow cooker work it's magic!
Ingredients
200g strong White Flour, (you can also use plain flour)
2tsp baking powder
2tsp cinnamon
3 ripe bananas
2 eggs
100ml vegetable oil
150g soft brown sugar
1tsp vanilla extract
Instructions
Lightly grease a loaf tin (make sure it can fit in your slow cooker)
In a large bowl, sift the flour, cinnamon and baking powder and mix together.
In a separate bowl, beat the eggs until smooth.
In another bowl, mash the bananas with a fork until they are smooth and lump free (you must use ripe bananas).
Add the bananas in with the beaten egg and stir until mixed in.
Add in the oil, sugar and vanilla extract.
Make a well in the bowl containing the flour etc. Slowly pour in the egg mixture, stirring gently until all the ingredients are blended together. Do not mix too much, just until it is smooth.
Add the mixture to your greased loaf tin. Place the tin into your slow cooker. I like to put a tea towel under the lid to stop any condensation dripping back down onto the bread and making it soggy.
Cook on high for 2 to 3 hours. When it is ready you should be able to insert a skewer into the centre and it come out clean.
Allow to cool for a bit before removing from the tin and then transfer to a wire rack to cool some more.
Notes
You can use either a round baking tin or a loaf shape one - whichever fits the best in your slow cooker.
Nutrition Information:
Yield: 8 Serving Size: 1
Amount Per Serving: Calories: 325Total Fat: 13gSaturated Fat: 1gTrans Fat: 0gUnsaturated Fat: 11gCholesterol: 47mgSodium: 146mgCarbohydrates: 49gFiber: 2gSugar: 24gProtein: 5g

Did you enjoy this recipe? Let me know in the comments!
Pin it for later!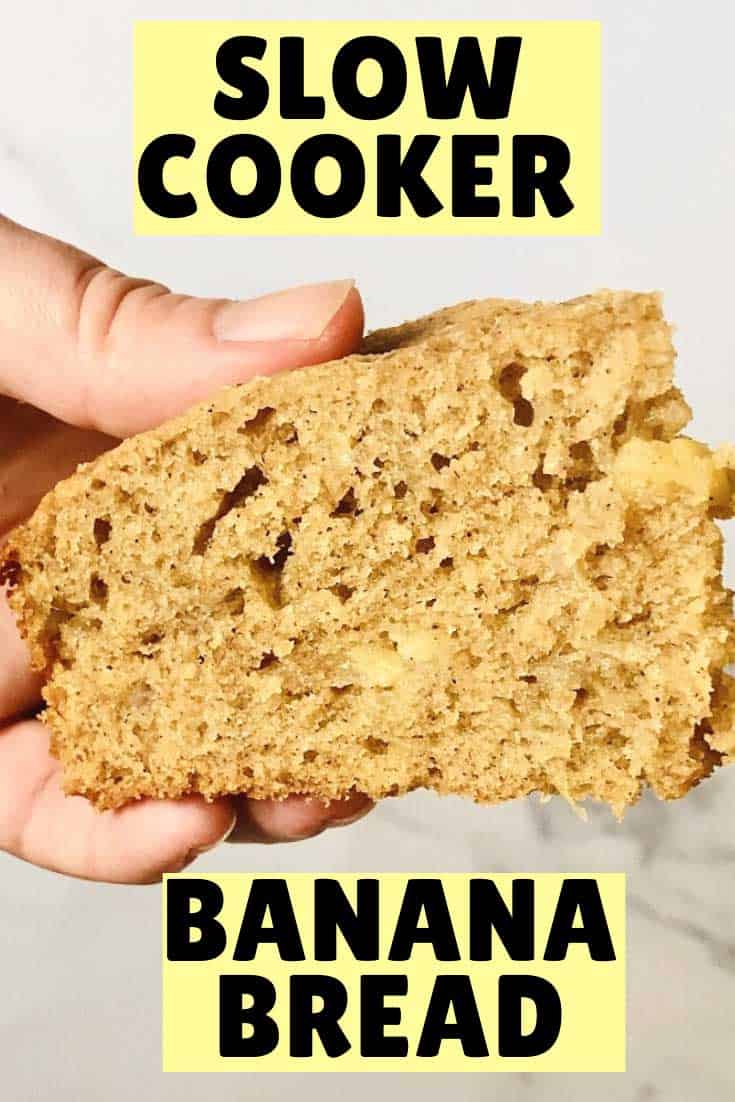 You Might Also Like: