Slow cooker gammon is a quick to prepare a meal with tasty results.
You can keep the recipe super simple and literally just add the gammon and a little water. Or, you can add some additional ingredients to create some different tastes.
Either way, the preparation time is very short.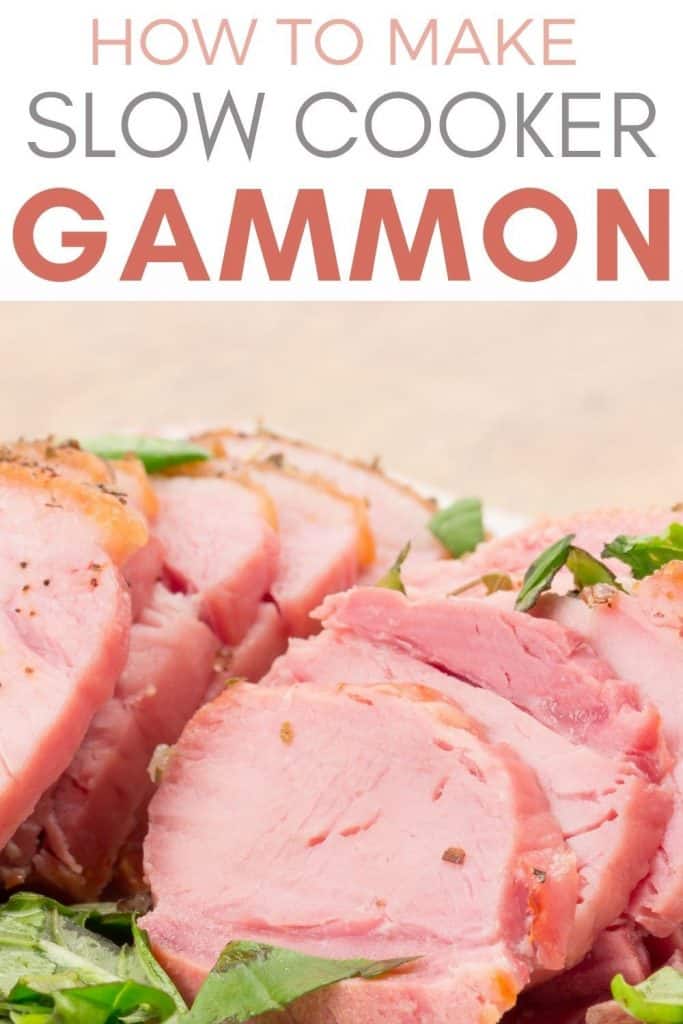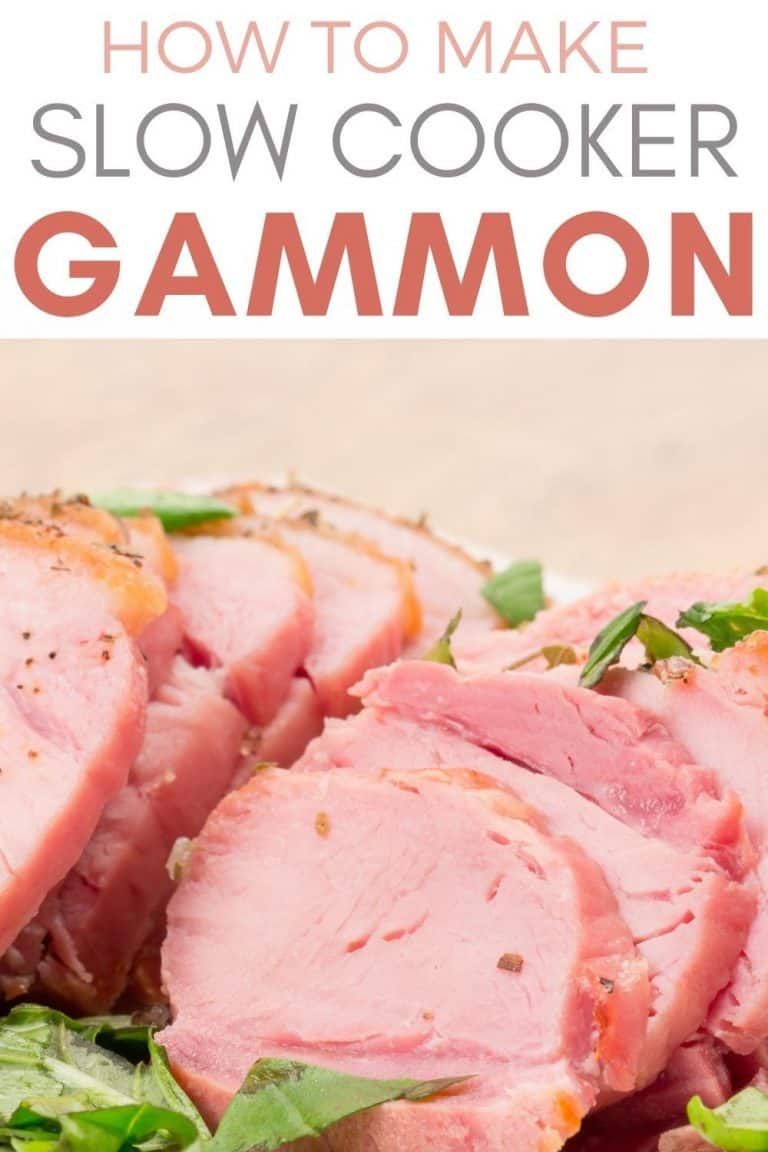 What you need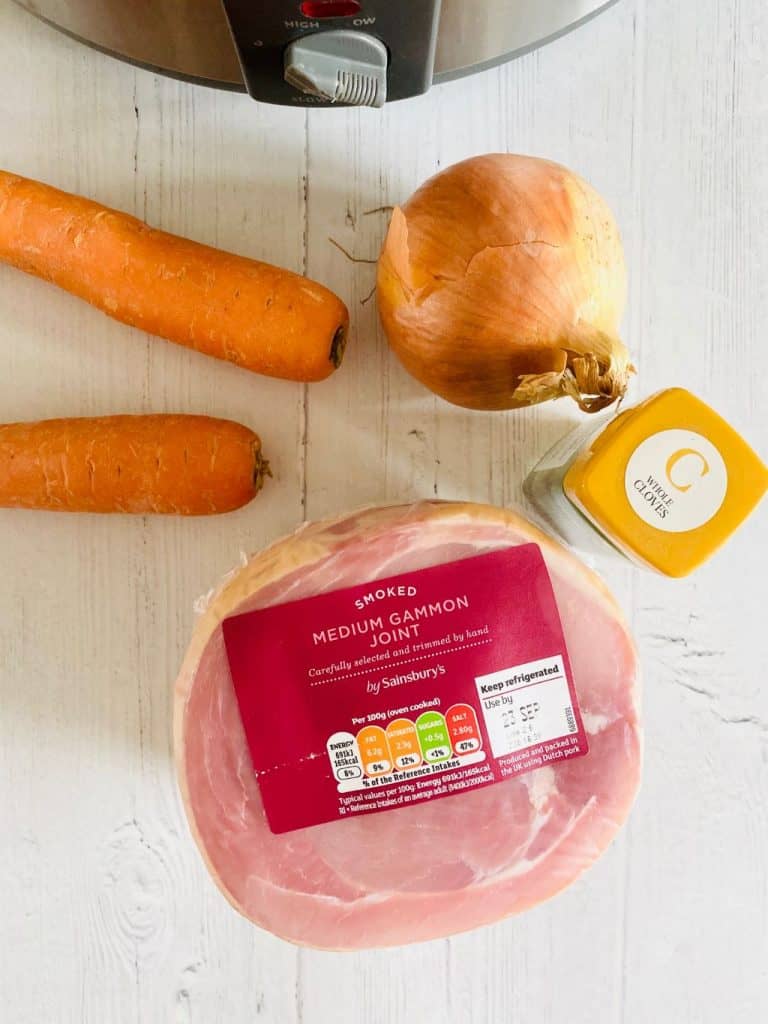 Slow cooker – the bigger the better, cook a larger gammon joint and enjoy the leftovers!
Gammon joint – smoked or unsmoked
Vegetables – you can add any you like, I tend to add onions and carrots
Cloves – this is optional, I pierce them into the gammon before I cook it
Liquid – either just plain water or, experiment with some different liquids (see below!)
Honey/Mustard – again, optional, you can glaze the cooked gammon and finish it off in an oven
Slow Cooker Gammon Joint – 5 Different Ways!
1. How To Cook A Gammon In A Slow Cooker With Water
This is the quickest method. You just need to place the gammon in the slow cooker, and then pour some water around it – around 250ml is enough, which should be about 2 to 3 inches deep.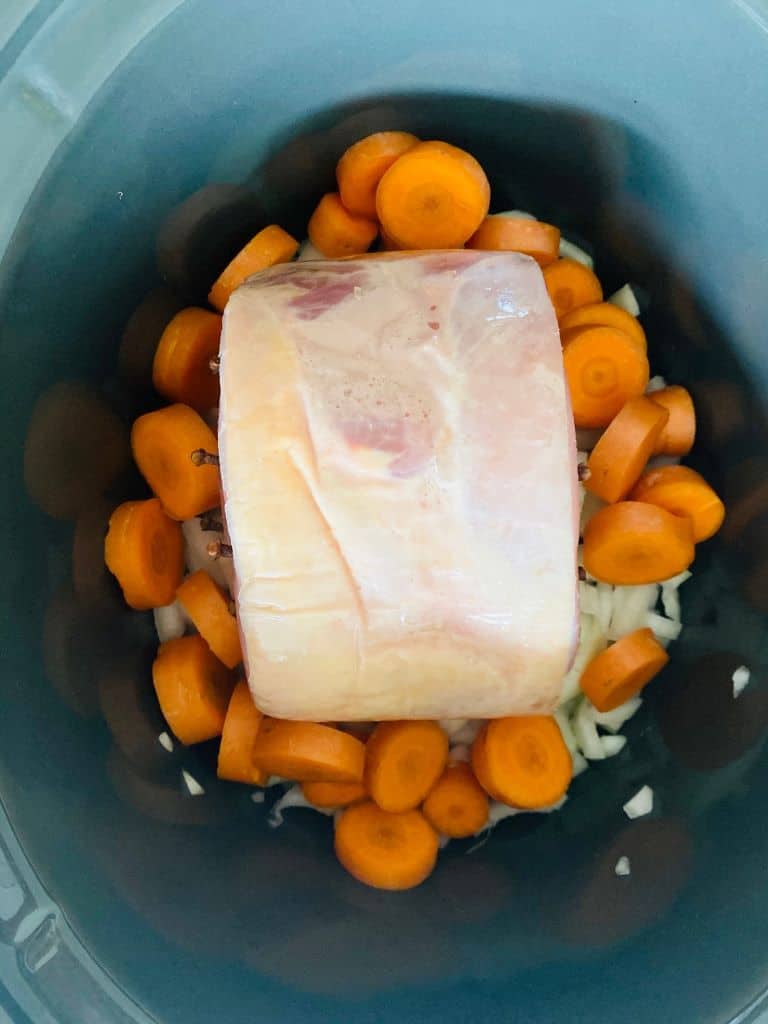 Do I Need To Add Water To Slow Cooker Gammon?
No, like with other slow cooker recipes, there is no need to put in any additional liquid. I like to put in a little at the bottom as I find it helps the gammon to come out a little more moist. But, if you don't add any water to the slow cooker, the gammon won't burn.
2. Slow Cooker Gammon In Coke
Slow cooking a gammon joint in coke might seem like a strange idea. But if you've not tried, it, you should!
The gammon does not end up coming out sweet as you would imagine – and it's best to use normal full fat coke (although I know some people do use Diet Coke, especially to make it a Slimming World friendly recipe).
You can also use cherry coke, although I've not tried this myself, I have heard it comes out tasty.
3. Slow Cooker Gammon In Cider
Cooking a gammon joint in some dry cider is equally as tasty as the coke. Use 400ml/500ml of dry cider and pour it over the gammon joint in the slow cooker. You can also add in some cloves, peppercorns and some chopped up onions.
4. Slow Cooker Gammon In Apple Juice
If cider isn't your thing, you can substitute it for apple juice. Use a similar quantity (400-500ml) and pour it over the gammon joint. Alternatively you can also use pineapple juice, or a large tin or 2 of pineapple chunks in juice.
5. Gammon In Slow Cooker With Honey
If you are making a glaze for the gammon (see details further down), you can use honey then before putting it in the oven.
You can also use some honey during the slow cooking process. Just mix 5 tbsp of honey with about 250ml water – hot water would be better as it will help the honey dissolve. You can also stir in some mustard and make it a honey and mustard gammon.
How Can I Make Pulled Ham?
Leave the gammon in the slow cooker for a longer length of time so that it becomes more tender and you are able to pull it apart and shred it. Leave it in for at least 8 hours on low. Use 2 forks to shred it. Much like slow cooker pulled pork.
Should I Soak Gammon Before Cooking It?
If you have bought a smoked gammon you might want to pre-soak, or boil away some of the salt before cooking it.
You don't have to do it – it depends on how salty you like your gammon.
If you do want to reduce the salt content, ideally you will soak it in a bowl of fresh water for at least 12 hours before you want to cook it. Make sure the whole of the gammon joint is covered.
However, if you don't have the time, you can boil away the salt. Simply place the whole gammon joint in a large enough saucepan and bring it to the boil.
Do I Cook Gammon In Plastic?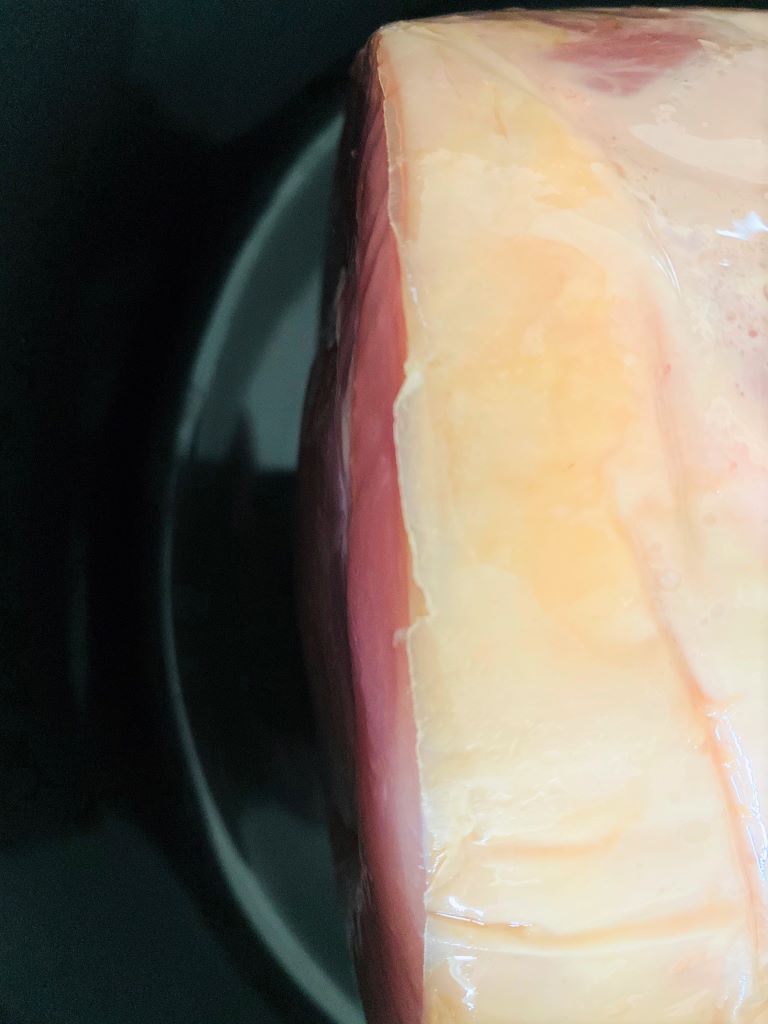 Gammon joints come with plastic wrapped around them. I used to always leave this on (!) but have since been informed that this should be removed during the cooking time. I always thought it helped to hold the joint together?
How Long To Cook Gammon In A Slow Cooker
Cook it on low for 6 to 8 hours, or high for 4 to 5 hours.
How To Tell If Gammon Is Cooked
Insert a sharp knife inside the gammon and pull it out. If you struggle to take it out, or it feels a bit springy, the meat isn't cooked. Return it to the slow cooker to let it cook for longer.
How To Make A Gammon Glaze
You can either serve the gammon straight from the slow cooker, or add a glaze and cook it in an oven for 15 to 20 minutes. If I'm making this recipe for a regular week night meal I go with the first option, but if I am making it for a weekend meal, or a special occasion (like Christmas!) I will make the effort to glaze it too – it does taste amazing!
What To Do With Leftover Gammon
If your slow cooker has the space it is well worth buying a large gammon joint so that you have some for leftovers!
There are lots of ways to serve leftover gammon;
---
GRAB MY BOOK!
Slow Cooker Recipe Book: 100 Slow Cooker Recipes
100 easy to make, tried and tested UK recipes including;
Chilli Peanut Coconut Chicken

Beef & Sweet Potato Stew
Chocolate Lava Cake - and many more!
We earn a commission if you click this link and make a purchase at no additional cost to you.
08/08/2022 09:04 am GMT