Have you tried air fryer gammon steak yet?
It's super quick to make and tastes delicious with some air fried pineapple, or a fried egg on top!
Serve with some yummy air fryer chips, or potato wedges and vegetables.
Read on for the simple step by step instructions for cooking gammon steaks in an air fryer.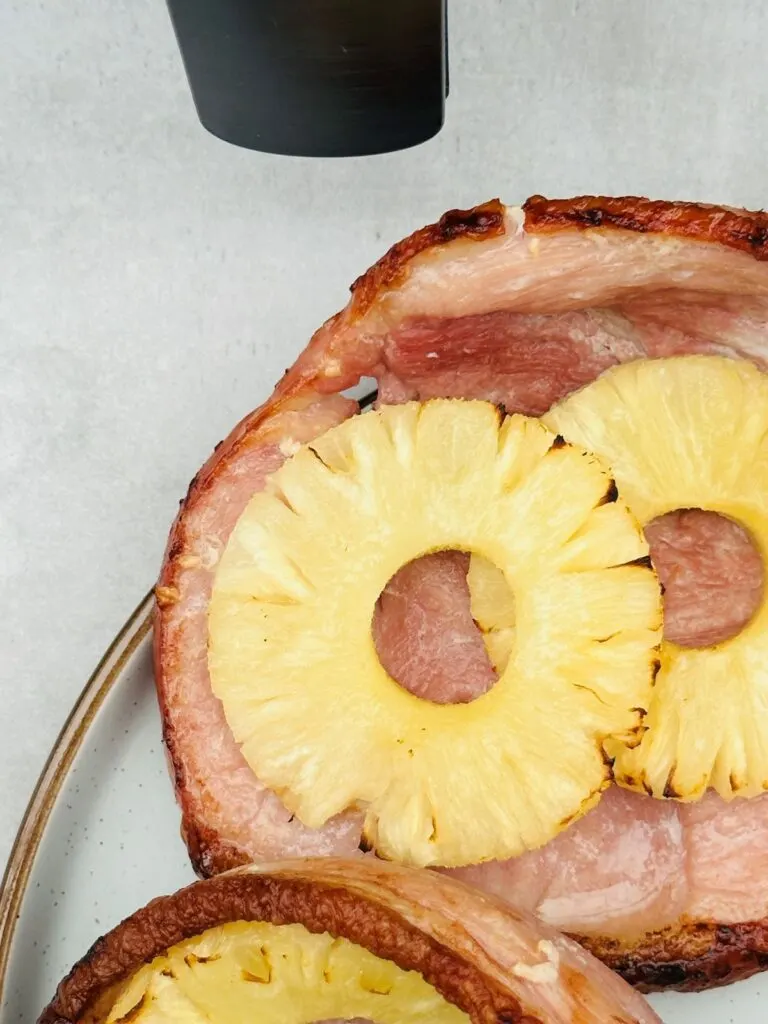 🍽 How To Cook Gammon Steak In An Air Fryer
Just like when you fry or grill it, gammon steak cooks quickly in an air fryer. It really is just a matter of adding it to the air fryer. You can optionally season or baste it in your favourite flavours (more on that below).
❓ Are you looking for a recipe for a whole gammon joint? Check out my air fryer whole gammon joint recipe here.
🛒 What You Need
To print out this recipe, head down to the recipe card at the bottom of this post.
2 gammon steaks
1 tbsp. olive oil
Seasoning according to taste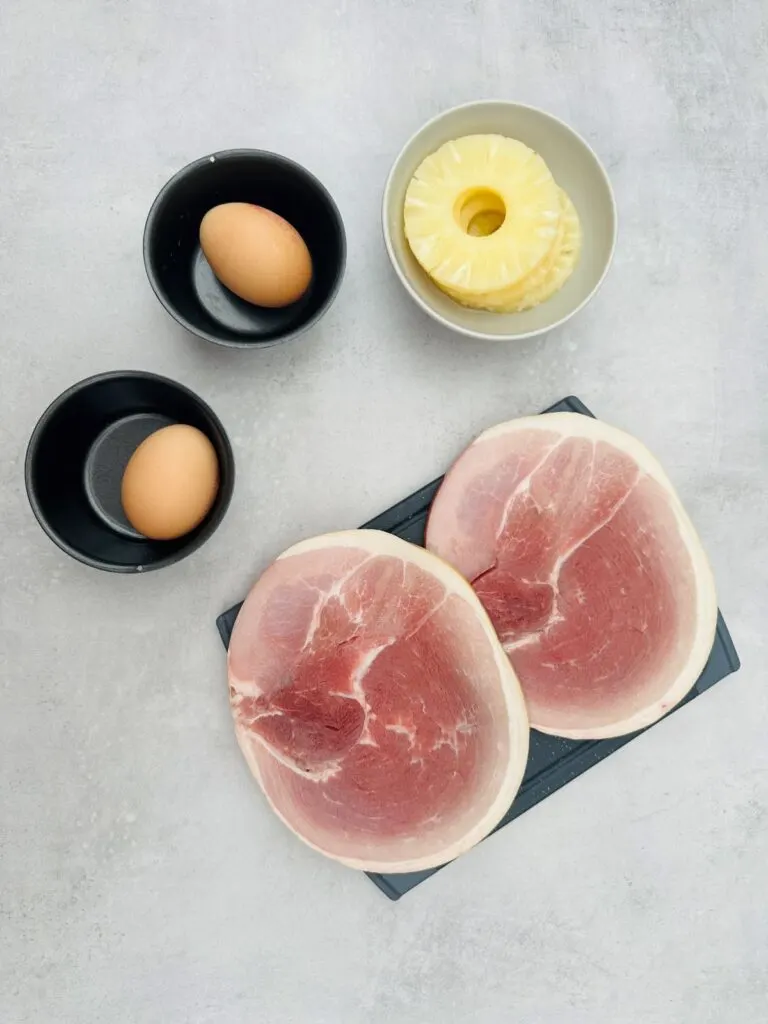 Optional Extras:
Pineapple slices can be added to the air fryer and cooked alongside the gammon
Fried eggs can be prepared separately in a frying pan or added to a suitable baking pan or ramekin dish and air-fried alongside the gammon.
Honey and mustard can be used to flavour the gammon. Mix 1 tbsp of honey and 1 tsp of mustard in the oil before brushing it over the gammon.
Gammon steak can be cooked in any model of air fryer.
👩‍🍳 Making It Step By Step
Very minimal preparation is required to cook gammon steak in an air fryer. I don't typically preheat the air fryer before adding any food, but for some recipes, I do, for example, where I want to 'sear' the outside of the gammon steak.
Step 1: Preheat the air fryer to 180°C. I like to oil each gammon steak before adding it to the air fryer, but this is optional. If you are going to be adding the honey and mustard, mix this in with the oil now and brush on both sides of the gammon steak.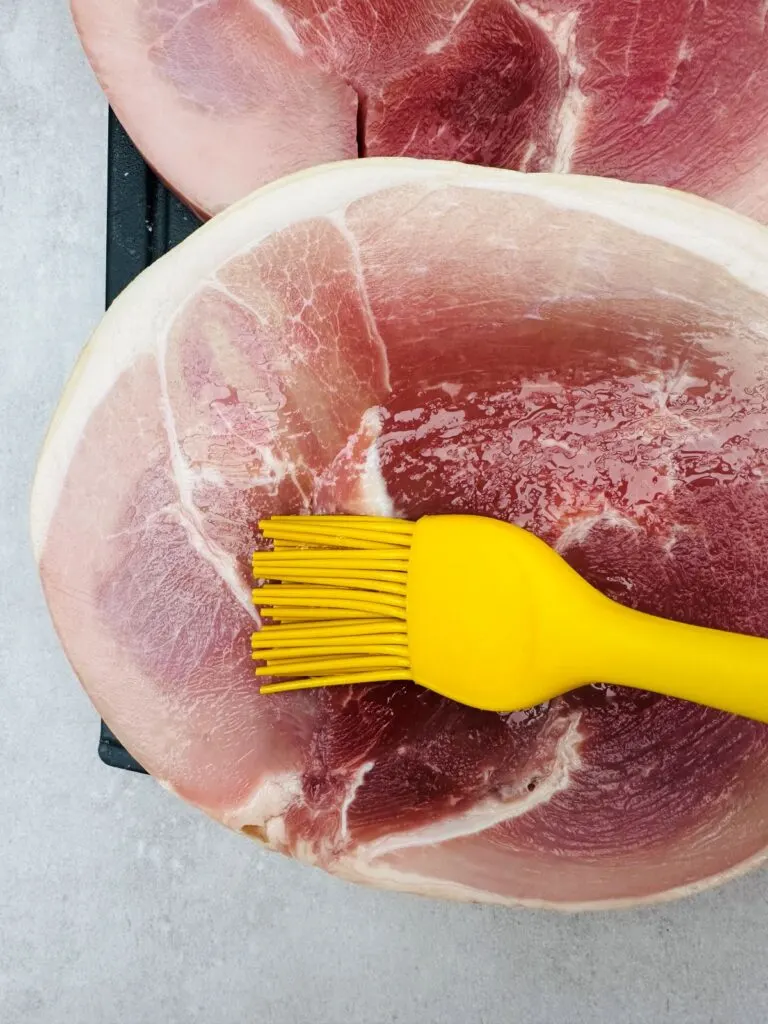 Step 2: Lay the gammon steaks in the air fryer basket. It's better if they are not overlapping, but where this is unavoidable (due to the size of the gammon and/or the air fryer), just turn them more often during the air fry time so that all parts get cooked.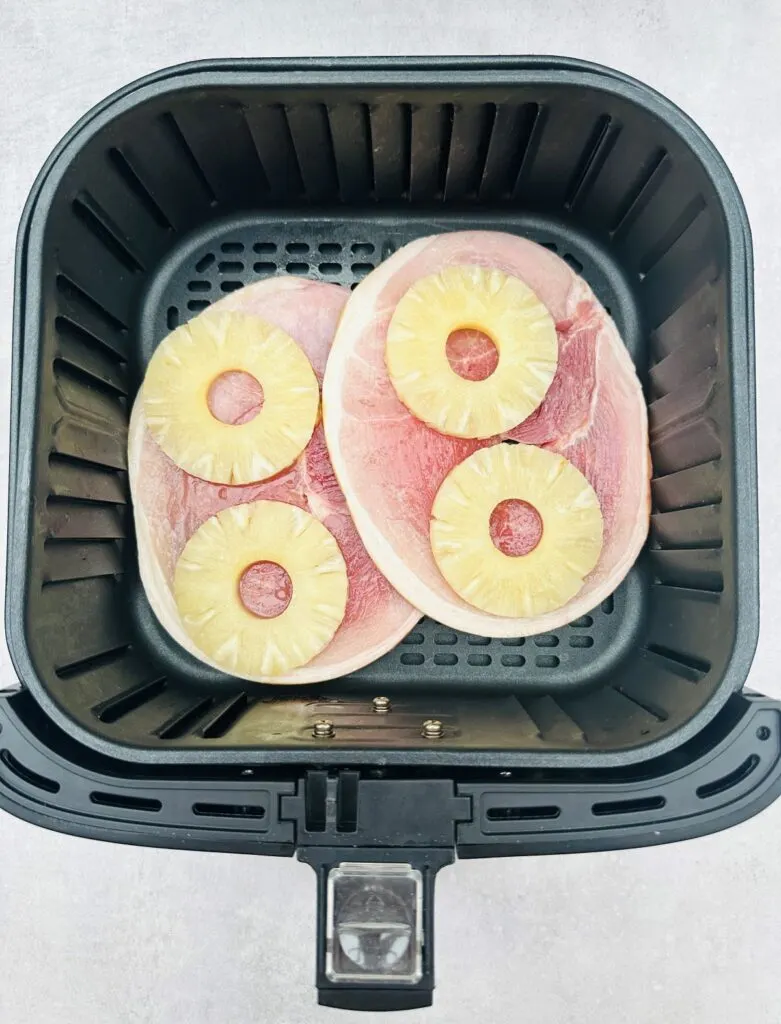 Step 3: If you are adding pineapple, lay it on top of the gammon, or if there is space, to the side in the basket. Air fry for 4 minutes before flipping the gammon over.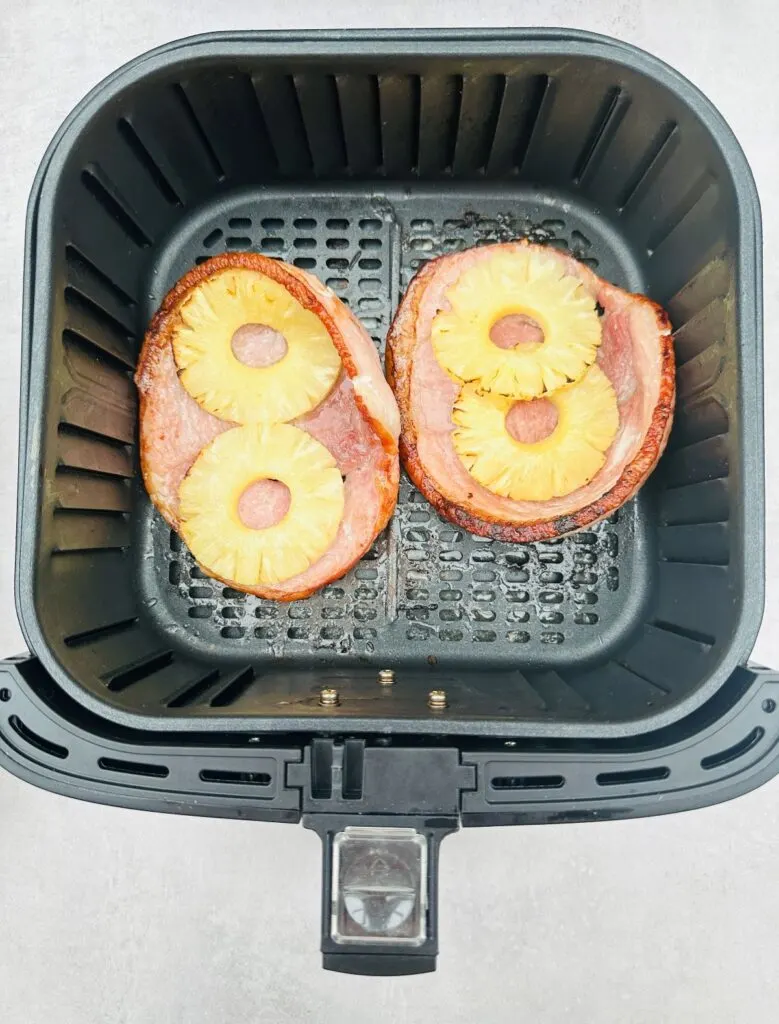 Step 4: Air fry for a further 3 to 4 minutes or until the gammon has crisped up around the edges and is piping hot all the way through.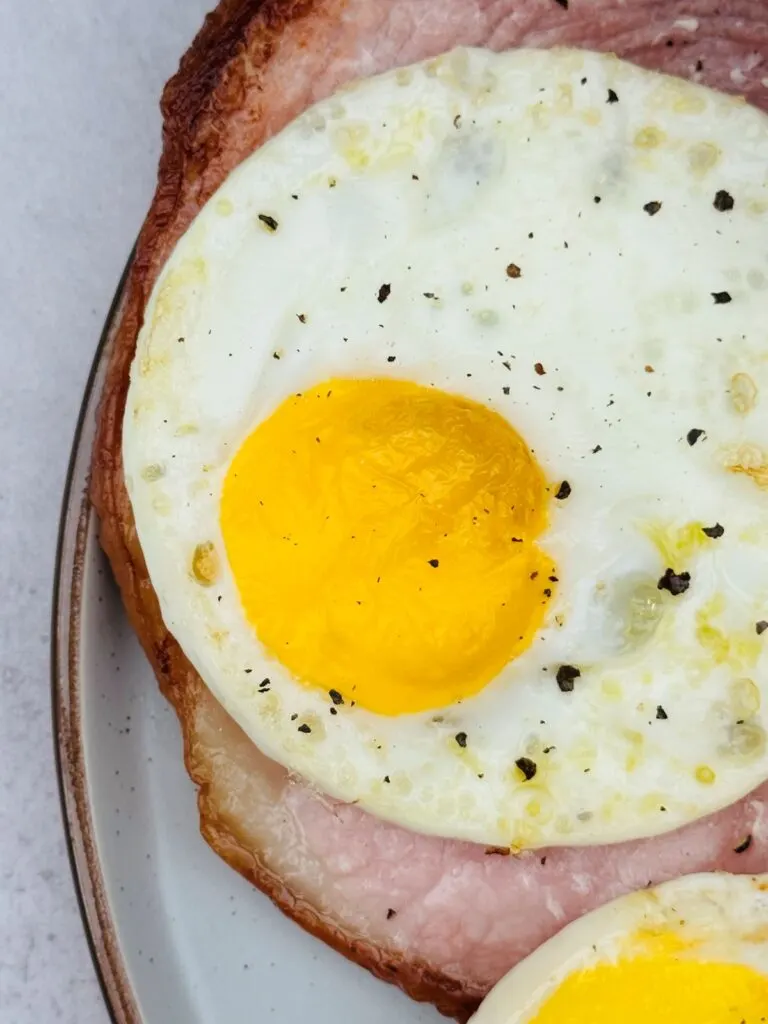 If you want to add a fried egg on top, you can make that during this step, either by frying it in a pan on the stove or adding it to a ramekin dish/suitable baking tin and air frying for the last 4 minutes of the gammon cooking.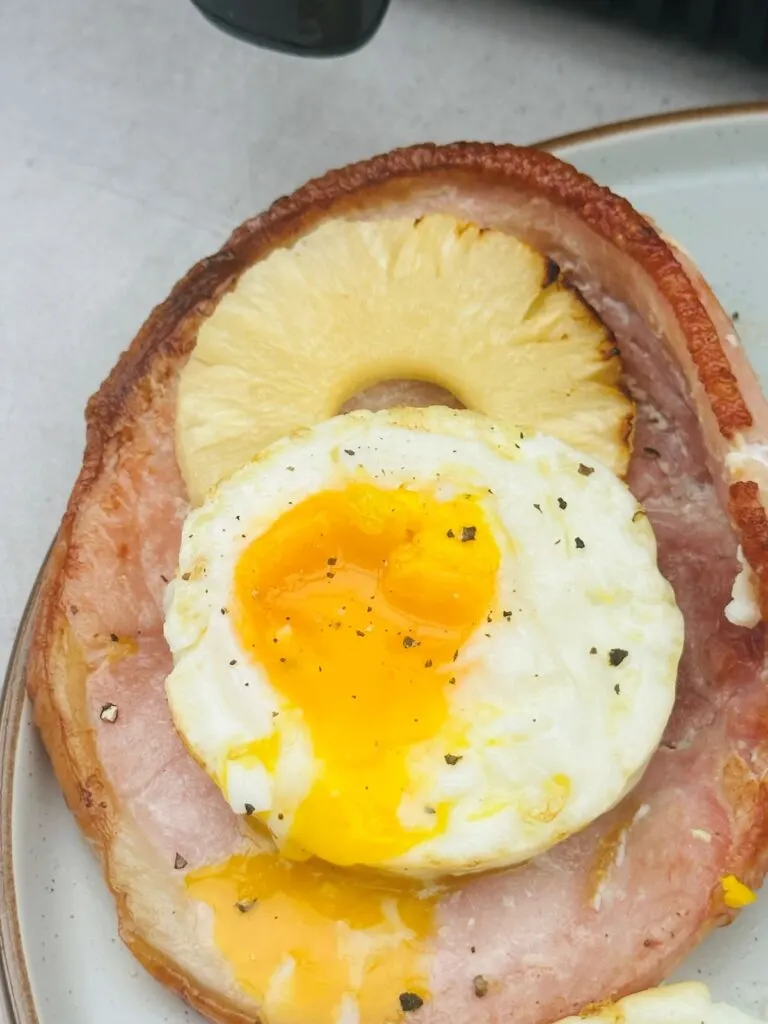 ❔ FAQ: Cooking Gammon Steak In An Air Fryer
How Long To Cook Gammon Steak In An Air Fryer
Gammon steak takes between 6 to 8 minutes to cook in an air fryer at 180°C. Flip them halfway through the air fryer cooking time.
What To Serve With Gammon Steak
Gammon steak can be served with a fried egg or some pineapple. Side dishes that go well with gammon steak include chips, potato wedges, mashed potato and peas.
📖 More Air Fryer Recipes
👉 The Recipe Card