Vegetable soup is the perfect way to be well on the way to your 5 a day. It's also a great way to use up any vegetables to save them from going to waste. Any basic vegetable soup recipe can be adapted according to what you have available.
Oh, and it's also a cunning way to sneak in any vegetables the kids would usually turn their noses up at! Just make sure you blend the soup to smooth and they'll be none the wiser 😉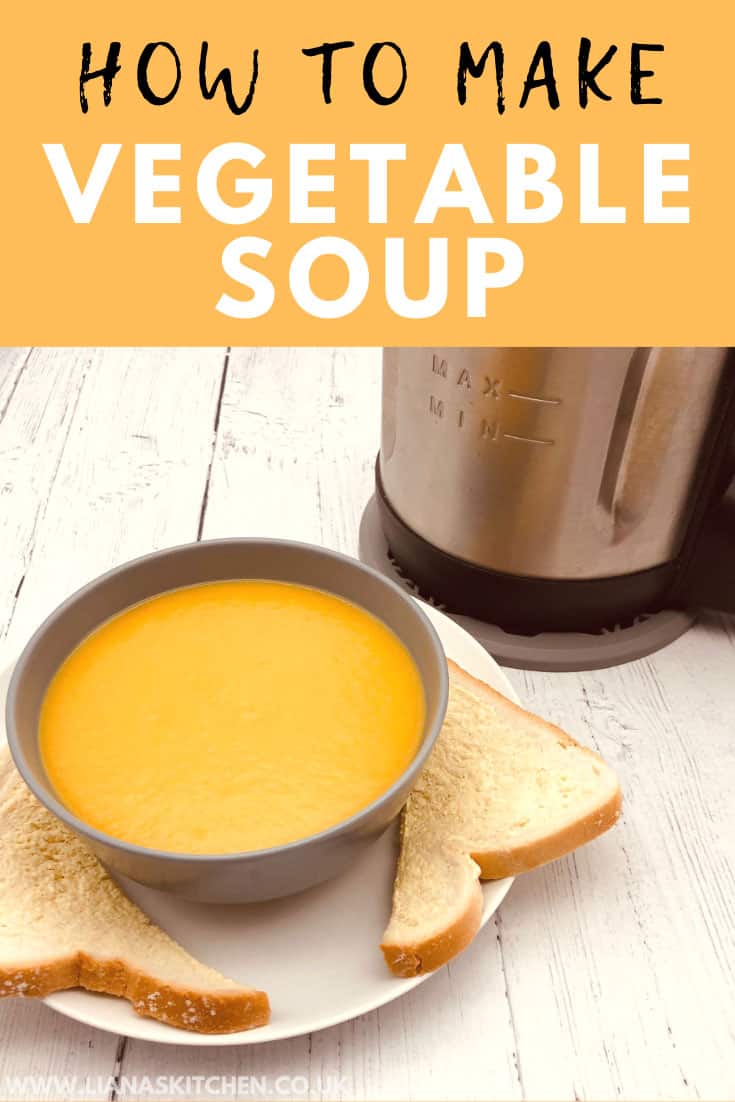 How To Make Homemade Vegetable Soup
When I make vegetable soup at home I rarely stick to the same ingredients – this is because I usually make vegetable soup when I have a variety of vegetables that I need to use up.
A good base for vegetable soup is onion, garlic, carrots and potato – but really you can throw in whatever you want, celery is usually a good addition. The vegetable soup I made for this post only had these ingredients and it went down a treat;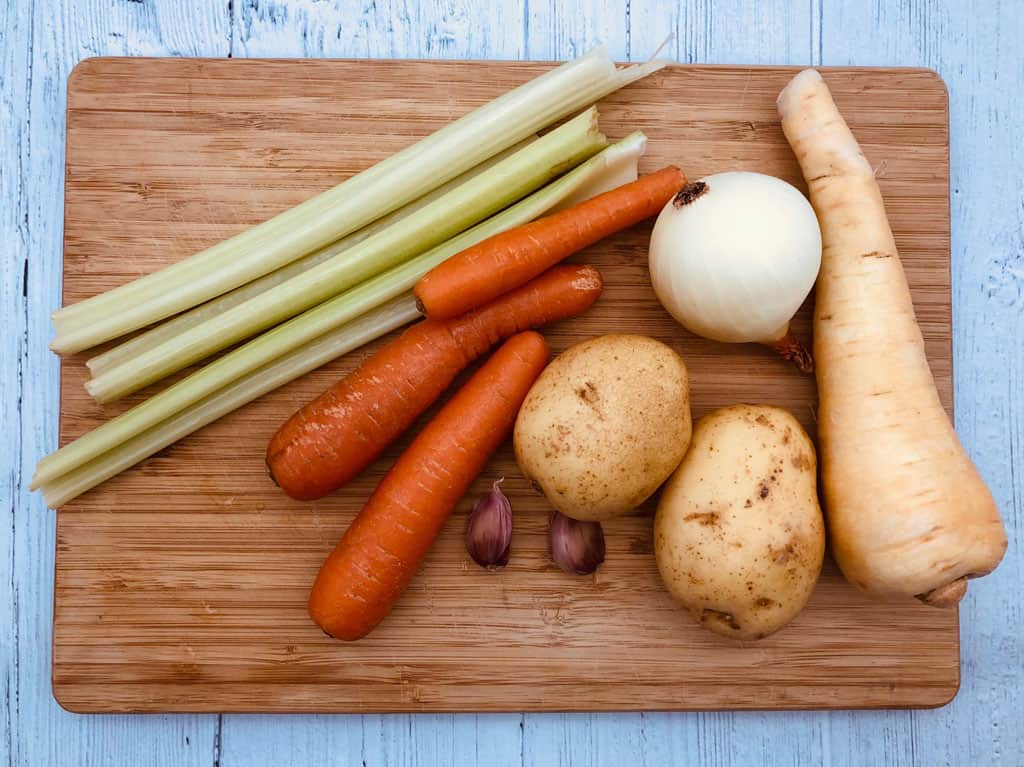 Is Vegetable Soup Healthy?
It certainly is healthy. Most soups are healthy and vegetable soup is no exception. The amount and variety of vegetables in this soup ensures that you are consuming a range of nutrients and vitamins. Vegetable soup is also low in calories whilst still being full of fibre.
Vegetable Soup – Smooth vs Chunky
This really comes down to personal taste and preference. With vegetable soup I usually opt to blend it and get it nice and smooth (which is very easy to do in a soup maker!) As I mentioned at the beginning of this post, soup is a cunning way to increase and consume a wider variety of vegetables.
Having said that, chunky vegetable soup is equally tasty and serves a purpose if you like the texture and 'chew' of more solids in your soup. A happy medium could be to partially blend your soup, whether this is with a hand blender (if cooking in a pot), or by using the manual blend button on a soup maker having cooked it on the chunky setting.
One thing to note though, if you are making a chunky soup, make sure you use a flavoursome stock or be prepared to add more seasoning to stop it tasting too bland.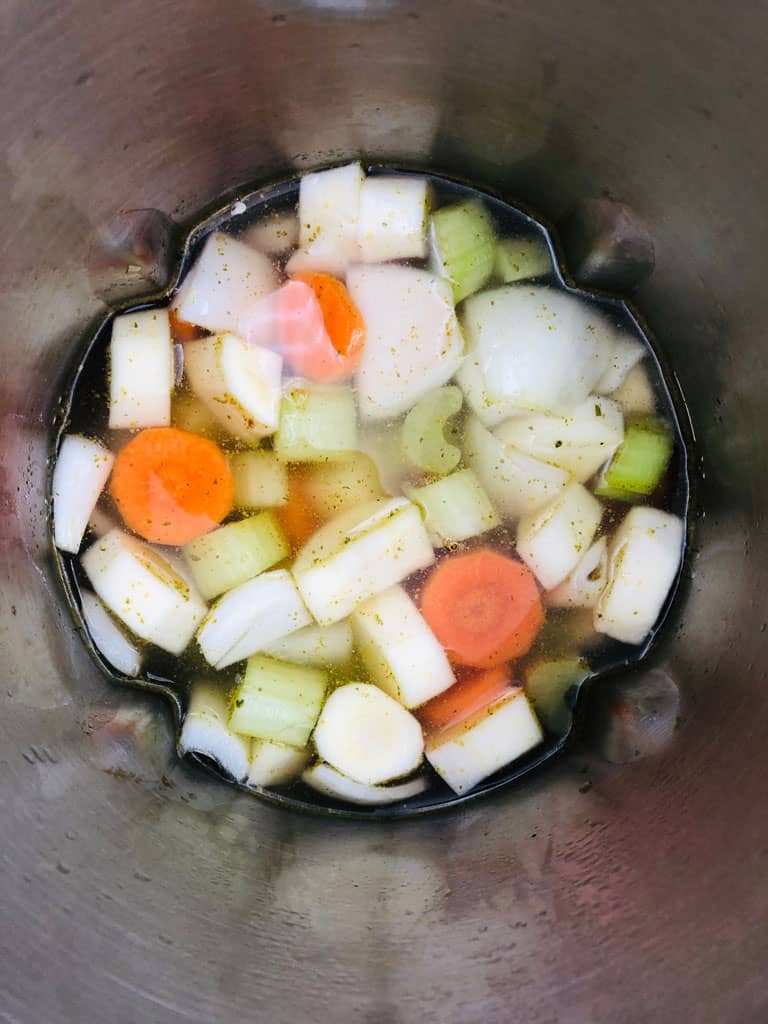 What Vegetables Should I Use And How Many?
As previously mentioned the best vegetable soup is using the ingredients you already have.
Follow these guidelines for making it;
Aim for a collective weight of around 800g to 900g (depending on the size of your pot/soup maker)
Chop the vegetables up fairly small, especially potatoes. No need to peel your veg, just give them a good scrub. The soup make will blend them up so smoothly you won't notice the skin, yet still get all the benefits!
You can use vegetable stock or chicken stock. For maximum flavour go for a stock pot or fresh stock.
If the soup tastes bland, add your favourite seasoning – one of my current favourites are dried chilli flakes.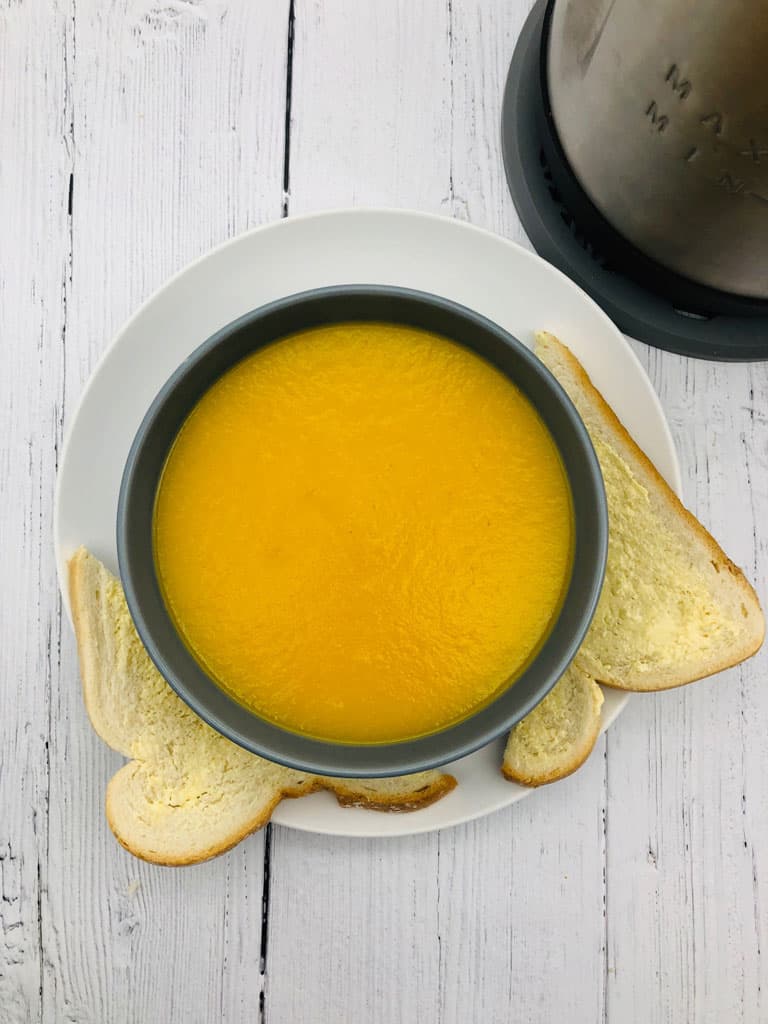 What are your favourite ingredients to put in a vegetable soup? Let me know in the comments, or join us over at our soup maker Facebook group – it's souper (!) friendly.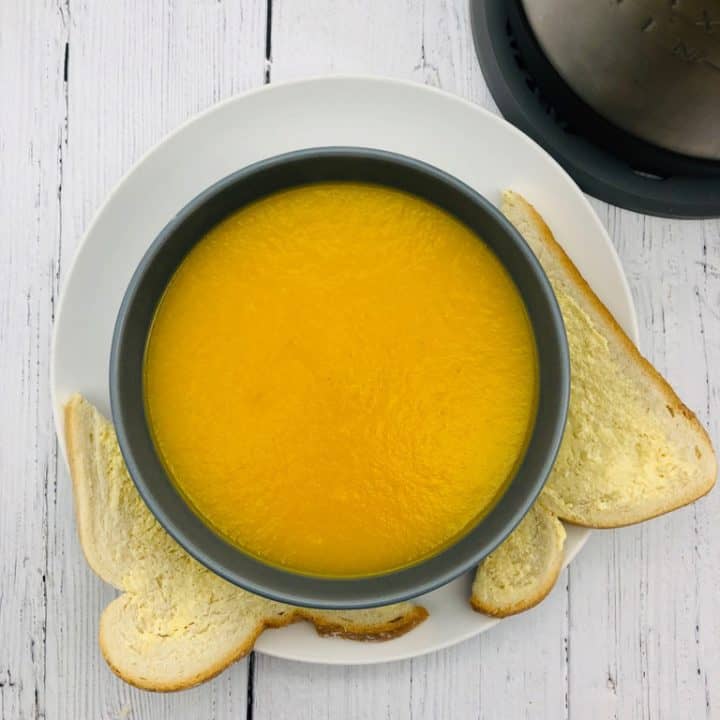 Tasty Vegetable Soup
Vegetable soup is a popular classic that is both comforting and nutritious. Be on your way to 5 a day with a hearty vegetable soup!
Ingredients
1 onion
2 cloves garlic
800g mixed vegetables*
900ml vegetable stock
Seasoning
Instructions
Prepare the vegetables, peel those that need it, or give them a good scrub. Chop them up fairly small so that they cook through.
Pour in the vegetable stock. I used 900ml for this recipe but this may vary depending on a) your soup maker and b) how many vegetables you add.
Stir everything around to make sure no vegetables are stuck to the bottom of the soup maker.
Set off on chunky or smooth.
Notes
*The beauty of vegetable soup is you can use what vegetables you have to hand. For this recipe I used carrots, celery, potatoes and parnsips. They totalled about 800g.
Recommended Products
As an Amazon Associate and member of other affiliate programs, I earn from qualifying purchases.
Nutrition Information:
Yield:

4
Serving Size:

1
Amount Per Serving:
Calories:

90
Total Fat:

1g
Saturated Fat:

0g
Trans Fat:

0g
Unsaturated Fat:

0g
Cholesterol:

0mg
Sodium:

792mg
Carbohydrates:

19g
Fiber:

6g
Sugar:

8g
Protein:

4g
Do You Love Soup?
You might also be interested in;