Guacamole is a delicious Mexican dip that can be served with a huge variety of Mexican recipes.
Making guacamole is a simple process that can be easily tailored to your own taste.
We've made this version with mashed ripe avocado, red onion, cherry tomatoes, red chilli, lime juice, coriander and sea salt.
You can leave out some of these ingredients, for example, you could leave out the chilli and/or tomato if you prefer.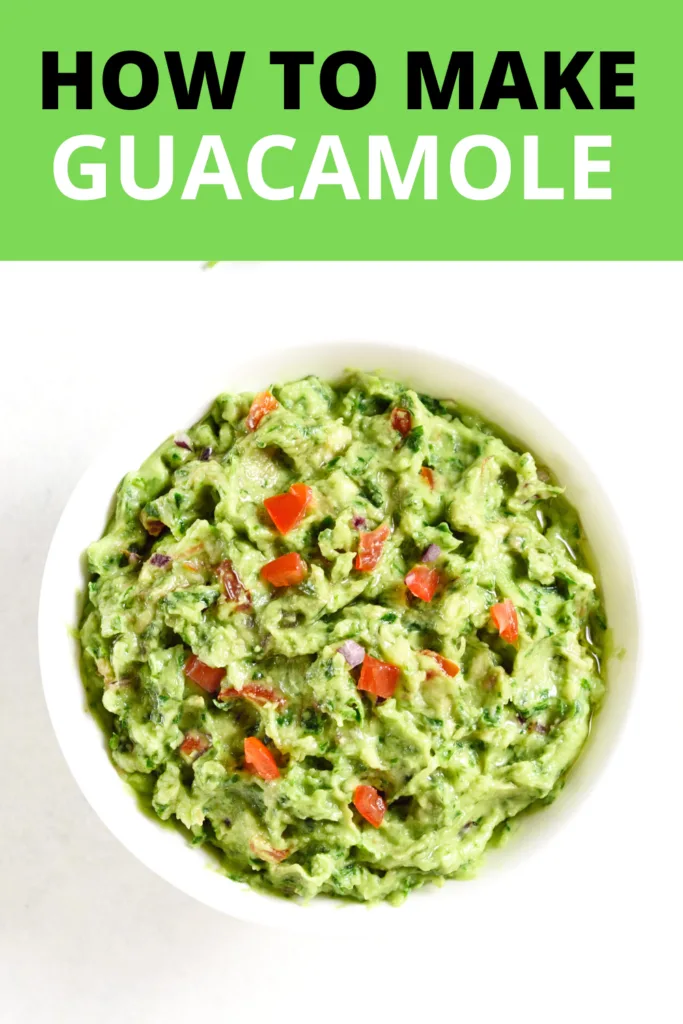 Guacamole Ingredients
This recipe will serve 4 people but can easily be multiplied. If you want to print this recipe out, head down to the recipe card at the bottom.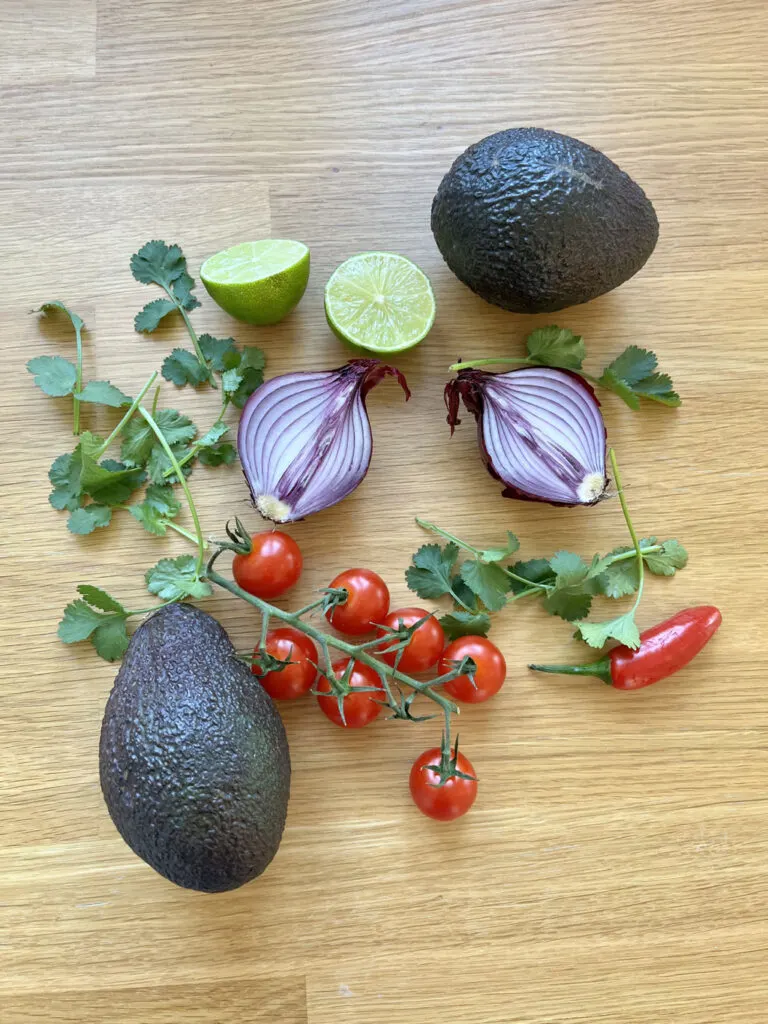 1 large ripe avocado
½ a red onion, very finely diced
6 cherry tomatoes, finely chopped
½ a red chilli, finely chopped
Juice of 1-1 ½ limes
A small handful of coriander, roughly chopped
Sea salt
Choosing The Avocado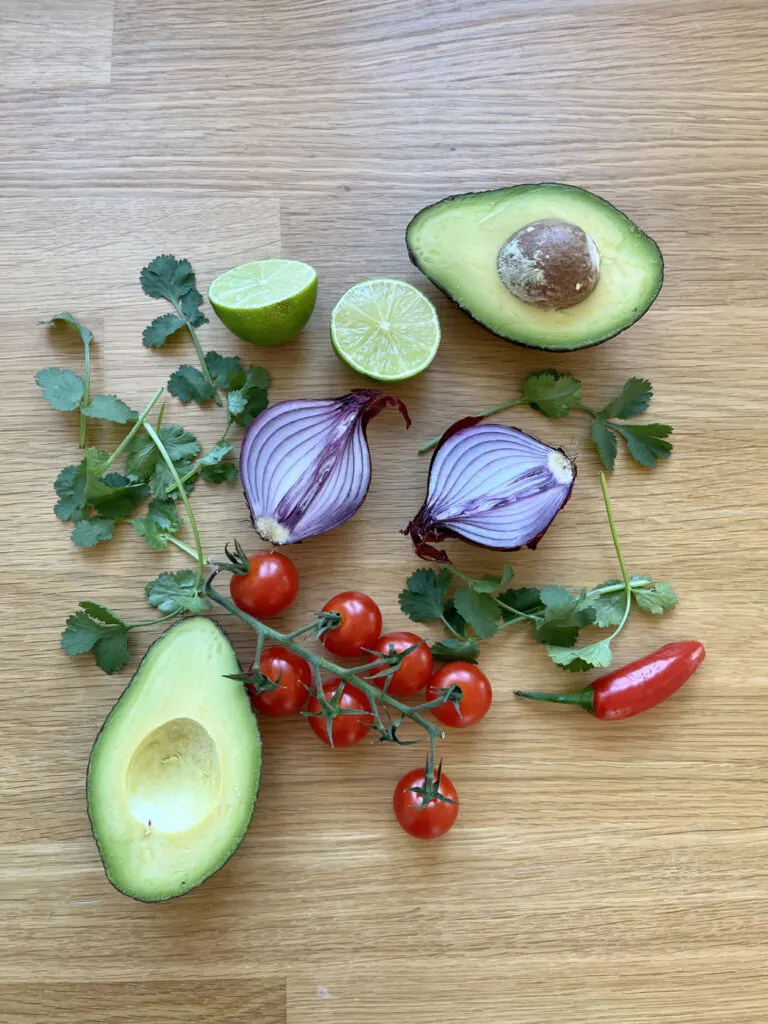 The key ingredient here is the avocado. Make sure you use a really ripe one as an underripe one will have an unpleasantly bitter flavour and will be difficult to mash.
Make sure to check the ripeness of the avocado before making this by lightly pressing the outside of the avocado, if there is a little bit of give then the avocado is ripe but if it is completely firm it won't be ripe enough to use.
You can speed up the ripening process of an avocado by placing them in a warm spot, or, alongside other ripe fruits (bananas are a good choice).
Related: How To Ripen Avocados
How To Make Guacamole – Step by Step
Halve the avocado, remove the stone and scoop out the flesh with a spoon.
Add to a bowl and mash with the back of a fork until crushed. It doesn't have to be completely smooth, retaining some texture is great for guacamole.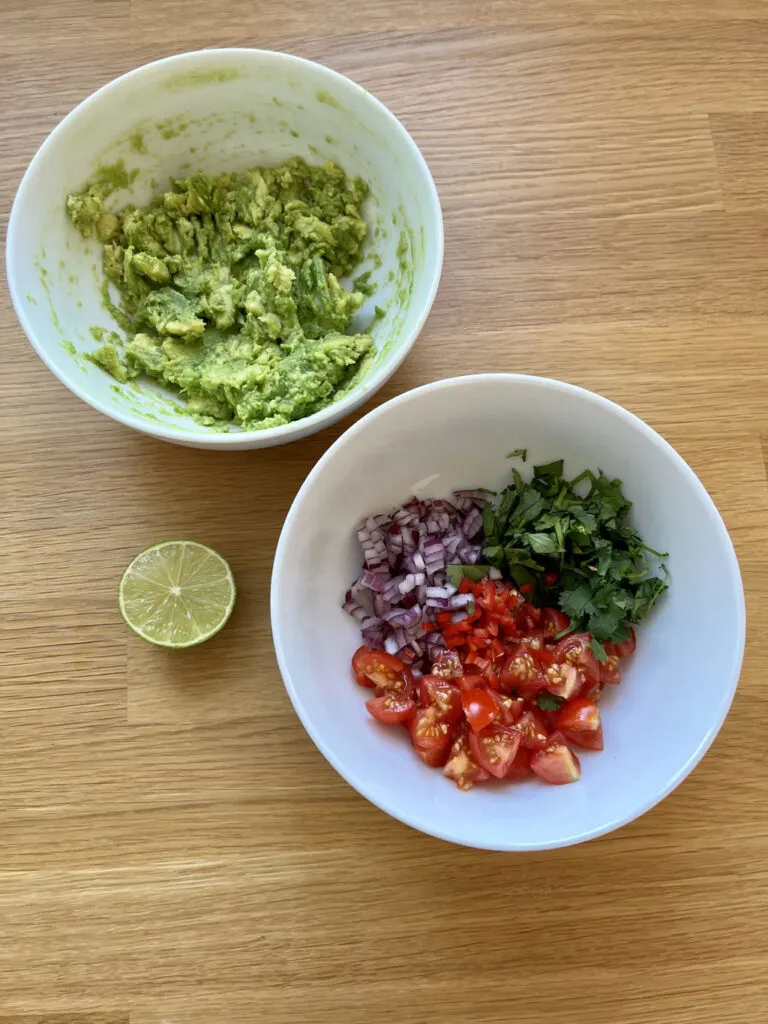 Stir through the remaining ingredients, adding the lime juice and sea salt to taste before serving.
You can adjust the amount of lime based on your preferences.
We've used finely diced red onion but you could also use finely sliced spring onion instead.
What To Serve With Guacamole
Guacamole is great served with a huge range of dishes. It goes well with tortilla crisps or with a range of Mexican dishes, such as fajitas, tacos, burritos and enchiladas.
It is also great served with a bean chilli or a chilli con carne.
Guacamole can also be spread on toasted bread, also known as avocado toast.
Can You Make Guacamole Ahead Of Time?
The acidic lime juice in the guacamole will help to prevent it from browning so it can be made up to two days in advance and kept in the fridge.
The best way to prevent browning is by laying a sheet of cling film directly on top of the guacamole, this will prevent oxidisation which causes the browning.
Allow it to come to room temperature before serving as this will bring out the best of the flavours.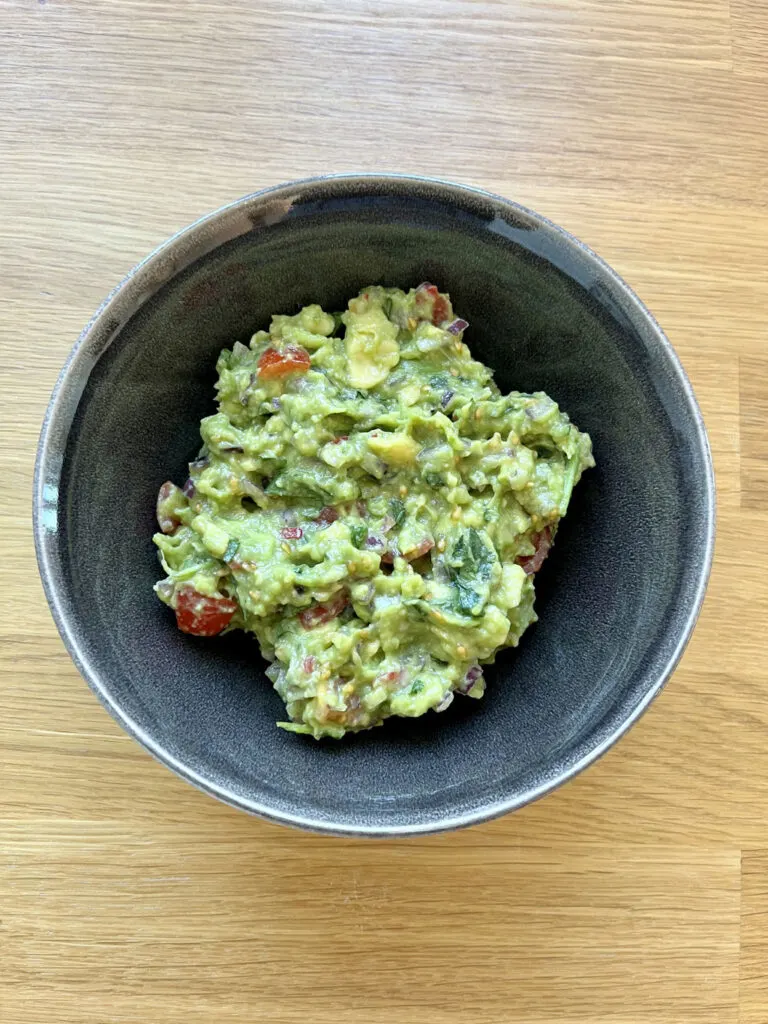 Can You Freeze Guacamole?
Guacamole does not freeze well so is best made up to two days in advance and kept in the fridge.