Making your own naan bread from scratch is so easy! Soft as a cloud and deliciously chewy, this naan bread will make the perfect companion to your next curry, and it tastes so much better than shop-bought.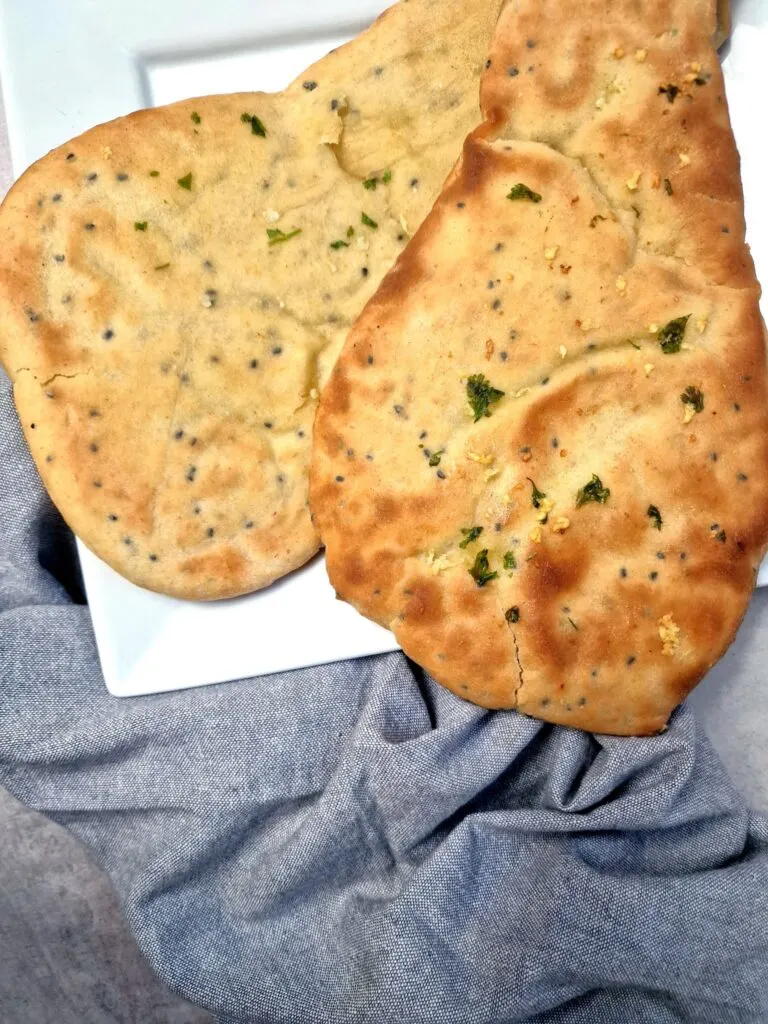 What Is Naan Bread?
Originating in Asia in the India-Pakistan region as far back as 2500 years ago, naan bread has become a staple in many different dishes, mainly curries.
It is a leavened flatbread that was created after yeast was introduced to the region.
Traditionally, it is cooked in a Tandoor oven (a hot clay oven where naan is stuck to the walls of the oven to cook), but they can also be cooked in conventional ovens, or in a frying pan.
What You Need To Make Naan Bread
Flour – use white bread flour or plain flour.
Yeast – although naan is a flatbread, it is a leavened one, so it still requires yeast to make it extra fluffy. Use fast action/easy bake yeast rather than bakers' yeast for best results.
Ghee/butter – ghee is a clarified butter commonly used in Asia (clarified butter means it is melted, and the milk solids are removed). Traditionally naan is made with ghee in India; however, butter will work just fine. Ghee can be found by the cooking oils in the supermarket.
Black onion seeds – also called nigella seeds, are the black seeds that help give naan its distinctive taste. Find them in the spice section of the supermarket.
Yoghurt – use plain natural yoghurt. Yoghurt is traditionally used because it makes the bread softer and causes the dough to rise quicker.
Sugar – sugar is needed to help activate the yeast as well as give the naan bread its distinctive sweet taste.
Salt
Water
How To Make Naan Bread – Step by Step
For exact measurements, head down to the recipe card at the bottom of the post.
The first step in making naan bread is to mix all the dry ingredients in a large mixing bowl – the flour, yeast, sugar, salt and onion seeds.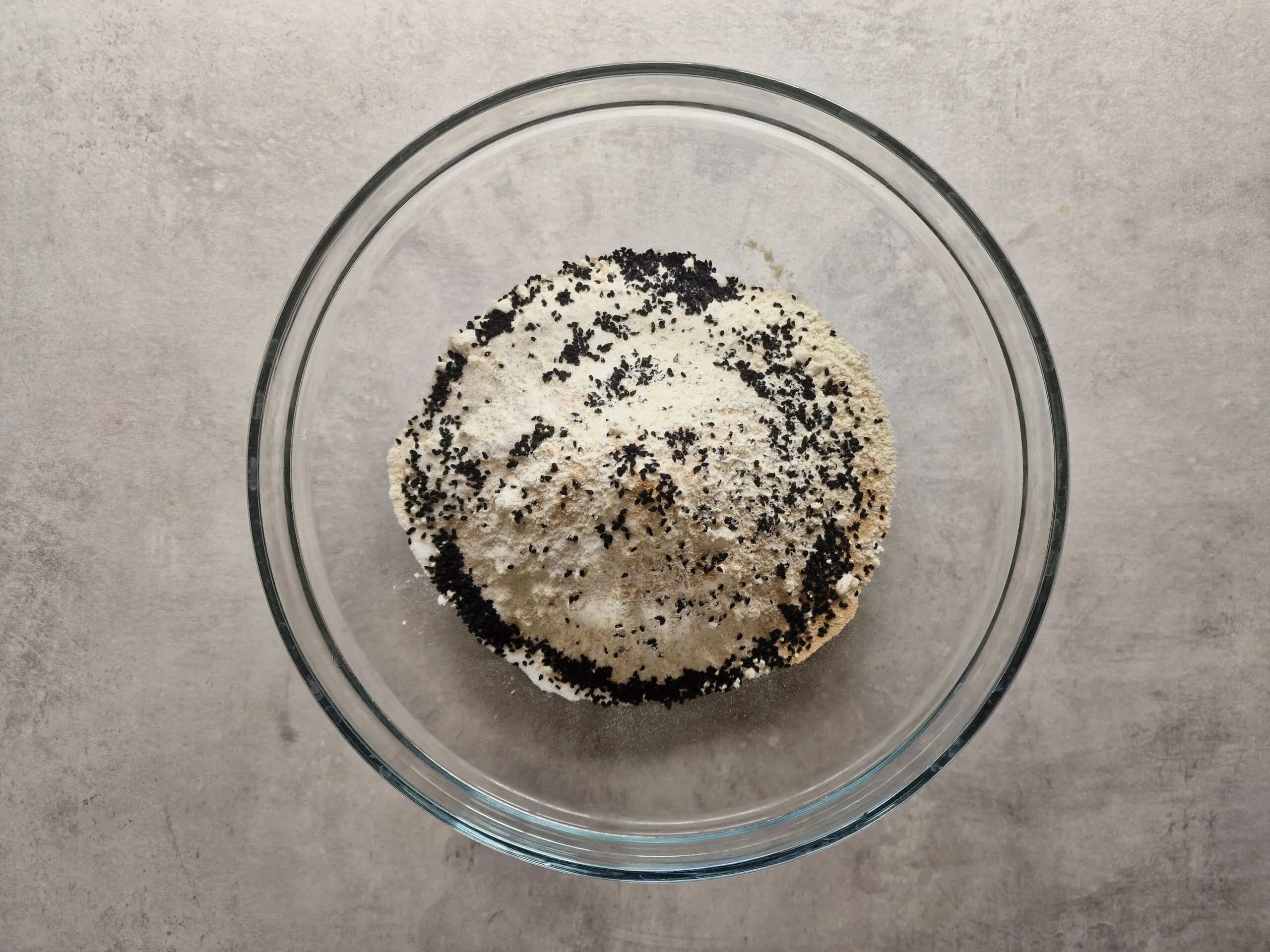 Melt the ghee/butter in the microwave or on the hob in a saucepan.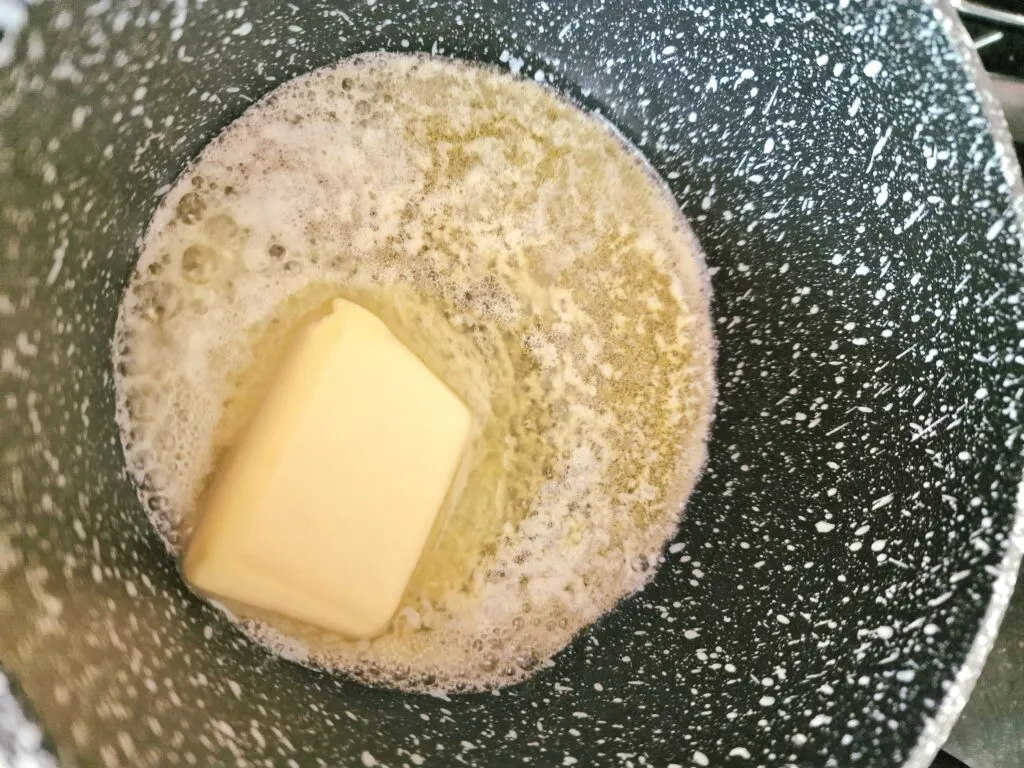 Make a large well in the centre of the flour mix, and add the warm water, melted ghee/butter, and yoghurt. Stir with a wooden spoon, slowly incorporating the flour mix to form a rough dough.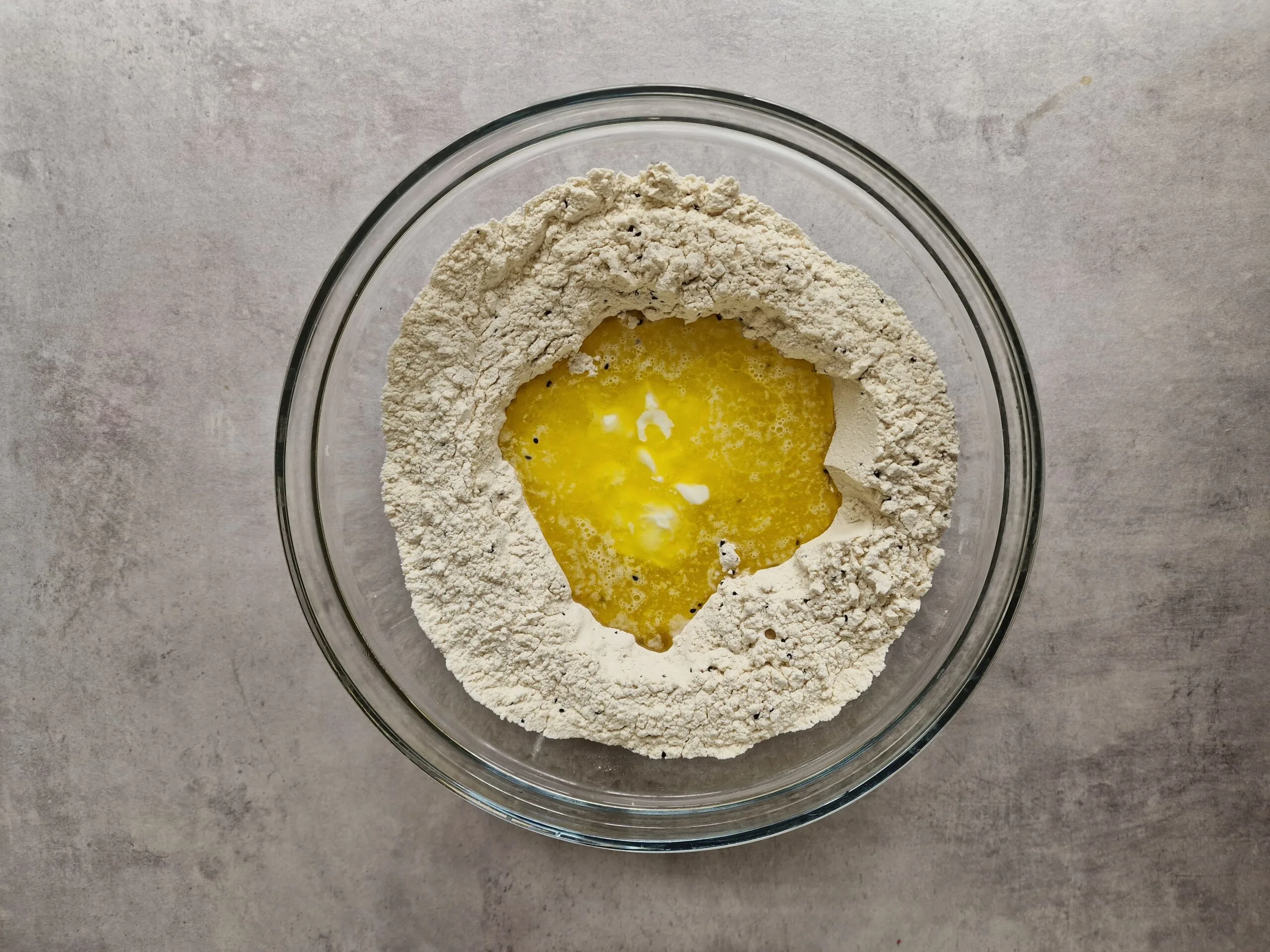 Turn onto a floured surface and briefly knead the dough until it is smooth, about 5 minutes. Place in an oiled bowl, cover with cling film and leave in a warm place for 1 hour, or until doubled in size.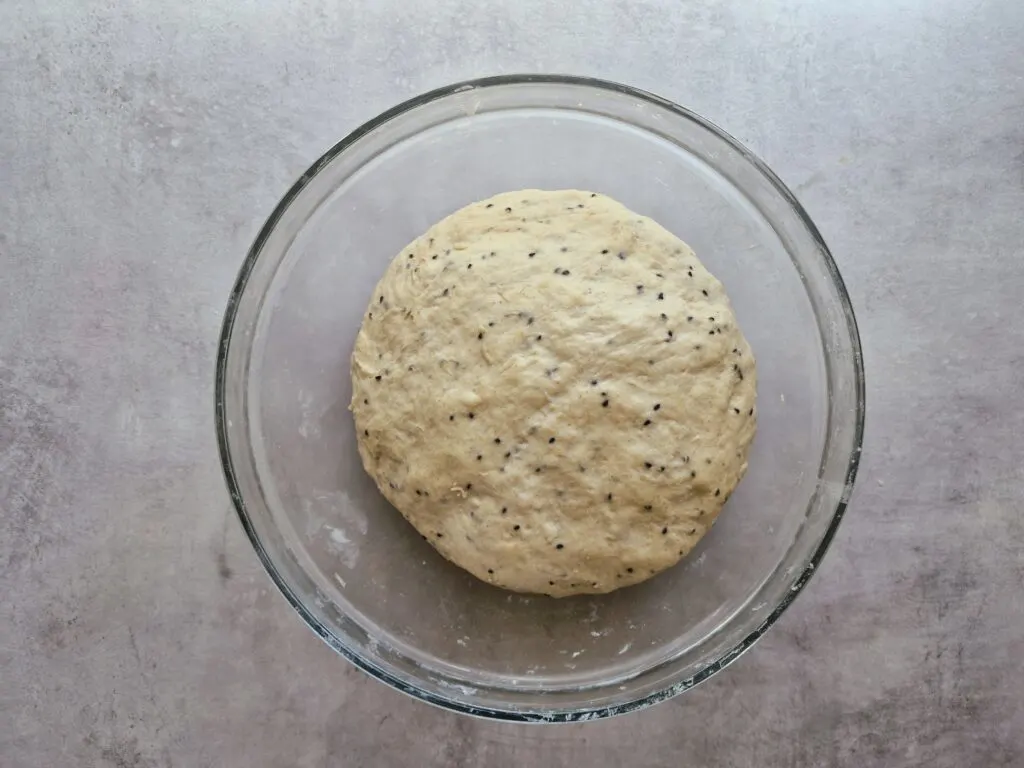 I cooked my naan bread in the oven, but alternatively, you can cook them in a frying pan or cast-iron skillet. To oven cook, preheat the oven to 240°C/Gas Mark 9.
Knock back the dough and turn it out onto the worktop. Quarter the dough ball into four even-sized pieces. Roll out with a rolling pin until about a centimetre thick.
You can alter the shape of the naan by stretching the dough with your hands. For example, you could do an oval, a circle, or try a more triangular shape like me.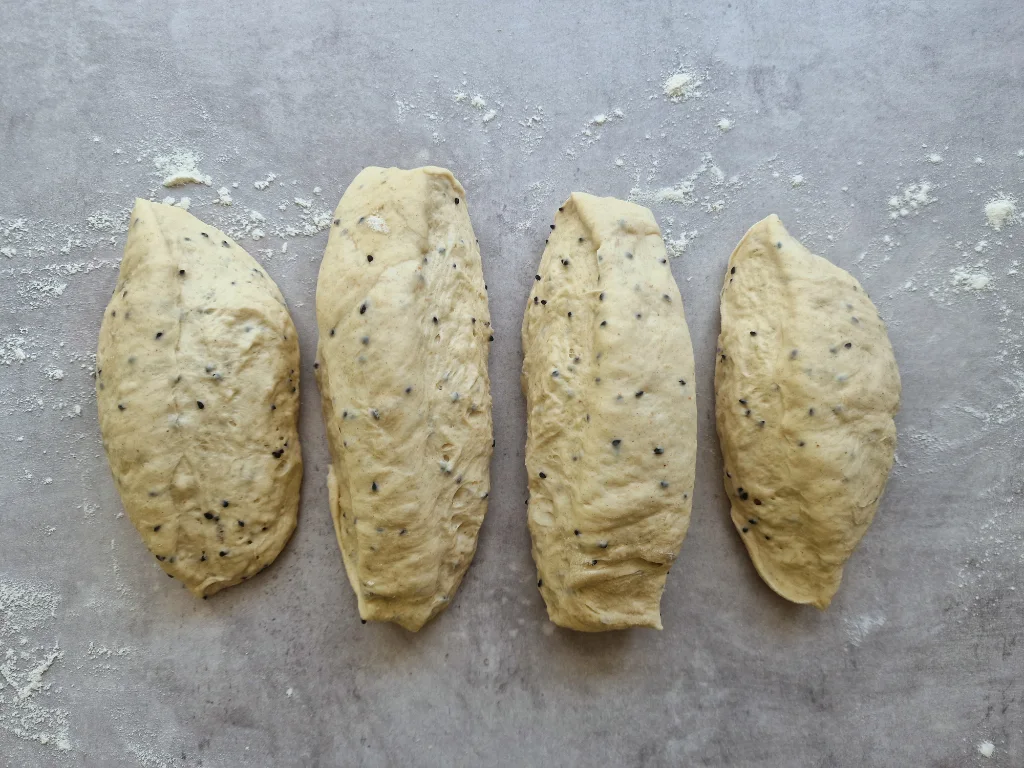 To oven cook, place the naan breads on baking trays and cook for about 7 minutes, when they should be lightly browned.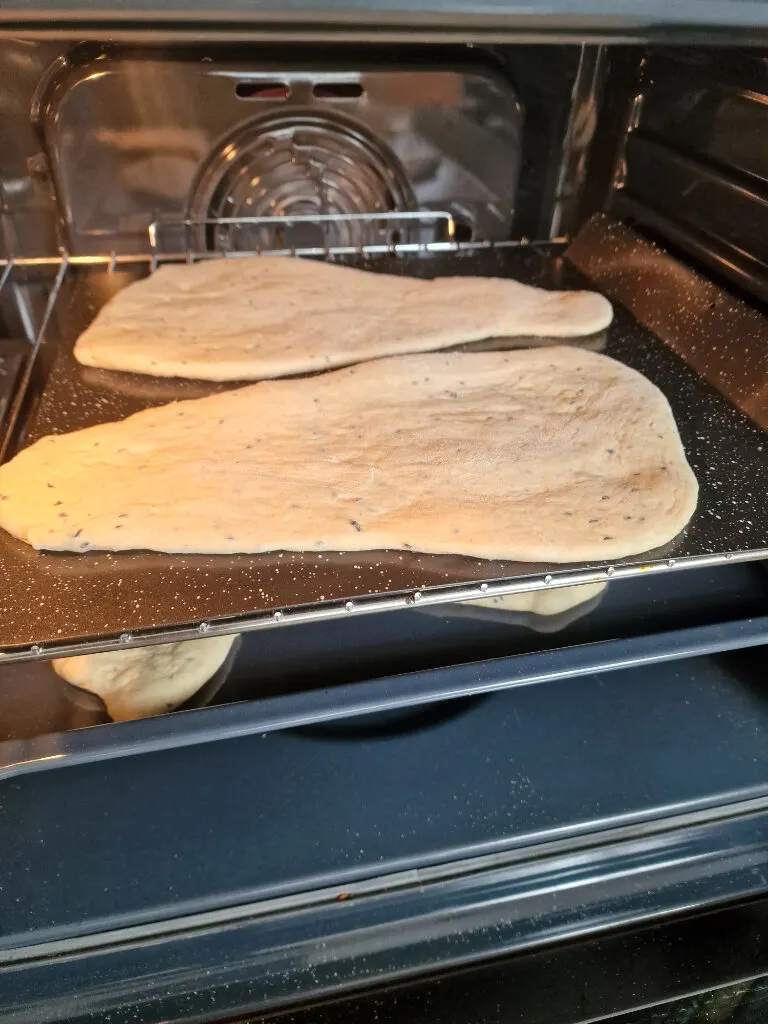 To pan fry, ideally use a cast iron skillet. Heat to a medium-high heat with a little bit of oil. Cook the naan bread for roughly a minute and a half, and then flip over and cook for another minute.
The underside should be golden brown with some charred spots. Cooking times will depend on how thick your dough is, how hot the pan is etc.
To make the garnish, crush the garlic and chop the coriander leaves into small pieces. Mix into the melted butter, and brush over the cooked naan bread with a pastry brush.
What To Serve Naan Bread With
Serve Naan bread with your favourite Asian curries, for example chicken tikka masala.
How Long Does Naan Bread Last?
When stored at room temperature in an airtight container, naan bread can stay fresh for about 3 or 4 days, but consider freezing it if you need to store it for longer.
Can You Freeze Naan Bread?
Yes, you can, simply cook as normal, and then wrap and freeze for up to 3 months. To serve again, defrost, and then heat up on a low heat in the oven.
Naan Bread Variations
Garlic and Coriander Naan – add 3 cloves of minced garlic and a small handful of chopped coriander leaves to the dough at the same time as the wet ingredients.