Panettone is a Christmas bread that can often be found down the festive aisles of most supermarkets.
The sweet Italian bread (or is it a small cake?) may look like a more lengthy recipe to make, but the results are well worth the effort!
And actually, it's a really fun recipe to make at this time of the year.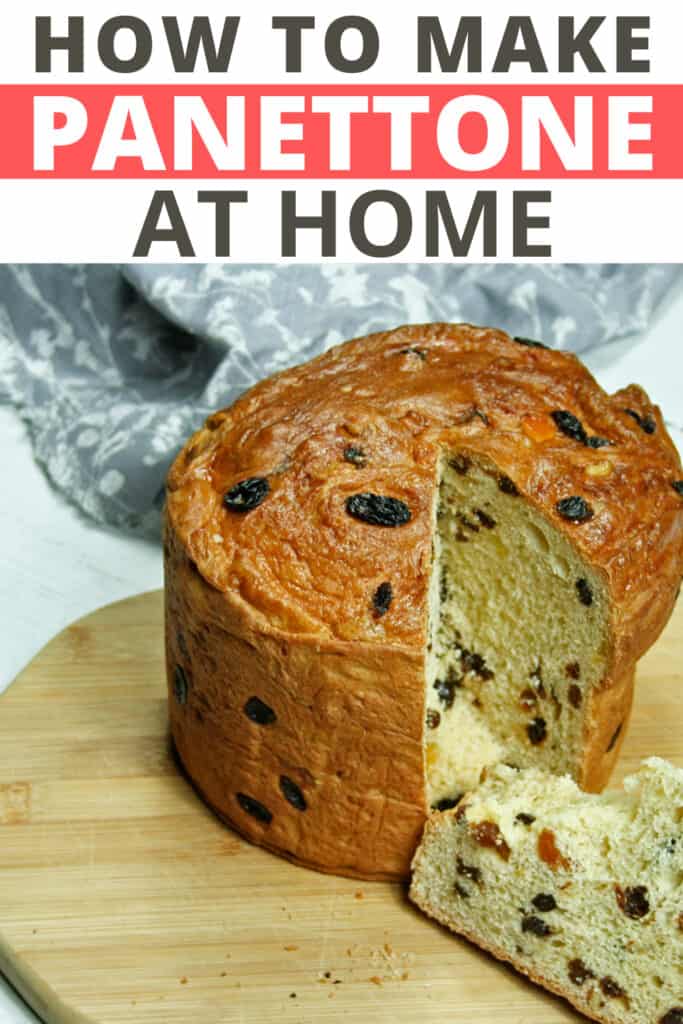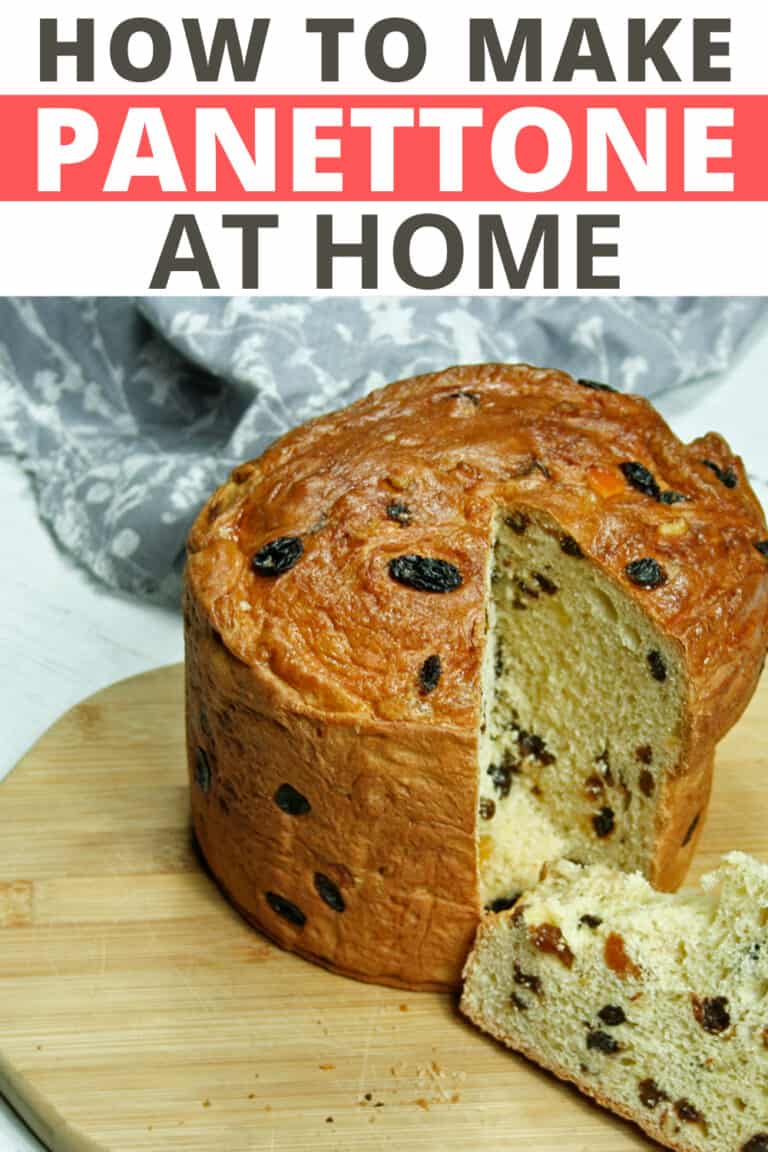 What Is Panettone?
Panettone originated from Milan in Italy and is a sweet bread consisting of mixed dried fruits. It is shaped like a dome and has a light and airy texture.
It's a pretty versatile bread that tastes great with jam, butter, cream, or dry.
I think it can be eaten at any time of the day, breakfast, brunch or afternoon tea. But then again, at Christmas time, anything goes!
How To Make Panettone
Most of the time required for making panettone from scratch is in the proving. Like many breads, panettone needs time to prove in a warm place until it doubles in size.
What Equipment Do You Need To Make Panettone?
15cm (6in) round springform cake tin
If you are going to be making panettone frequently then you can invest in a panettone tin – but, I think at most all you need is the above sized cake tin.
Panettone Overview
(For exact steps and measurements please head down to the recipe card at the bottom)
The first step of the process of making panettone at home is to mix the dried yeast in with the milk and leaving it to froth (about 5 minutes). You will then add in the remaining wet ingredients before combining it with the dry ingredients to a form a dough. Then, after rolling it out you add the mixed dried fruit.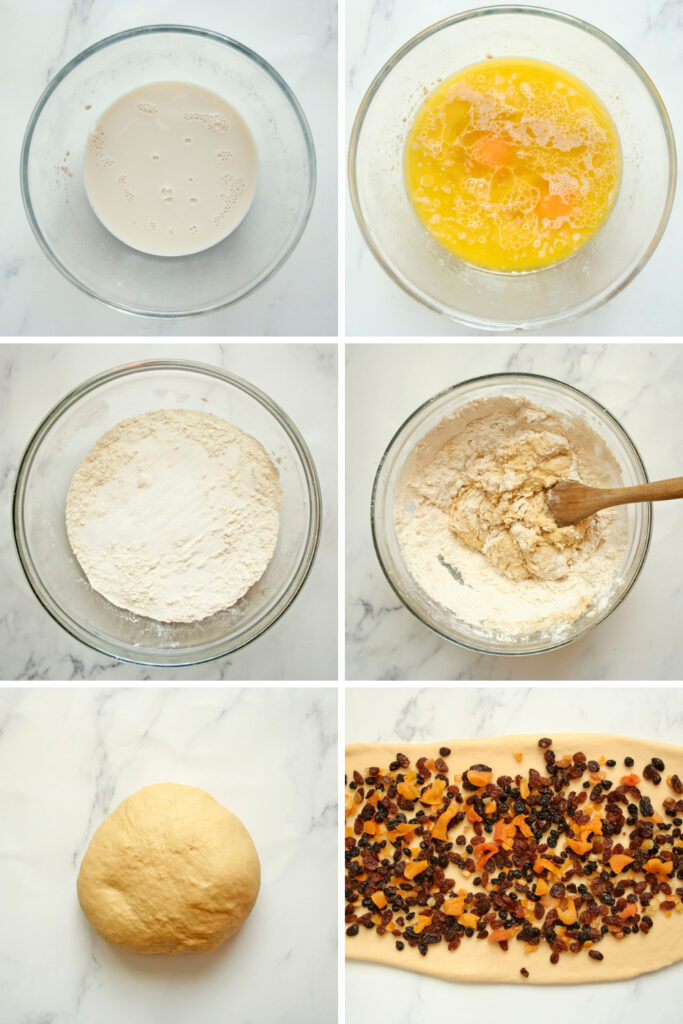 A note about the dried fruit: you can use a premixed bag of dried fruit, or make up your own using raisins, currants, dried apricots, cranberries, mixed peel etc.
The next stage includes the first stage of proving. Once it has been rolled up into a ball you will need to leave it for about 2 hours in a warm place. Either leave it under some cling film, or a tea towel, and leave it somewhere warm until it had doubled in size.
Next, you will need to knock the dough out before placing it in the baking tin to prove for a further 2 hours.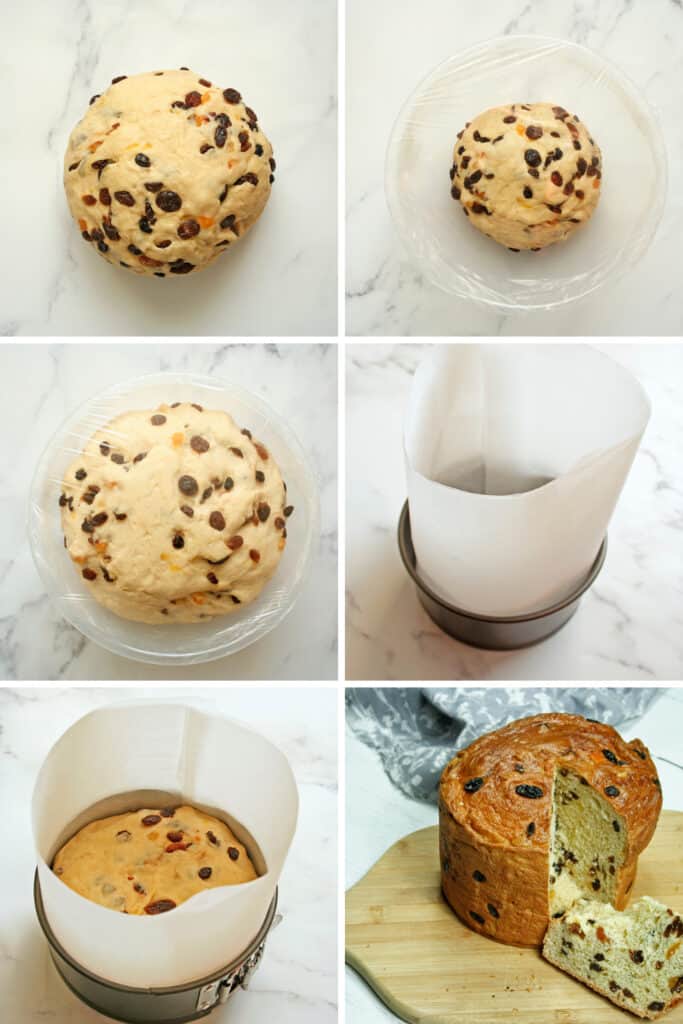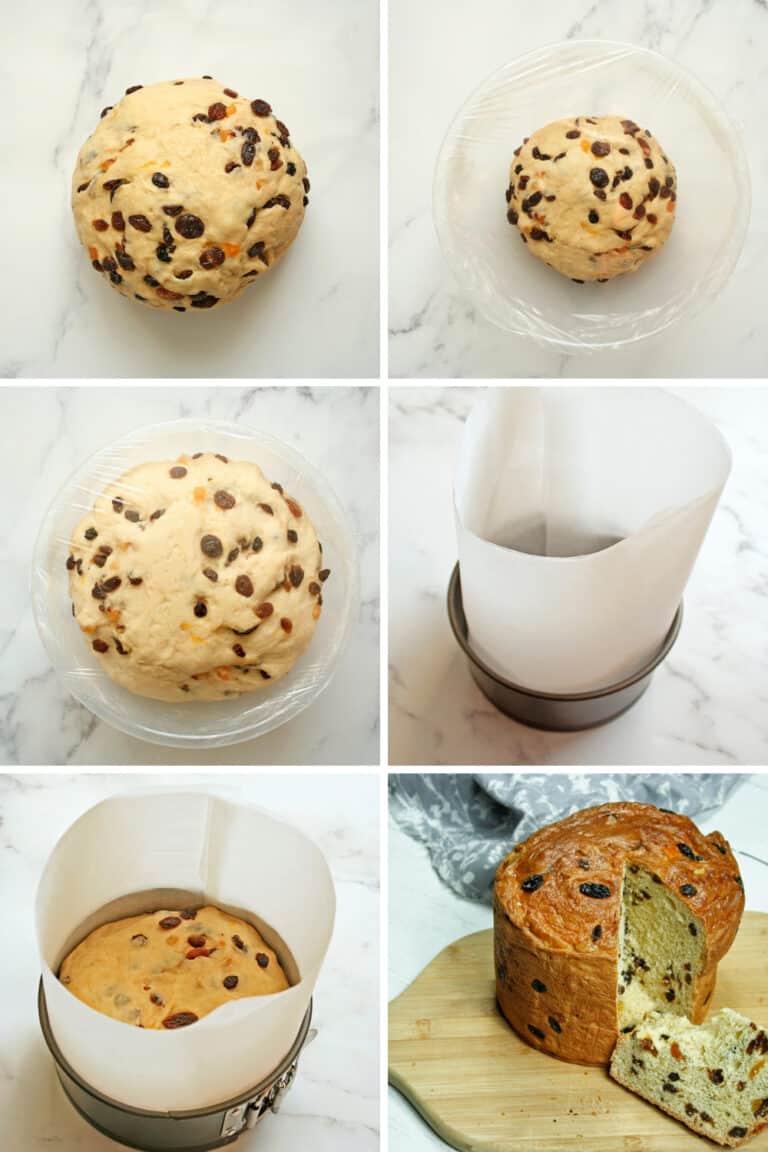 You are now ready to cook the panettone! It will take about 40 to 45 minutes to cook. You may need to cover it with some foil to stop it from browning up too much too soon.
What To Serve With Panettone
Panettone tastes great as it is, either sliced, or torn apart with your hands! You can add some butter, cream, jam, or any other toppings you fancy.
Storing Panettone
If the panettone lasts long enough, you can store it for 2 to 3 days in an airtight container. It can also be frozen for up to 4 weeks.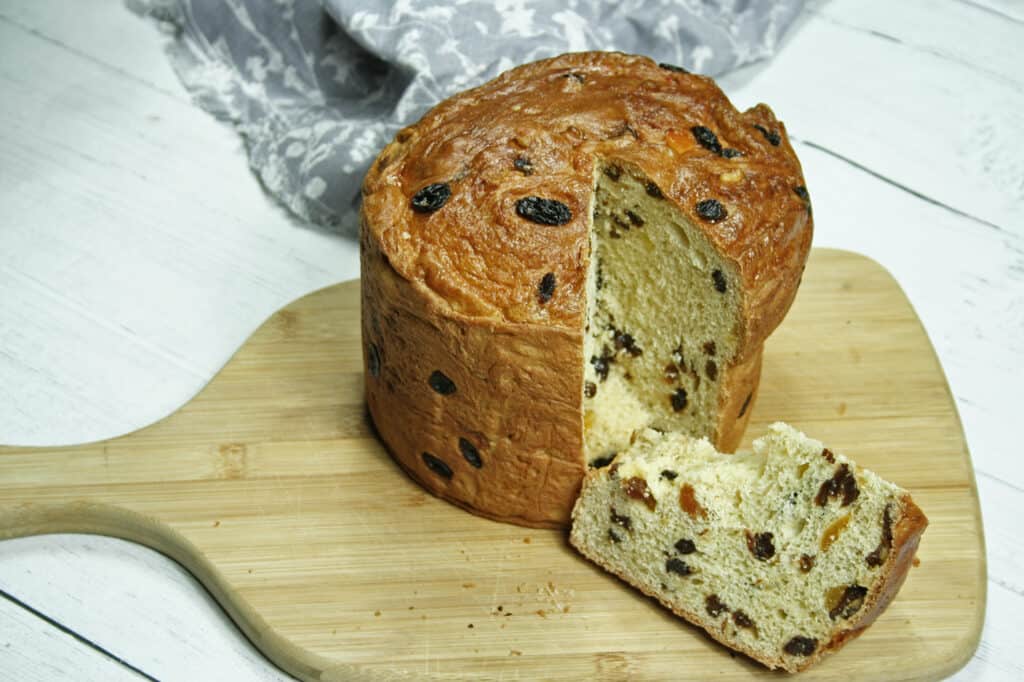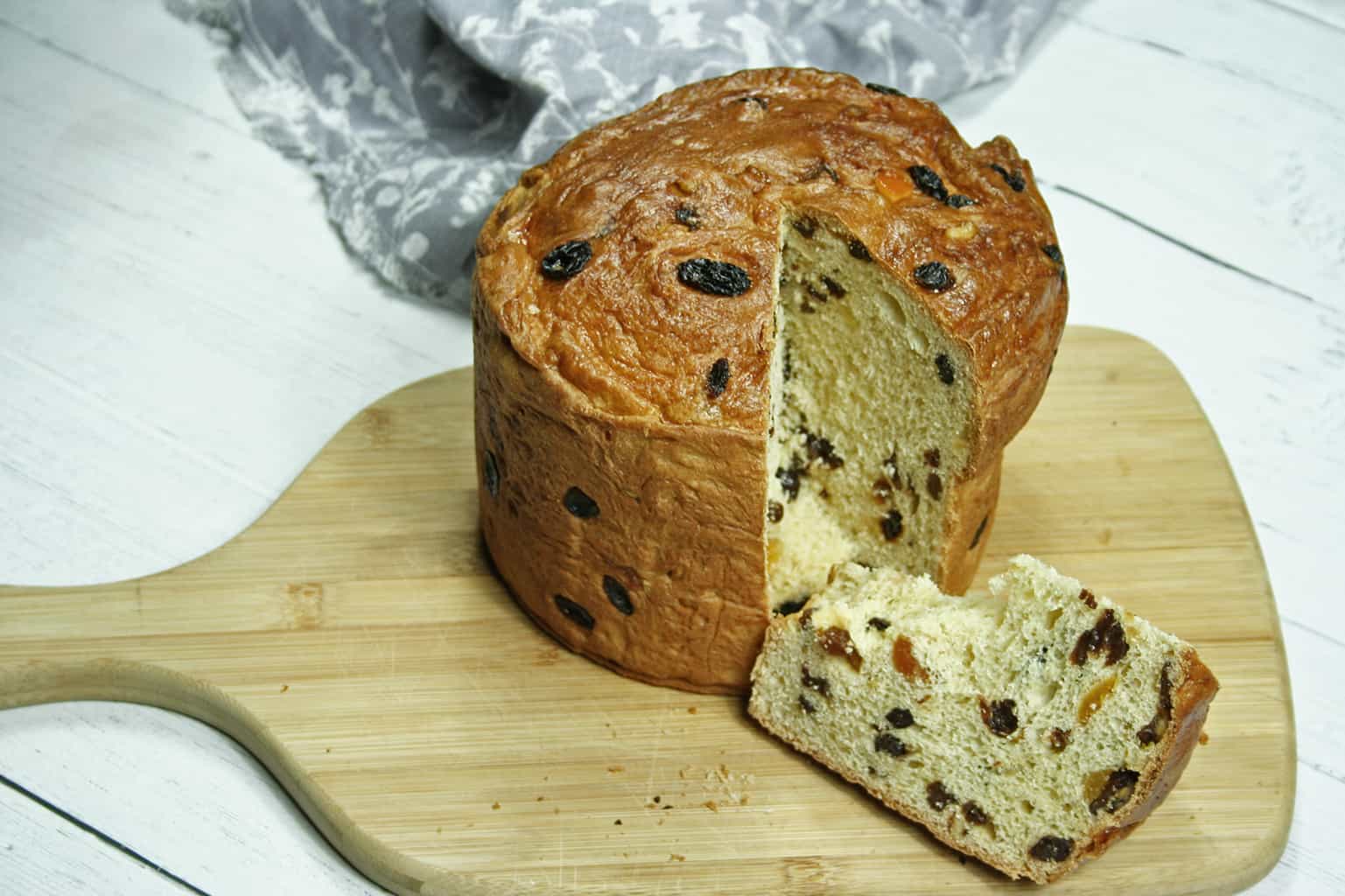 More Christmas Recipes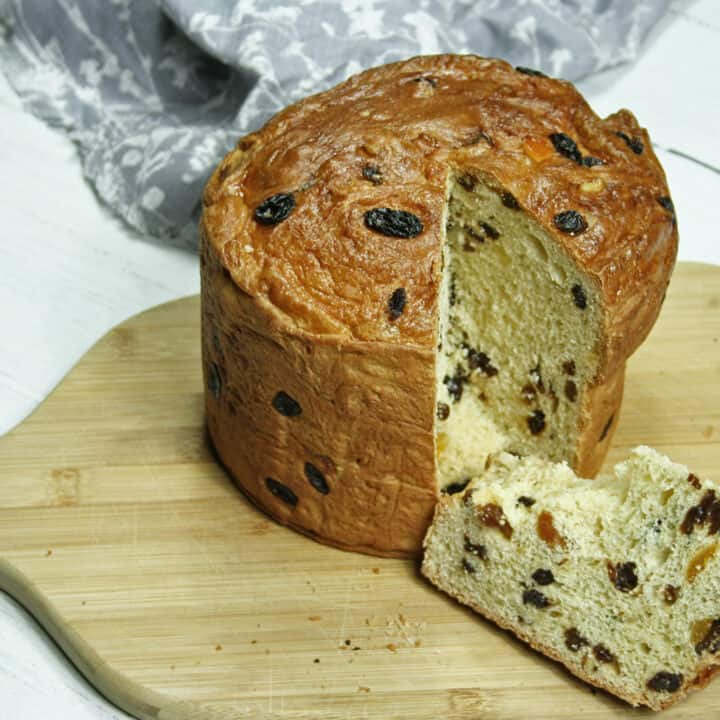 Panettone Recipe
Total Time:
5 hours
15 minutes
Panettone is a sweet bread enjoyed at Christmas time. Serve with butter, cream or jam - it tastes amazing!
Ingredients
2 tsp dried yeast
150ml milk
50g caster sugar
440g strong white bread flour
Salt
75g unsalted butter, melted
2 large eggs
1tsp vanilla extract
200g dried mixed fruit*
Instructions
Warm the milk in a pan or jug and then leave to cool to room temperature/lukewarm.
Add 2 level tsps of yeast to the milk in the jug and leave to go frothy (about 5 minutes).
Whisk in the melted butter, eggs and vanilla extract.
In a large mixing bowl, mix in the sugar, flour and salt.
Mix in the wet ingredients to form a soft dough. The texture won't be quite the same as bread dough, it will be a little stickier.
Place the dough on a lightly floured surface and knead it for about 10 minutes until it becomes elastic.
Stretch the dough out so that it is in a flat rectangle shape. Scatter the dried fruit over the top and knead it into the dough until it is well combined.
Roll the dough up into a ball and place it in a greased bowl.
Lay a clean, damp tea towel over the top of the bowl, or some cling film and leave it to prove in a warm place until it is doubled in size. It will take about 2 hours.
Line the tin with double layered baking paper. If you are using a cake tin rather than a high-sided panettone tin you will need to make sure the paper comes up 5-10cm high then the top of the tin.
Once the panettone dough has doubled in size, using your fist, knock the air out of the dough with your fist and place on a lightly floured surface.
Knead the dough into a round ball so that it just about fits into the baking tin.
Place it in the tin and cover, Leave it to prove again, for another 2 hours, or until it has doubled in size.
Preheat the oven to 190C/170C Fan/Gas Mark 5.
Place the panettone in the preheated oven on the middle shelf (you may need to remove a shelf to fit it in the oven).
Cook it for 40 minutes - cover it with foil to stop it from browning too quickly.
When the panettone is ready the bottom will sound hollow when you tap on it.
Leave it to cool for on a wire rack.
Optionally sprinkle some icing sugar on top before serving.
Notes
*You can use any combination of dried fruits you prefer. Optionally add in some orange zest too.
Storing the Panettone
The panettone will last for 2-3 days in an airtight container.
Cooked panettone can be frozen for up to 4 weeks.
Nutrition Information:
Yield:

8
Serving Size:

1
Amount Per Serving:
Calories:

337
Total Fat:

10g
Saturated Fat:

6g
Trans Fat:

0g
Unsaturated Fat:

4g
Cholesterol:

68mg
Sodium:

104mg
Carbohydrates:

51g
Fiber:

2g
Sugar:

9g
Protein:

10g