Chicken korma is a creamy, fragrant, and delicious dish that's perfect for a midweek or weekend dinner.
This slow cooker version is easy to make and can be adapted according to your tastes. The chicken is nice and tender, and the sauce has a perfect consistency.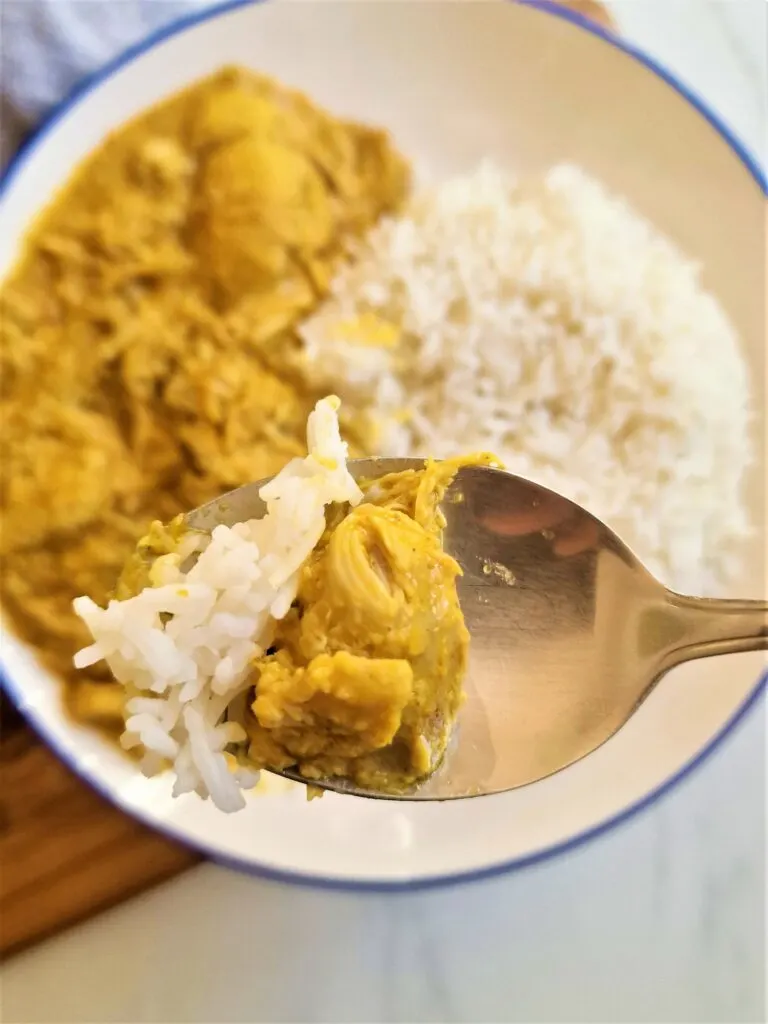 How To Make Slow Cooker Chicken Korma
The ingredients below are enough to serve four people – adjust the amounts accordingly. To print out the recipe with the exact ingredients and instructions, head down to the bottom, where you will find the recipe card.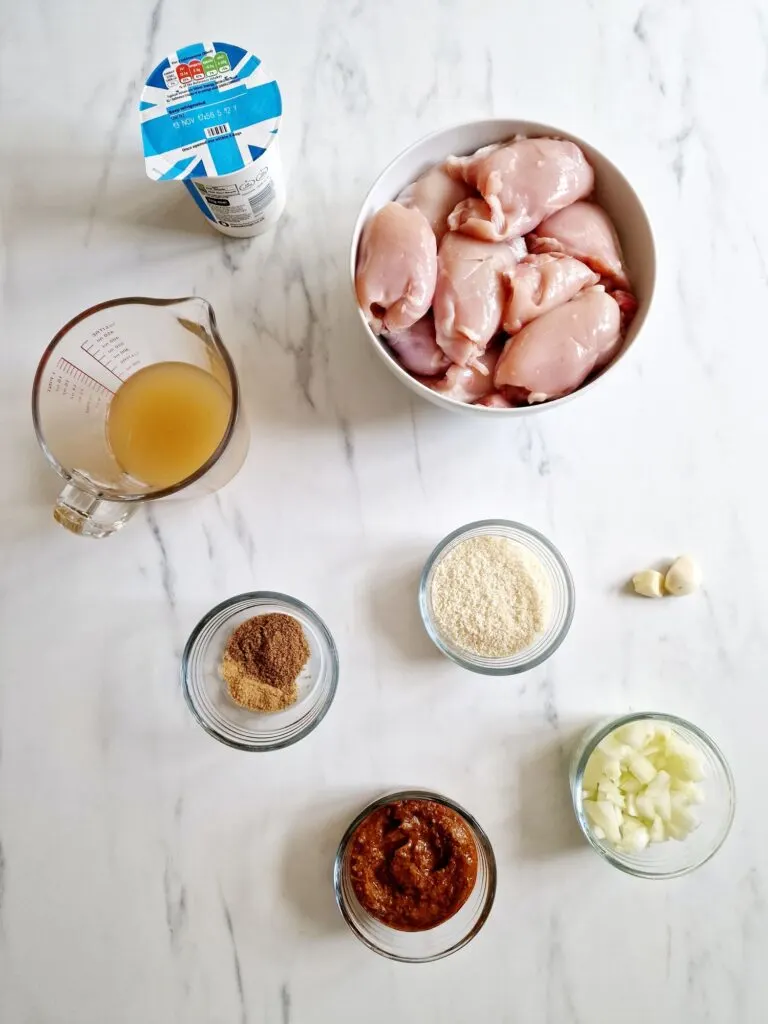 What You Need:
Onion and garlic – I used one onion and two cloves of garlic.
Chicken – I used ten small boneless chicken thighs, but you can also use chicken breasts.
Korma curry paste – you can make your own (try this recipe) or buy a shop-made one.
Ground almonds and almond flakes – I added 50g of ground almonds and sprinkled some flakes at the end. The almond garnish is optional.
Ground coriander and ginger – I used 2 tsp of each. You can use fresh ginger and coriander instead.
Chicken stock – I used 200ml of hot chicken stock (made from 1 chicken stock pot).
Cream – I stirred in 4 tbsp of double cream at the end.
Fresh coriander – optionally garnish with fresh chopped coriander on serving.
Slow cooker – I made this in a Morphy Richards slow cooker, but it can be adapted for any slow cooker model.
Making Chicken Korma In A Slow Cooker
Add the chicken, chopped onions and crushed garlic to the slow cooker bowl.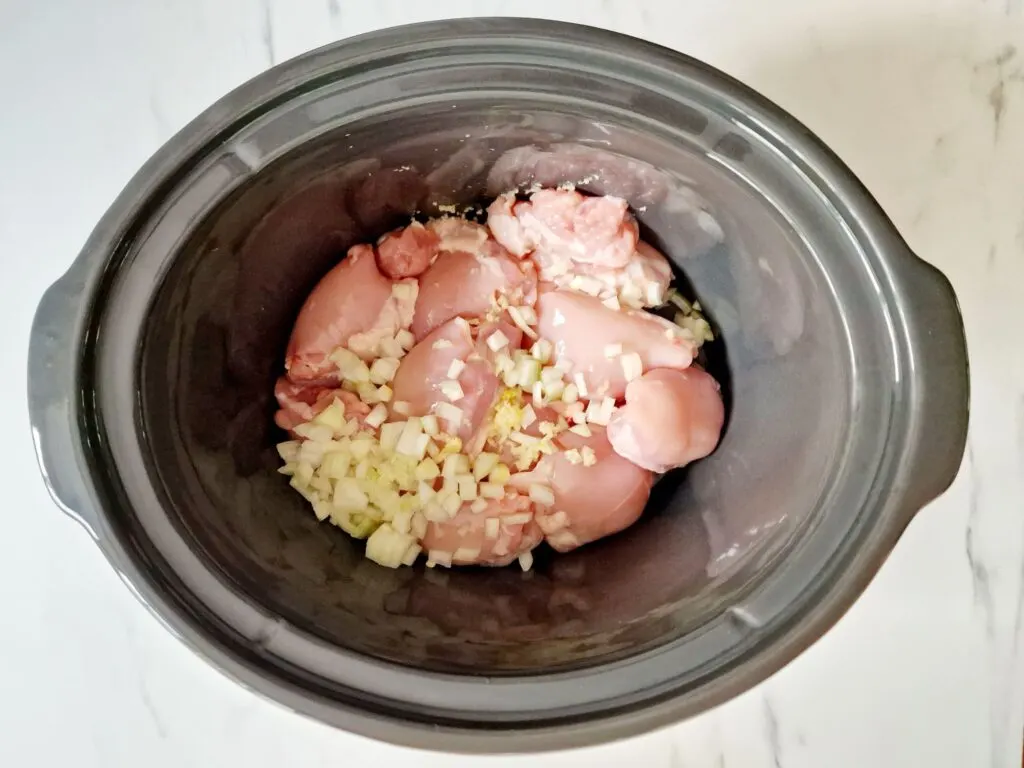 Side Note: you can optionally brown the chicken in a little oil or butter in a pan before adding it to a slow cooker. If you do choose to do this step, you can also saute the onion, garlic and korma paste at the same time. I personally don't make it this way, but I wanted to include it as an option.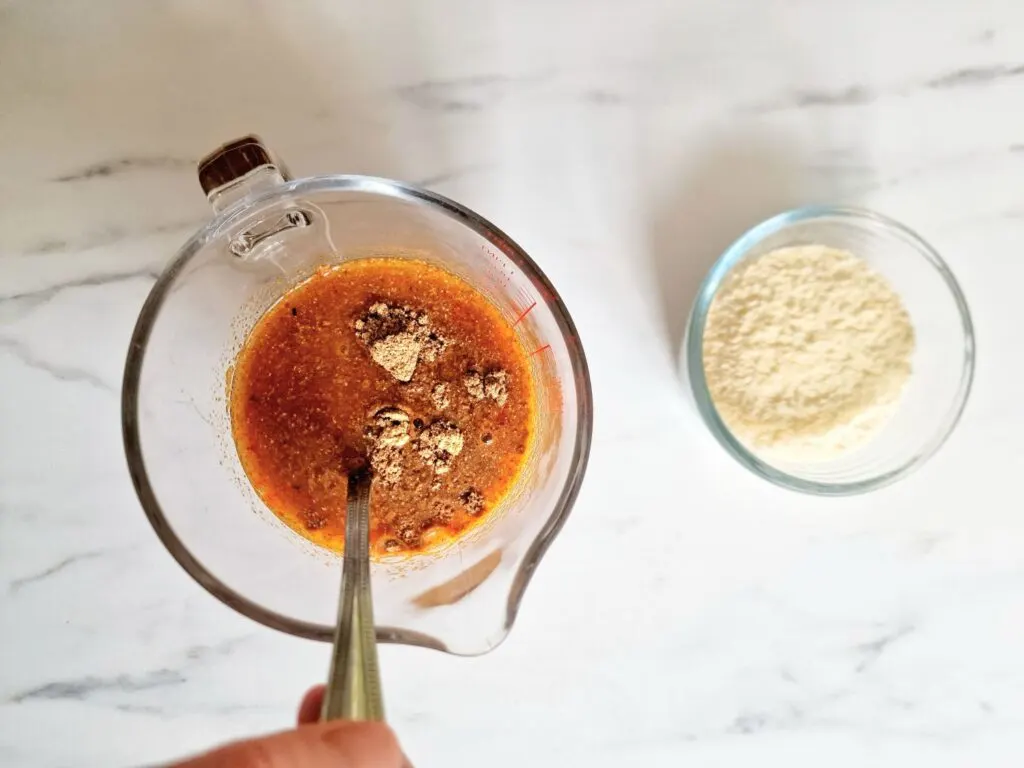 Make up the chicken stock with 200ml of hot water and a chicken stock pot. Stir in the korma paste, I used 150g, but you can use more or less depending on your tastes.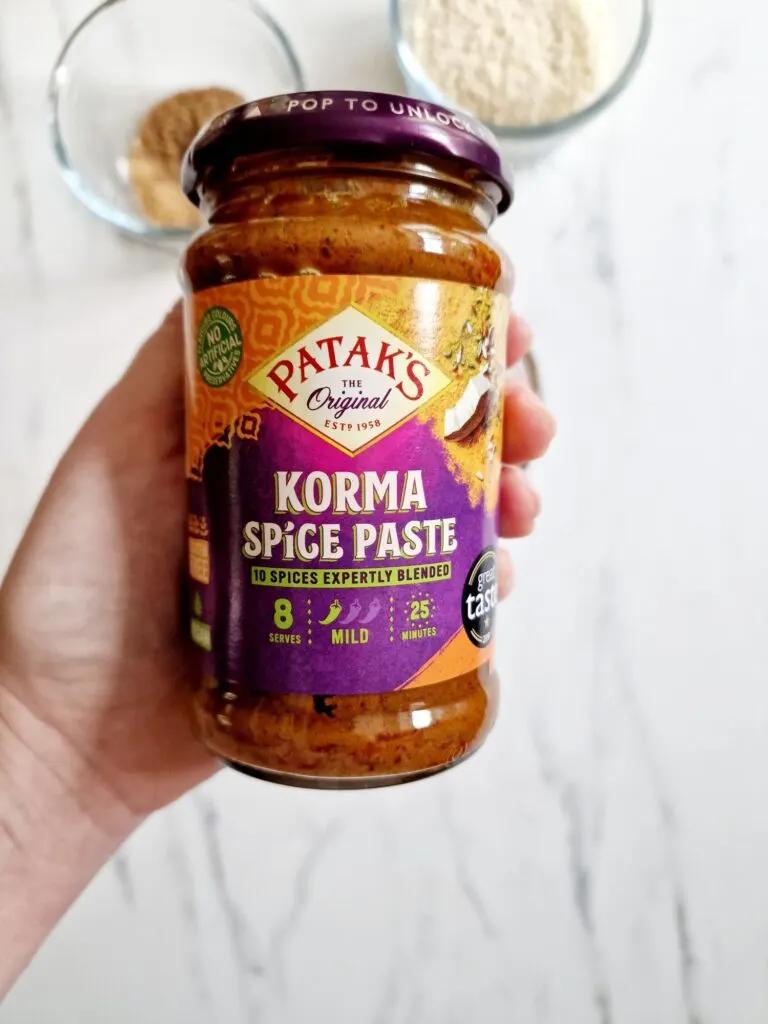 Also, stir in the ground almonds and spices (ground coriander and ginger).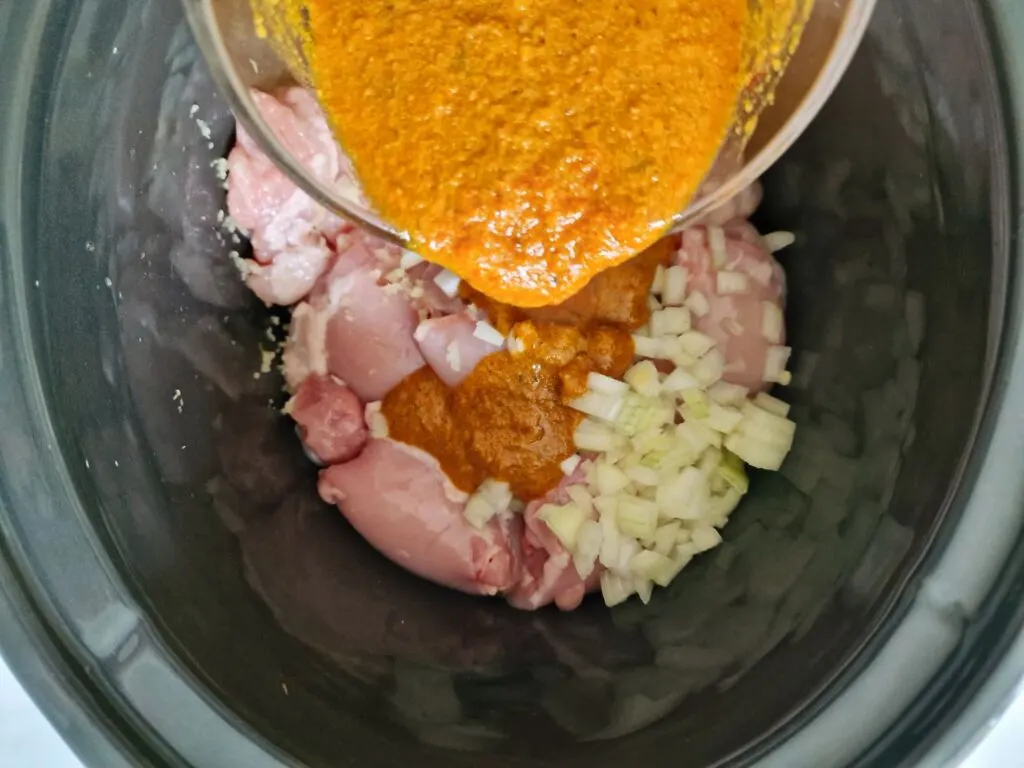 Pour the korma sauce over the chicken, onions and garlic in the slow cooker and stir everything around.
Place the lid on the slow cooker and set off on high for 3 to 4 hours or low for 6 to 8 hours.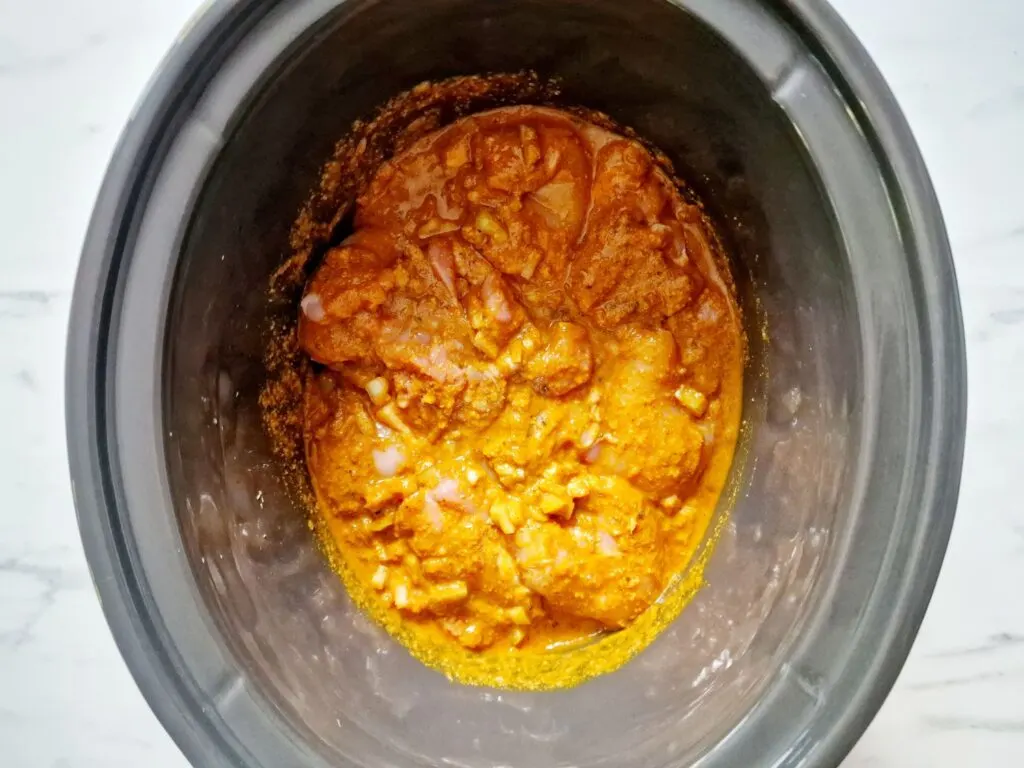 At the end of the slow cooker cooking time, remove the lid and stir in the cream.
What To Serve With Chicken Korma
Slow cooker chicken korma can be served with rice and or naan bread.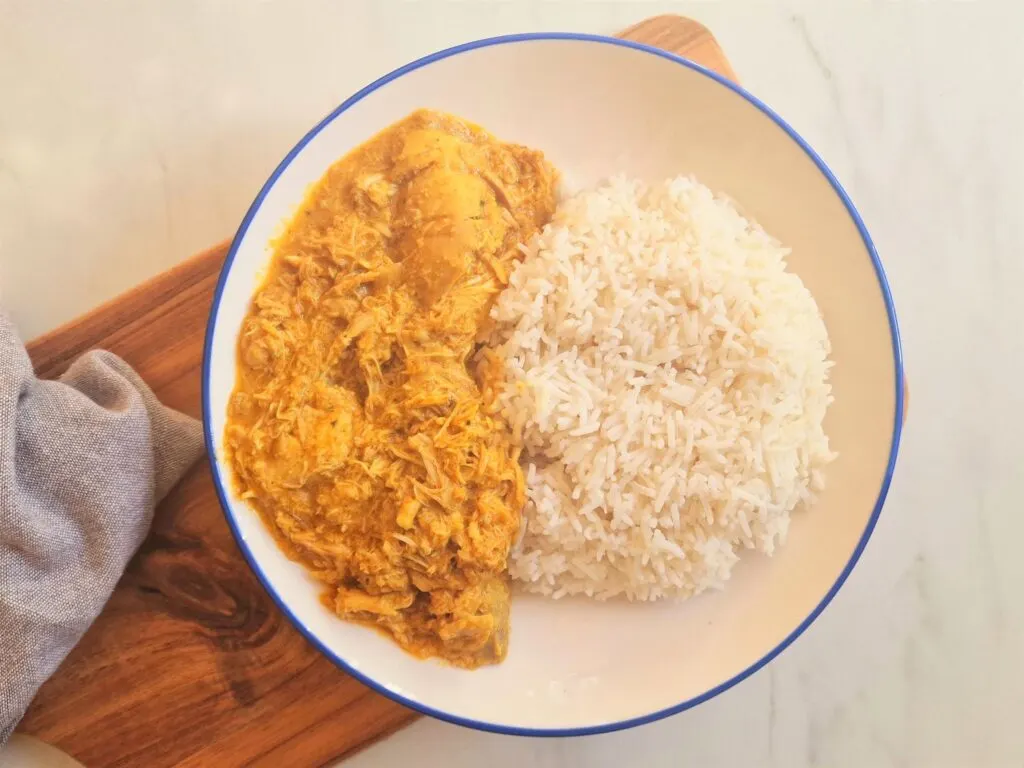 More Slow Cooker Curry Recipes
Making curries in a slow cooker is the perfect way to enjoy a variety of different recipes from all around the world.