Many people love chicken, but what herbs go well with chicken? This guide will explore some of the best herbs to use with chicken and why you might want to consider them.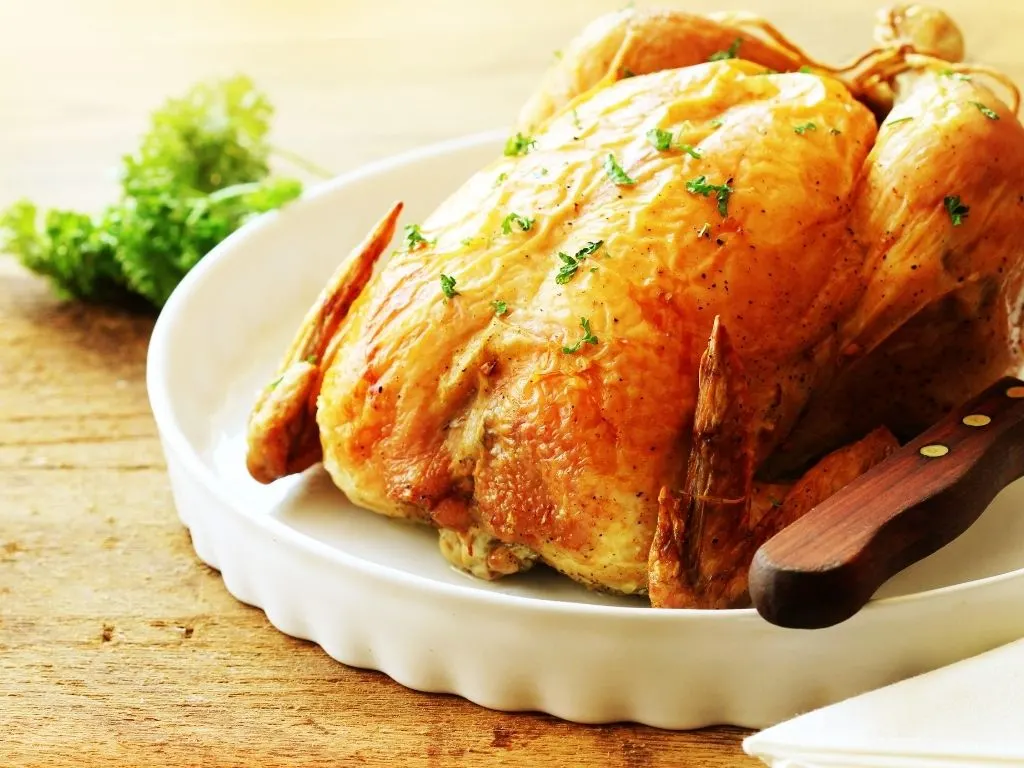 There are many herbs out there that can be used in your cooking – some popular ones include basil, parsley, thyme, rosemary, sage and oregano.
You can also use lavender or tarragon for an exciting twist on the flavour!
Related: How to dry herbs
Bay Leaves
Adding some bay leaves to a whole roast chicken is an excellent way to add flavour without overpowering the meat. It is an aromatic herb, and it goes well with poultry.
Bay leaves are also very easy to use – you leave a couple of them inside the chicken when cooking, and they will impart their flavour into the meat during roasting.
Bay leaves are also well suited to slow-cooked chicken meals such as slow cooker chicken casserole and slow cooker chicken chasseur.
It's best to use dried bay leaves rather than fresh ones to leave a more subtle flavour.
Basil
Basil is a spicy herb that goes very well with Mediterranean chicken dishes. You can also use it in Thai dinners or when making a summer salad.
If you are using fresh basil, a general rule of thumb for cooking with basil is to add it at the end of the cooking time; otherwise, you risk overdoing it and losing some of the flavours.
Put some chicken breasts into a pan with olive oil and cook them until they are browned on both sides. Chop up some fresh basil leaves and stir them into your cooked chicken. You can serve this one-pan meal over a bed of pasta or rice.
Also, basil pesto is perfect for spreading over chicken before roasting it.
Parsley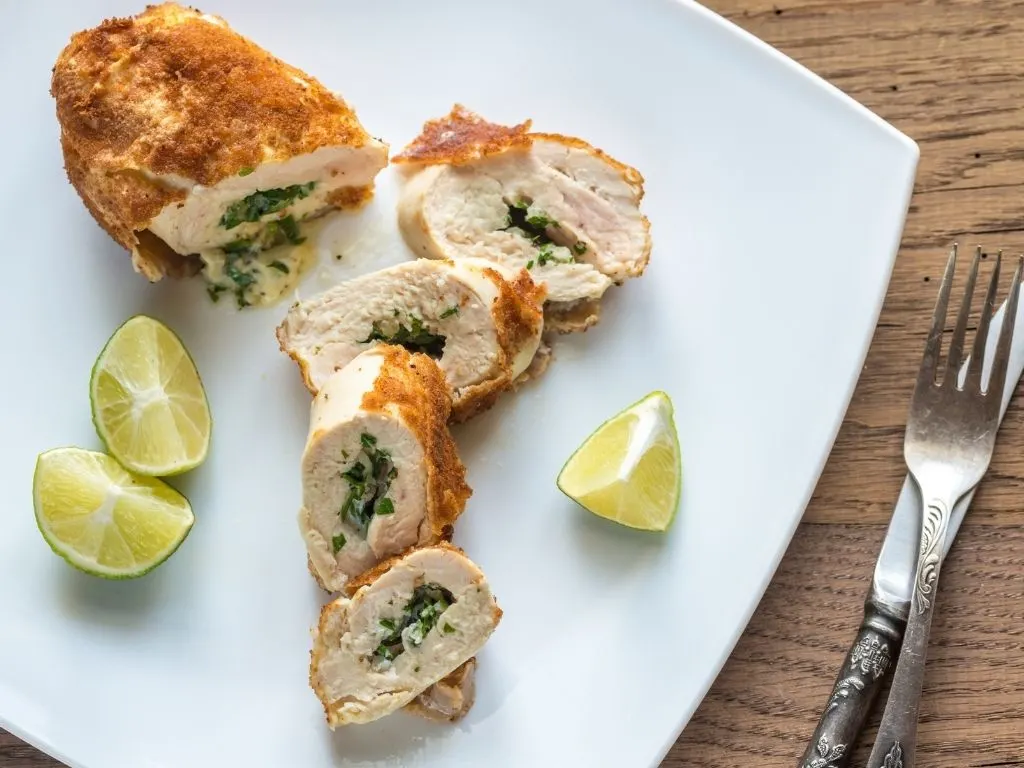 You can use parsley to add a fresh flavour to your chicken dishes. It has a subtle taste and it's often used to garnish casseroles.
If you are making a chicken kiev parsley is often added to the garlic butter.
Thyme
You can use either fresh or dried thyme with chicken.
You can combine the thyme with some lemon as a great way to add flavour, not just because of the lemon juice but also due to the fragrant thyme.
This dish is perfect for summertime when you want to cook something light and healthy that doesn't require too much effort. Simply add some lemon wedges and thyme with some chicken breast and oven cook it. It's an excellent weeknight meal option as it comes together in less than 45 minutes from start to finish!
Rosemary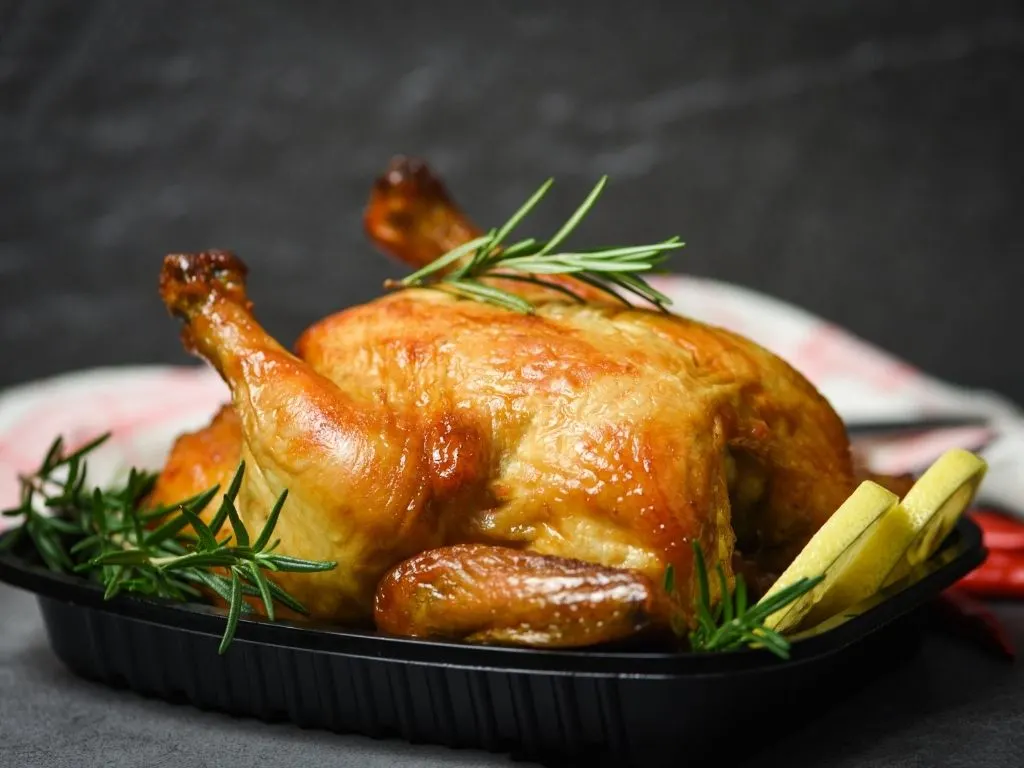 Rosemary is another herb that you can use in a variety of dishes, including roasted chicken. Simply add a few sprigs inside the cavity of the whole chicken or rest them on top of the bird.
Watch how much rosemary you add, as it can have a pretty strong taste.
Sage
Sage is a great herb to use with chicken – it, of course, works well in stuffing, which is often served with roast chicken.
You can use fresh sage or dried sage. A great Christmas recipe is to make garlic and herb butter by mixing chopped fresh sage with crushed garlic and mixing it in with some butter, and then smearing it over the chicken skin, or if you prefer, under the skin before roasting it.
Tarragon
Tarragon is a herb that tastes a little like anise rather than a typical herb flavour.
It can go well with lemon-based marinades or dressings – try using a mix of olive oil, apple cider vinegar and fresh tarragon to make your dressing.
But the perfect combination is chicken cooked in a creamy tarragon sauce.
Coriander
Coriander is a popular herb with many names in different languages: cilantro, Chinese parsley, dhania, and Mexican coriander. This plant's leaves have a distinctive flavour similar to citrus but with hints of pepper and cloves.
Coriander is used in curries, especially as a garnish.
Related: Slow Cooker Chicken Curry
Oregano
Oregano can be added to many different dishes and is commonly used in Italian cooking. One of the most popular ways that oregano is used in cooking is with chicken. Basting chicken with oregano and lemon juice is the perfect way to bring out the best natural flavours whilst keeping it moist.
Garlic
Garlic is a perennial herb that has been used since ancient times as both a food and as medicine.
Garlic goes with chicken like salt goes with pepper. It's delicious and makes it much more flavoursome.
Adding a little garlic to chicken is easy; you can simply roast the chicken with some fresh garlic cloves or finely chop up some garlic and marinate the chicken in some olive oil with this crushed garlic.
There are tons of different ways to cook with this versatile ingredient; some popular options include chicken kiev, garlic butter chicken and lemon garlic chicken.