Are you lucky enough to have a bay tree in your garden? Or perhaps you have bought some fresh bay leaves and want to cook with them. If you are wondering how to dry bay leaves to use in future recipes, this guide will show you how.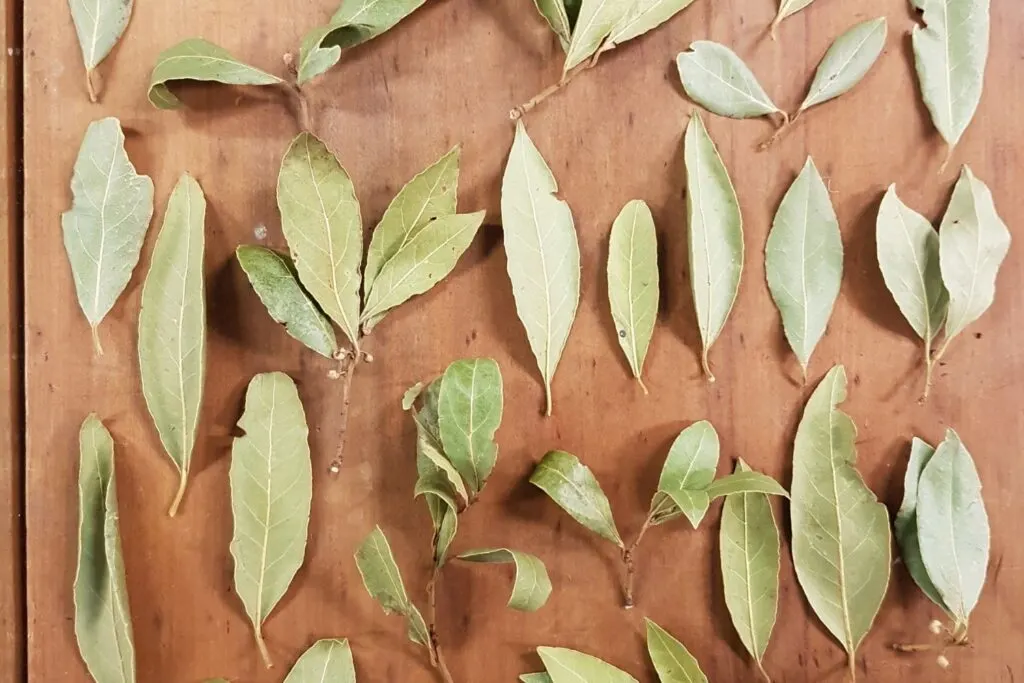 Dry bay leaves are often used in Mediterranean cooking as one of the most popular herbs for flavour and aroma. They have a nice, subtle scent that can be used to make dishes taste warmer and more fragrant.
Picking Bay Leaves From A Bay Tree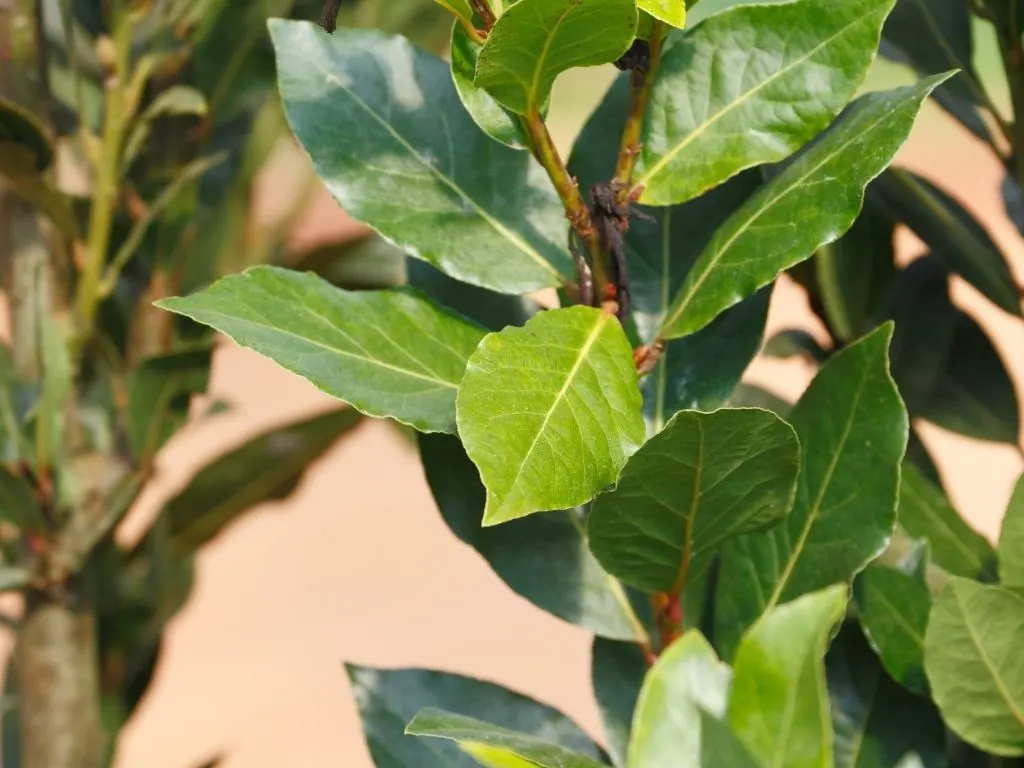 If you are lucky enough to have a bay tree where you can pick fresh leaves, you'll be happy to know that you can harvest them all year round!
However, you will need to wait until your bay tree is at least 2 years old before you can first harvest them.
It's best to use sharp scissors to cut the leaves from the tree, but you can pick them with your hands. Choose the larger, blemish free leaves and try to cut them as close to the stem as possible.
Washing Bay Leaves Before Drying Them
Wash the fresh bay leaves under running water until any dirt is removed from the surface and they are clean. Lay each one down on some paper towels or on a clean and dry dishcloth. Fold over and pat away any excess water or moisture.
How To Dry Bay Leaves Naturally
Drying bay leaves naturally is the cheapest (actually free!) method, but it does take the longest.
Once the bay leaves have been cleaned and patted dry, lay them out on some drying racks, or, if you don't have them, on a baking tray lined with some kitchen roll.
Leave them in a warm but well-ventilated room, but not in direct sunlight.
It should take about 10 to 14 days for the leaves to dry out.
Store the dried bay leaves in an airtight container, labelling them with the name and date.
How To Dry Bay Leaves In An Oven
A much faster method is to use an oven to dry bay leaves. The drying time will be around 1 to 2 hours.
Preheat the oven to its lowest temperature (probably about 100C)
After cleaning the bay leaves lay them out flat on a baking tray and place in the preheated oven.
After 20 minutes of cooking time, check on them and turn them over. Cook for another 20 minutes. Repeat this process until the leaves are dry and brittle. They will break easily when they are ready. The process will take anywhere from 1 to 2 hours.
When they are ready, remove them from the oven and leave them to cool down before transferring to an airtight container. Use a label to name and date them.
How To Dry Bay Leaves In A Dehydrator
If you have a food dehydrator or a Ninja Foodi, you can dry fresh bay leaves in there. The drying time will take between 1 and 5 hours, depending on the type of dehydrator that you use, as well as the level of humidity.
Wash the fresh bay leaves and pat them dry.
Lay the bay leaves out on the dehydrating racks.
Switch the dehydrator on and dehydrate at 40C.
Check after 1 hour. They will be ready when they are dry and brittle, breaking easily.
Once they are dried leave them to cool down before transferring to an airtight container – label them with the name and date.
How To Dry Bay Leaves In A Microwave
You can also dry bay leaves in a microwave. This is the quickest method but is only suitable if you are drying a few leaves at a time. It will take about 2 to 3 minutes, but you must check on them every 30 seconds.
Wash and pat dry the bay leaves.
Lay them out on a plate and place them in the microwave at high power for 30 seconds.
After 30 seconds open the microwave door and turn the leaves over. Set off for a further 30 seconds.
Repeat this process until the leaves are completely dried out and brittle, breaking easily.
How Do You Cook With Bay Leaves?
They're good for adding to slow-cooked stews, soups and rice dishes as they give a nice flavour without being overpowering. They are best used in recipes that call for a long and slow cooking time.
Dried bay leaves tend to be added to a simmering dish and removed before serving.
You might also use them ground up with other spices such as cumin, paprika, garlic powder, chilli pepper flakes or oregano. Sometimes, dried bay leaves are also sold in powdered form which you can add into sauces like tomato sauce or curry paste to give it a nice flavour without having to worry about using too many whole leaves.
How Long Do Dried Bay Leaves Last For?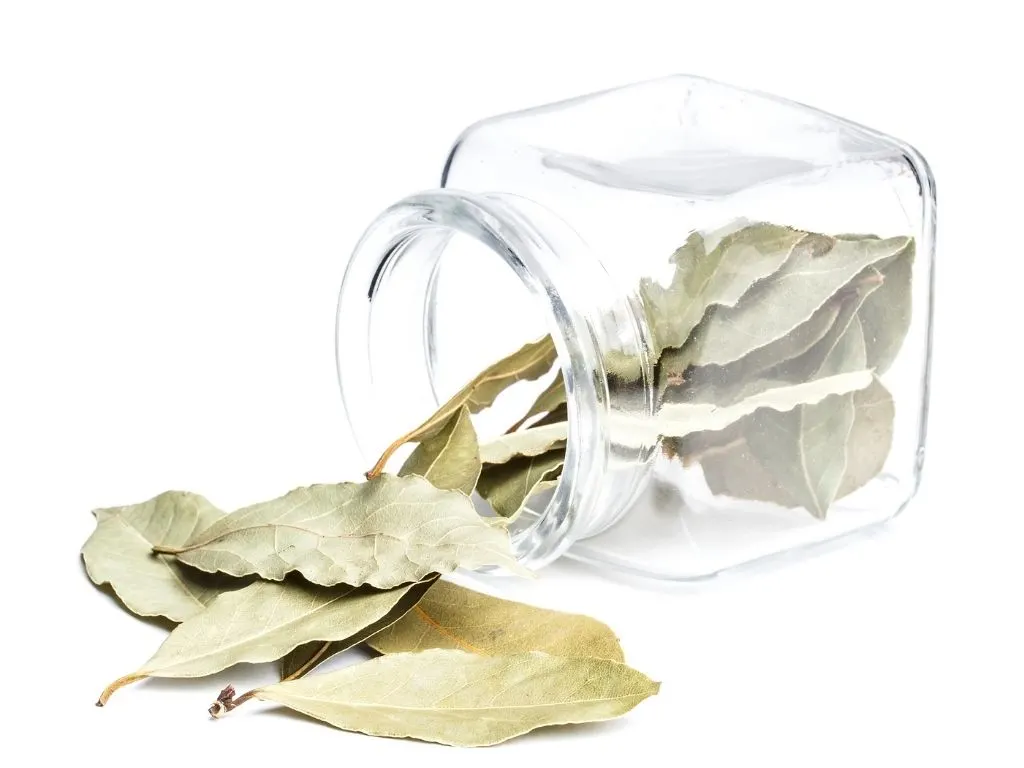 Dried bay leaves can last for a long time if stored correctly. Some people recommend storing them in an airtight container away from light and heat, to avoid any discolouration or deterioration of flavour. Dried bay leaves can last for up to 24 months but the flavour might start to diminish after around 12 months. For the best results use bay leaves that have recently been dried.
Can You Eat Bay Leaves?
If you eat a bay leaf it won't do you any harm. The reason it is recommended to remove dried bay leaves before serving is that despite simmering away in the pot, they don't actually soften up. The edges can be sharp and the texture not really ideal to be consuming.
Can You Cook With Fresh Bay Leaves?
Yes, you can use fresh bay leaves to cook with but the flavour might be a little more intense and the taste can sometimes be a little more bitter than when you cook with dried bay leaves. With this in mind, you might want to not leave them in for the whole of the cooking time
How Long Do Fresh Bay Leaves Last For?
Fresh bay leaves when stored in an airtight container will last in the fridge for 7 – 10 days.
Recipes Using Bay Leaves