This air fryer chicken pesto is another quick and easy to prepare air fryer chicken recipe where all you have to do is chop up some chicken and add a jar of green pesto.
But if you want to add a few more steps, you can make your own green pesto 😉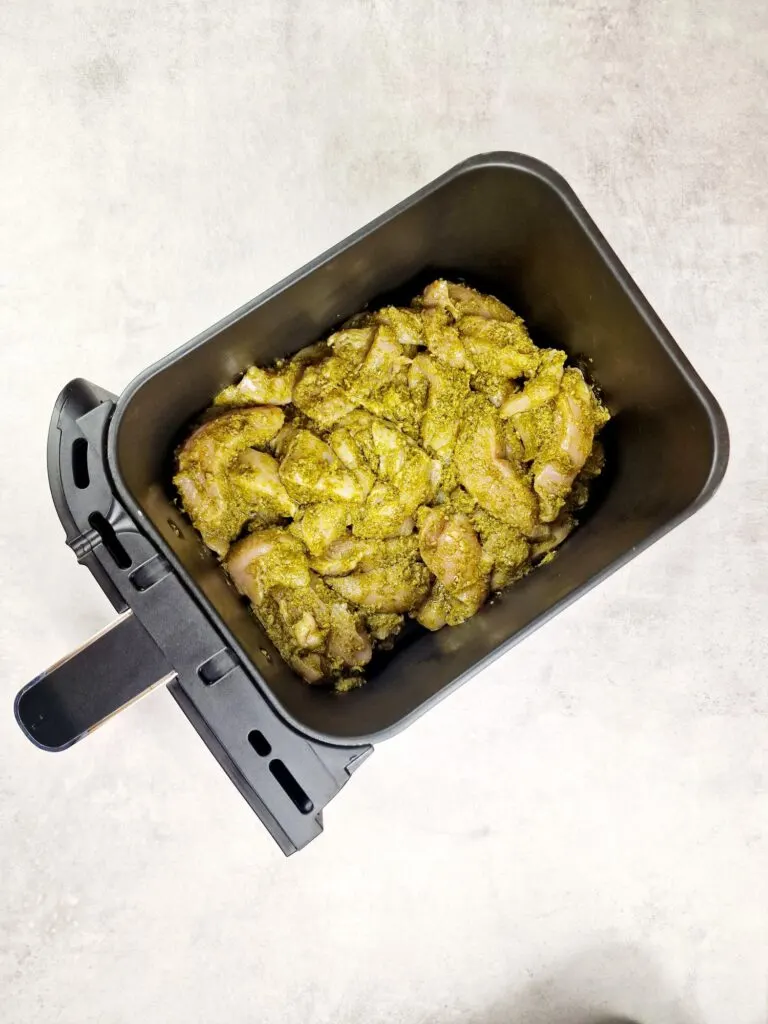 How To Make Chicken Pesto In An Air Fryer
Grab your green pesto, homemade or premade, and some chicken and smother the chicken in the pesto.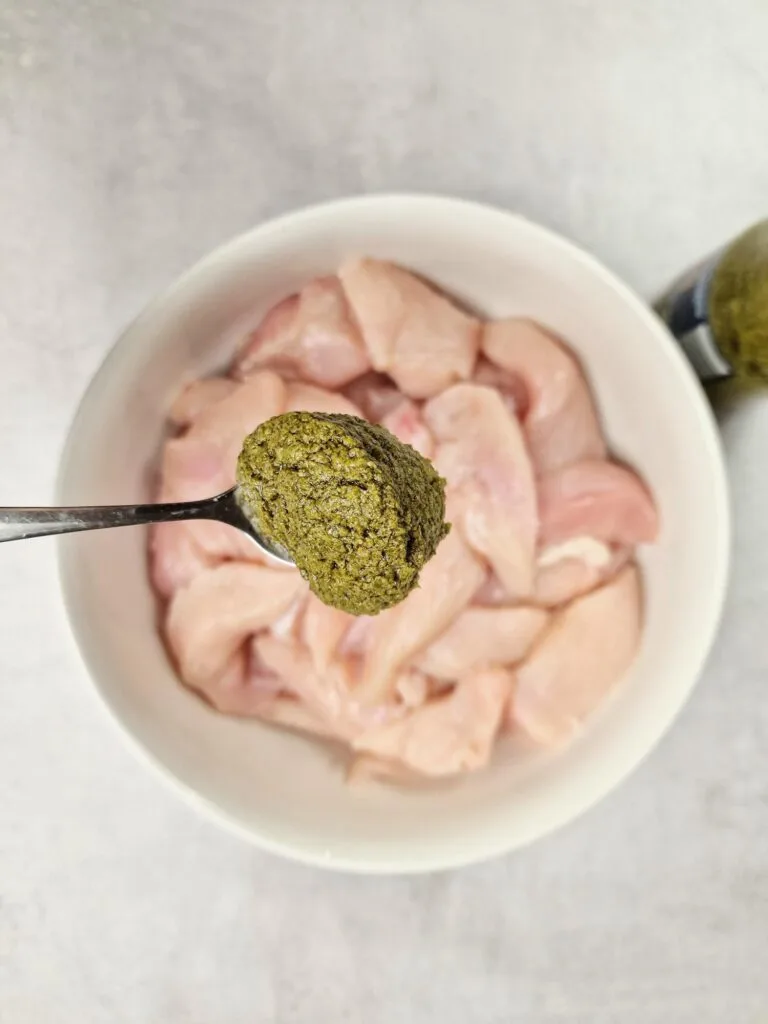 You can use as much chicken as you need to make, but the following amounts will serve 4 people;
Four chicken breasts or thighs
120g green pesto – allow about 30g per chicken serving
Optional extras include cheese for melting on top at the end
What Cut Of Chicken Should I Use?
You can use any chicken for this recipe, either boneless or with bone in. I used chicken breast, but you can use what you have to hand.
For different cuts of chicken, you will need to adjust the air frying time accordingly.
When it comes to air fryer chicken, there is no one-size-fits-all answer to the question of cooking times.
The cook time will vary depending on the size and thickness of the chicken, as well as the desired level of crispiness.
However, a few general guidelines can help you get started:
Whole Chicken: 1 hour at 180C
Chicken Breast: 20 minutes at 180C
Chicken Thighs Bone-In: 25 minutes at 200C
Chicken Thighs Boneless: 22 minutes at 200C
Chicken Drumsticks: 25 minutes at 200C
Chicken Wings: 25 minutes at 200C
Preparing The Chicken For The Air Fryer
You can leave the chicken whole or cut it into strips. I cut the chicken breasts into strips before adding the green pesto.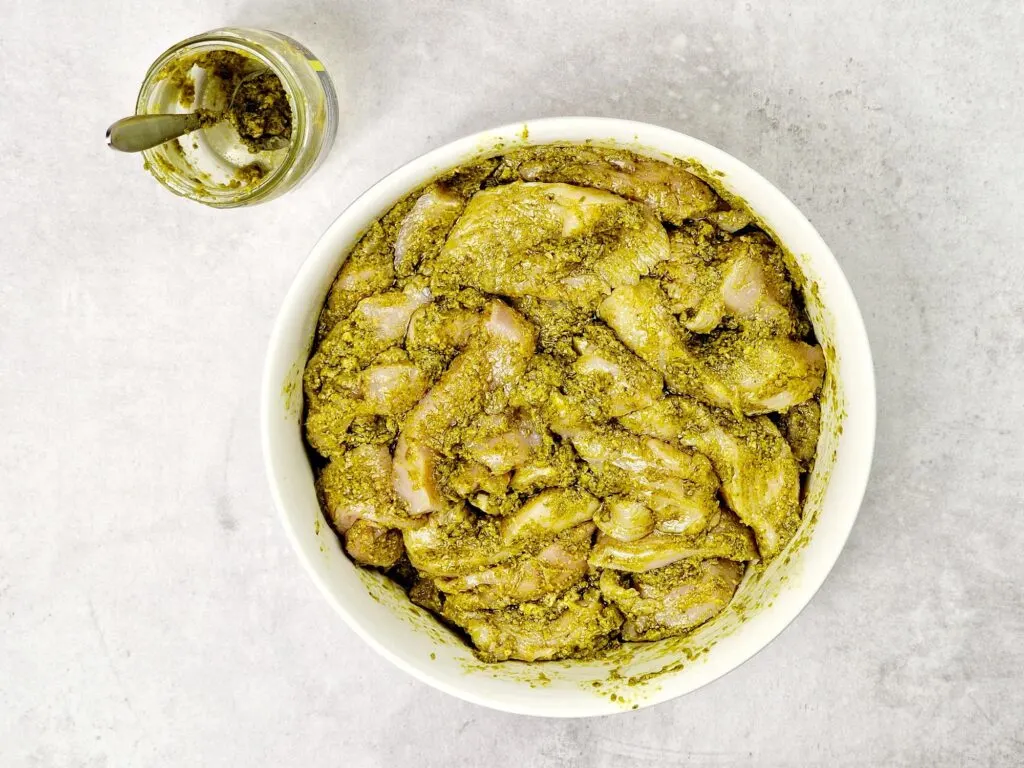 Note: if you are air frying chicken strips or chunks rather than a whole chicken breast or thigh, you will need to reduce the cooking time to around 15 minutes, but check they are cooked all the way through before serving.
Transfer the coated chicken to the air fryer basket – if food tends to stick to your air fryer, spray the basket with a little oil before adding it – and set the air fryer off at 180°C for 15 minutes.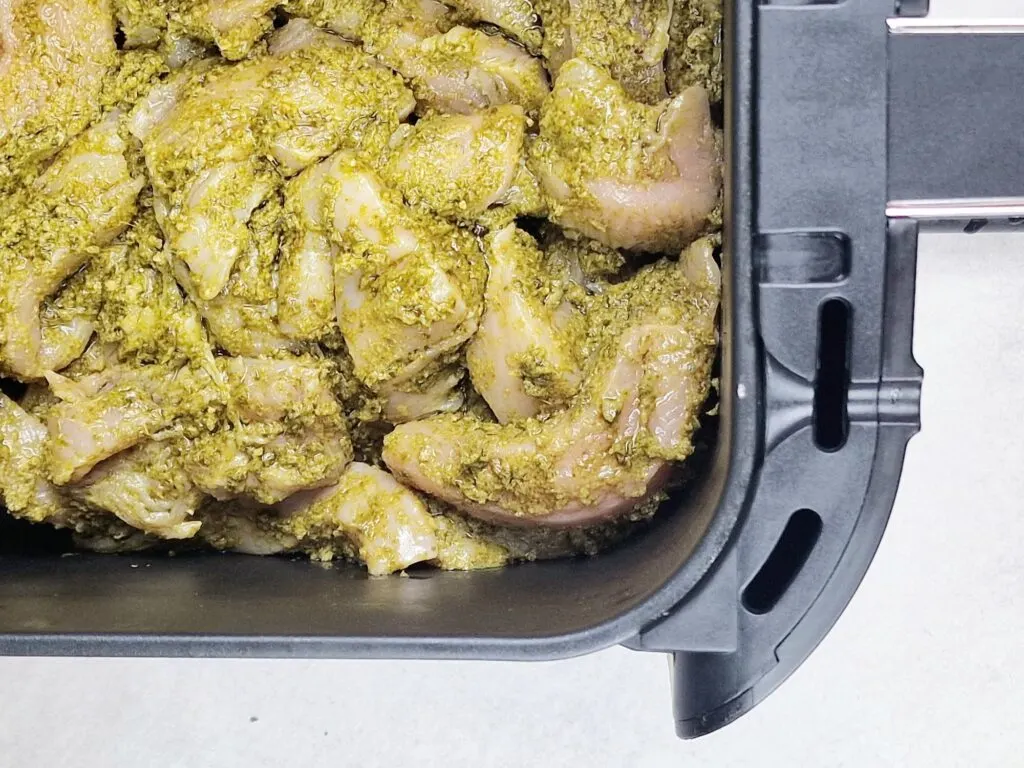 Turn the chicken over a few times during the air frying process to ensure it cooks evenly.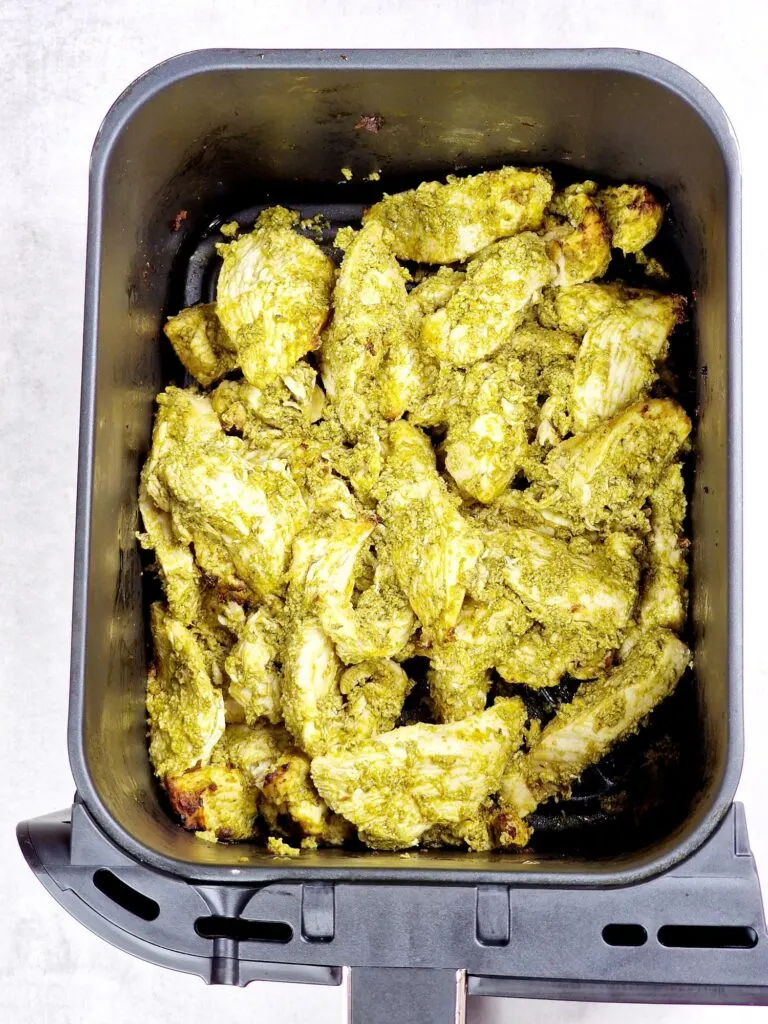 At the end, optionally sprinkle some grated mozzarella cheese (or other easy to melt cheese) on top and air fry for 30 seconds to 1 minute or until the cheese has melted.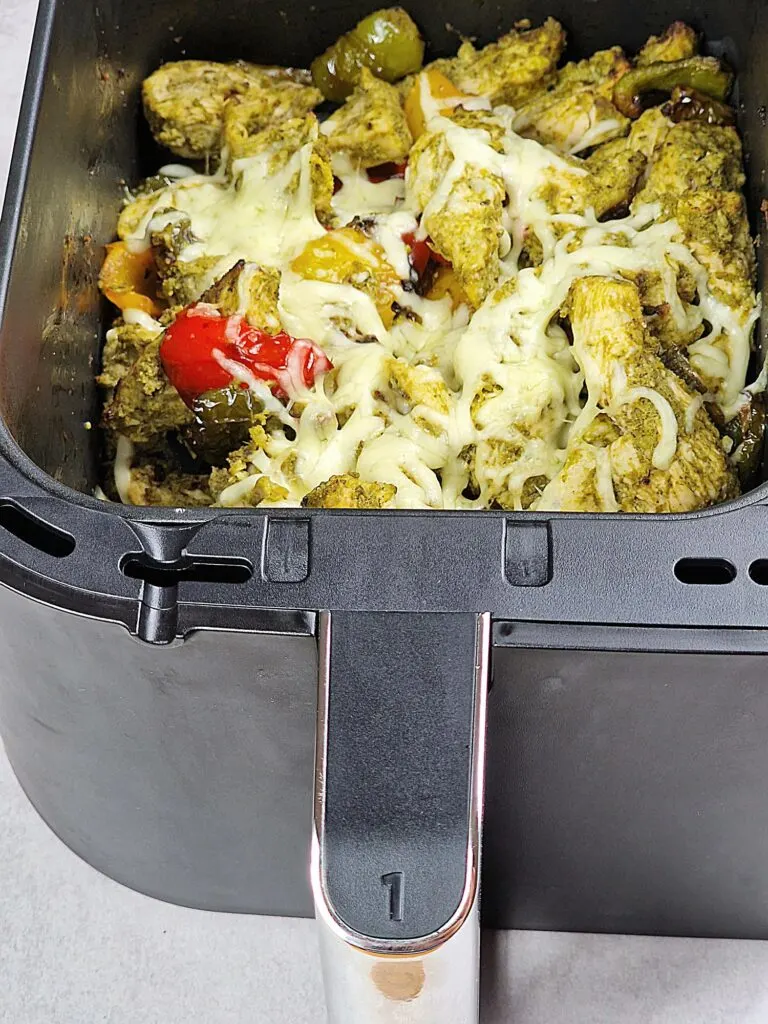 What To Serve With Chicken Pesto
Air fryer chicken pesto works with many different side dishes. You can serve it with potato wedges or chips or stir it into cooked pasta.
If you have a dual air fryer you can even cook them at the same time!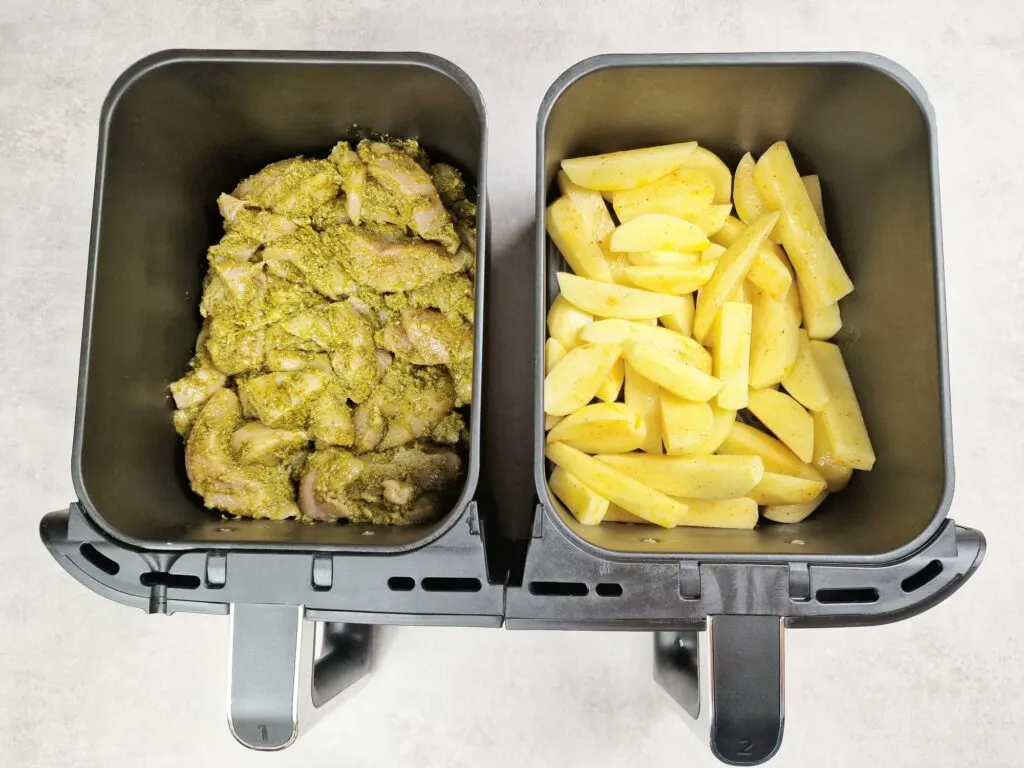 Add a basic green salad or some vegetables and your meal is complete!
Alternatively, you can use it as a sandwich or wrap filler.