Have you tried making air fryer garlic bread yet?
Whether alongside a comforting bowl of spaghetti, some air fryer pizza, or as a snack on its own, garlic bread never disappoints. You can make this beloved classic effortlessly at home with an air fryer.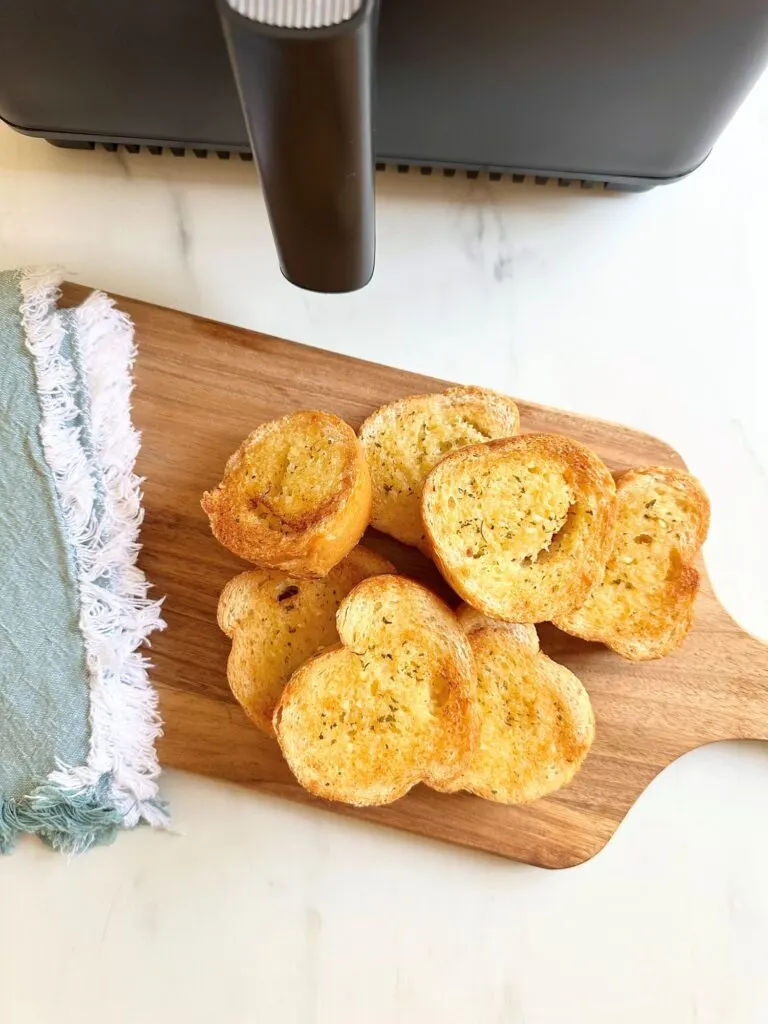 How to Make Air Fryer Garlic Bread
To make air fryer garlic bread, you'll need just two main ingredients – garlic butter and bread.
Garlic Butter: garlic butter is typically made by blending softened butter with minced garlic and, optionally, some fresh parsley. Store-bought versions can also be used (I like Lurpak), but making your own means you can make it as garlicky as you like. Garlic butter gives the bread that tasty flavour and helps achieve that desired golden crispiness.
Bread: You can use a whole baguette or slices of your favourite bread, depending on your preference. A baguette makes more traditional garlic bread pieces, while sliced bread (like a good quality sourdough or a simple white loaf) is perfect for individual servings.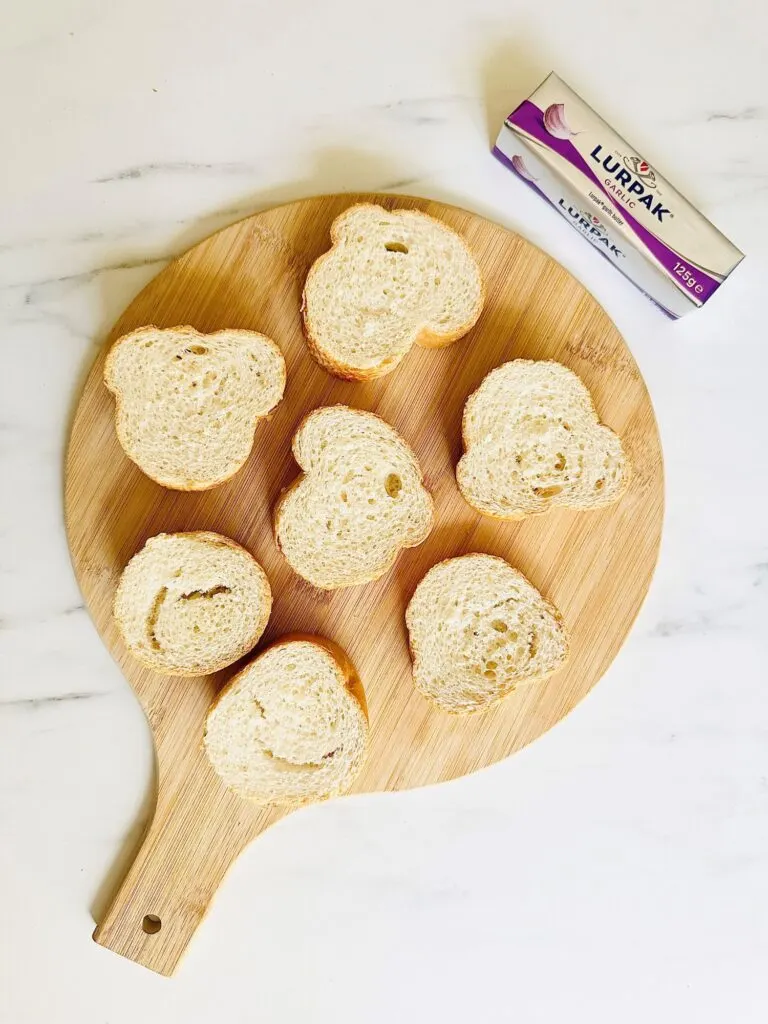 You can slice a baguette and air fry the garlic bread in single slices or partially slice the baguette and air fry it as a stick.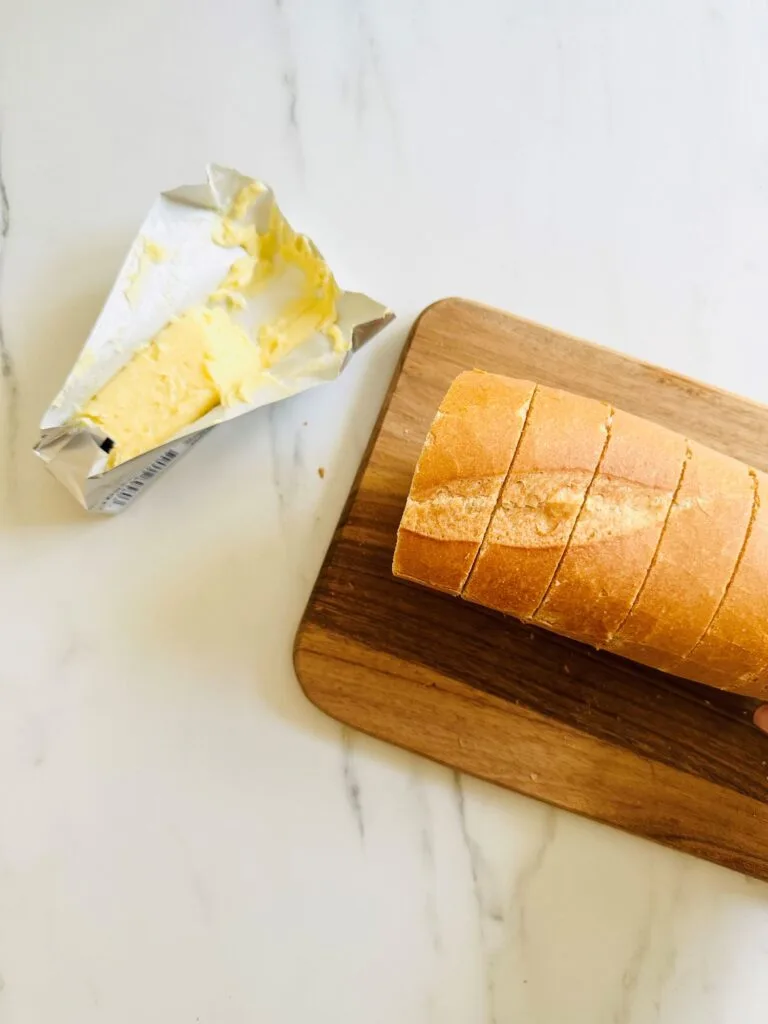 For a twist, consider sprinkling grated cheese on top of the bread before air frying for a cheesy garlic bread version.
What Air Fryer Can I Use For Garlic Bread?
You can use any air fryer to make garlic bread. I have made it in Cosori, and Ninja, among other brands.
Making it
Preparing the garlic bread for the air fryer is as simple as spreading garlic butter on your chosen bread. Be generous, and make sure to reach all the corners!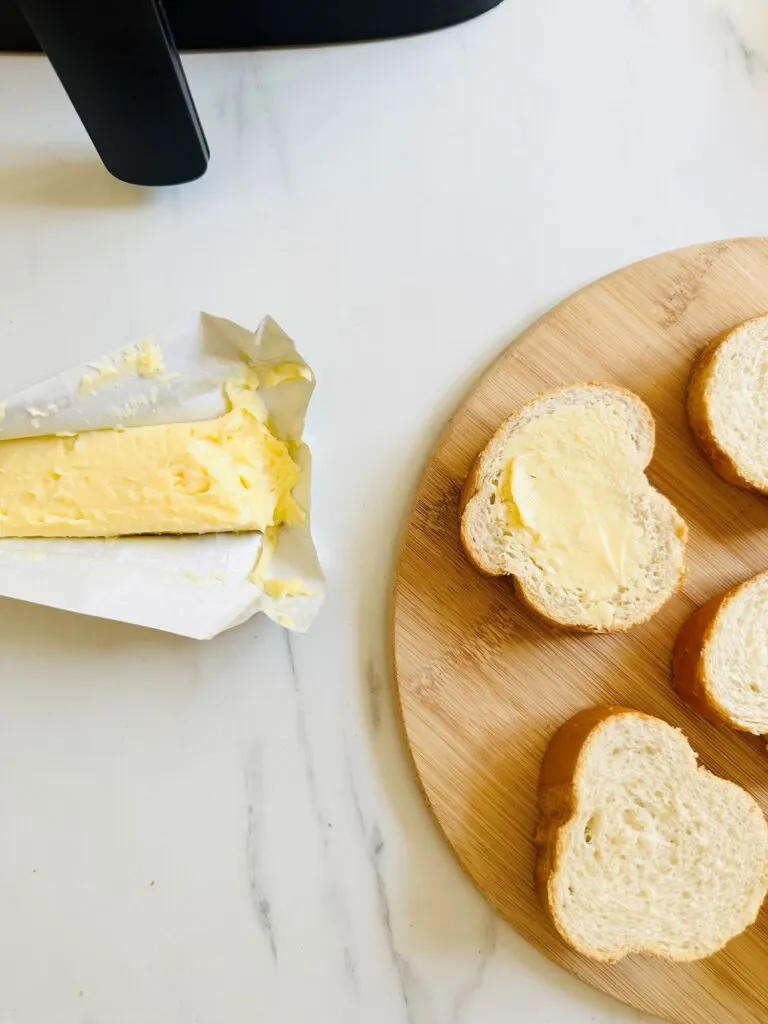 If you're using sliced bread, arrange them in the air fryer basket, making sure not to overcrowd. Set your air fryer to 180°C and cook for around 3 to 5 minutes, depending on their thickness. You want to achieve a nice golden colour and crispy texture.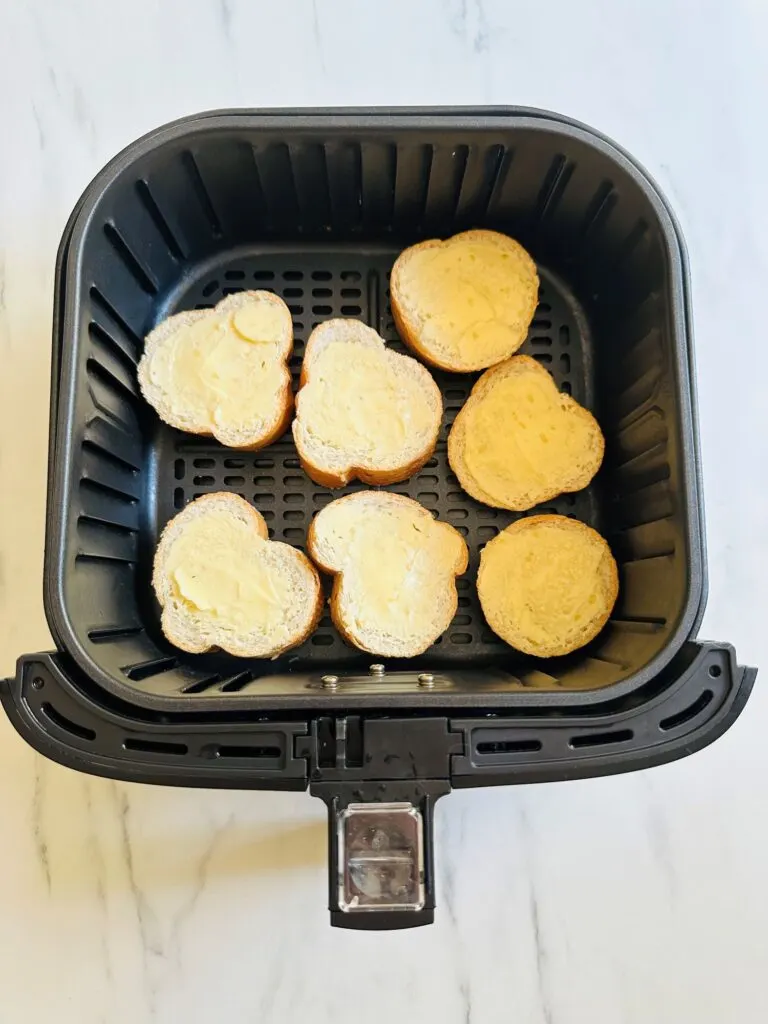 You'll need a little more time if you're using a baguette that's only partially sliced. After spreading garlic butter, place the baguette in the air fryer at 180°C for about 8 to 10 minutes.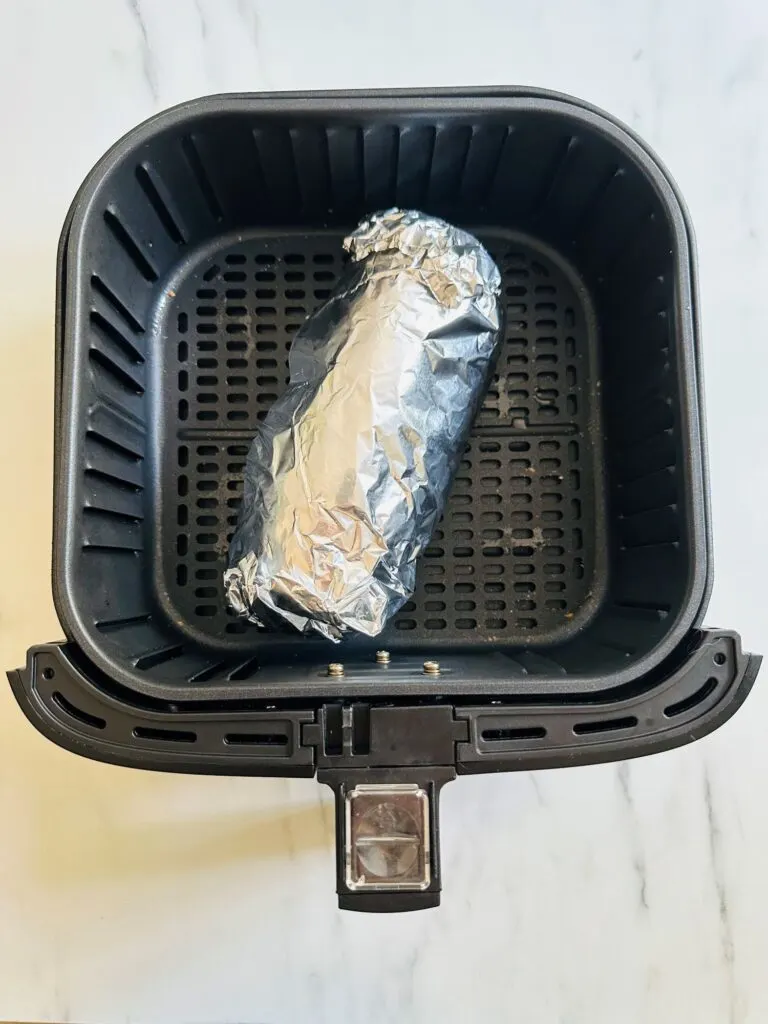 Keep an eye on it towards the end to avoid over-browning. You can wrap it in foil to stop the outside browning too quickly and then unwrap it for the last few minutes.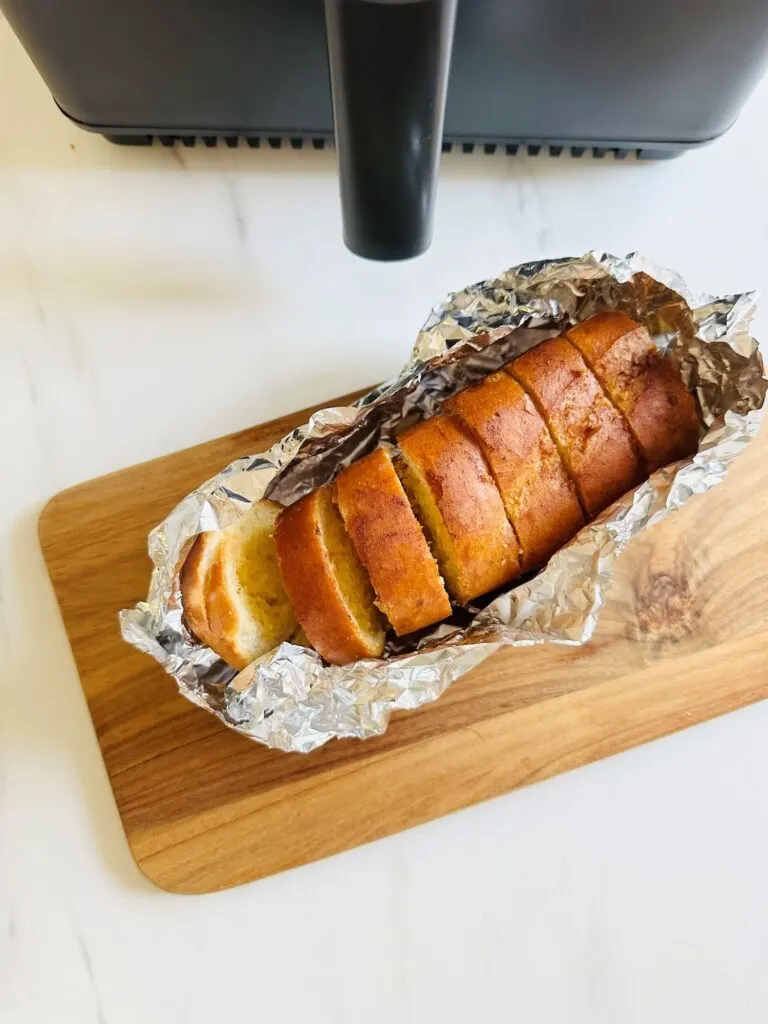 How to Serve Air Fryer Garlic Bread
Air fryer garlic bread is best served warm, right out of the air fryer. Enjoy it with pasta, pizza, soups, salads, or grilled meats.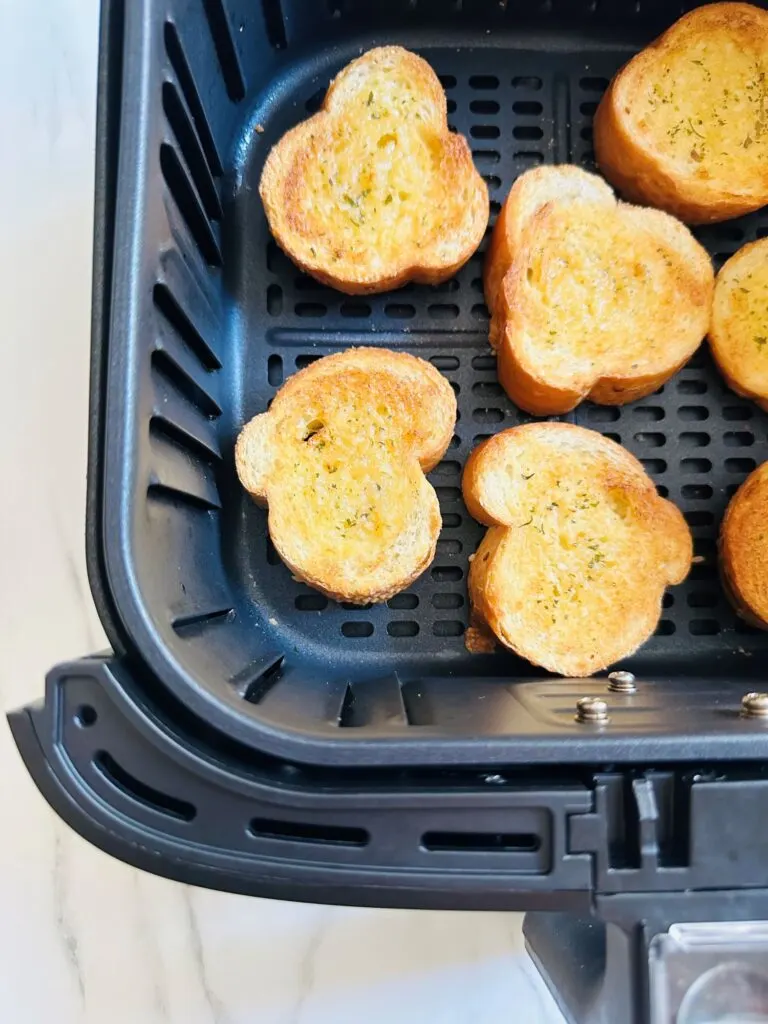 Can You Cook Frozen Garlic Bread In An Air Fryer?
Frozen garlic bread can also be cooked in an air fryer. Preheat the air fryer to 180°C. Place the frozen garlic bread in the air fryer in a single layer. Cook sliced bread for about 5-6 minutes and unsliced baguettes for about 12 minutes or until golden and crispy.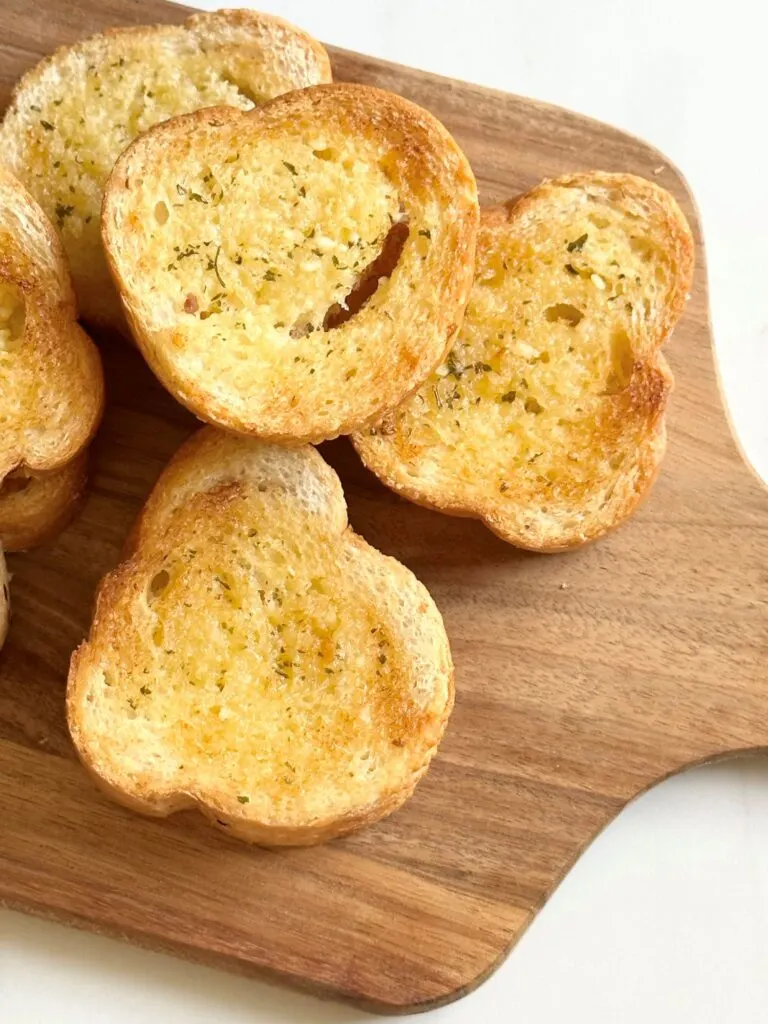 Can You Reheat Garlic Bread In An Air Fryer?
Yes, you can certainly reheat garlic bread in an air fryer. This method helps restore the crispy texture that can often be lost in other reheating methods, such as microwaves. To do this, preheat the air fryer to 180°C, place the garlic bread in the basket, and reheat for about 3-5 minutes or until it's hot and crispy. Be sure to keep an eye on it to avoid burning. The exact time may vary depending on the size and thickness of your garlic bread.
Can I Use Any Type Of Bread For Air Fryer Garlic Bread?
You can experiment with different types of bread like whole grain, ciabatta, or even a simple loaf bread. The cooking time may vary slightly based on the thickness and density of the bread.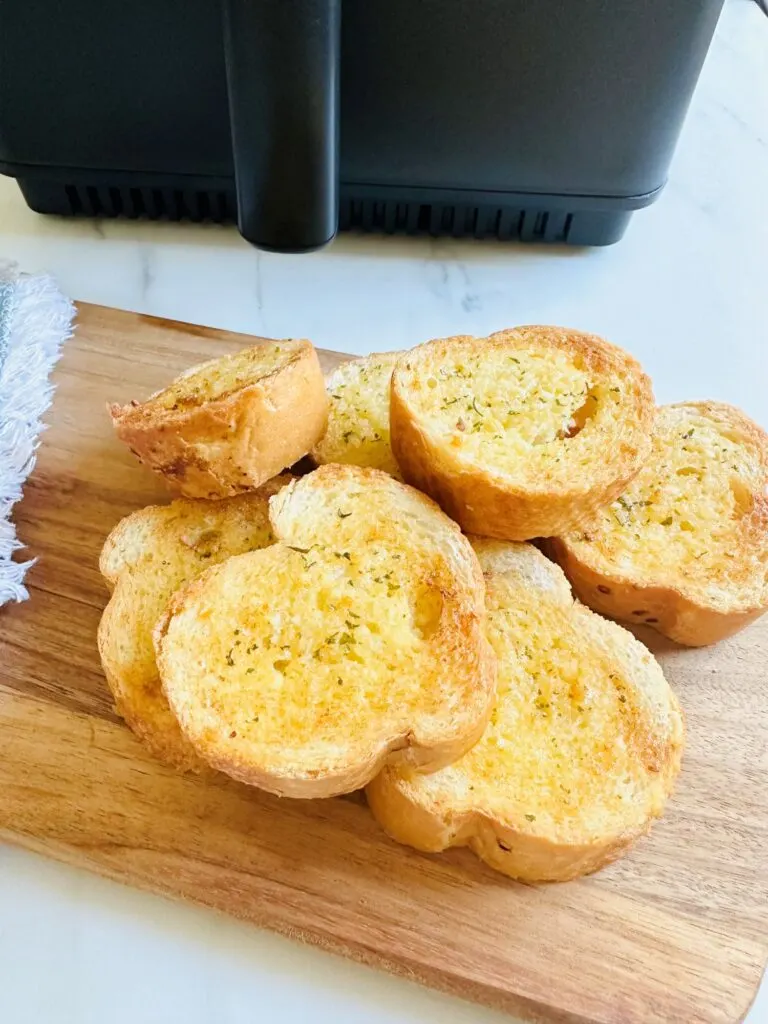 More Air Fryer Sides And Snacks
Are you looking for more air fryer snacks? Check out some inspiration below: