This slow cooker chicken pasta recipe is the perfect combination of tender chicken breasts, velvety pasta sauce, and softly cooked penne pasta.
Read on to follow the simple steps to prepare this tasty slow cooker chicken pasta.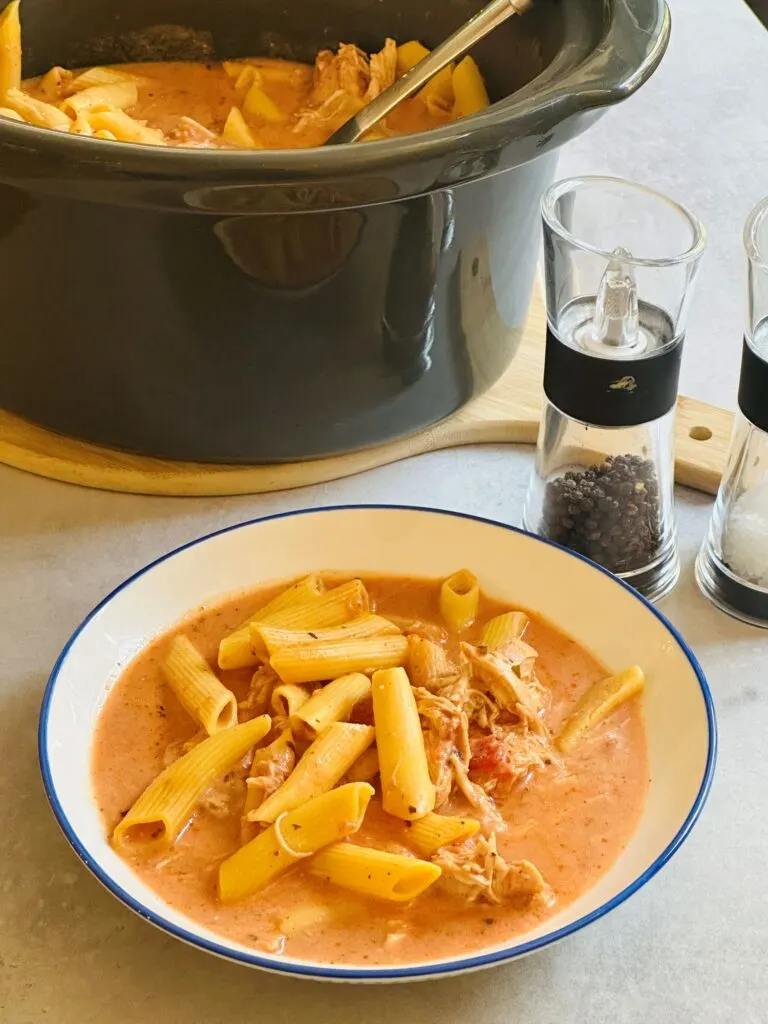 How To Make Slow Cooker Creamy Chicken Pasta
Like most of my slow cooker recipes, cooking chicken pasta in a slow cooker is quick and easy to prepare.
What You Need: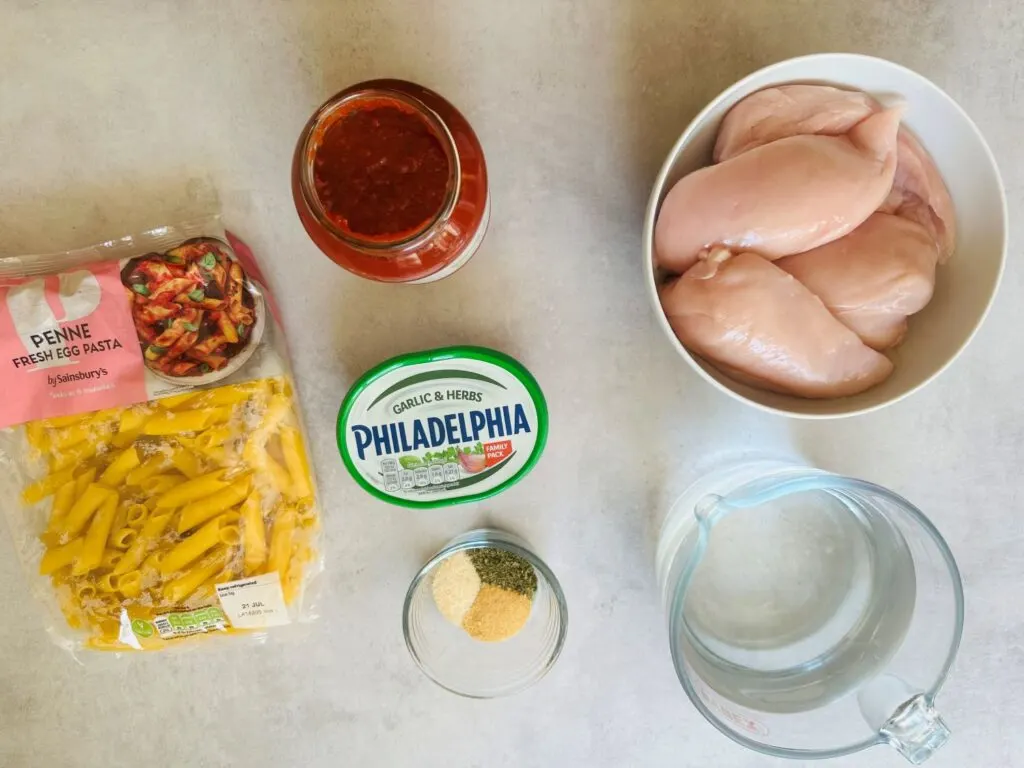 I made enough to serve 4 people, if you need to make more or less simply adjust the recipe amounts accordingly. To print out this recipe head down to the recipe card at the bottom.
4 or 5 chicken breasts – you can also use boneless chicken thighs
800ml pasta sauce – I used a classic tomato and basil sauce, you can use any pasta sauce, jar or homemade
800ml water
1 tsp dried mixed herbs
1 tsp garlic powder
1 tsp onion powder
400g penne pasta – I used fresh, you can also use dry
200g cream cheese – I used garlic and herb Philadelphia but you could use Boursin or an alternative cream cheese
I used my Morphy Richards Slow Cooker but you could also use a multi-cooker like a Ninja Foodi or Instant Pot.
Making It
Step 1: Season The Chicken
Start by adding your favourite seasonings to the chicken breasts. I mixed together the dried mixed herbs, garlic powder and onion powder. Place the seasoned chicken in the slow cooker bowl.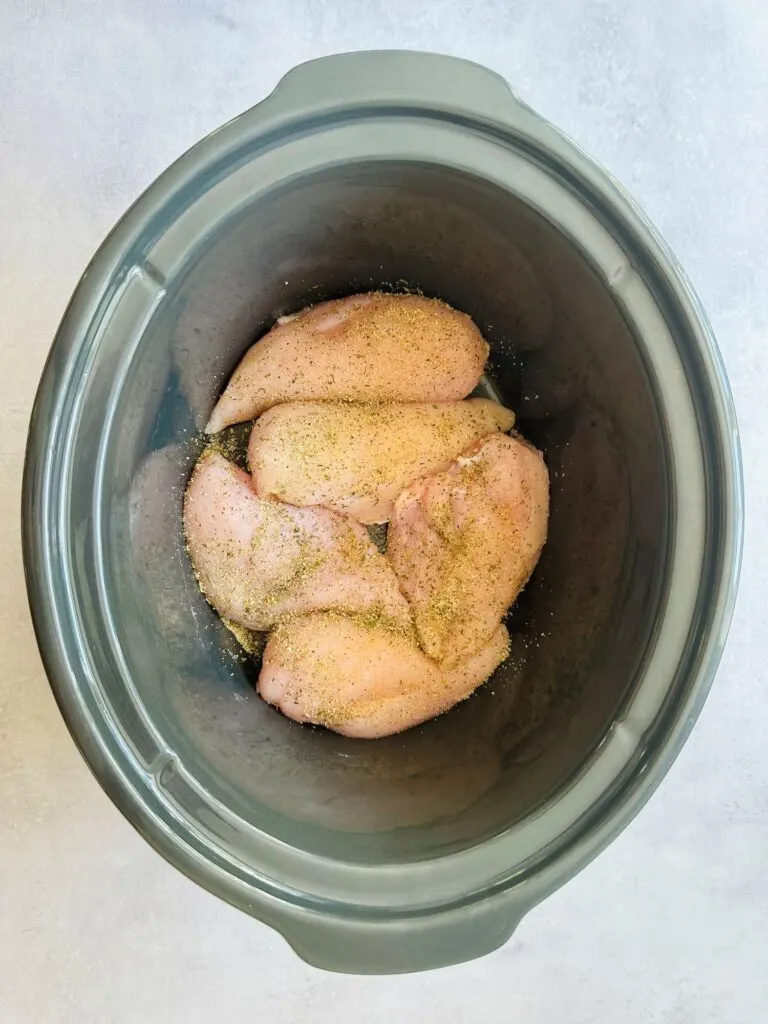 Step 2: Pour in the Sauce and Water
Pour the pasta sauce and water over the chicken. Remember you can use any jar of pasta sauce, or, use a homemade one.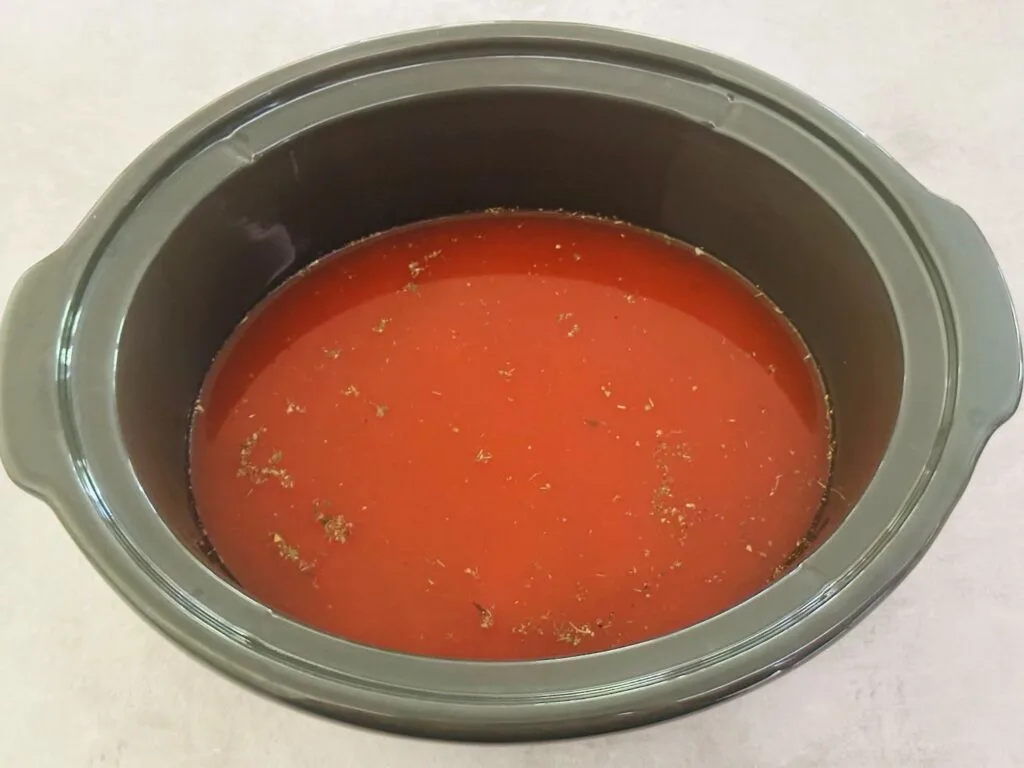 Step 3: Set Your Slow Cooker
Now that everything is in the slow cooker, it's time to let it do its magic. Cook on low for 4 to 6 hours or high for 3 to 4 hours.
Step 4: Shred Your Chicken
After the chicken is cooked, it's time to shred it. You can either take it out and shred it on a plate or do it carefully right in the slow cooker – just be careful not to burn yourself.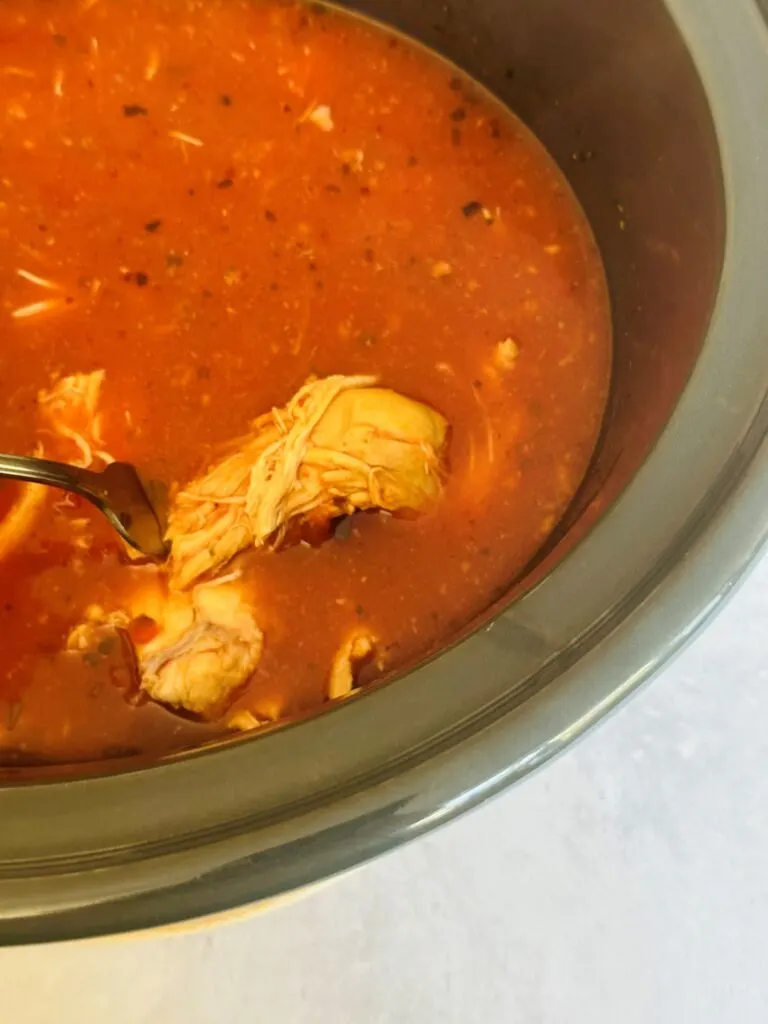 Step 5: Add Creamy Touch
Once your chicken is shredded, stir in the cream cheese. It should dissolve quite easily and melt into the sauce.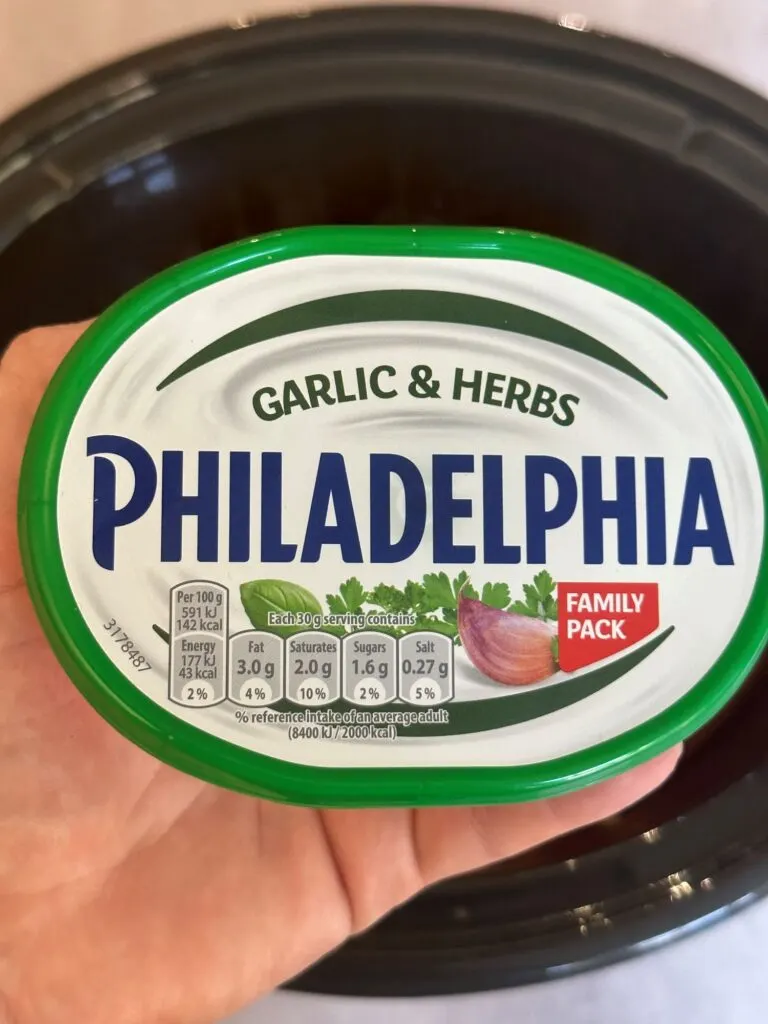 Step 6: Cook Your Pasta
The final step is to add your pasta to the slow cooker.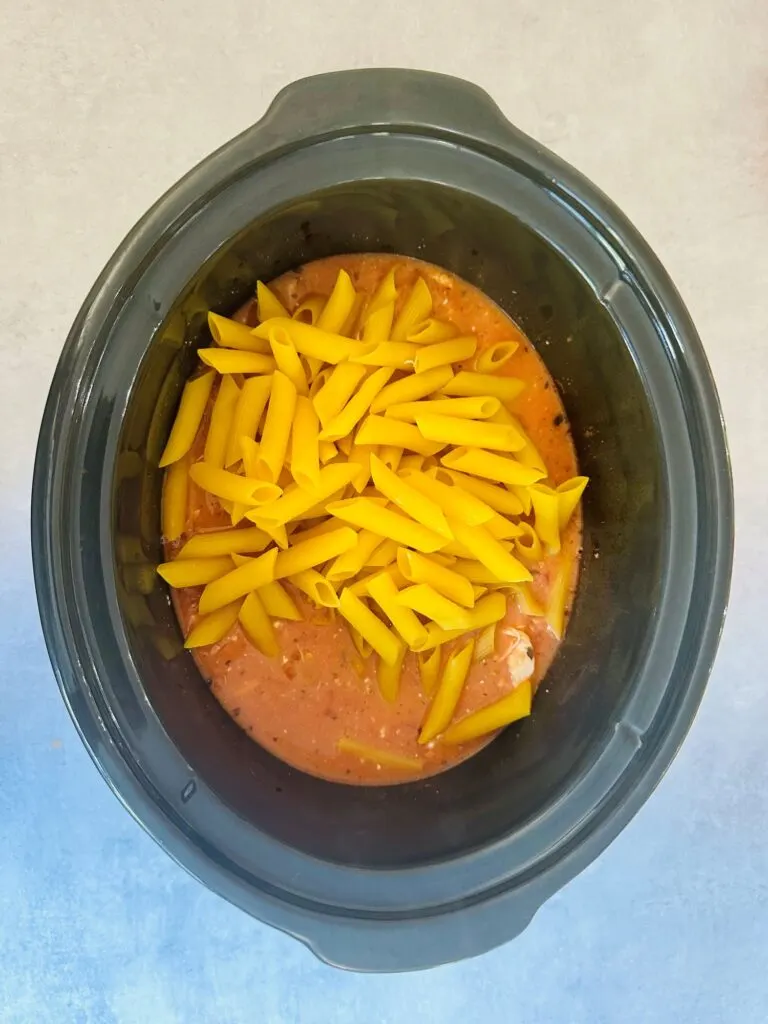 Make sure it's fully submerged in the liquid. Cook on high for about 15 minutes if it's fresh pasta, and about 45 minutes if it's dried pasta.
You can of course cook the pasta separately in a saucepan on the hob and stir it into the cooked chicken and pasta sauce.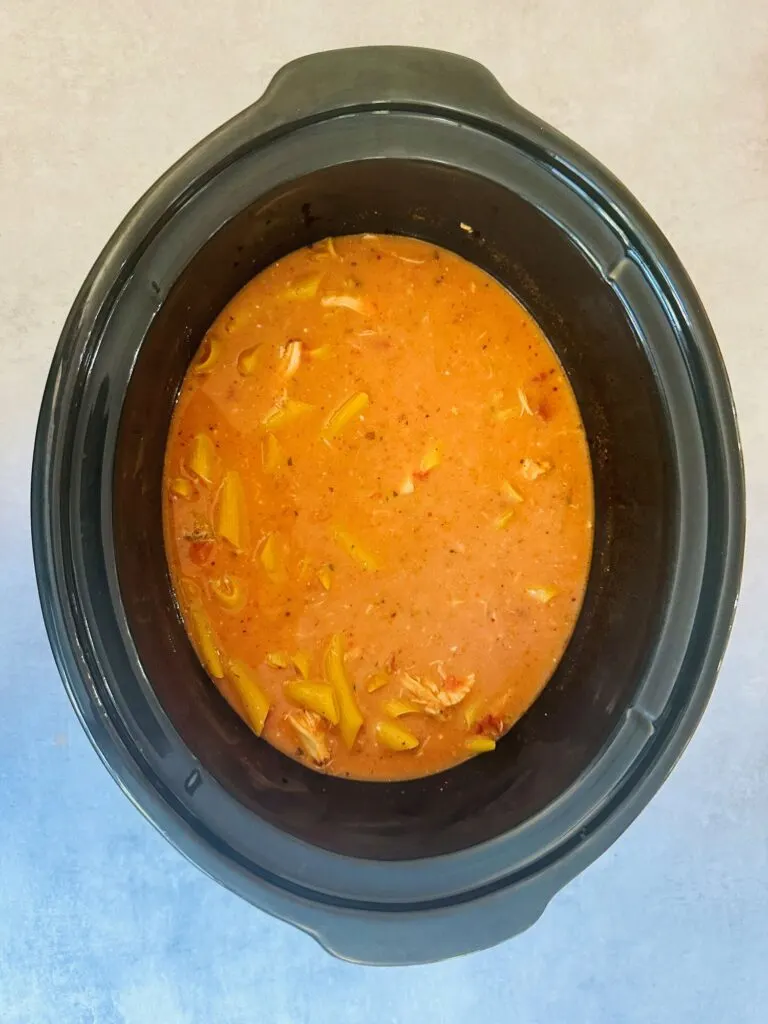 The sauce should be a perfect consistency, but if it's too thin, leave the lid off and let it continue to cook on high for a further 20 to 30 minutes. Alternatively, if you are using the slow cooker function on a multi-cooker you can switch it to the sear/saute setting and simmer it until it has thickened.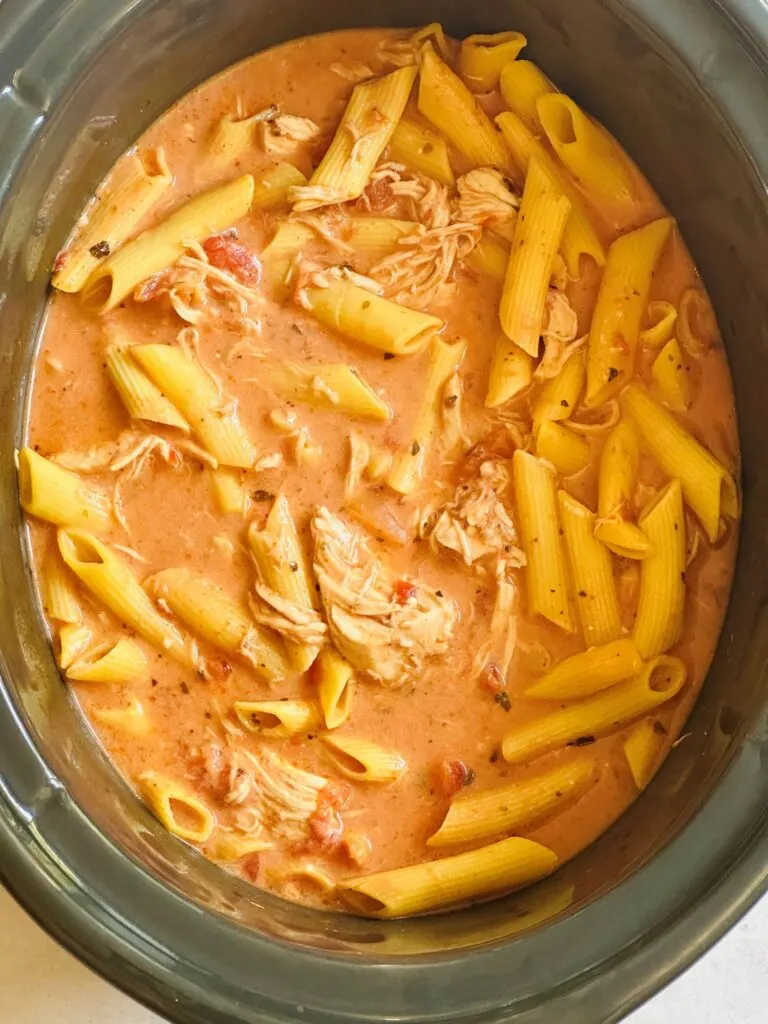 Customising Your Slow Cooker Chicken Pasta
The beauty of this recipe lies in its versatility, here are a few ways you can adjust the dish:
Change the Sauce: try using a different sauce such as a classic marinara, a creamy Alfredo, or a spicy arrabbiata.
Herbs and Spices: I used dried mixed herbs in this recipe but feel free to add in a different herb like basil, oregano, or even a sprinkle of dried chilli flakes.
Cheese Choices: The garlic and herb Philadelphia or Boursin cream cheese lend a luscious creaminess, or you can swap it out for other flavoured cream cheeses or experiment with grated Parmesan or shredded mozzarella for a cheesy twist.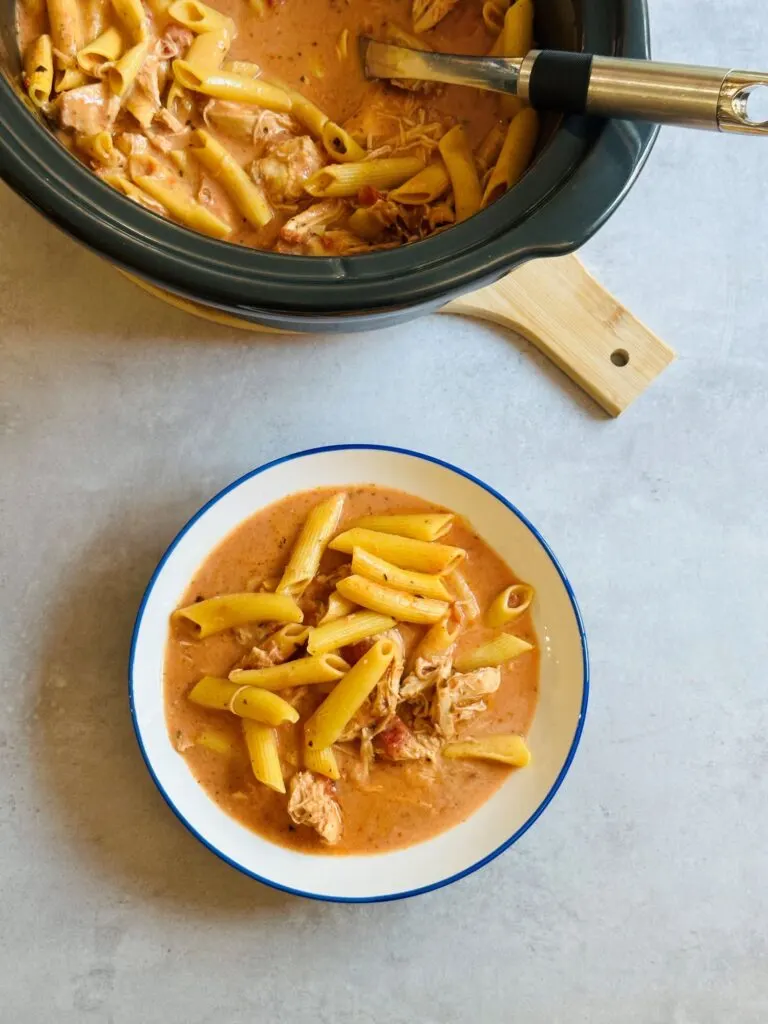 Slow Cooker Chicken Pasta Tips:
How long does dry pasta take to cook in a slow cooker?
Dry pasta typically needs about 30 to 45 minutes to cook in a slow cooker on high, depending on the type of pasta and the heat of your slow cooker. Remember to submerge the pasta in liquid to ensure even cooking.
What is the best type of dry pasta to use in a slow cooker?
Penne is recommended because it holds up well to slow cooking. However, you can substitute it with other sturdy pasta shapes like fusilli or rigatoni. If you choose to use a different type of pasta, keep an eye on it to make sure it doesn't over cook.
Can I put fresh pasta in a slow cooker?
Yes, you can put fresh pasta in a slow cooker, but you'll need to adjust the cooking time because fresh pasta cooks much faster than dry pasta. If you're adding fresh pasta to your slow cooker dish, it typically only needs to cook for about 15 minutes on high.
Can slow cooker chicken pasta be frozen?
Yes, this dish freezes well. Make sure to cool it completely before transferring it to a freezer-safe container. It can be stored for up to 3 months. Thaw in the fridge overnight before reheating.
What type of chicken is best for this recipe?
I used chicken breasts however, you can also use boneless thighs.
Can you put raw chicken in a slow cooker?
Yes, you can put raw chicken in a slow cooker. One of the advantages of slow cookers is that they allow you to cook raw meat without any pre-cooking or browning required. The chicken will cook thoroughly over the long slow cooking period and the low heat will keep it tender. Always make sure the chicken is fully cooked to a safe internal temperature before serving. In the case of chicken, this is at least 165°F (74°C).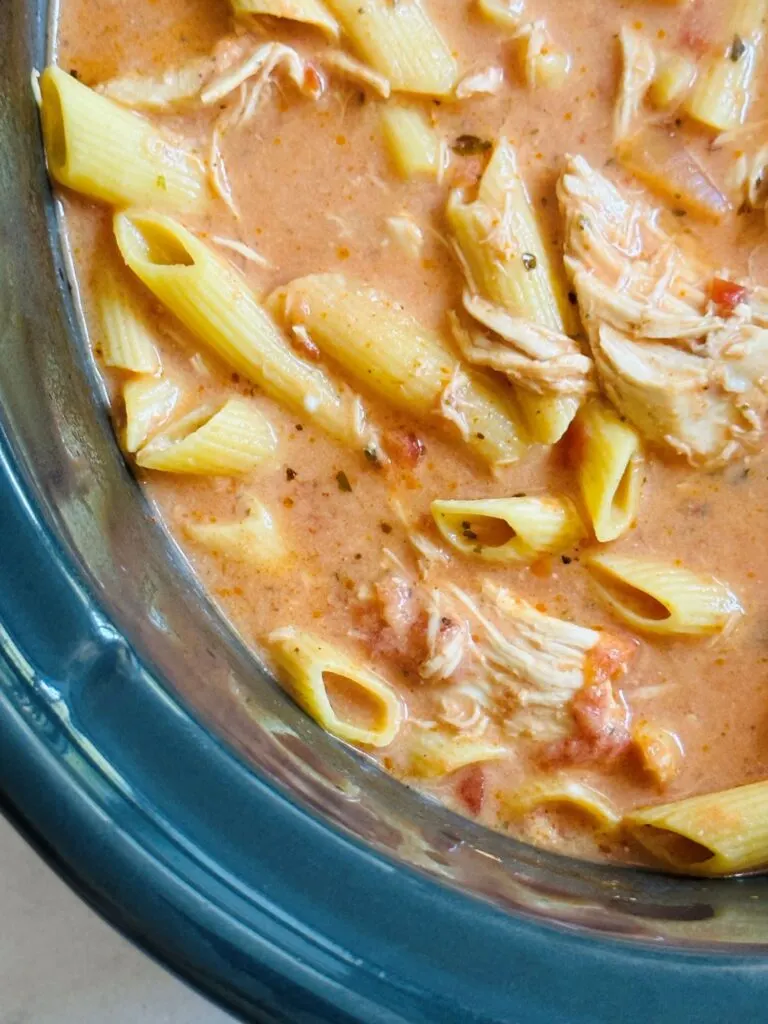 More Slow Cooker Recipes
Are you looking for more slow cooker chicken recipes? Check these ones out!