Are you thinking about serving a turkey crown this year? If so, have you thought about cooking it in a slow cooker?
Cooking a turkey crown in a slow cooker is easy to do. It takes about 5 hours to cook through, and the all important part, it doesn't dry out.
Related: How To Cook A Turkey Crown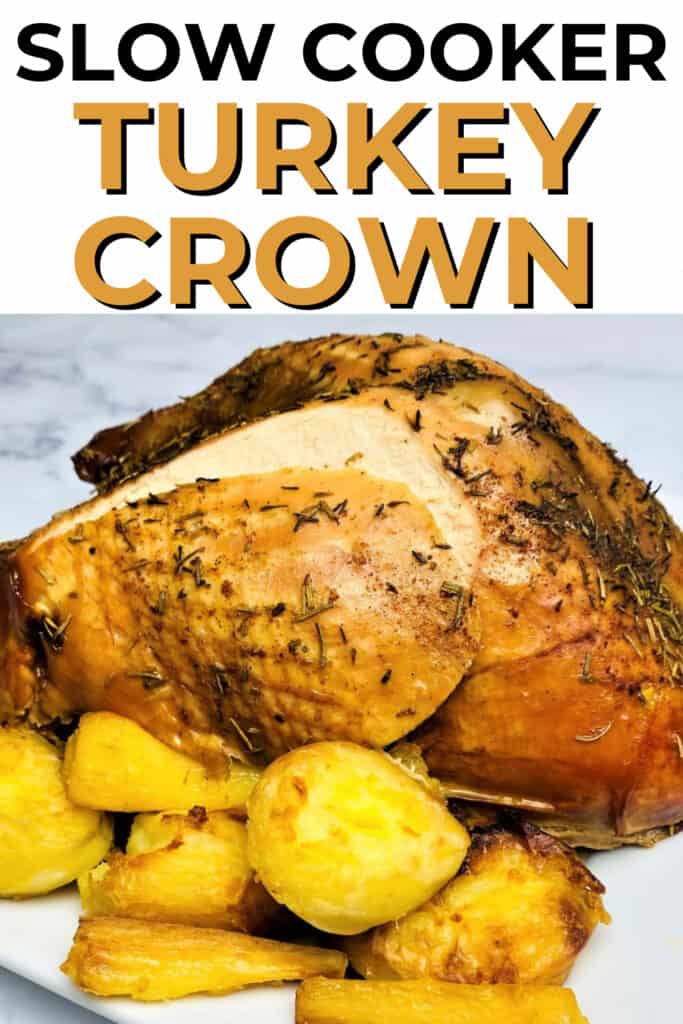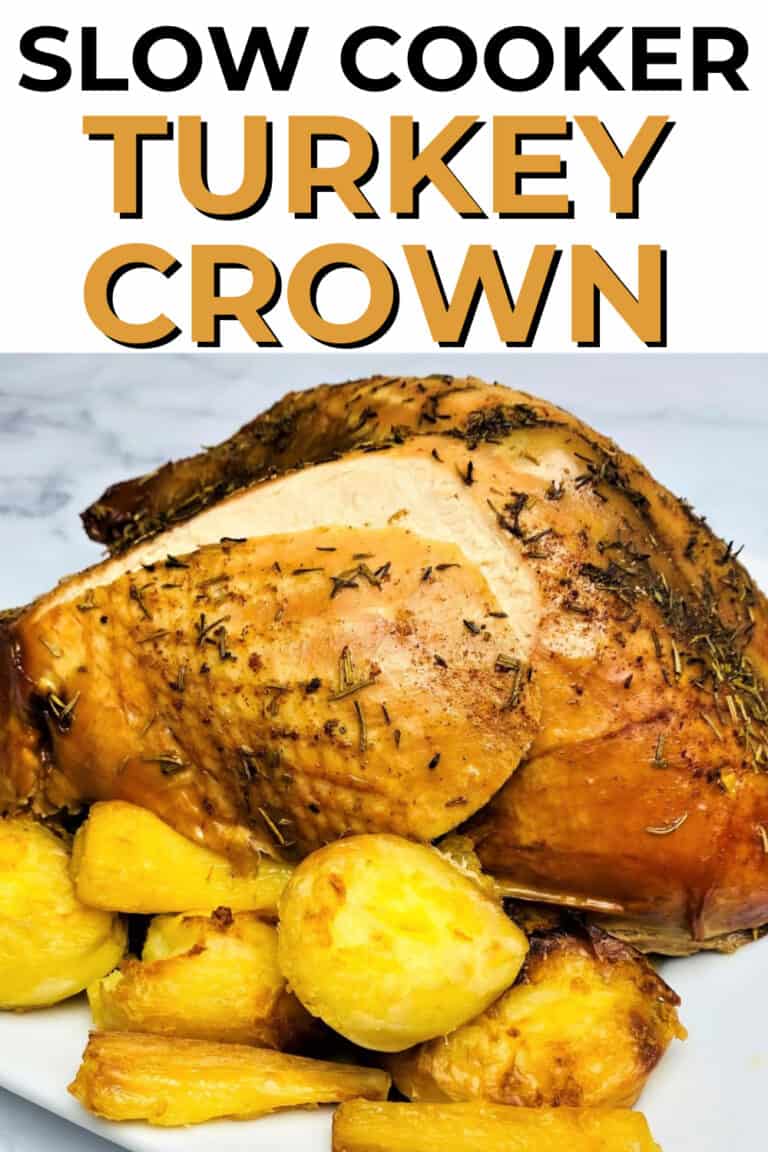 How To Cook A Turkey Crown In A Slow Cooker
Check The Size
We cooked a 2.2kg turkey crown in a 6 litre size slow cooker. Make sure you can fit the turkey in your slow cooker!
This size turkey crown was the perfect size for our slow cooker with enough space around it to add in some onions to cook alongside it, adding some extra flavour.
Preparing The Turkey Crown
Take the turkey crown out of the fridge about 30 minutes before you need to put it in the slow cooker.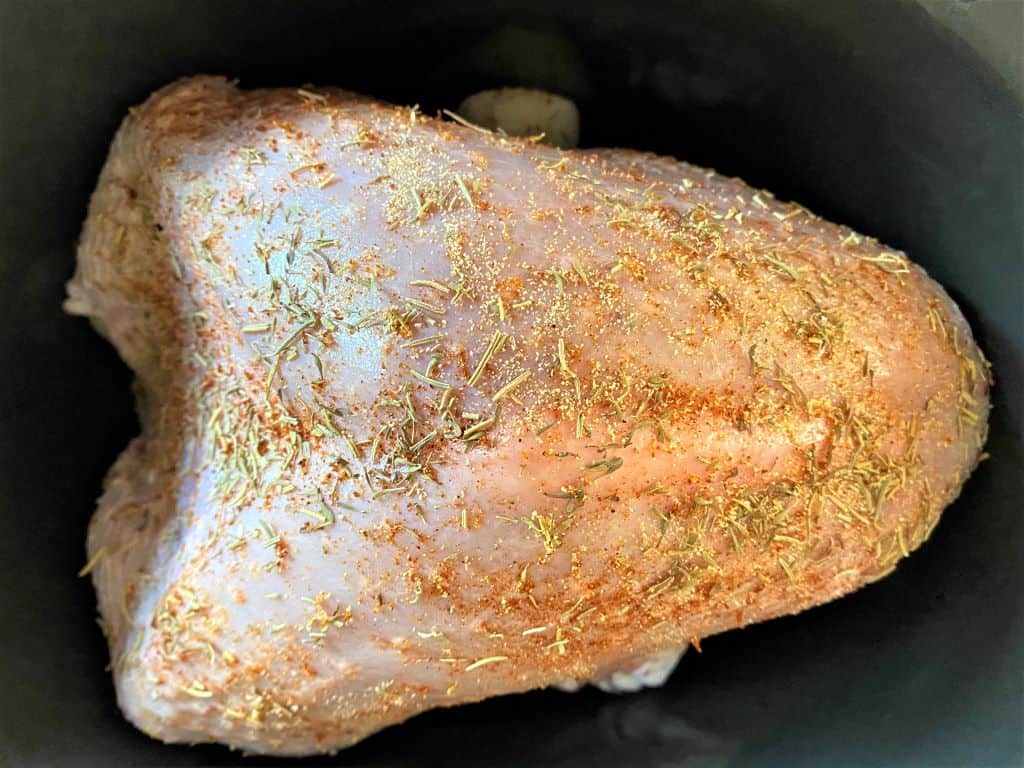 Season it according to how you would normally – I added a little oil, garlic salt, season-all and dried mixed herbs – but use your preferred turkey seasoning!
Adding The Turkey Crown To The Slow Cooker
Add the turkey crown to the slow cooker. If you have the room in the slow cooker, place the turkey on top of some chopped onions and carrots.
There is no need to add any water or stock, just place the lid on top and set it off on high for 5 hours. If you are cooking a smaller sized turkey crown, check on it at the 4 hour mark.
As you would when cooking a turkey in an oven, baste the crown a couple of times during the cook time. Remember to not take the lid off too many times though or you will slow down the cooking time.
Baste the turkey crown with the natural juices that have come out during the cooking time.
Side Note: The last time I make a slow cooker turkey crown I only remembered to baste it once and it came out lovely and moist!
At The End Of The Cooking Time
Check that the turkey crown is completely cooked through.
The easiest way to do this is with a meat thermometer (you can grab them on Amazon) – it should reach 70C in the deepest part of the turkey. The meat should have no pink meat visible at all and the juices should run clear.
Crisping Up The Turkey Skin
You can optionally brown up the turkey crown under the grill, or in the oven, for around 15 minutes.
Carving The Turkey Crown
It's important to leave the turkey to stand for at least 20 minutes before carving.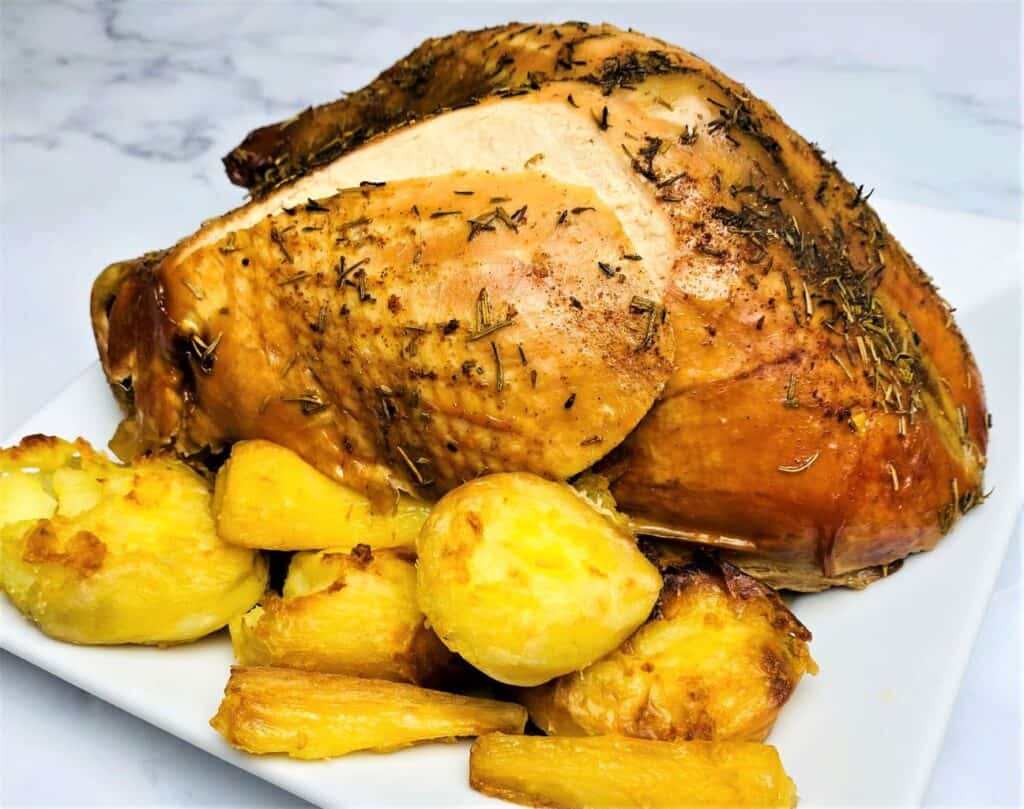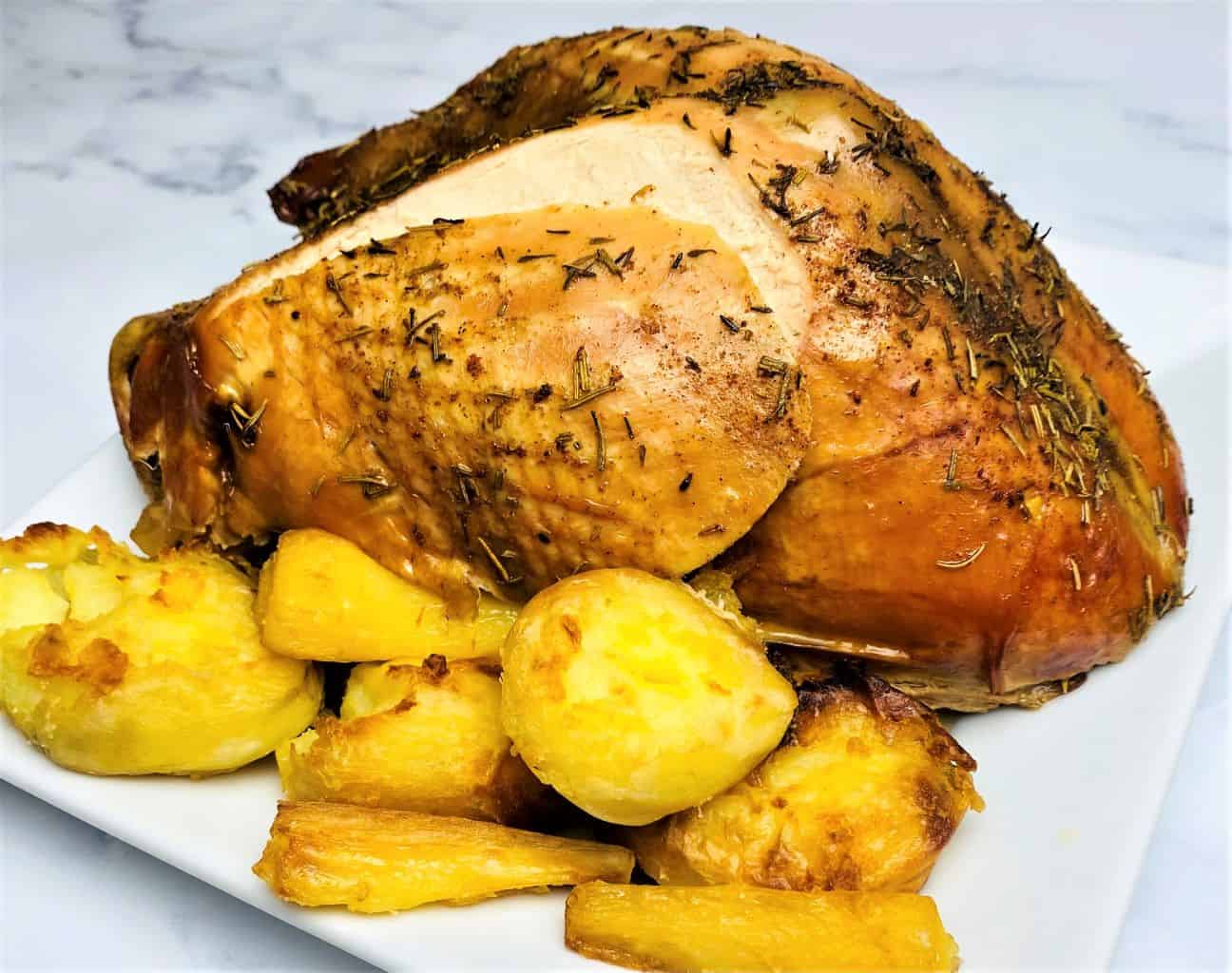 What To Serve With A Turkey Crown
You can serve whatever you normally have with a roast dinner, here are some ideas;
Roast Potatoes
Roast Parsnips
Roast Carrots
Onion Gravy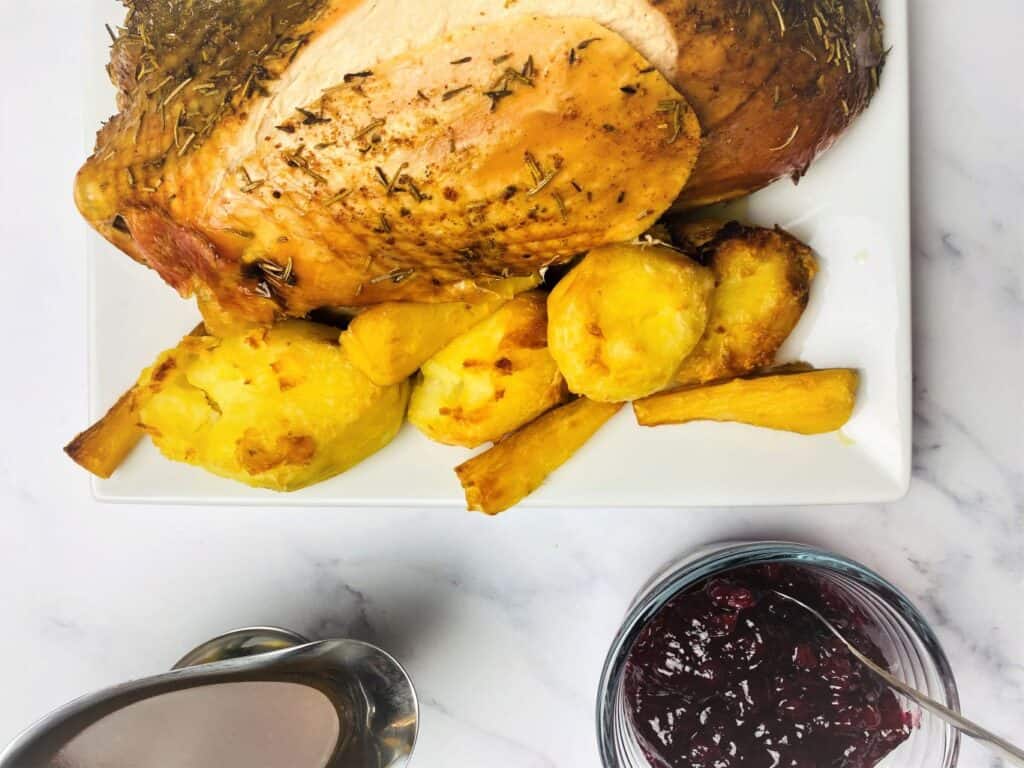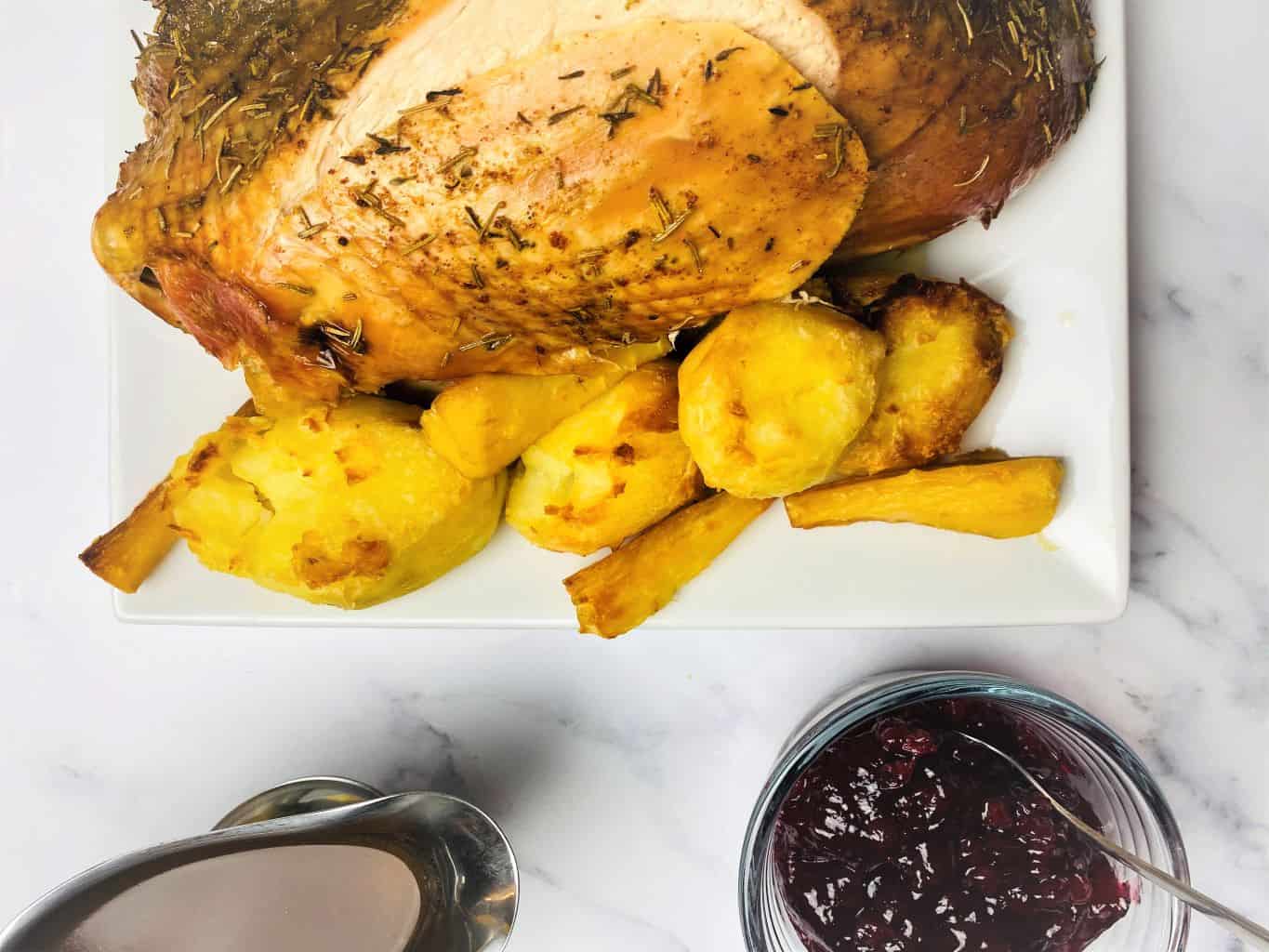 What To Make With Leftover Turkey
Turkey curry
Turkey sandwiches
How Long Does Cooked Turkey Last?
Covered in a fridge cooked turkey will last 3 to 4 days.
In a freezer, cooked turkey will last for 3 to 4 months.
Check out my other slow cooker recipes.